The SNP: the world's least convincing democrats
Scottish independence is now a thoroughly bourgeois, technocratic project.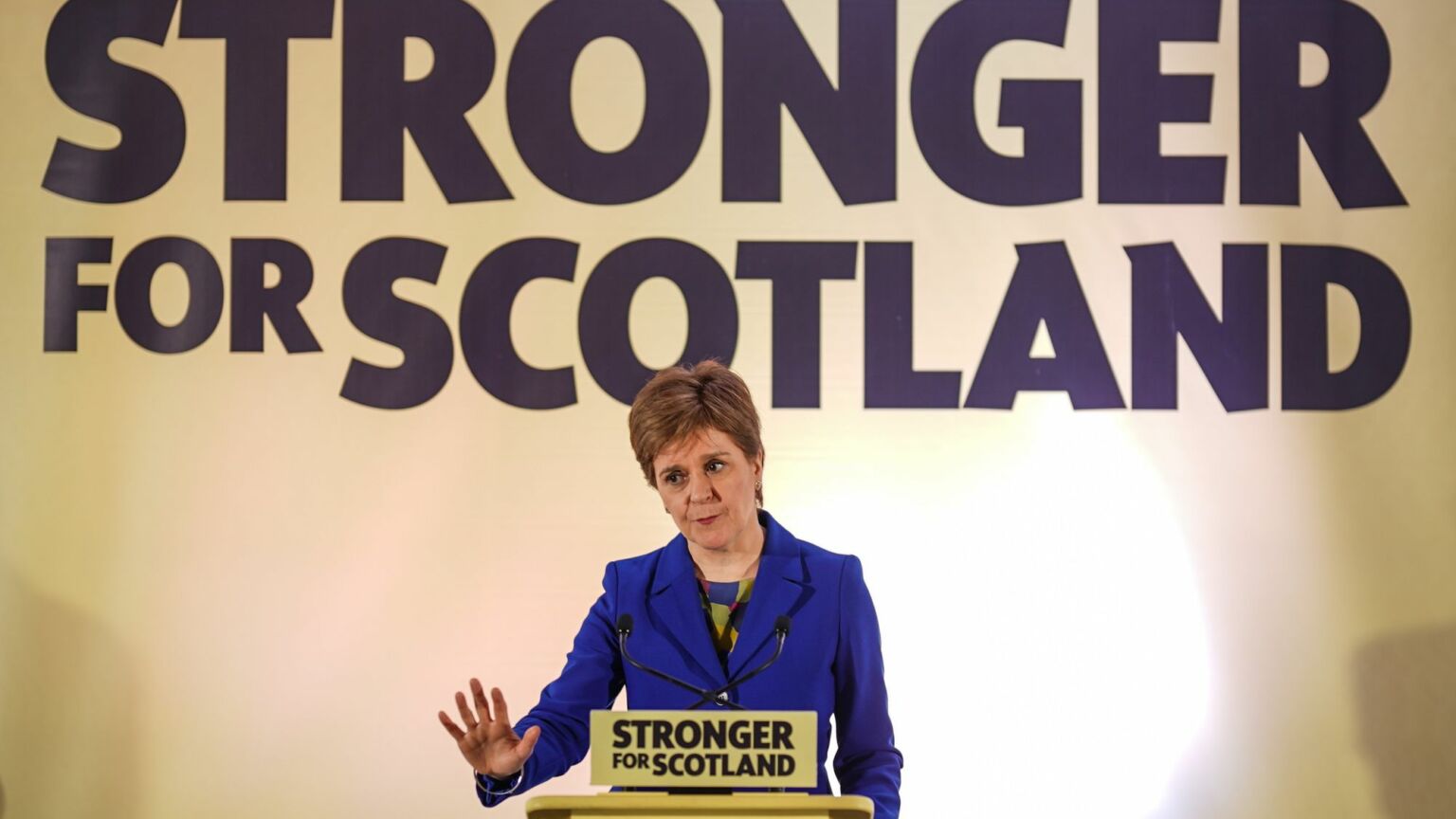 The UK Supreme Court's ruling, delivered on Wednesday morning, weeks ahead of schedule, was unequivocal. Court president Lord Reed said that the Scottish parliament did not have the power to legislate for another referendum on independence, because such a bill would relate to the future of the Union. And this, he said, is a matter reserved to Westminster.
Scottish first minister and SNP leader Nicola Sturgeon was quick to condemn the ruling. 'Outright democracy denial', she called it.
This is clearly the SNP's line now – that the UK parliament is obstructing democracy by refusing to grant Scotland another referendum on independence. Nationalist MSPs and MPs are peddling it and SNP supporters are parroting it. As one put it last night, 'it's Westminster that's clearly blocking the democratic right to independence for the Scottish people'.
All of which sticks firmly in the craw. This is Sturgeon's SNP we're talking about here. It is not a doughty champion of the people, a principled defender of democratic freedoms. Quite the opposite. The SNP government is a thoroughly bourgeois, authoritarian and technocratic beast. This is the government that clamps down on Scots' free speech, regulates their eating and drinking habits, and is now trying to push through deeply unpopular gender self-ID legislation. And all while dodging scrutiny and accountability.
The SNP showed its true attitude to democracy after the vote for Brexit in 2016. Confronted by a genuine expression of popular, democratic will, the SNP attempted to overturn and delegitimise it at every opportunity. Sturgeon and her party recycled every Remainer cliché going, claiming the vote had revived racism, licensed xenophobia and fuelled the far right. And of course they also called for a second referendum, to correct the 'error' of the first.
Indeed, the SNP's vision for an independent Scotland now effectively boils down to being opposed to Brexit. To being opposed to the democratic will of the UK majority. That's almost the sole extent of the SNP's project now. Not to realise some dream of national self-determination. No, as the SNP manifesto for last year's Scottish parliament elections put it, independence represents 'an escape from Brexit'.
Some are suggesting that the Supreme Court ruling has emboldened Sturgeon and the SNP. That it has put some wind in their sails, allowing them to posture with renewed vigour against the Westminster establishment. Their stated willingness to treat the next General Election as a de facto referendum on Scottish independence is certainly a bold move (and an incoherent one, given that people will be voting for particular parties for many reasons other than independence).
Yet Sturgeon's fighting talk conceals the relative weakness of the SNP's current position. In many ways, one would expect the Nationalist cause to be in the ascendancy right now. The SNP has been able to weaponise Brexit for six years, and it has had the opportunity to play the anti-Tory card for over a decade, which was always a Sturgeon favourite. Yet, if anything, support for independence has flatlined in recent years. Sometimes, it creeps above 50 per cent, at other times it sinks below. A poll in September put support for independence at 42 per cent, with 47 per cent in favour of the Union.
This lack of any surge in Nationalist support is partly because the SNP's poor performance in government has become increasingly apparent, from a collapsing educational system to the disaster zone that is the Scottish NHS. But it's mainly because the case for independence put forward by the SNP is so weak, amounting, as it does, to leaving a genuinely democratic Union and joining a thoroughly anti-democratic EU.
This lack of clear, overwhelming support for independence matters. Back in 2015 Sturgeon said there wouldn't be another independence referendum until it was clear that independence was 'the choice of a clear majority in this country'. It was briefed that another referendum would only be sought if the opinion polls showed consistent majorities for secession of about 60 per cent. That simply has not happened. Not even close.
So Sturgeon can invoke democracy all she likes. She can suggest that the Union is no longer voluntary, as she did this week. She can claim that Scots are being kept in a marriage with the English against their will. But the Scottish people constantly say otherwise.
They do so in polls. And they do so at the ballot box. At the 2021 Scottish parliament elections, pro-Union parties won a greater share of the constituency vote than anti-Union parties.
And then, of course, there was the actual referendum on Scottish independence, held just eight years ago, in which the pro-Union side won on 55 per cent of the vote. That was meant to be a 'once in a lifetime' affair. And yet here we are, less than a decade later, with the SNP demanding a re-run. Sturgeon says she wants to 'save Scottish democracy'. Quite how re-staging votes until they deliver the 'right' result saves democracy is unclear.
None of this is to say that Scotland should be forever denied a referendum because they've already had one. That really would be anti-democratic. But right now the case for a referendum in the near future has rarely been weaker. A Survation poll in September found that just 35 per cent of voters in Scotland wanted one, as the SNP planned, in 2023, with 53 per cent against.
Sturgeon and the SNP claim to be fighting for democracy. Perhaps it's about time they actually started listening to the Scottish people.
Tim Black is a spiked columnist.
To enquire about republishing spiked's content, a right to reply or to request a correction, please contact the managing editor, Viv Regan.