The climate cult of youth
Why is a 20-year-old advising the UN about the environment?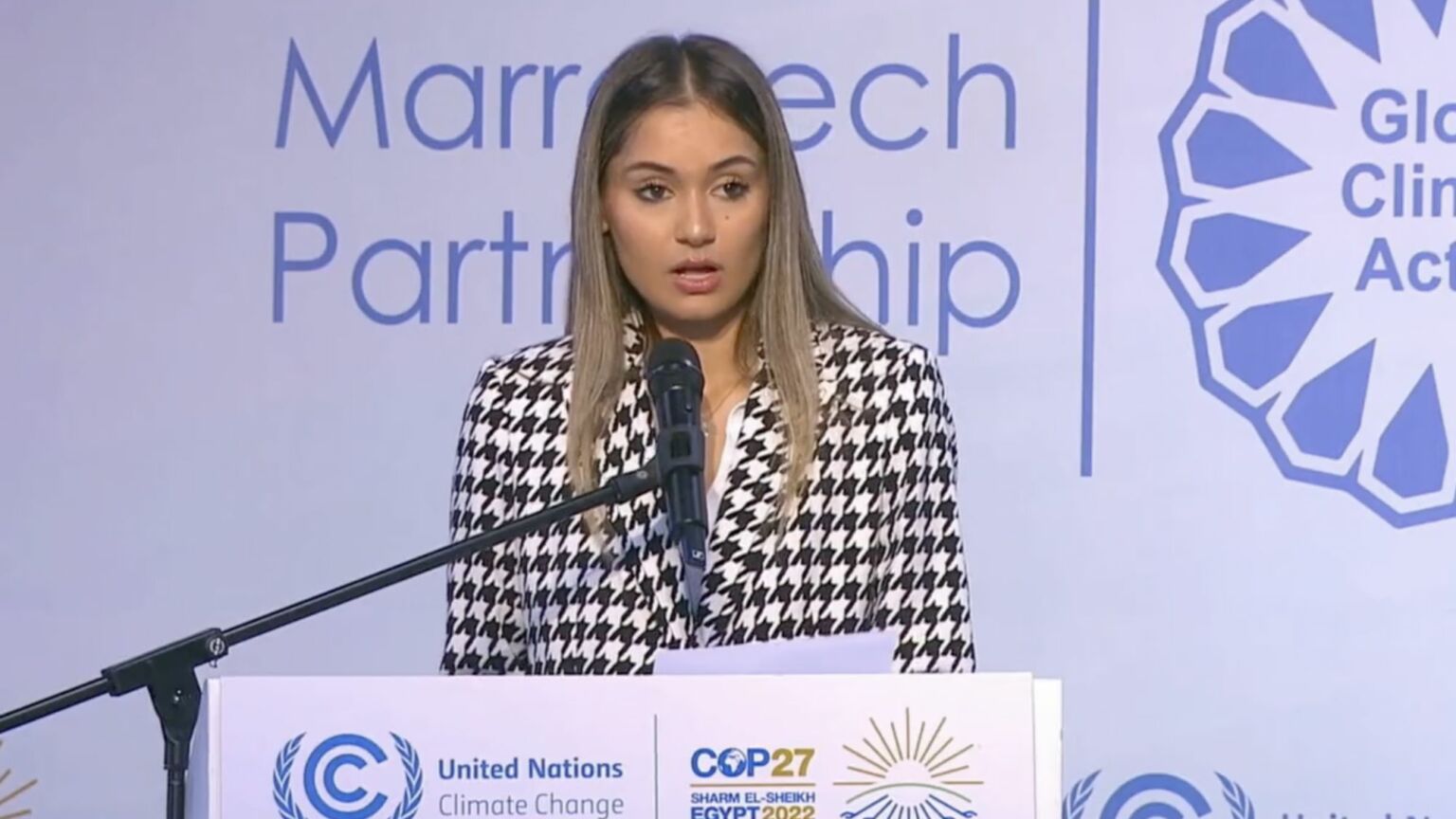 Move over, Greta Thunberg. There's a new pint-sized prophetess of doom in town.
Last week, a photo from the COP27 climate talks in Egypt went viral. Posing next to UN secretary-general António Guterres was 20-year-old Sophia Kianni, an American climate activist and student at Stanford. She claims to be the youngest adviser to the 73-year-old Guterres.
The weird snap of the two together had a whiff of 'billionaire remarries for the fourth time' about it, which is perhaps why it did the rounds so quickly on social media. That and the fact that a 20-year-old – however well informed and accomplished – advising the head of the UN on climate policy, or anything for that matter, is obviously completely ridiculous.
But that's the world we find ourselves in. Kianni has been on something called the 'Youth Advisory Group on Climate Change', reporting directly to the secretary-general, since 2020, when Guterres set it up. And what with Greta boycotting COP this year, accusing it of 'greenwashing', Kianni has been talked up as one of the young climate activists to watch.
'I can't stop but think that if only half of the student population was like Sophia, we would have already solved all the problems in the world', runs a gushing profile in Vogue, charting Kianni's 'journey'. She first hit the headlines in 2019, aged 17, when she and other members of Extinction Rebellion went on hunger strike inside Nancy Pelosi's office. Kianni has since set up a non-profit, translating climate information into other languages.
All very impressive, of course. She puts most of our White Lightning-swigging teenage selves to shame. Greta seems to have blazed a trail for a whole new generation of little over-achievers, who can now land TED talks and a spot on the international conference circuit at an absurdly young age. (Kianni, incidentally, is a year older than Greta.)
But the presence of these young people at what are supposed to be serious UN shindigs probably says more about the UN than it does about them. There seems to be a keen desire on the part of elite environmentalists to use young people as a kind of stage army on the climate issue – a tool of emotional blackmail to harry world leaders into the eco-austerity that Guterres and Co already favour.
As with Greta before her, who memorably shouted 'How dare you?' at a 2019 UN climate summit in New York, Kianni was invited up on stage at the Sharm El-Sheikh COP last week to lambast the audience on behalf of young people everywhere. 'Stop lying' was the message of her speech, which she repeated in six different languages. Her argument is that politicians are 'saying one thing and doing another' when it comes to climate change.
As frankly silly as this whole spectacle is, the cult of climate youth certainly tells us a few things about the state of the environmental movement more broadly.
First up, there's the simplistic moralism of it all – the childlike reduction of energy and climate policy to a matter of right and wrong, to one of believing The Science or ignoring it for corrupt or self-serving reasons. The notion that maybe, just maybe, political leaders – particularly those from developing nations – might want to prioritise their citizens' living standards over costly green virtue-signalling seems to have been dismissed out of hand.
Indeed, for all the talk of young people being 'on the front lines of climate action' the world over, you can't help but notice that these handpicked youth 'leaders' tend to be from well-to-do families in developed Western nations – young people who are sufficiently materially comfortable to have the time to worry about the end of the world.
Then there are the religious echoes of this whole charade. Through initiatives like Guterres' Youth Advisory Group, supranational environmentalism seems to have developed a pipeline of would-be child saints, to be brought out to preach doom to the already converted. UNICEF's youngest delegate to COP this year is a mere 12 years old.
And finally there's the contempt all this actually shows for young people. Taking young people seriously does not mean pretending that they know everything. What's more, I dare say there would be little room on that little advisory group for young people who take a different view on climate. This is an exercise in pumping young people full of doom-laden propaganda, then inviting them up on stage to repeat it while wagging a knowing finger.
This is not inspiring or progressive or empowering of young people. It's weird and patronising and all to the end of pushing an anti-human and anti-growth agenda – one that will screw over young people in the long-run. In short, environmentalists, how dare you?
Tom Slater is editor of spiked. Follow him on Twitter: @Tom_Slater_
Picture by: Twitter / SophiaKianni.
To enquire about republishing spiked's content, a right to reply or to request a correction, please contact the managing editor, Viv Regan.