Putin is the one escalating the war in Ukraine
Blaming the West or NATO for this dreadful conflict is shameful.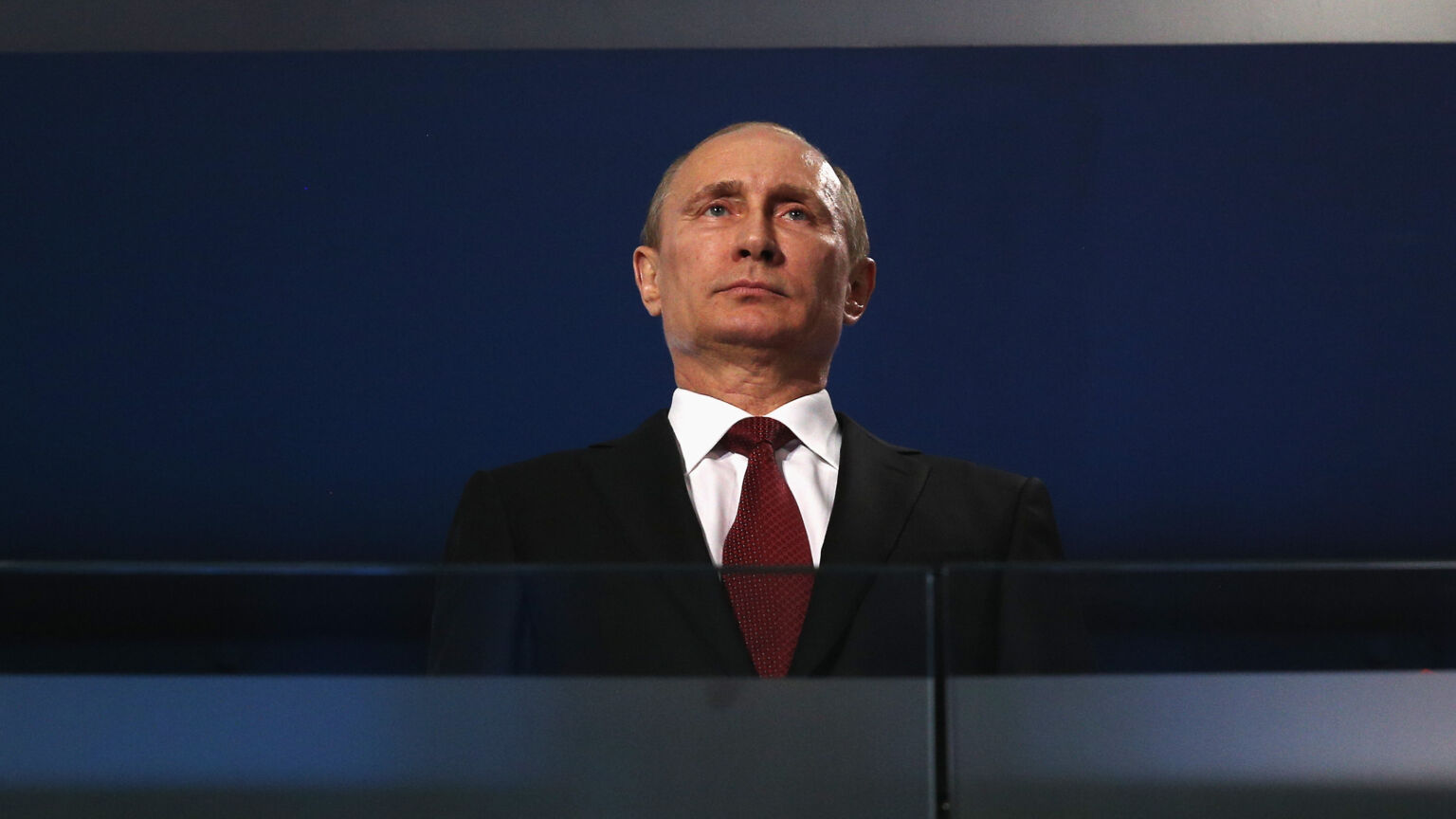 Russia has now escalated its war of aggression in Ukraine.
In a scratchy, delayed speech delivered on Wednesday morning, Russian president Vladimir Putin announced a 'partial mobilisation', which will initially swell the ranks of Russia's depleted infantry with 300,000 reservists. And, predictably, he waved his nuclear weapons at those who threaten 'the territorial integrity of our Motherland'.
The nuclear sabre-rattling is more ominous than it sounds, given that the Kremlin seems intent on turning vast swathes of eastern Ukraine into part of the 'Motherland' in the coming days. On Tuesday, Russian occupiers in Ukraine's Donetsk, Luhansk, Kherson and Zaporizhzhia regions announced that they will hold referenda on Russian membership over the course of the next week. It's fair to say Russia already knows the outcome of these 'votes'. That means that, by the end of this month, Ukrainian forces fighting in those regions could be deemed to be threatening 'the territorial integrity of our Motherland', and thus attacked, as Putin put it, 'with all the means at our disposal'. This is certainly the view of Dmitry Medvedev, the deputy head of Russia's security council, who said that the post-referenda frontiers would be 'irreversible' and enable Moscow to use 'any means' to defend them.
Moscow's escalation and deepening of the conflict is not a surprise. In a war Putin dare not lose, Ukraine's battlefield successes of the past fortnight have seriously damaged his authority. A brutal response was always coming.
The nationalist right, largely loyal to Putin, has been particularly vocal in its criticism of the Kremlin's war effort. Last week, Ramzan Kadyrov, the Moscow-appointed leader of Chechnya, said military leaders had 'made mistakes', before adding: 'We either fight or surrender, there is no third option… I'm in favour of fighting.' Igor Girkin, a nationalist militant and former FSB officer who played no small role in the 2014 conflict in Ukraine's east, called defence minister Sergei Shoigu 'the cardboard marshal' and said Russia will be defeated in Ukraine if it doesn't declare a nationwide mobilisation.
It seems that Putin has listened to these hardliners. While he hasn't declared a general mobilisation, the wording of the partial mobilisation decree is sufficiently vague that it is now possible for the Kremlin to call up millions of Russian men with only distant or tangential military experience.
So we have arrived at a hugely significant moment in the war. In the space of 24 hours, Moscow has decided to unilaterally annex the Donbas region via pseudo referenda; threatened to attack those repelling an invading force with nuclear weapons; and promised to mobilise vast swathes of the Russian populace in an effort to conquer a sovereign nation. In a war that was already near enough existential for both Ukraine and the Kremlin, Putin has raised the stakes even higher.
Not that Putin and his allies are willing to take responsibility for escalating a bloody, devastating war that they themselves launched. Instead, they continue to blame the West. They continue to frame their own act of aggression as a mere defensive response to Western provocation. They continue to claim that it is the West escalating and prolonging the war. 'The West is waging a war in Ukraine', claimed Russian state TV's flagship news show this week: 'The general aim is Russia's collapse.'
This is the world through Putin's looking glass. Black is white. Night is day. And the war in the Ukraine is being waged by the West. Or, as he had it this morning, 'the West is using the people of Ukraine as cannon fodder to maintain its hegemony'.
Now, it is certainly true that Western powers damaged and alienated Russia in the aftermath of the Soviet Union's collapse. And it is true that NATO and the EU have, since the 1990s, stirred up tensions with Russian leaders over Ukraine. But there's no escaping one simple, indisputable fact: on 24 February 2022, Russia invaded Ukraine. Not NATO. Not the US. Not the UK. Russia. It started this war and now it is escalating it.
One can understand why Putin is keen to paint the war in Ukraine as a war against NATO. Claiming that Russian forces are fighting 'the entire military machine of the collective West', as he did today, excuses the Russian army's all-too-obvious failings. It also provides an increasingly pointless war with something of an anti-Western purpose, no matter how specious.
But what is less understandable is why so many 'anti-war' pundits and politicos in the West are willing to go along with this fiction. That this is the West's fault. That the West is escalating the conflict by giving Ukrainians the means to fight back. Is their anti-Westernism really that kneejerk? Their anti-imperialism really so shallow? It may have been possible to argue that the West bore a large amount of responsibility for the simmering conflict over and in Ukraine before the invasion. But to continue blaming the West for the war and its escalation, after Russia's entirely voluntary act of military aggression, is absurd.
It assumes that the only agency in this conflict belongs to the US and its allies. This Western-centric worldview denies Russia any role or subjectivity. The entire Russian state appears here as a passive victim of geopolitical circumstance, driven to war by scheming Western powers.
More troubling still, this NATO-gazing Western-centrism erases the agency of the Ukrainians themselves. It reduces their courageous resistance, their desire to defend their country against an invading force, to a Western power play. In this telling, Ukrainians are mere proxies, NATO's 'cannon fodder', in a conflict entirely of the West's own making.
This simple-minded worldview leads to truly wretched conclusions – chief among them being the idea that Ukraine's resistance is itself escalationary, a product of the West's desire to prolong the conflict, to fight to the very last Ukrainian. According to this logic, the best solution is for Ukraine to give in, to acquiesce to Russia's will.
This is upside down. Yes, the Ukrainian military is using NATO-supplied weapons, but those HIMARS aren't driving Ukraine's war effort. No, it is being driven by the Ukrainian people themselves. By their determination to protect their national freedom. If that's 'escalationary', then we need more of it.
If this war is ever to come to an end, it is important to recognise the forces at play, rather than just blaming everything on the West. Above all, it is vital to recognise that Russia started this war, and that Russia is now escalating it. Because that also means that Russia can de-escalate this war, too – by withdrawing its forces from Ukraine. As it should.
Tim Black is a spiked columnist.
To enquire about republishing spiked's content, a right to reply or to request a correction, please contact the managing editor, Viv Regan.