Ukraine is one step closer to freedom
With courage and ingenuity, the Ukrainians have dealt a devastating blow to the Russian invaders.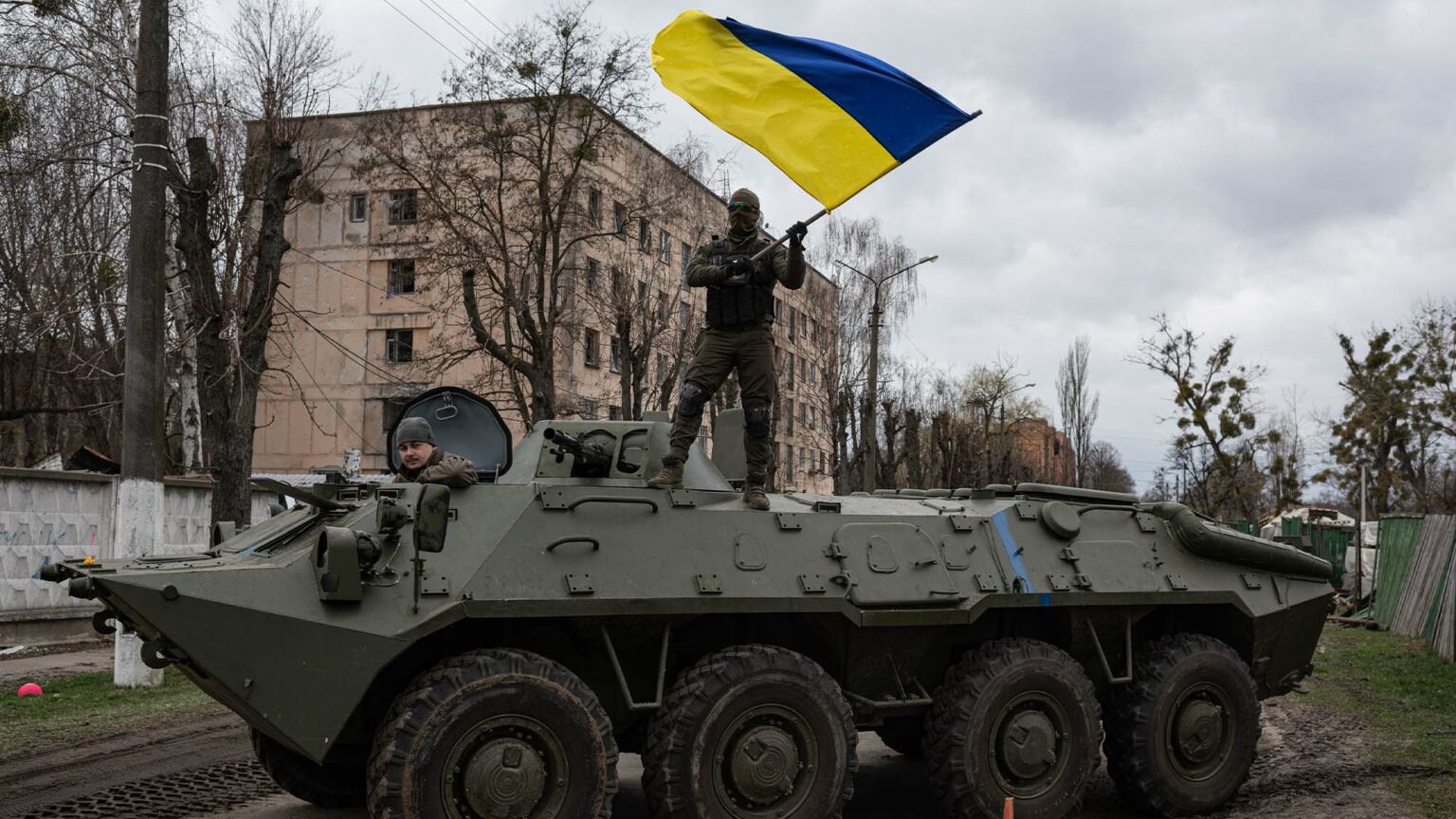 So, we finally have the answer to the question that has hung over this war for several months. Ukraine can doggedly hold territory – but can it attack?
In just under a week, Ukraine's military has advanced more than 70 kilometres into previously Russian-held territory, liberating a host of towns and cities in the Kharkiv oblast in the east – including the crucial transport hub of Kupiansk and the major city of Izium. Most pundits had written off any prospect of the Ukrainians retaking Kharkiv, predicting a stalemate at best.
That this came as such a surprise to most dispassionate observers is testament to the success of the Ukrainian strategy. Back in August, Ukraine loudly announced an imminent major counterattack in Kherson in the south (backed up by significant probing attacks). But then, having spotted weaknesses around the Kharkiv oblast, on the other side of the country, it decided to ruthlessly exploit them without warning.
The success of the deception is hard to overstate. Having found the area around Kharkiv poorly defended by worn-out soldiers, conscripted by the Donetsk People's Republic, and undermanned by the Russian National Guard (Rosgvardia), Ukraine was able to mount a stunning counterattack, redrawing the map of the conflict almost overnight.
Of course, such large movements of men and materiel can lead to overstretched supply lines and they are vulnerable to counterattack. So a final verdict on the state of the front can only be made in the coming days and months. But the meltdown in the pro-Russian media (both in Russian state media and online, on pro-Russian Telegram channels and pro-war Twitter accounts) suggests that Ukraine has pulled off a major upset.
Some Russian propagandists have even started softening their stances. The same figures who have used almost genocidal rhetoric to justify the war seem to have now rediscovered their 'brotherly' love for the Ukrainian people. Others have started to openly question Putin's military tactics. According to one Russian Telegram channel, Russian generals have even started suggesting to Putin that the campaign might be lost.
So how has Ukraine managed to do this? The enormous Western support for Ukraine is undoubtedly a major factor. Many sources report that this successful offensive has employed a host of weapons provided by the West, such as artillery and tanks. Many of the troops involved were also trained by Western countries, such as the UK. Also significant are the HIMARS long-range missile systems provided by the US, which have softened up Russia's defences, disrupted their supply lines and destroyed their command centres.
More importantly, Ukraine has used this support exceptionally well. At one point, Ukraine even disregarded US advice about the best way to plan the attacks. Instead, Ukraine followed the instincts and intelligence of its own officers. American generals were only recently patting themselves on the back for supposedly persuading the Ukrainians to restrict their counterattacks to the Kherson area, yet they are now trying to claim credit for the successes in Kharkiv. All of this goes to show that it is one thing to be awash with Western weapons – like the Afghanistan 'army' was before its collapse – and quite another thing to employ them with skill, courage and daring, as the Ukrainians have done.
Russia's weaknesses have also played a significant role. Russia's military remains stretched in Ukraine. In its attempt to capture and keep hold of Kherson, the Russian army had to transfer forces from the east, leaving it open to Ukraine's counterattack. Kharkiv was, until recently, the site of relentless Russian artillery barrages, especially after Russia 'refocused' its efforts to the Donbas, following its failure to capture Kyiv in the initial weeks of the war. Clearly, Russia cannot bring enough force to bear over the entire, enormous Ukraine front.
The incompetence, nepotism and corruption that plague the Russian army will have played a role here. Perhaps more significant is Russian president Vladimir Putin's decision to avoid a general mobilisation of Russian society for the war, while Ukraine, in contrast, has put all its resources and manpower into defending its territory. What we call 'the war in Ukraine' is still a 'special operation' and not a war according to the Russian narrative. Putin, many suggest, believes that a general wartime mobilisation would meet significant internal resistance in Russia, which would threaten his grip on power. Unable to fully and openly mobilise Russian society, Putin has to rely on conscripts, proxies (such as the Chechens), police formations and the limited numbers of men who can be persuaded to sign up for monetary bonuses. This limits the force Russia is able to bring to bear in Ukraine. What this suggests is that opposition to the war within Russia, even if not overt, remains an important factor, and something that all allies of Ukraine should seek to encourage.
Above all, the major reason for Ukrainian success remains much the same as it has done throughout the war: the courage and determination of the Ukrainians, as well as the capacity of Ukrainian society to organise and mobilise this courage in service of the war effort. The fact that Ukraine has consistently managed to surprise Western pundits speaks volumes about the cultural and military transformation that the country has undergone in recent years, at least since 2014. Ukraine may have been beset by corruption, economic stagnation and political deadlock. But it has also been the site of an explosion of cultural productivity, from authors renowned around the world – like Oksana Zabuzhko, Andrey Kurkov or Serhiy Zhadan – to a rich domestic music scene spearheaded by bands like Okean Elzy, and today embodied by artists like Monatik, Antytila or Eurovision winner Kalush. Ukraine, in its cultural and military achievements, has provided the soundest possible rejoinder to Putin's claim that it is not a 'real' country.
Of course, the roots of this deep commitment to national freedom also run deeper. In a clip so apposite one almost feels it must have been doctored, Ukrainian soldiers, having liberated Balakliia in the Kharkiv oblast, can be seen tearing off a recently installed billboard celebrating the Russian occupation. This then reveals a poster featuring Ukraine's national poet, Taras Shevchenko (1814-1861). Shevchenko's words on the poster, from the poem 'The Caucasus', seem to sum up Ukraine's contemporary struggle for freedom:
'And glory to you, blue mountains,
covered with ice.
And you, great knights, not forgotten by God.
Keep fighting – you are sure to win!
God helps you in your fight!
For you is truth, for you is glory
And holy freedom!'
Ukraine's struggle for national liberation is far from over. And we should not get ahead of ourselves in predicting a general collapse of Russia's military. Russia still has the capacity to inflict significant pain on Ukraine, and sensible forecasts should keep the long term in mind. But for now, we can perhaps celebrate a victory – a victory that brings Ukraine slightly closer to freedom.
Jacob Reynolds is partnerships manager at the Academy of Ideas.
To enquire about republishing spiked's content, a right to reply or to request a correction, please contact the managing editor, Viv Regan.