Extinction Rebellion vs democracy
We cannot let a tiny number of eco-extremists impose their will on society.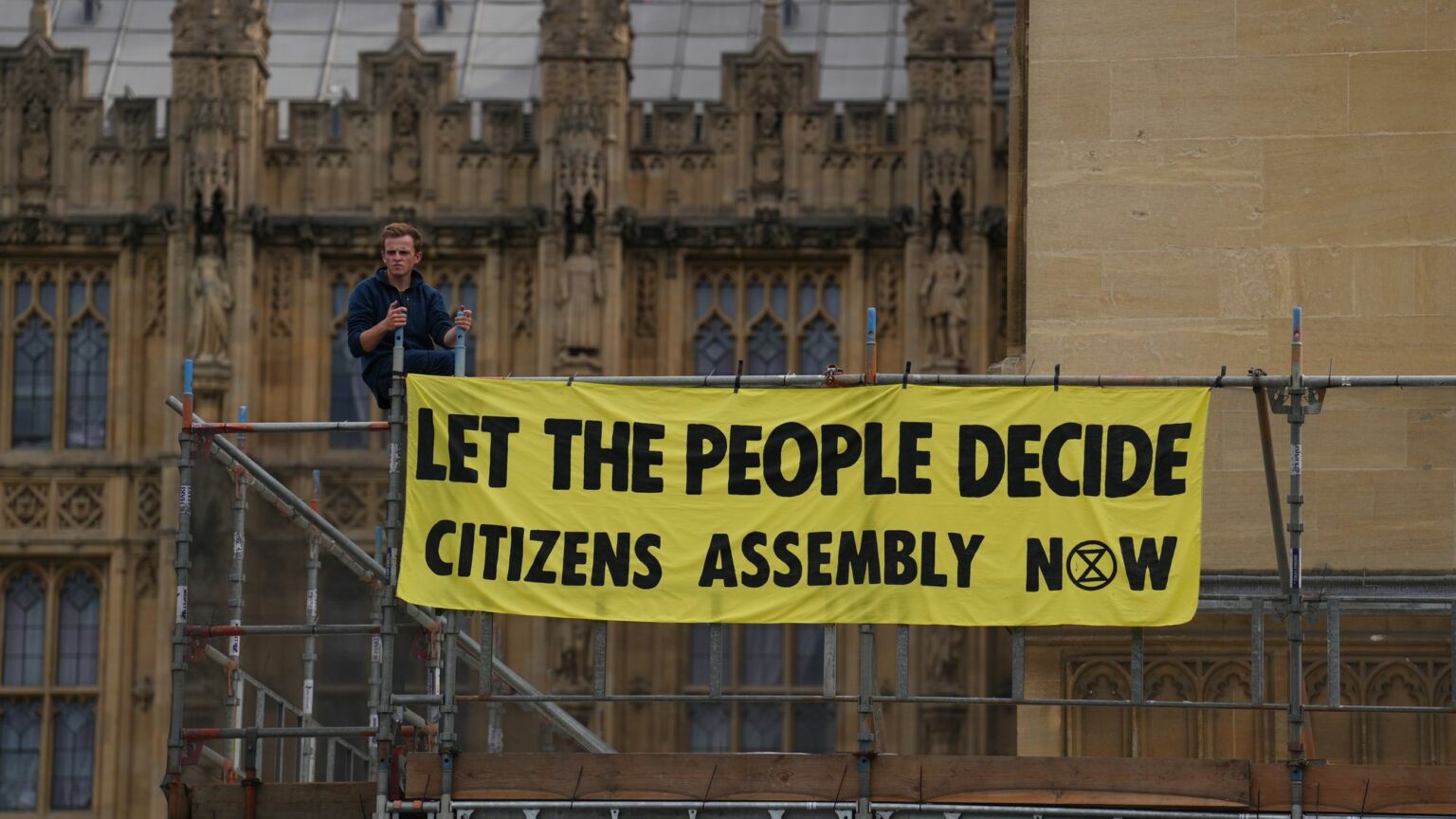 In CS Lewis's book, The Screwtape Letters, the main character, Screwtape, says that human nature is marked by a love of both change and permanence. The rhythm of the seasons, he feels, meets both needs – every year change, every year the same change. As we enter autumn, it's time for the traditional changes to begin. Leaves are turning red and orange, conkers are raining down on the unsuspecting skulls of incautious walkers and, of course, Extinction Rebellion (XR) activists are making everyone's lives miserable while acting out their messiah complex.
On Friday, XR activists glued themselves in a chain around the speaker's chair in the House of Commons. Yesterday, they sprayed the walls of the Houses of Parliament with white paint. And they are about to stage a three-day 'occupation' of Hyde Park. These stunts are just the latest in a long and tedious succession of attempted attention grabs, seemingly tailor-made to lose friends and alienate people.
Make no mistake, Extinction Rebellion's protests are not 'normal' protests. Most forms of protest set out to show popular support for a policy or popular anger at a social problem. People march in the streets, gather in squares, wave placards and chant badly rhymed slogans in an effort to show that the political establishment is ignoring something that a large part of the public feels quite strongly about.
These protests, by their nature, cause inconvenience to people around them. Marching through the streets means they can't be used for normal transit. Chanting in squares makes noise. But the inconvenience is a side-effect of the core activity – demonstrating, or attempting to demonstrate, popular support for something within a democratic framework.
For Extinction Rebellion's protests, the inconvenience and damage are the point. The idea is that relatively small numbers of people – a few activists blocking a road, for instance – can exercise an effective veto on the normal use of an area, inflicting significant costs on other members of society, at a relatively low cost to the broader campaign group. The idea is a little bit like an insurgent military campaign: instead of full-frontal engagement with the democratic system, you simply continue to inflict costs on society and give the police the run-around, until the state gives you what you want.
Yet somehow, XR has managed to convince people that setting out to deliberately inconvenience others is what protest has always been about. That this is simply 'democracy' in action.
We should push back against this. Yes, such protests are effective at getting attention. But protestors have no God- or state-given right to attention. We don't have to let them do whatever they choose to do, simply because they have labelled their actions as 'protests'.
Similarly, sympathetic media commentators like to drone on about how Net Zero is such an important and worthy cause that we just have to let XR carry on making our lives a misery. But does any of this mean that Extinction Rebellion should be exempted from the usual process of law enforcement? Or that we should encourage this behaviour? And are we now judging the legality of a protest on the worthiness of the cause?
It is fitting that one of Extinction Rebellion's most recent major stunts involved blocking access to part of the House of Commons chamber. Because its entire approach – from its tactics down to its demands – is fundamentally anti-democratic.
That particular protest was demanding a 'citizens' assembly' on Net Zero. Activists held up banners saying 'Let the people decide'. This sounds democratic on the surface. But it is worth asking why XR wants a citizens' assembly on Net Zero, rather than a referendum. And why it prefers disruptive protests to putting up candidates in elections. The answer is that there simply isn't popular support for Extinction Rebellion's extreme policies.
Unlike in a referendum or a General Election, in a citizens' assembly, debate can be guided and shaped by a sympathetic panel of experts. The 'citizens' can also be carefully handpicked. And so the assembly can be relied on to deliver the 'correct' result. Much like XR's protests, it involves a small group of people whose views can then be imposed on the rest of society.
Don't be fooled by the pseudo-democratic language. Extinction Rebellion's mission is to bypass the people – not to listen to them.
Sam Ashworth-Hayes is a freelance journalist.
To enquire about republishing spiked's content, a right to reply or to request a correction, please contact the managing editor, Viv Regan.