Biden's handout to the affluent
The president's cancellation of student-loan debt is a bribe to his professional-class base.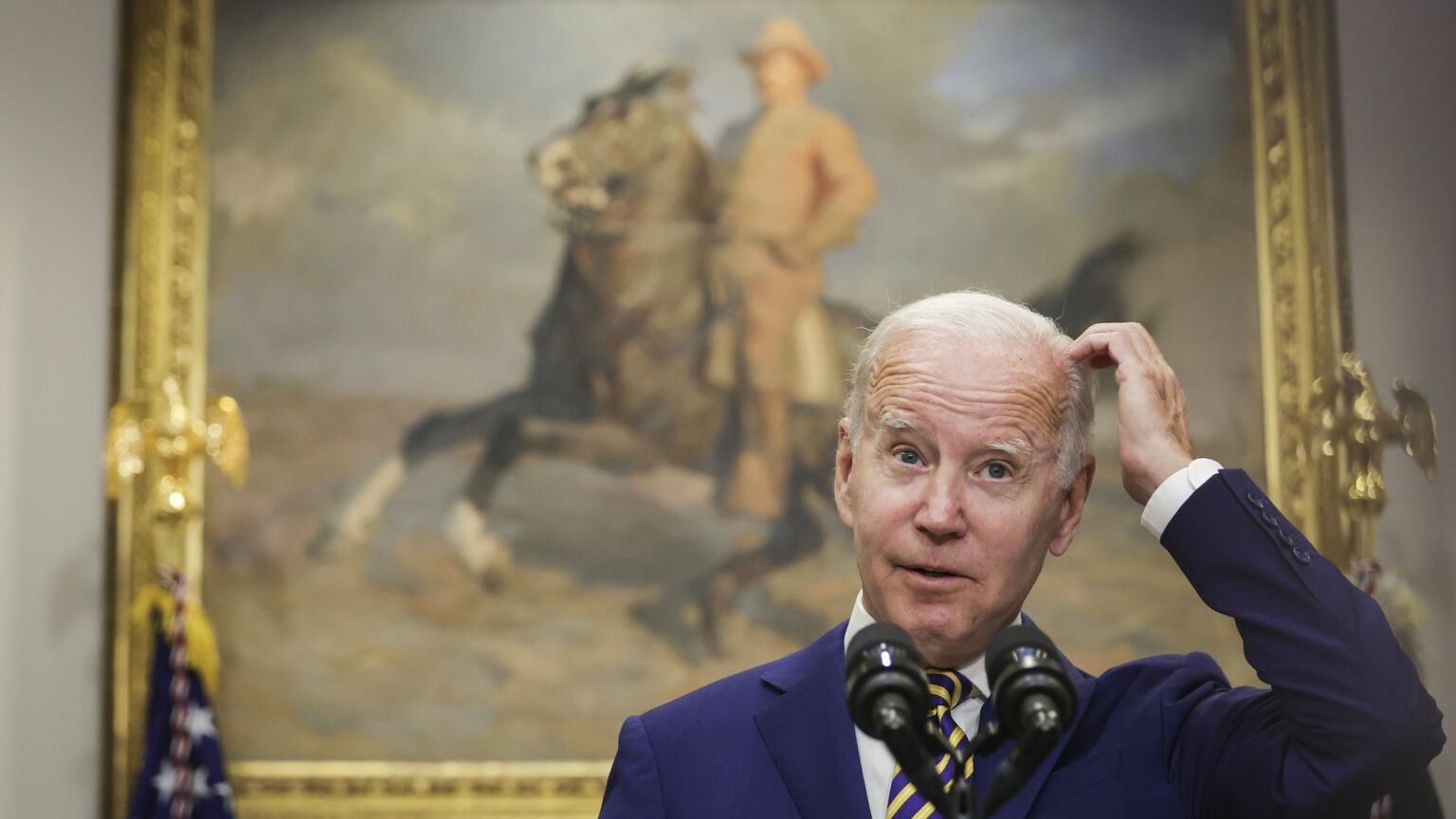 Not much more than a third of Americans complete a college degree, and under 20 per cent are in jobs that require a college degree. In recent years, the differences between this minority and the rest of America have become increasingly stark. Not only is this top 20 per cent more affluent – the sharpest cultural divides in the country are also between the college-educated and others. Politically, college graduates have become the base of the Democrats, while workers without degrees have shifted to the Republicans.
President Biden's decision to cancel student-loan debt is a perfect encapsulation of how the Democrats have become the party of – and for – the college-educated. As Biden announced yesterday, he is cancelling $10,000 in loans for individuals earning less than $125,000 and couples earning less than $250,000. The total cost of this initiative is a massive $300 billion – more than wiping out any supposed savings from Biden's recently passed 'Inflation Reduction Act'.
This is a blatant handout to the affluent and the academic establishment. It's a gift to Biden's base.
Biden claims his plan will 'give working- and middle-class families breathing room'. The truth is the opposite. Most workers won't see any benefit – because they haven't attended college or taken out student loans. Worse, as the majority of taxpayers, working people will be picking up the cost of Biden's loan 'forgiveness', to the tune of approximately $2,000 each on average.
Despite being championed by so-called progressives, the move to cancel student loans is deeply regressive. It is a reverse Robin Hood. As the Penn Wharton Budget Model found, 70 per cent of the debt cancellation will go to the top 60 per cent by income. The biggest chunk of total student debt (some 40 per cent) is for balances above $100,000, and that is held by just 7.5 per cent of all borrowers. These borrowers are mostly in professional postgraduate programmes, such as medical school and law school. The $100,000 and $250,000 income caps on relief are mainly for show, to pretend that this isn't a handout to the rich. But most of these borrowers are typically early in their careers, before they start to earn the big bucks.
The upshot of Biden's plan is truly grotesque: truck drivers and welders will be paying off the loans of future doctors and lawyers. To describe this as 'breathing room' for workers, as Biden does, is a sick joke.
Beyond the financial burden it imposes, Biden's cancellation of student debt sends a terrible message to society. Cancelling debt for a select group will stir anger and resentment, as many will feel they have been played for suckers. Think of the young people who made a career choice other than college, because they didn't want to be saddled with debt. Or the parents who scrimped and saved to avoid loans for their children. Or the graduates who worked hard to pay off their loans. All are effectively punished by Biden for playing by the rules.
Only a president and a party living in a bubble could think that student-loan relief is a benefit for the masses. Student-loan debt is just over 10 per cent of all household debt, and yet, in the Democratic world, it is sacred. Why select this debt to relieve, instead of car loans or credit-card debt? For the Democrats, a young man who starts a construction business, and borrows money for his pickup truck and equipment, is out of sight and out of mind.
Student-loan cancellation is class warfare by another name. And if that wasn't bad enough, it also gives a major boost to a higher-education establishment that has had such a disproportionate – and negative – influence on our society and culture.
High levels of student debt are a problem, but Biden and his acolytes never seem to explain how we got into this mess, and how his cancellation plan will solve it. In reality, while $300 billion is a tonne of money to spend, it will do nothing to reform the system that generated the problem. The Committee for a Responsible Federal Budget estimates that total student debt will return to its current $1.6 trillion level in just four years after Biden's cancellation plan is implemented. Four years, that's it.
As it happens, the expansion of student loans since the 1970s has played a big part in the skyrocketing costs of higher education in the US. While providing students with greater access to loans may have been well-intended, universities took advantage of this greater funding to raise their prices. The Federal Reserve Bank of New York determined that, for every dollar in increased government-subsidised loans, universities raised tuition by 60 cents. Since 1980, the average cost of college in the US has grown nearly three times faster than inflation generally, and is by far the highest in the world.
At a selective private university today, the total cost (tuition, room and board) reaches $80,000 a year, or $320,000 for four years. The endowments (that is, financial savings) of the Ivy League exceed the Gross National Products of small countries. Harvard's endowment totals $53 billion, equal to $10million per undergraduate. The Ivies are really hedge funds with a small side business in education.
Have the universities spent their extra cash on an enhanced educational experience for students, by, say, hiring more faculty staff? Dream on. Go to any elite campus and you will see that a good portion has been spent on luxury dining and other facilities. But the largest share has gone to administrators, who now dominate college life. According to Priced Out, a report from the National Association of Scholars, the total number of administrators and staff grew by 50 per cent from 1987 to 2018, led by an almost doubling of executives and professionals. This explosion of administration includes the creation of an army of diversity bureaucrats, who police students' behaviour and punish them for deviating from orthodoxies on race and gender.
Biden's student loan cancellation makes perfect sense when you consider what the Democrats have become. The greatest beneficiaries of the loan cancellation are under 40, white, well-off, with graduate degrees – in other words, Twitter progressives. And the debt cancellation will perpetuate a higher-education administrative class that has turned universities into sites of activism and indoctrination. It's a woke racket, an unholy alliance of government money and ideology.
Biden's student-loan move may prove unconstitutional, as even some allies have warned. Signing away $300 billion without Congressional approval is indeed questionable. Some have suggested that Biden knows this, but doesn't care – that his debt cancellation is a cynical giveaway to secure votes before the midterm elections.
But whether genuine or cynical, Biden's plan shows how insular and narrow the Democratic Party has become.
Sean Collins is a writer based in New York. Visit his blog, The American Situation.
To enquire about republishing spiked's content, a right to reply or to request a correction, please contact the managing editor, Viv Regan.