How the police became the footsoldiers of woke
Dancing the Macarena at Pride is now all part of the job for our activist police force.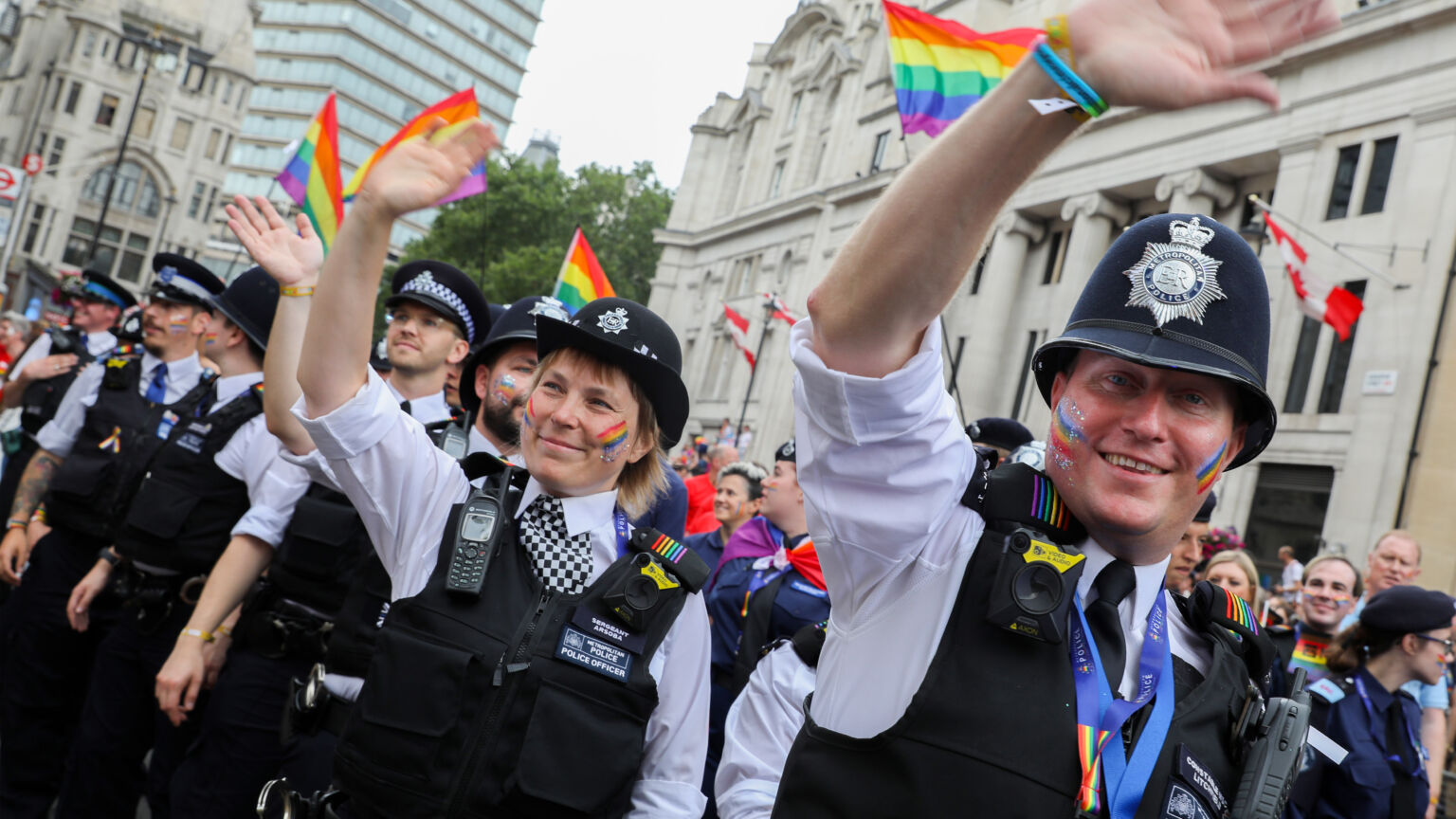 If the British police were a commercial organisation, trading standards would have been on to them a long time ago. It is simply impossible to believe that any business would get away with failing so monumentally to do what it is obliged to do in the service of its customers. Yet the disparity between the service taxpayers are entitled to expect from our police, and what we actually get, is so enormous that it might, in other spheres, lead to a charge of fraud by false representation.
Lest we forget, the primary task of our police is to prevent and detect crime. Yet that central objective appears to have slipped well down the order of priorities for today's force. Instead, the police force's main aim seems to be to do whatever is necessary to ingratiate itself with the dominant liberal class in our country, and to hitch its wagons to that class's ideology of faux-progressivism.
Rarely a week passes these days without some local constabulary or other finding itself the subject of public controversy for jumping on the bandwagon of the latest woke fad or cause.
The most recent example featured a police team dancing the Macarena at the Lincoln Pride festival on Saturday. Naturally, the local force's social-media team was quick to post a video of the spectacle, alongside a stream of images of officers making merry in other ways at the event – including taking selfies with assorted drag queens. And this was no isolated incident.
The British police force in 2022 bears almost no resemblance to what the public expects a police force to be. In 1829, Sir Robert Peel, the father of modern policing, talked of the police's need to 'secure and maintain public respect'. The police, he said, must 'maintain at all times a relationship with the public that gives reality to the historic tradition that the police are the public and that the public are the police'. He could not possibly have imagined how our modern police force has turned out. In recent years, local constabularies have stressed the importance of using the correct personal pronouns, rushed to arrest people for using hurty words on social media and threatened women with prosecution for the distribution of stickers stating biological truths. Last month, police visited a women's rights activist who had offended the sensibilities of paedophiles.
Pride, of course, remains the favourite woke cause for our touchy-feely, right-on police force. Officers don rainbow-themed helmets, constabularies deck out their response cars and headquarters in the Pride colours. Showing support for Pride has, for police chiefs, become the ultimate virtue-signal. It is a signifier of their own moral rectitude, a very public demonstration that they are on the side of enlightened 'progressivism' – and against the supposedly old-fashioned, bigoted masses.
And woe betide anyone who expresses opposition to this agenda. When Essex Police tweeted an image of the Pride flag being planted outside their headquarters in June, it was accompanied by the chilling warning: 'We're monitoring our posts. All hate crime will be reported and investigated.' And, last month, we had the now infamous arrest of an army veteran who had dared to retweet an image of a swastika comprised of Progress Pride flags. Who said satire was dead? Well, Hampshire Police actually. And don't you forget it.
Pride has, in recent years, become a highly politicised campaign – not least because of its deep hostility to those with gender-critical views. That large swathes of the country, while entirely accepting of LGBT people, may not be wholly onboard with every aspect of the Pride cause seems not to bother police leaders. But, then, why would it? For the police have themselves become increasingly political, seeing themselves as footsoldiers in the battle between the supposed forces of progressivism and tradition.
Police chiefs will often defend the involvement of officers in campaigns such as Pride by claiming they are 'reaching out' to marginalised communities or 'building links' to help in the fight against crime. Really? Tackling crime is assisted by glitter-splashed officers dancing the Macarena in full view of the public? Are there not other, more professional methods of achieving this objective?
And isn't it peculiar how this justification applies only to what the police consider to be the most fashionable causes? As a friend of mine – a committed Catholic – observes: 'I would like to see them coming to our Eucharistic processions and kneeling before the Blessed Sacrament. "Community engagement", like.' It would never happen, of course. The desire to 'reach out' to marginalised communities and participate in their activities doesn't extend to orthodox Christians or other groups with views and practices antithetical to the spirit of the age.
The truth is that today's police officers are an unattractive fusion of social activist and social worker. They still pay lip service to their bread-and-butter role of fighting crime – real crime, that is, of the sort that blights the lives of ordinary people. But the evidence suggests they just aren't that bothered about it. Suffer a burglary, robbery or theft, for example, and often the police won't want to know. For the mission of the modern police has changed utterly. They are concerned as much with what we citizens say and believe as they are with how we behave. And unless we are willing to do something about it – and I profoundly hope that we are – this problem will not go away.
To enquire about republishing spiked's content, a right to reply or to request a correction, please contact the managing editor, Viv Regan.