Andrew Tate: free speech is for twats too
The deplatforming of this sexist influencer is nothing to celebrate.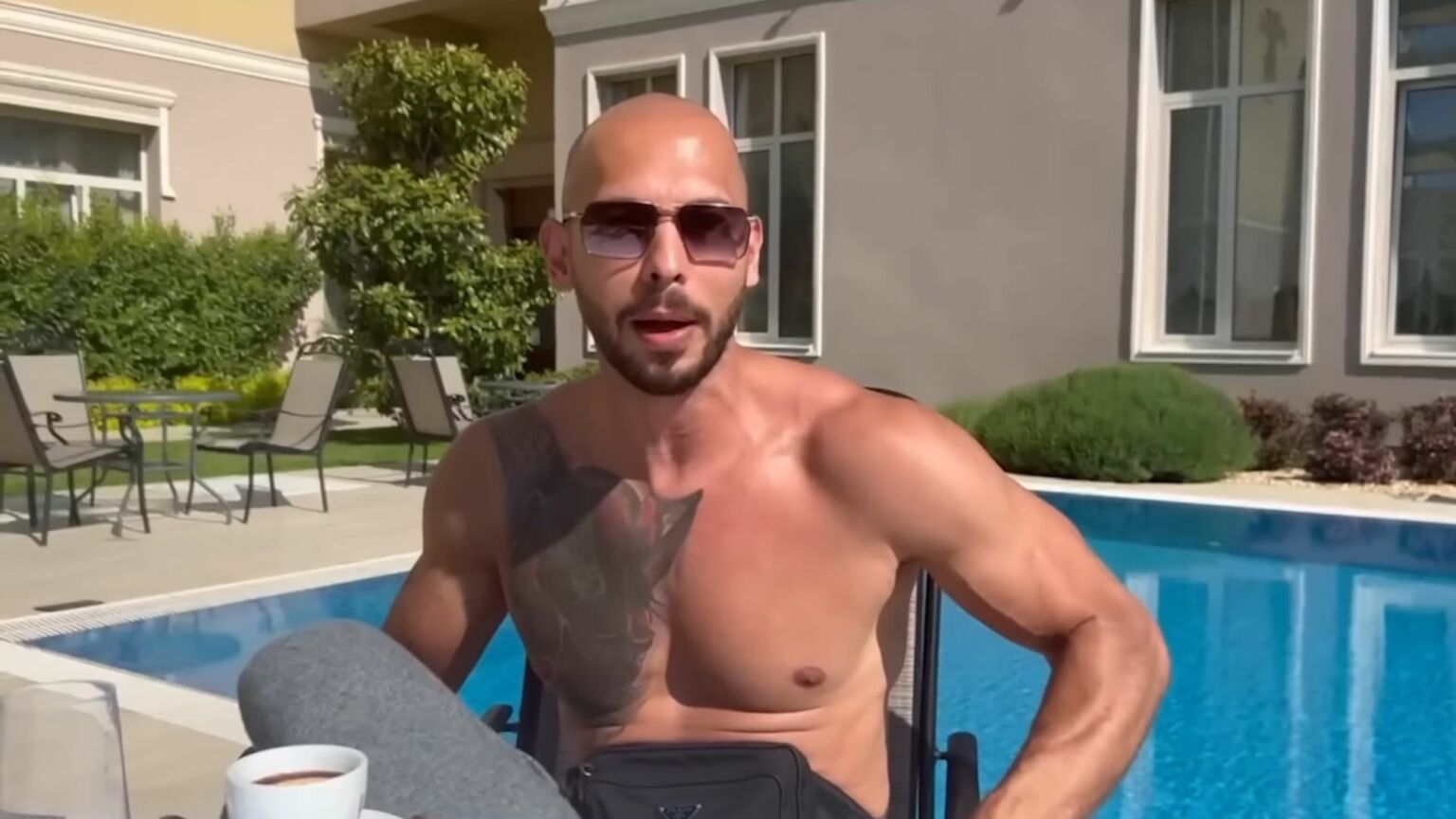 Stunning women, fast cars and blazing hot takes. This, if you were being charitable, seems to be the winning formula that has catapulted Andrew Tate into internet superstardom.
The former kickboxer, former Big Brother contestant and self-proclaimed webcam 'scammer' is now officially the most-talked-about man on the internet. Last month, there were more Google searches for Andrew Tate than for Donald Trump and Kim Kardashian combined. As of last week, he had 4.7million followers on Instagram – a huge jump from the one million he had in June. And on TikTok, videos tagged with Tate's name had been watched an astonishing 12 billion times up until last week.
Tate's takes on the ladies, on how the world 'really' works and how to be a 'real' man have proven to be viral gold dust. That combined with a cigar-chomping, hyper-masculine persona, and the fact he'll never be filmed far away from a supermodel or a supercar, apparently makes for irresistibly clickable content.
But Tate is now the subject of a major deplatforming campaign, involving the Big Tech giants and assorted NGOs. Last week, Meta, parent company of Facebook and Instagram, announced Tate would be banned from its platforms. And, at the weekend, TikTok deleted his account. YouTube is now under pressure to follow suit.
A slew of profiles of Tate have appeared in the Guardian, GQ and Rolling Stone. Each accuses him of promoting misogyny, toxic masculinity and of 'red pilling' and 'radicalising' a generation of young men. (There are also allegations of dubious and possibly criminal offline behaviour – though, naturally, these are not dwelt on in the viral videos that are the main target of Big Tech's clampdown.)
Tate hardly shies away from many of the accusations. He wants you to think he's a bad boy. He says he is sexist and is proud of it. 'The only women who don't love misogynists are the women who are too ugly to get fucked by a misogynist', he said on the Full Send podcast last month (a podcast that has also interviewed the likes of Donald Trump and Elon Musk).
Sometimes his rants are deeply creepy and violent. In one infamous video, he says if a girl ever accused him of cheating (something he boasts about doing to each of his girlfriends), then 'It's bang out the machete, boom in her face and grip her by the neck. Shut up bitch!'
Even when Tate explores his softer side – he recites his own poems on his Tate Speech podcast – he doesn't break character: 'Every time that we fuck I crush my soul into yours / We mix pain and insane with Eiffel Tower tours… Money has no value so I give you time with the dong / You're in love with my brains, obsessed with my brawn.'
Tate seems to be very much a creature of the so-called Manosphere. This is a loose collection of male-dominated online subcultures that includes pick-up artists, men's rights activists and even incels – all of whom have developed a distinctly misogynistic worldview. Women are either to blame for all the world's problems or they're little more than unthinking, easily manipulable penis receptacles.
Each time a figure from this world becomes public knowledge, he is swiftly banned or censored in some way. Infamous pick-up artist Roosh V – author of Bang: More Lays in 60 Days – was banned from YouTube, Paypal and Disqus in 2018. Julian Blanc, who claims he could train men to become 'sex worthy', was even banned from visiting the UK back in 2014.
Tate's takes on the world combine the affected swagger of the pick-up artist with the paranoia of the conspiracy theorist. 'How Alex Jones do you want me to go?', he asked one podcast interviewer recently, before laying out his worldview. We live in a New World Order, he says, where elections are rigged, pandemics are faked and only special people like him have managed to 'escape the Matrix' (there's that 'red pill' reference). The rest of us dupes are condemned to a life of slavery.
Instead of going off-grid, as some conspiracy theorists would urge, Tate argues that you need to be on every grid possible. His paranoid universe is not one of tin-foil hats, gay frogs or 'crisis actors', but of multiple passports, multiple houses in multiple countries and multiple phones so 'they' don't know how to track you. (Tate currently lives in Romania, where 'corruption is accessible to everybody'.)
Some of Tate's views are moronic and others are monstrous. But if anything Tate's most vociferous critics are playing into his hands. To fear that he is too powerful, too influential and even too dangerous is to buy into the very image he wants to project. And fear-mongering about him will only boost his profile and send people in search of his output.
Tate knows we live in an attention economy, and he takes great pride in monetising outrage. 'All I have to do is go on the internet and say something obvious like women can't drive… And they have a mental breakdown, and they'll do a 12-part video series trying to disprove me, while I don't even watch the videos!', he boasts in one clip. 'What you ideally want is a mix of 60 to 70 per cent fans and 40 to 30 per cent haters. You want arguments, you want war' – this is the message he dishes out to the 'students' who sign up to his 'Hustler's University' training course. He delights in sending his haters mad and then driving traffic to his various money-making schemes and self-help courses.
The fears of billions being brainwashed, or a whole generation being corrupted, by Tate are hard to take seriously. His takes may be viral catnip, but they are short, disposable bursts of outrage-seeking content. They will be consumed and then quickly forgotten – a fate that could soon await Andrew Tate himself.
Indeed, far more dangerous than any of Tate's shitposts is the crackdown that has followed them. Within a few weeks of reaching viral megastardom, he is being unpersoned by Big Tech and its allies. From presidents to pick-up artists, it seems that anyone can now be blacklisted for straying outside the bounds of acceptable speech. Censorship is always more dangerous than the thing being censored, and the rantings of Andrew Tate are no exception.
Fraser Myers is deputy editor at spiked and host of the spiked podcast. Follow him on Twitter: @FraserMyers
Picture by: YouTube / CrypticCobra
To enquire about republishing spiked's content, a right to reply or to request a correction, please contact the managing editor, Viv Regan.