Trump is still scrambling the minds of the elites
The Mar-a-Lago raid has brought out the worst instincts of the pundit class.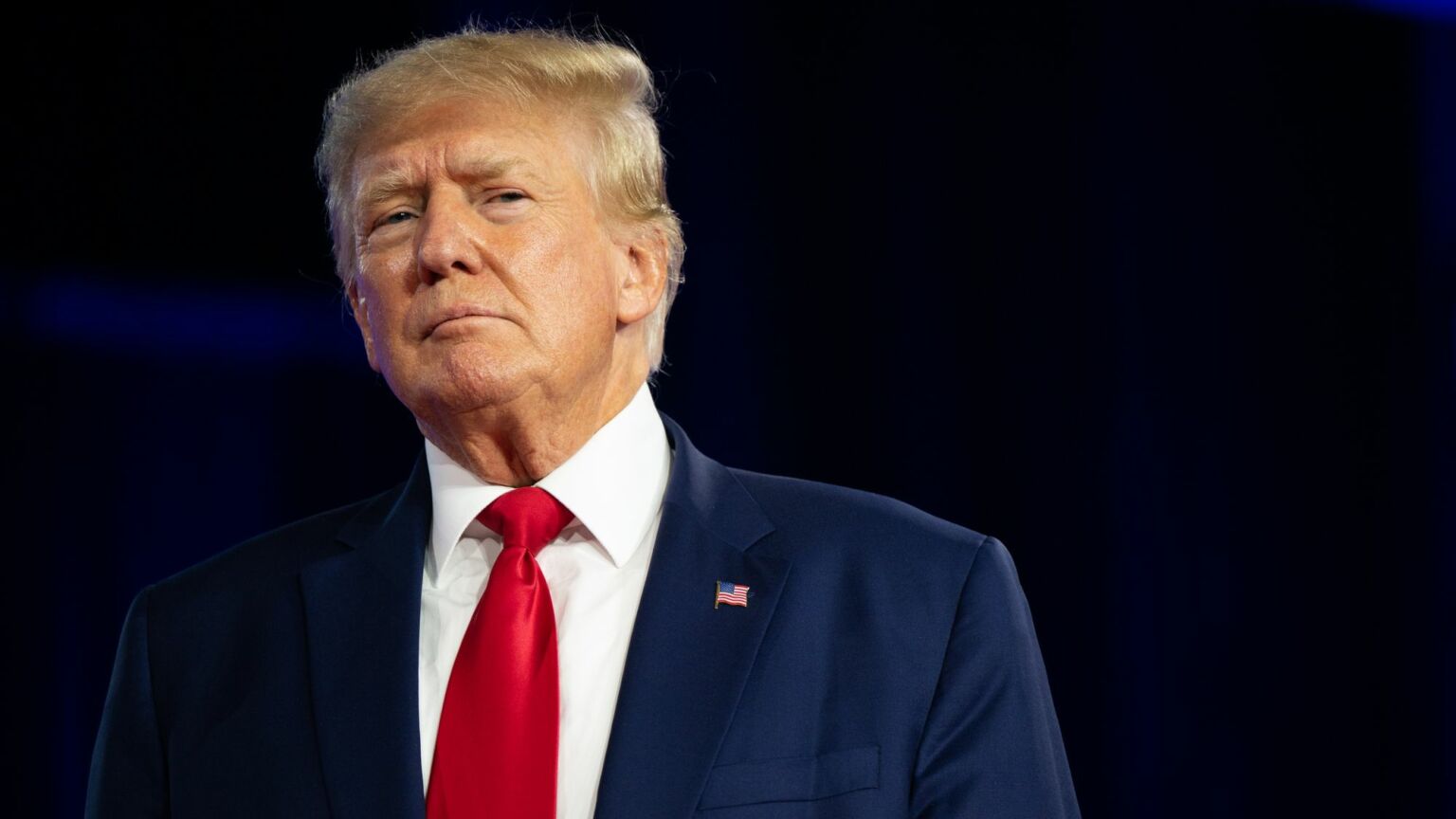 We all know by now that, last week, the FBI raided former president Donald Trump's private home, in Mar-a-Lago, and retrieved 20 boxes. We know from the now unsealed search warrant and property receipt that these boxes included a host of documents, including Roger Stone's executive grant of clemency, a leatherbound box of documents, two binders of photos, a handwritten note, an item labelled 'Info re: president of France', and 11 sets of classified documents. Some of these were marked top secret.
We all know by now that the search followed a January visit by the National Archives, which retrieved 15 boxes, and the Justice Department subpoenaed more records in the spring. Some of those were turned over by Trump's team in June.
The affidavit laying out what exactly convinced the judge that evidence for a crime might be found at Mar-a-Lago has not yet been unsealed. But we all know by now that the probable cause was related to evidence of violations of federal law, including the Espionage Act.
That's it. That's all we know.
In fact, it's all anyone knows, apart from a small number of people who work for the Justice Department and the FBI and have read the affidavit. Contrary to what thousands of pundits and politicians want you to believe, this is all the information they have, too. And that means they are no better equipped than the average American to judge how big a security breach the documents seized represent, and whether or not they justify the historic, norm-breaking step of raiding the home of a former and potential future president.
There has also been reporting from unnamed sources, such as a Washington Post report, which claims that classified documents relating to nuclear weapons were among those sought by the FBI at Mar-a-Lago. There has been reporting from Fox News that some of the records seized should have been covered by attorney-client privilege.
There has also been plenty of breathless conjecture from the very same media outlets that brought you the 'Russiagate' conspiracy theory and the Steele dossier (with its outlandish allegation that Trump had procured prostitutes to urinate on a bed in a Moscow hotel room that the Obama family once stayed in). An NBC News report, for instance, claims that 'the documents retrieved from Mar-a-Lago could include names of CIA sources in Moscow'. And a Slate piece argues that because the Espionage Act was named in the warrant, this 'implies that we're… entering the possible realm of foreign nations being given classified information to give them an advantage over the United States'.
Meanwhile, over on the right, Republicans have been calling for the abolition of the FBI and for civil war.
When did liberals, who once knew just what the FBI was capable of doing to people like Martin Luther King, become the side that places absolute faith in the feds, and cheers on the use of the draconian Espionage Act against its political opponents? And when did the right become the side that wants to abolish the FBI?
This is just the latest example of how Trump continues to scramble the categories of American public life. First, he turned Democrats into pro-war, anti-Russia hawks and Republicans into anti-war, anti-trade populists. And now he has got the left cheering on potential prosecutorial overreach and the Espionage Act while the right calls for the defunding of law enforcement.
Contrary to what the left-wing media want you to believe, it is simply too soon to tell whether Trump put US national security at risk with the documents he had at Mar-a-Lago. Certainly, no one would argue that Roger Stone's grant of clemency alone would have been enough to justify a raid on a private citizen's home, to say nothing of a former president's home. And as the Wall Street Journal pointed out in a weekend editorial, 'it has been 18 months since Mr Trump left the White House, so why the sudden urgency that required Monday's full-scale search? If the documents were serious nuclear secrets, you'd think the Justice Department would have demanded their return as soon as that was known.'
But contrary to what right-wing media want you to believe, Trump does seem to have kept a whole lot of records that didn't belong at Mar-a-Lago (many of which he returned, but not before being subpoenaed). And he didn't take the proper steps to declassify these documents while still in office. Besides, contrary to what the right has claimed, there also seems to be no evidence that the raid is part of a larger coordinated Democratic plot to bar Trump from office, not least as the head of the FBI, Christopher Wray, is a Trump appointee.
That doesn't mean I don't understand why people might think this is part of a larger plot. It's clear that Democratic elites feel powerless to defeat Trump at the ballot box and most would do anything in their power to bar him from running again. Many liberals could scarcely conceal their delight at last week's events, just barely hiding their smug elation at the 'delicious' development under a patina of disapproval – although some hid it better than others.
One of Trump's greatest gifts has always been his ability to make his political enemies match him flaw for flaw in a race to the bottom. But Trump has never mattered as much as who he is supposed to speak for – an abandoned and demoralised multiracial working class, whose communities and families have been destroyed by the elites of both parties, and is viewed by those same elites with nothing but smug condescension.
To many of those people, there is something inevitable about the FBI targeting Trump over what might turn out to be a red herring. Because they can imagine that happening to them – not for having access to classified documents, but for holding the wrong kinds of views in the eyes of the liberal media elites, who sneer at them day in and day out.
Instead of trying to understand these people – who were once the Democrats' base – liberal elites choose to mock and dehumanise them. As Obama adviser Ben Rhodes tweeted last week as the raid became public news: 'The strangest thing about this epoch of American history will always be that tens of millions of grown-ups decided to form a cult-like devotion to, of all available people, Donald Trump.'
Apparently, for the left, the working class traded in clinging to their guns, Bibles and bigotries for clinging to Trump. How childish it was of these alleged grown-ups to have voted for someone who promised to overhaul NAFTA – and then did so. Who promised to stem illegal immigration – then did so. Who promised to get unemployment down – and then did.
So often, when you scratch at the pundit class's claims to 'expertise', this is what you'll find lurking just beneath the surface: a smirking condescension towards those with different views and different interests. And yet those very same grown-up experts are the ones who believed in the 'pee tape'.
The real lesson of the raid on Mar-a-Lago, at least for now until we get more information, is that the experts have nothing on you. Read everything for yourself. Question your biases, do your homework and be sceptical of claims of expertise. And never forget to have compassion for the other side.
To enquire about republishing spiked's content, a right to reply or to request a correction, please contact the managing editor, Viv Regan.