Ayman al-Zawahiri and the crisis of America
Killing Zawahiri was right and just. But what comes next?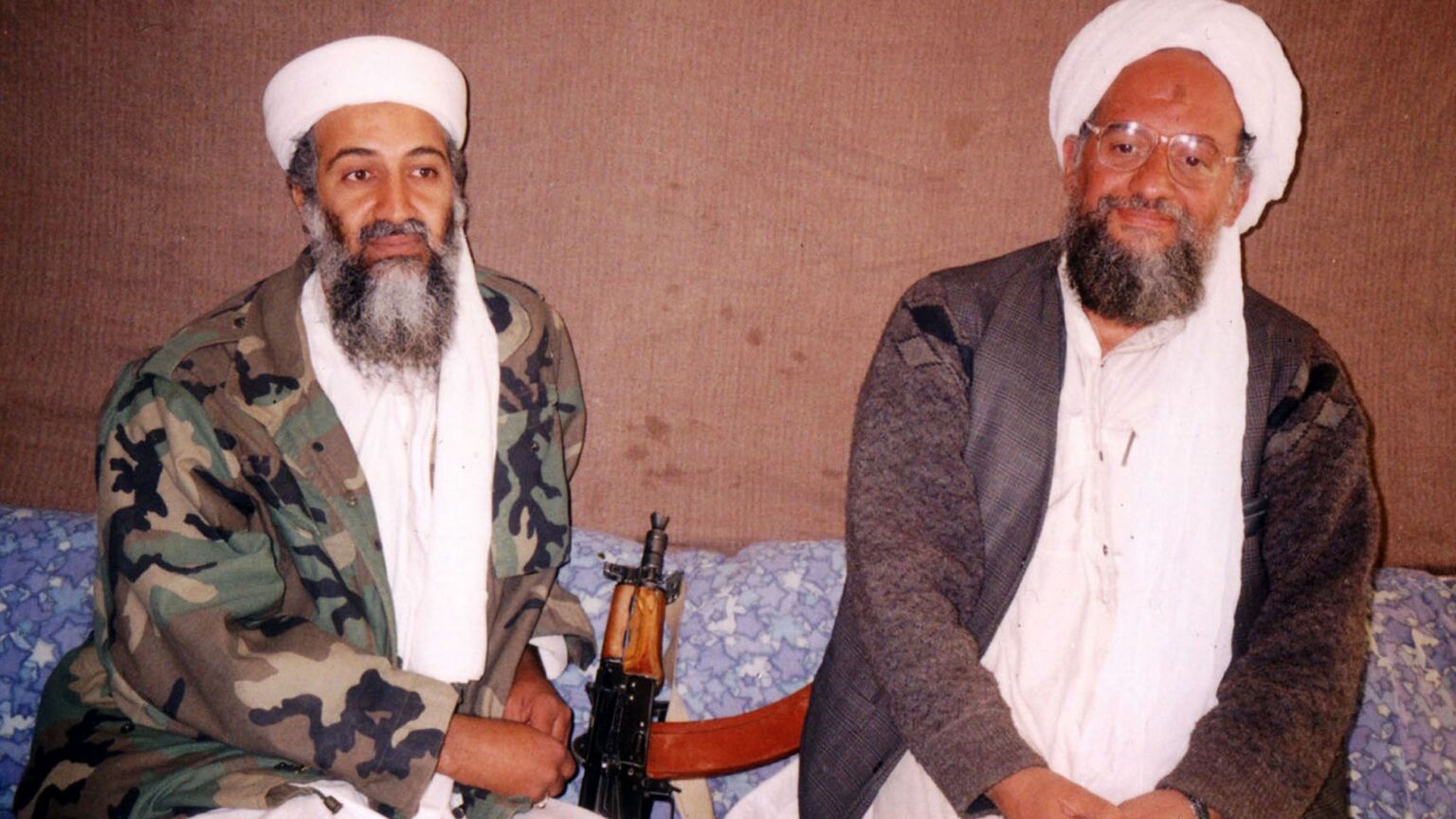 Ayman al-Zawahiri deserved to die. It is difficult to overstate how much evil this man unleashed on the world. Osama bin Laden, his predecessor as leader of al-Qaeda, may have been the better-known and more showy of the two mass murderers. But it was Zawahiri who was the ideologue, the ideas man, the intellectual architect of al-Qaeda's anti-Western, anti-Christian, anti-Semitic doctrine of hyper-violence. From New York City to Nairobi, Riyadh to Bali, thousands of souls perished at the hands of Zawahiri's 21st-century breed of Islamist barbarism. That hellfire missile that killed him in Kabul on Sunday did humanity a favour. Rest in pieces.
Yet even as we celebrate this drone-delivered act of moral justice, we must also ask what the demise of Zawahiri tells us about world affairs, and especially about the standing of America. The very circumstances of Zawahiri's death – the fact he was in Kabul, under the protection of the Taliban – raise questions about America's role in the world, and about the moral disarray of America under the Biden administration in particular. It is nothing short of extraordinary that Zawahiri was in Kabul, one of the cities al-Qaeda was chased out of during the 'war on terror' after 9/11. He appears to have returned there following the Biden administration's chaotic withdrawal from Afghanistan last year and the return to power of a Taliban that numerous Western observers insisted had been reformed and was now assessing 'what they want their role to be in the international community' (in the words of then Biden spokeswoman Jen Psaki). So yes, the Biden administration slayed the leader of al-Qaeda, but it also helped to pave the way for the triumphant return of al-Qaeda to Kabul in the first place. We need to talk about that.
Whether the killing of Zawahiri will seriously harm the al-Qaeda network is questionable. Zawahiri had been gravely ill for some time, meaning that most of al-Qaeda's communiques and plots were already being overseen by younger leaders. And yet his death is unquestionably just. Ever since he started shifting his own terror network Egyptian Islamic Jihad towards al-Qaeda in the late 1990s and early 2000s, Zawahiri played a key role in devising and justifiying ever-more apocalyptic forms of terrorism. It was Zawahiri who convinced al-Qaeda to shift its focus from the 'near enemy' – pro-Western regimes in the Arab world, especially the Egyptian government – towards the 'far enemy'. That is, towards undertaking direct, spectacular and media-oriented attacks against the US itself. Untold bloodshed flowed from this ideological turn.
First there were the US Embassy bombings in August 1998 – simultaneous truck explosions at the embassies in Nairobi in Kenya and Dar es Salaam in Tanzania that killed 224 people. The vast majority of victims were black Africans. This act of racist, anti-American barbarism first brought al-Qaeda to Western public attention. Three years later came 9/11, and its 2,996 murders, leading to Zawahiri becoming America's second most wanted man (after bin Laden). Zawahiri also helped to inspire the 7/7 bombings in London in 2005 and the Bali bombings of 2002, in which 202 mostly young revellers were slaughtered by car bombs. Twenty-eight of the dead were British citizens, making it the fourth worst Islamist assault on Britons in the past two decades (after 7/7, the Manchester Arena bombing of 2017, and the Sousse mass shooting in Tunisia in 2015 in which 30 Britons were murdered by members of ISIL in Tunisia – an attack we barely speak of now). Britons, like Americans, have good cause to welcome the execution of Zawahiri.
Zawahiri was central to the globalisation of Islamist violence. He was 'the real brains of al-Qaeda', in the words of Peter Bergen. His ideology was a singularly hateful one. He provided the ideological force to the 1998 al-Qaeda fatwa, 'Jihad Against Jews and Crusaders', a vile anti-Semitic and conspiratorial document that set al-Qaeda on its path of globalised terror. He was violently opposed to the values of liberal, democratic societies. Democracy, he said, 'was a new religion, based on making the people into gods'. Anyone who supports democracy has clearly '[fallen] into unbelief', he declared, and, like Americans and Jews, they may be attacked. Al-Qaeda was fundamentally a super-violent expression of Islamist rage against liberty, America, Jews and Christians. Yes, we live in an era of short attention spans, and an era in which talking too much about the problem of violent Islam is frequently branded 'Islamophobic', but let us hope the death of Zawahiri reminds us that in very recent times the West and its ideals came under sustained violent assault from a regressive seventh-century outfit of religious extremists. It would be sad if the assassination of one of the worst murderers in history was glossed over for fear of causing offence to Islam or because 'we've moved on'.
Zawahiri and al-Qaeda's 'star' fell in recent years. The killing of bin Laden in 2011 was a blow. And the rise of both Al-Qaeda in Iraq and ISIS – two hyper-local, deeply sectarian movements – seemed to undermine the Zawahiri-led project of targeting the 'far enemy'. Indeed, there have been periods of conflict between al-Qaeda and the new Islamist movements, including in Afghanistan, where al-Qaeda has clashed with ISIS-K (Islamic State – Khorasan Province). Yet it is worth assessing the historical moment in which Zawahiri and his movement exercised real terroristic menace on the world stage. What is most striking about Zawahiri is how parasitical he was on the post-Cold War disarray of the West and especially of the United States. One of Zawahiri's keenest and most dangerous insights was that the moral disorder of the modern West, our uncertainty and even self-hate, created opportunities for his evil movement.
There were two ways in which Zawahiri sought to exploit the internal confusions of the West. The first was through enticing US forces into a direct military confrontation with al-Qaeda. As Faisal Devji analyses in his book, Landscapes of the Jihad, Zawahiri believed that the 'war on terror', America's direct involvement in Afghanistan and then Iraq, was a 'clinching sign of America's weakness rather than its strength'. It confirmed that, in the fallout from the end of the Cold War and of the old hegemonic order, America's old forms of control, 'via client states and proxies', were no longer possible. In short, that America had to put boots on the ground was proof of its shrinking power to shape affairs in a more delegated fashion. As one analyst for the US Department of Defense argued, 'Zawahiri hoped for global war', in order to 'justify [al-Qaeda's] positions'. Zawahiri assessed, not wrongly, that absent its old proxies, and given the lack of appetite within America itself for war overseas, America's necessarily direct confrontation with al-Qaeda would likely cost America dearly.
The second way in which Zawahiri made advantage of Western weakness was by involving himself in the culture war. He was a keen observer of the West's internal cultural tensions. He frequently came out on the side of cancel culture. When Britain knighted Salman Rusdhie in 2007, he described it as an 'insult to Islam'. He raged against the Danish cartoons, calling them 'insults against the Prophet Muhammad'. Strikingly, he said these drawings were 'not the result of freedom of opinion' but rather confirmed that 'what is sacred has changed in [Western] culture'. As recently as April this year he waded into the hijab debate in India, cheering on pro-hijab Muslim activists for their stance against both India's 'pagan democracy' and the irreligiosity of the 'decadent Western world'.
Zawahiri deftly exploited the West's divisions over meaning, offence and censure to try to intensify those divisions and boost al-Qaeda's own standing in the eyes of aspiring jihadists. It is notable indeed that he frequently found himself on the same side as the West's own offence-policing elites, who frequently brand criticism of Islam as 'Islamophobia' and who describe any assertion of Western values as 'colonialism' or even 'Crusaderism', be it the teaching of great Western literature in universities or the pursuit of our Islamist enemies in foreign fields. Like them, Zawahiri decried the West's 'insulting' of Islam and its 'Crusader hatred for the Muslims'. In cynically echoing our own woke elites' turn against the Enlightenment ideals of freedom and democracy, Zawahiri weaponised the West's self-doubt against the West.
In short, Zawahiri viewed both the corrosion of the old American-led international order and the West's speedily declining self-belief as the foundation on which he might build his violent brand. More recently, there was a third way that he benefited from Western moral chaos. On the 20th anniversary of 9/11, al-Qaeda returned to positions of influence in Afghanistan courtesy of the Biden administration's kneejerk and disorderly withdrawal. Al-Qaeda enjoys 'increased freedom of action' in Afghanistan, reported the UN earlier this year. This included Zawahiri, who became far more active following the Taliban's return to power last year, suggesting 'he may be able to lead more effectively than was possible before'. He even, we now know, returned to Kabul. Under Bush, al-Qaeda was hounded out of Afghanistan; under Biden it returned.
Zawahiri is dead. That is good. But the conditions that were of benefit to him as he created his highly destructive terror movement still exist – that is, the West's inability to say what it is for, to pursue its geopolitical interests rationally and constructively, and even to insist that our values are superior to those of radical Islam. Indeed, these factors have arguably worsened since the early 2000s. Celebrate Zawahiri's mortal punishment by all means, but recognise, too, that it is likely to be a Pyrrhic victory.
To enquire about republishing spiked's content, a right to reply or to request a correction, please contact the managing editor, Viv Regan.