Joe Biden has betrayed blue-collar America
His policies have fuelled inflation and pummelled working-class people.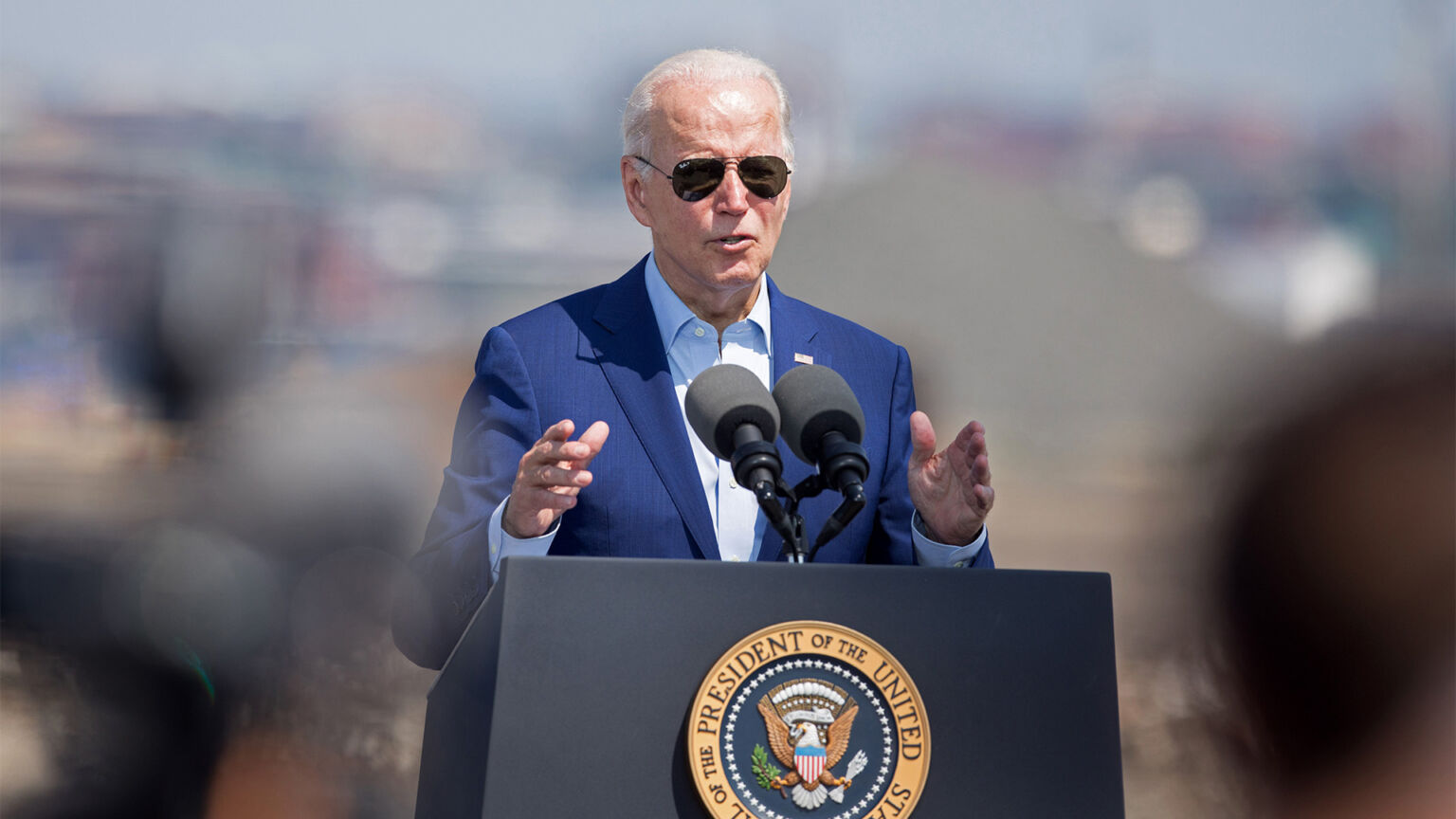 Working-class Americans are unhappy about where the country is headed and it isn't hard to see why.
In June, it was revealed that inflation had soared to 9.1 per cent – a level not seen since the early 1980s. Prices have increased across a range of goods and services and this has not been limited to essentials like gasoline (up 61 per cent) or groceries (up 12 per cent).
While everyone is affected by higher prices, working-class people are hit disproportionately. The costs to fill up a car with gasoline, or put food on the table, take up a higher share of workers' incomes than the upper classes' incomes. Americans' average real (that is, after inflation) weekly earnings fell 4.4 per cent over the past 12 months. As the Wall Street Journal puts it, workers 'are suffering the largest reduction in real wages since the 1970s'.
A CNBC survey shows that President Biden's economic approval rating has dropped to its lowest level yet, well below Trump's and Obama's lowest ratings. Only 12 per cent believe he is helping to combat inflation. 'Scranton Joe' likes to portray himself as in tune with blue-collar Americans, but there's no sense that he recognises their financial struggles at all.
Biden has been consistently complacent over rising inflation. Consumer prices were rising at a rate of 1.7 per cent when he entered the White House in January 2021 and they started to take off right away. By May 2021, inflation had jumped to five per cent. At the time, Biden dismissed the rise as 'temporary'. 'There's nobody suggesting there's unchecked inflation on the way', said Biden last July. 'I don't know anybody who's worried about inflation.' He obviously didn't talk to any working-class Americans.
By December last year, he was still pretending inflation was no big deal. 'I think it's the peak of the crisis', he said.
Today, with inflation still soaring, Biden is still in denial. Last week, he called June's nine per cent inflation figure 'out of date', arguing that gasoline prices started to decline (modestly) in July. Nancy Pelosi, the Democratic leader in the House of Representatives, echoed Biden last week: 'I think we're peaking. I think we're going to be going down from here.' But most Americans now have little to no faith that the worst is over.
Biden has also made multiple unedifying attempts to shift the blame for inflation on to others. Earlier this year, he blamed greedy businesses and called for a crackdown on the beef, poultry and pork industries for raising meat prices. This was too much even for the Democrat-supporting Washington Post, which called it a 'bizarre message'.
After Russia invaded Ukraine in February, Biden started to refer to inflation as 'Putin's price hike'. He was at it again last week, blaming 'Putin's unconscionable aggression' for the global rise in food and oil prices. This, of course, is a major deflection: energy prices had begun increasing months before Putin's invasion.
More recently, Biden has accused the oil industry of deliberately raising energy prices. He has even targeted the owners of gas stations. For Biden, the buck stops with anyone but him.
But Americans can see through this blame-shifting. If you pull up to a gas station, there's a good chance you'll see a sticker with a photo of Biden pointing to the price per gallon, saying 'I did this'. There's a lot of truth in that subversive sticker.
Clearly, global oil prices are not within a US president's control. And the war in Ukraine has certainly contributed to higher energy prices. But Biden's own policies have constrained the supply of oil and gas in significant ways, too. The Biden administration has cancelled oil and gas pipelines and drilling licences. And it has imposed stifling green regulations on the fossil-fuel industry. 'I guarantee you, we're going to end fossil fuels', he promised voters in 2019.
Just two months ago, in the midst of this energy crisis, Biden's Department of the Interior blocked a proposal to open up land in Alaska for oil and gas drilling. A couple of days later, Biden's Environmental Protection Agency rejected plans to expand an oil refinery in the Virgin Islands. Meanwhile, as Biden puts the kibosh on US gas and oil production in the name of battling climate change, he has also been begging Mohammed bin Salman and the Saudis to produce, er, more oil.
Rising inflation as a whole is obviously not entirely Biden's fault. The production and supply of goods, in the US and globally, were severely disrupted by Covid lockdown policies, which preceded Biden's arrival in the White House. After the pandemic, it has been hard to get production up and running again, and markets around the world have suffered from supply-chain breakdowns and labour shortages. Moreover, well before Biden became president, the US Federal Reserve adopted an extraordinarily relaxed monetary policy, driving down interest rates and purchasing trillions of dollars of government debt, both of which fuelled inflation.
But, as with his energy policies, Biden's broader economic policies have made inflation worse. Last March, when the economy was recovering from lockdown, Biden and the Democrats ploughed ahead with a $1.9 trillion 'American Rescue' plan, even as economists, like Larry Summers, were warning that excessive government spending would trigger inflation. This massive artificial boost to demand could not be met by supply, and hence prices took off.
Biden has yet to admit this was a mistake. In fact, he's been trying to get another massive spending package through Congress. But his treasury secretary, Janet Yellen, has acknowledged that the pandemic aid package contributed to inflation. And it is worth noting that any dollars Biden put in Americans' pockets from his 'rescue' plan were wiped out by the subsequent rise in the cost of living.
Biden's approach to inflation – dismiss, deflect and double down on bad policy – is not going to solve the problem. It will just leave the job of inflation-fighting to the Federal Reserve and the blunt instrument of higher interest rates. Such harsh medicine could push the economy into a recession – if it is not already in one. And if the Federal Reserve's past rate-tightening in the early 1980s is any guide, bringing inflation down could be a drawn-out and painful process.
As a recent New York Times / Siena poll found, the working class is feeling the day-to-day economic pain much more than the wealthy. And people clearly know whose side Biden and the Democrats are on – the same poll found that working-class and non-white voters are more likely to vote for Republicans, while the elites flock to the Democrats.
If Biden's incompetent handling of inflation leads to the Democrats being wiped out in November's Midterm elections, he only has himself blame.
To enquire about republishing spiked's content, a right to reply or to request a correction, please contact the managing editor, Viv Regan.