The Democrats' green war on the working class
The obsession with climate change is hammering the poor and driving voters to the right.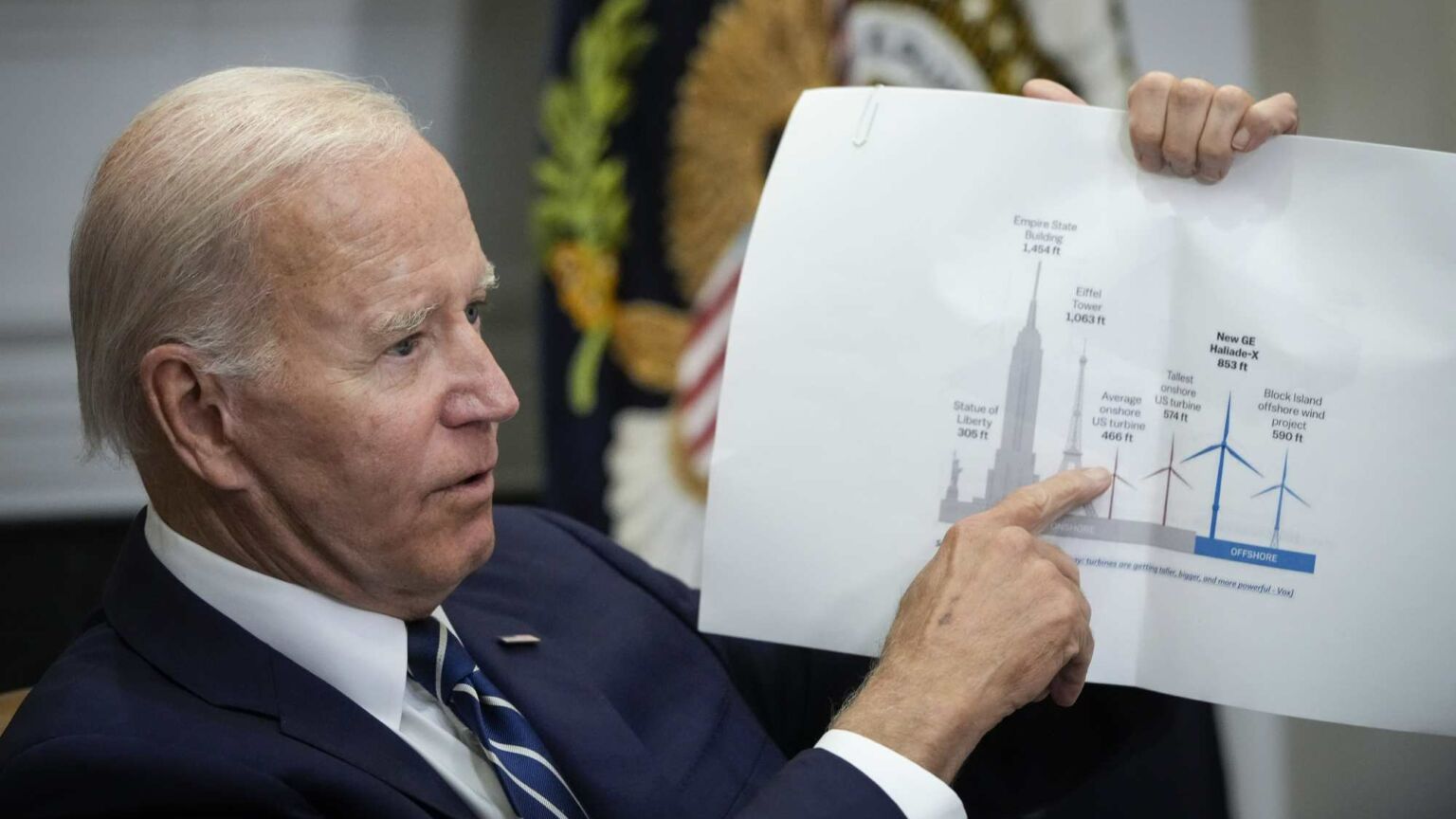 Last week, a joint survey by the New York Times and Siena College found that the Democrats are in deep trouble with some crucial voting blocs that had once been their mainstays. For the first time, Democrats now have a larger share of support among white college graduates than among non-white voters.
As some of us have been pointing out ad nauseam, we don't have a political, partisan divide in the US. We have a class divide that separates college-educated elites from the working class. And the left has become almost completely aligned with those college-educated elites.
How did this happen? Turn on CNN or MSNBC or open the New York Times and you'll be told that the fault lies with the Democrats' messaging. 'Why do Democrats suck at messaging?', asks Vanity Fair. 'Do Democrats have a messaging problem?', asks the New York Times. 'Yes, Democratic messaging sucks. But it's harder to fix than you think', the New Republic explains.
But the real problem isn't the Democrats' messaging – it's their priorities. In fact, their messaging is actually impeccable. It signals very accurately what their values are and, by extension, who they view as their base.
As the New York Times put it: 'The confluence of economic problems and resurgent cultural issues has helped turn the emerging class divide in the Democratic coalition into a chasm, as Republicans appear to be making new inroads among non-white and working-class voters – perhaps especially Hispanic voters – who remain more concerned about the economy and inflation than abortion rights and guns.'
The Democrats are no longer speaking to the multiracial working class, but to people with other concerns – such as climate change, gun control and abortion. The Dems' new base is the work-from-home pyjama class, the people with the luxury of caring about climate change and 'January 6', while their neighbours wonder if they should put food on the table or gas in the car because there isn't enough money for both.
Want to know why working-class voters of all races are abandoning the Democrats? It's because the Democrats have abandoned working-class voters.
Working-class voters of all races are hyper-focused on record gas prices, which are up 60 per cent on past year. It's not just gas, either. The prices of eggs, chicken, meat and electricity are all up by double digits. Overall inflation reached a four-decade high of 9.1 per cent in June. Meanwhile, two-thirds of Americans are living paycheck to paycheck. These people used to be the Democrats' base.
Charles Stallworth, a union railroad worker in Houston, polled 100 of his fellow blue-collar workers for a piece in Newsweek. He found the same thing. To a man and woman, their top two concerns were crime and inflation. 'You know what no one mentioned?', writes Charles, 'January 6. Or LGBT rights. Or abortion.'
Charles' findings and the Times' poll echo another poll tweeted by Rasmussen a few weeks ago, which found a similar disconnect – this time between voters and journalists.
The top concerns of voters were rising gas prices, inflation, the economy and violent crime. But while voters are busy worrying about mundane things like empty bank accounts, carjackings and a spike in homicides, the journalists surveyed were occupied by the war in Ukraine, the Capitol riot and – at the top of the list – climate change.
'The world is gonna end in 12 years if we don't address climate change and your biggest issue is how are we gonna pay for it?', our political and media elites like to say when anyone pushes back.
You know who the world really has ended for? Someone who has been murdered. Someone who can't afford to feed their kids.
The bigger issue here is that the interests of the laptop class aren't just different from the interests of the working class – they are often in fundamental tension. Demands to defund the police, open the borders and lock down for Covid make affluent progressives feel good about themselves, while they act as a literal tax on the working classes, who have to pay for this moral vanity. The Democrats' new base tends to misread its economic privilege as a sign not of good fortune but of higher moral purpose. And they then demand others foot the bill for it – those with far fewer means than they have.
Environmental policy epitomises this problem. Climate change should of course be mitigated, but the cost of doing so must be distributed equitably, to use a word the left loves. That's not what's been going on. There's a deep tension between the utopian environmental goals in proposals like the Green New Deal and the interests of the working class. As I've pointed out before on spiked, California manages to be both the greenest of the states in the union as well as the one with the greatest income inequality. The high energy costs of green zealotry have also disproportionately impacted non-white households, leading to what environmental lawyer Jennifer Hernandez has dubbed the 'Green Jim Crow'. Millions of California households live in energy poverty – thanks largely to the green policy preferences of wealthier Californians.
In order to signal their own virtue, progressives are making their neighbours poorer. Anyone who objects is given a lecture or told to buy an electric car. Don't have $70 in your bank account to fill up your car with gasoline? No problem – just buy a $60,000 electric vehicle! Joe Biden has put a $12,500 rebate for EVs in his Build Back Better Act!
It's true that inflation right now is a global problem. It would be unfair to lay it all at the feet of Joe Biden and the Democrats. But whatever Biden could do to make it worse, he has done. On his first day in office, Biden cancelled the Keystone XL oil pipeline. And even now, as the world faces the worst energy crisis for decades, the Wall Street Journal reports that the administration is looking to block several new offshore drilling projects. Green virtue-signalling has been put ahead of increasing our energy supplies and getting a lid on runaway costs.
Defenders of the Democrats point to Biden's $2 trillion 'Build Back Better' spending package as proof that the party still represents the interests of the middle and working classes. But a huge part of that programme – some $500 billion or so – was allocated to combatting climate change, much of it through handouts to corporations willing to go green. A full $320 billion of that $500 billion was to fund tax credits for companies that produce or buy wind, solar and nuclear power. This may have some limited benefits for the environment. But asking middle- and working-class taxpayers to hand over some $300 billion to corporations whose CEOs fly their own private jets is yet more elite moral preening at the expense of the lower classes.
It was more than a little ironic that, when Democratic senator Joe Manchin refused to back any new spending on climate change last week, Bernie Sanders accused him of representing 'the very wealthiest people in this country, not working families in West Virginia or America'. Supporting working families apparently means giving corporations hundreds of billions of dollars in subsidies and tax credits, according to Senator Sanders.
As a presidential candidate, Joe Biden had the good sense not to sound like a green activist. He promised, for instance, that he would not ban fracking. Yet now, instead of doing everything he can to cut the cost of gasoline, the president is far more focussed on cutting emissions.
This is a green war on the middle and working classes. As political scientist Ralph Schoellhammer put it recently, you can't have a middle class without affordable energy.
So is there hope for the Democrats? Can they turn things around? To me, these are the wrong questions. After all, it is not the job of working-class people to defend the professional aspirations of college-educated Democrats. It ought to be the Democrats' job to defend the working class. Or at least it used to be.
Batya Ungar-Sargon is is deputy opinion editor at Newsweek and author of Bad News: How Woke Media is Undermining Democracy.
To enquire about republishing spiked's content, a right to reply or to request a correction, please contact the managing editor, Viv Regan.