Hong Kong's dreams of democracy lie in tatters
Self-government, liberty and democracy have withered away under CCP rule.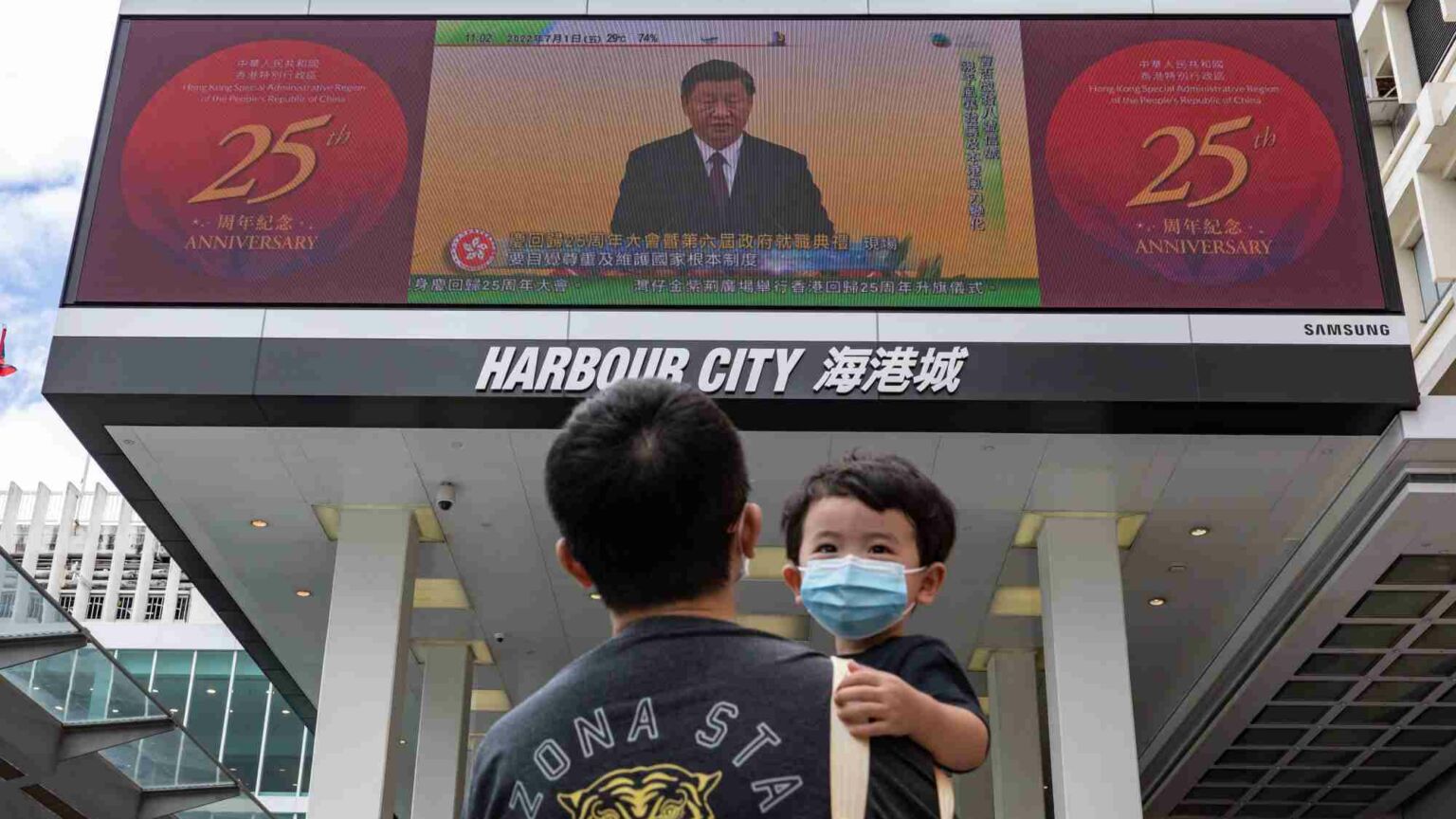 This month marked the 25th anniversary of the handover of Hong Kong from the UK to China.
Pro-Beijing politicians have been determined to present Hong Kong's integration into China as a success. In particular, they have been extolling their commitment to the 'One Country, Two Systems' policy. This is more than a little dishonest.
Hong Kong was returned to mainland China on 1 July 1997. But under the principle of 'One Country, Two Systems', it was supposed to maintain its own way of life and its own independent political institutions. There was even the promise of Hong Kong going beyond the freedoms it already enjoyed and one day attaining universal suffrage. Today, that promise lies in tatters.
The disillusionment among Hongkongers was reflected in this month's ceremony marking the handover. It may have been attended by Chinese president Xi Jinping, but few from Hong Kong bothered to turn out. Even the pro-Beijing faithful were kept at bay behind large barriers, with only the patriotic press given any access to the Chinese president.
The absence of celebrations among Hongkongers is easy to understand. Instead of becoming a self-governing territory within a Chinese framework, Hong Kong is now just another Chinese city, effectively ruled by the Chinese Communist Party (CCP).
Some of the blame for this must be laid at the door of the Hong Kong elites themselves. In the early years following the handover, pro-Beijing politicians were all too willing to sacrifice Hongkongers' freedoms. For instance, they attempted to introduce a so-called National Security Law in 2003, which threatened to curtail free speech and other democratic liberties in line with Chinese laws. So clumsy were their attempts to do so that they led to protests involving over half-a-million Hongkongers.
Beijing's own interventions in Hong Kong have been just as heavy-handed. It became increasingly clear to Hongkongers during the 2000s and early 2010s that the CCP was impeding the development of democracy in Hong Kong. Its attempt in 2014 to interfere in Hong Kong's electoral system, by effectively pre-screening candidates for Hong Kong's chief-executive role, prompted large-scale unrest. This culminated in the 2014 Umbrella Movement, a series of large-scale sit-in protests in several parts of Hong Kong.
Neither the CCP nor Hong Kong's rulers took any heed of the opposition. In 2019, local Hong Kong elites, led by Carrie Lam, attempted to formalise extradition arrangements between Hong Kong and mainland China. This led to the emergence of the pro-democracy movement in 2019. Hundreds of thousands of protesters took to the streets for several months.
Arguably, the CCP and its fans in Hong Kong just do not understand that Hongkongers want something different to the citizens of China. On the mainland, three decades of economic growth have generated support for the status quo. Exposed to CCP propaganda from kindergarten through to university, many in China trust its system of government, without necessarily approving of individual politicians and policies. Beijing's elites can also rely on the support of the 96million members of the CCP itself.
In Beijing's eyes, Chinese citizens are satisfied with economic growth and the available outlets for civic activities. There appears to be no understanding of Hongkongers and their desire for democratic control of their future, for free speech and for equality before the law.
The CCP's track record in Hong Kong certainly implies as much. Despite former chief executive Carrie Lam's insistence that Hong Kong is not becoming a police state, her successor is literally an ex-cop, John Lee. So is the new health secretary Lo Chung-mau, who is responsible for enforcing some of the harshest Covid restrictions in the world. Yes, Lee was 'elected' in May 2022 – but only by an expanded circle of CCP-vetted electors. He was also the only candidate.
Beijing also meddled in the 2021 legislative elections. Prior to the vote, it ruled that the number of Legislative Council (LegCo) seats would be increased from 70 to 90, but the number of constituency seats elected through universal suffrage would be lowered from 35 to 20. More importantly, by the time of the election, Hongkongers didn't have many people to vote for. Practically all the previous pro-democracy LegCo members or candidates were either in prison or had been disqualified from politics. Indeed, of the 10,000 or so people arrested during the pro-democracy protests in 2019, around 1,000 are still incarcerated, with many on remand while the authorities take an extraordinary amount of time to file cases.
As well as sabotaging formal democracy and abusing the law, there have been attacks on freedom of assembly, such as on commemorations to mark the anniversary of the Tiananmen Square massacre. Trade unions have been disbanded, as have NGOs, including the local chapter of Amnesty International. Freedom of speech has been trashed with the closure of papers such as Apple Daily in 2021. Its owner, Jimmy Lai, was also jailed. Even children's books are no longer safe – a group of speech therapists has just been prosecuted for writing stories about sheep and wolves. Prosecutors insist that these stories are really all allegories about China and Hong Kong.
It is also worth remembering that Covid restrictions are still in force in Hong Kong. They mean that gatherings of more than four people are illegal.
The education system is also under assault from Beijing. Teachers are asked to swear oaths of allegiance and flag-raising ceremonies have been introduced to schools. Universities have closed down their student unions and removed pro-democracy statues. And as a result, teachers are now leaving Hong Kong in record numbers.
Twenty-five years on from the handover, and there is very little to celebrate. The CCP has successfully trashed formal democracy, the law, education, civil society and any form of social solidarity. Everything that Hong Kong once stood for has now withered away.
Martin Barraclough is a writer.
To enquire about republishing spiked's content, a right to reply or to request a correction, please contact the managing editor, Viv Regan.