The Tories are right to take on trans ideology
Women's sex-based rights are not a trivial concern.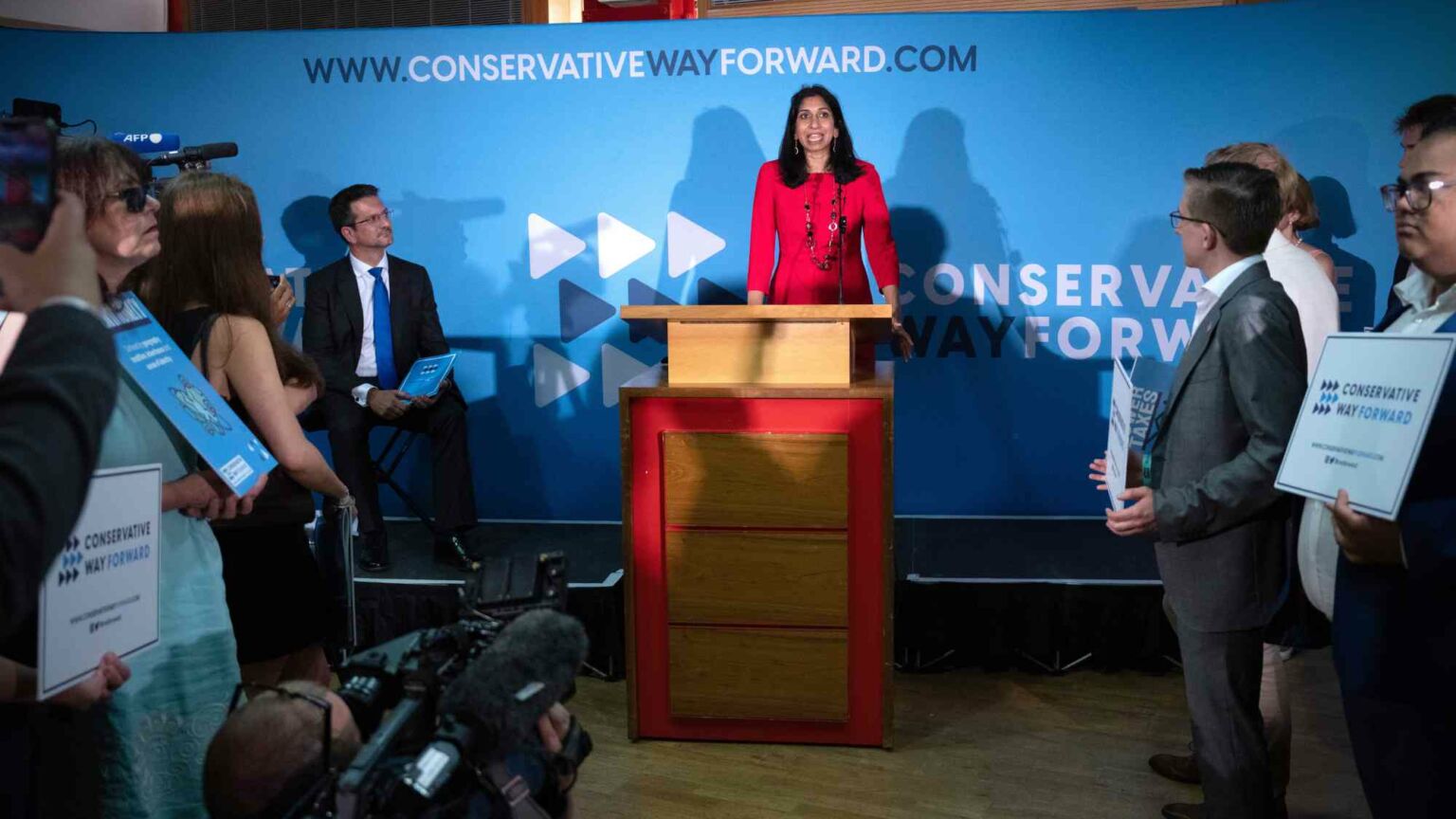 Perhaps the most striking aspect of the Conservative leadership contest so far is the dominance of the trans issue. Where a candidate stands on this question could well prove to be a dealbreaker.
Just one Tory candidate has openly dismissed the gender-identity debate as unimportant, and he is now out of the race. When interviewed on Sky News a few days ago, transport secretary Grant Shapps dodged the gender issue. 'I just don't think we need to get caught up in some US-style debate and an almost aggressive war on these issues', he said. 'It's just not necessary.' Shapps has since pulled out of the race to back Rishi Sunak.
Almost all of the other leading candidates have weighed in on the issue. On one level, this is unsurprising. It offers Conservative leadership contenders a chance to kill multiple birds with one stone. First, they get to position themselves as in tune with their base and with a public that has grown weary of identity politics. Second, it helps the Tories contrast themselves with Labour, which has still not developed a coherent stance on gender ideology. For instance, Labour leader Keir Starmer's current position seems to be both that the word 'woman' means 'adult human female' and that 'transwomen are women'. Of course, both cannot be true at once.
Soon after launching her Tory leadership bid, trade minister Penny Mordaunt appeared to come out all guns blazing by tweeting an all-caps image with the words 'DO I KNOW WHAT A WOMAN IS?'. This was followed by a lengthy thread outlining her position. Arguably, she felt compelled more than most to say something, given that she once repeated the 'transwomen are women' mantra in the House of Commons. No doubt she feared, as the Telegraph suggested last week, that her previously stated views on gender could have ruined her chances.
Mordaunt's about-turn has not gone unnoticed by other candidates. Suella Braverman, the attorney general, recalled the time when a maternity-leave bill, which was drafted to allow her to take leave without resigning from the cabinet, was hijacked by trans-rights advocates like Mordaunt. Mordaunt wanted gender-neutral language to be used throughout the bill, meaning that words like 'expectant mother' and 'pregnant woman' would be replaced by 'pregnant person'. For Braverman, this was an attempt to erase her womanhood in order to appease the new gender ideology. 'Anyone who has given birth will know how intense your feelings are both about your own body and that of the child you're carrying', she said. 'To have my female body referred to as being that of a "pregnant person" was distressing and unnecessary in law.'
Even former chancellor Rishi Sunak, who has previously been reluctant to enter the fray of the gender wars, has now said he will publish a manifesto in support of women's sex-based rights. This would include a crackdown on gender-neutral language and protections for female-only sporting competitions. This is a big turnaround. Back in March, on talkRADIO, he was asked six times for his definition of 'women', and each time he only referred to Boris Johnson's line on the matter – that 'the basic facts of biology remain overwhelmingly important'.
For all the outgoing PM's faults, towards the end of his tenure Johnson was at least smart enough to recognise that questions of sex-based rights and gender identity are not remotely trivial. It seems that many of his would-be successors have realised this, too.
The previous Tory government, under Theresa May, had proposed wide-ranging reforms to the Gender Recognition Act, which sought to allow people to 'self-identify' into whichever sex category they felt most comfortable with.
In response, feminist campaigners started to warn that acquiescing to trans ideology would have dire negative consequences for women and children. Self-identification would mean opening up women's private and intimate spaces – from prisons to changing rooms and rape-crisis centres. And treating someone's inner sense of gender identity as distinct from biological sex would have repercussions for children and young people who feel uncomfortable with their bodies. It is now clear that many children want to disassociate from their sex by seeking dangerous and irreversible medical treatments.
The Tories have finally acknowledged the importance of sex-based rights not because they are waging some right-wing culture war, but because grassroots women have forced politicians to listen to their concerns. It has been the sustained and concerted campaigning of women from all walks of life and political persuasions that has pushed this issue to the fore. By holding the line on women's rights, feminists have at the very least slowed the march of gender ideology in our institutions.
As candidate after candidate makes pledge after pledge on women's rights, let us not forget that none of them would be having this conversation were it not for the bold and brave women who refused to be silenced.
Raquel Rosario Sanchez is a writer, campaigner and researcher from the Dominican Republic.
To enquire about republishing spiked's content, a right to reply or to request a correction, please contact the managing editor, Viv Regan.