The head boy from hell
Tepid technocrat Rishi Sunak is the worst choice for PM.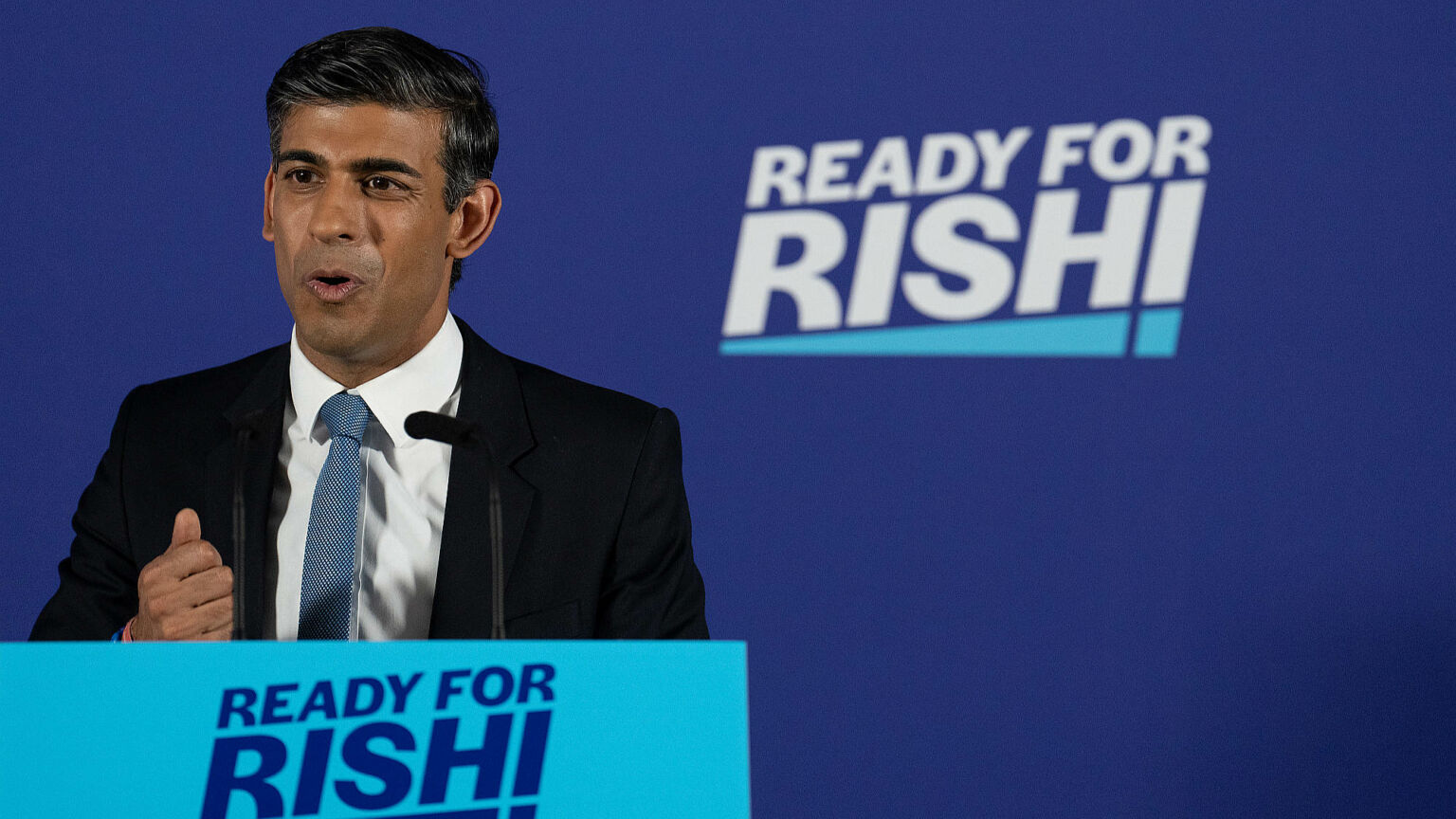 Do you remember Rishimania? Of course you do. It was the most squirm-inducing political phenomenon of recent times. There was a point when even a glimpse of Rishi Sunak's ears was enough to send liberal-media types into a teenage frenzy. Those 'eager, wholesome ears', gushed a writer for the Gentleman's Journal, no doubt typing with one hand. Then there was that 'lingering hint of a playground lisp'; his eyes that 'sparkle like a baby deer'; his smooth and soft skin, 'as if a glowing Snapchat filter had been placed… over Downing Street'. Someone needs a cold shower.
GQ was at it, too. Its style editor reported feeling 'blindsided by [Rishi's] kind eyes'. Hereditary columnist Flora Gill fantasised about self-isolating with Rishi. Never mind taking the knee, 'I'd happily get on two knees' for the likes of Sunak, she said. She's easily the worst thing Amber Rudd has ever done. It was during lockdown, when Rishi was splashing the cash, furloughing workers and giving us 50 per cent off our meals out, that the then chancellor's star really rose. A writer for Ham&High summed up 'life in lockdown' as follows: 'Toilet cleaning… and crushes on Rishi Sunak.' Sometimes I just don't understand the middle classes.
What was all that Rishiphilia about? It wasn't just his ears and eyes, fetching as I'm sure they are. It was because Sunak was Not Boris. Yes, he might have been Boris's chancellor, but he was, in the glazed-over eyes of the liberal media, the Counter-Boris, a lisping, deer-like good guy to that scruffy oaf put into power by people who didn't even go to Durham, never mind Oxford. He was studious, stiff, unlikely to get pissed at a dinner party, in contrast with the populist loon that the media elites judged Boris to be.
As one Guardian writer put it, he was 'a technocrat in an age of populism'. If we were at school, Rishi would be the kid who 'knows the librarian by her first name and sings competently in chapel', said that Gentleman's Journal piece. These people love competence above all else. He's a 'cosmopolitan technocrat', said Bloomberg. 'He's Captain Sensible while Boris is blundering', one insider told The Times in 2020.
So the fact that Sunak has been prepping his leadership-challenge website – 'Ready for Rishi' – for months isn't surprising. The media elite has been talking him up as an anti-Boris force, the man who could return at-sea Britain to the safe shores of technocracy, for ages. For me, it is precisely that he is the favoured candidate of the 'sensible' ancien régime that we the people only just tried to turf out of power that makes him the worst possible choice for PM.
Yes, the Sunak shine has come off in recent months. He was fined over Partygate, his crazily rich wife was found to have non-dom status, and Rishi was exposed as holding a US green card until just last year ('cosmopolitan technocrat', indeed). But make no mistake, the Smart Set still fantasises that he can fix this populist-scarred nation. They still believe that the man once christened by the New Statesman as an 'intellectually nimble and open-minded technocrat' can turn the tide on the madness of the Boris and Brexit years.
Let's be honest: they like him because he's tepid. Everything about him is tepid. Even the statement he made in support of Brexit in 2016 was dry. 'It pains me that I have reached a different conclusion to people I greatly respect' – get on with it! – but 'outside the EU… our businesses [will] thrive in… exciting new markets', he said. Such passion! It's like someone watching the English Revolution in the 1640s and thinking, 'I hope this improves my sales of cabbages'.
Absence of passion is the key selling point of 'Ready for Rishi', too. Sunak is clearly keen to put himself above those pesky culture wars. He's made noises about respecting sex-based words like 'woman' and 'mother', but fundamentally he wants to be the 'unity' candidate, he says. So naturally he's won the backing of Grant Shapps, who just yesterday said Britain needs to focus on 'bread-and-butter issues', not 'woke issues'. The Rishi set is all about draining the populism and feeling from politics and just getting the job done. I'm yawning.
This is the opposite of what Britain needs right now. We don't need a head boy (Sunak has 'the smile of a head boy', of someone who is 'handy with a jug of orange squash', say his mad fans). No, we need a bruiser. Not for the hell of it, not to be contrarian, but because there are massive battles ahead. The fight for Brexit isn't over, the fight against woke must be waged (whatever Sunak and Shapps say), and the fight for a better, freer, wealthier way of life is only beginning. We need a Churchill, not a choir boy. Don't vote Sunak, however cute his ears are.
To enquire about republishing spiked's content, a right to reply or to request a correction, please contact the managing editor, Viv Regan.