When did tennis become so politicised?
Rows over vaccines or the war in Ukraine have no place at a tennis tournament.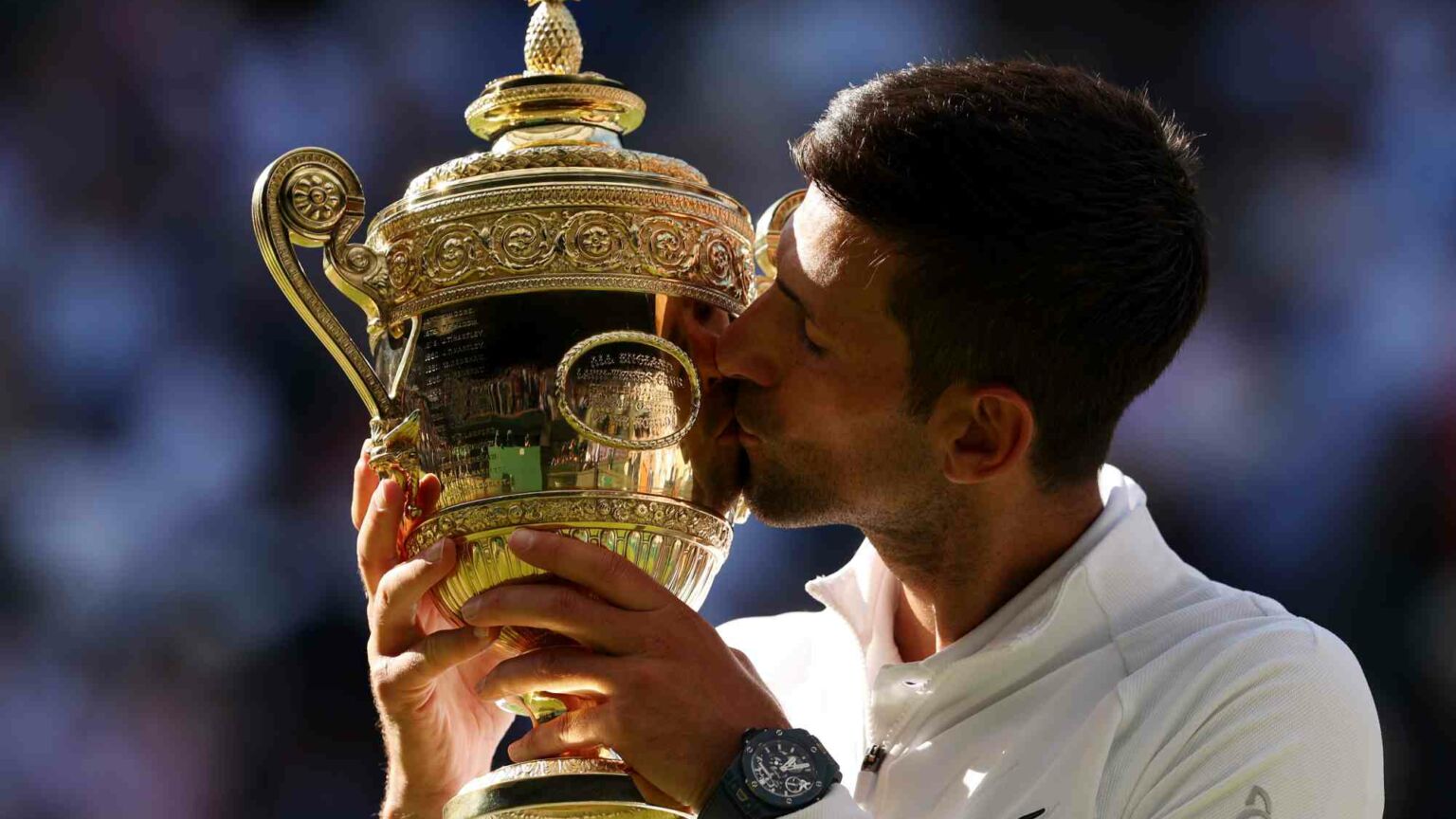 As Nick Kyrgios's backhand hit the net, Novak Djokovic looked heavenward in relief and celebration. He had done it again. This was his seventh Wimbledon title and 21st Grand Slam. He now stands just one slam behind Raphael Nadal, who currently holds the record at 22. It is a remarkable achievement even for this greatest of all competitors.
And for a few moments after his Wimbledon victory, it was possible to enjoy the sporting achievement in and of itself. Perhaps some Djokovic fans even allowed themselves to imagine him picking up his world record-equalling 22nd slam at the US Open later this summer.
They were soon to be disabused. A few hours after his triumph in SW19, Djokovic reminded everyone that, as it stands, he will not be allowed to compete at Flushing Meadows. He told the media that he will not get vaccinated against Covid and so, under current US rules, he will not be permitted to enter the county. And so once again a tennis player with a rightful claim to be regarded as the greatest in an era of greats will be prevented from competing for entirely non-sporting reasons.
We've been here before with Djokovic. Earlier this year, he was deported ahead of the Australian Open because of his stance on the Covid jab. He had originally been given permission to enter Australia. He was initially allowed to compete in the Open, which he had previously won an unprecedented nine times. But then the Australian government u-turned and cancelled his visa. Not because he posed a threat to public health. As immigration minister Alex Hawke made clear at the time, Djokovic's previous Covid infection meant he was a 'negligible risk to those around him'. No, his visa was cancelled because the Australian government was worried he had become a 'talisman of a community of anti-vaccine sentiment', and that should he have been allowed to compete he would have prompted an 'increase in anti-vaccination sentiment'.
It was a wretched decision. Djokovic was punished purely because of his personal views – views, which while widely known, he does not especially publicise. He was punished and persecuted because of what he thinks. As Tom Slater put it at the time, Djokovic had been found guilty of a thoughtcrime. The whole tawdry affair captured the Australian government's descent into Covid authoritarianism and its refusal to tolerate dissenting opinions.
It was massively unfair on Djokovic himself, who was humiliated, demonised and prevented from realising his ambitions. And it did great damage to the integrity of the sport. After all, if the best players are arbitrarily prevented from participating – purely because they hold the wrong opinions – then the sporting spectacle is devalued. It starts to look hollow and second-rate and the achievements of those still allowed to compete are undermined.
And now history looks like repeating itself at the US Open, with the world's best player once again forced to kick his heels back home. Tennis is starting to look less like a tough, uber-competitive sport and more like an invite-only get-together for people who hold the right opinions and set the right example.
Not that this year's Wimbledon had any more integrity as a sporting competition. The whole tournament was haunted by the silly and vindictive decision of the All England Club, following advice from the UK government, to ban certain competitors. Not because of their views on vaccinations. But because of their nationality.
The organisers of Wimbledon thought it perfectly reasonable to exclude all Russians because of their government's decision to invade Ukraine, and all Belarusians because of their government's decision to support it. The players had no connection to the decision to invade Ukraine other than the fact they shared the same nationality as Vladimir Putin or his cheerleader Alexander Lukashenko. It's like punishing Tim Henman for the Iraq War.
The Association of Tennis Professionals and the Women's Tennis Association rightly recognised that the All England Club's decision was a blatant act of borderline xenophobic discrimination and stripped Wimbledon of any ranking points. This meant that this year's tournament was effectively a series of exhibition matches that had no bearing on who is world No1, No2, No3 etc.
Wimbledon's decision to punish players because of their nationality has done nothing to help Ukraine, of course. And it certainly hasn't affected Putin, who's more of an ice-hockey fan. But it has harmed the world No2 men's player, Daniil Medvedev, who was prevented from showing everyone what he can do. And it also undermined Djokovic's own achievement by removing one of his main rivals from the draw. Indeed, it was Medvedev who beat Djokovic in last year's US Open final to claim his first Grand Slam.
Sport, with tennis leading the way, has repeatedly shot itself in the foot this year. And all because sporting bodies and national governments can't help but use it to virtue-signal, be it over Covid jabs or the war in Ukraine. This nasty posturing has got to stop. Sport will never be free of political context. But right now it is being engulfed by it.
Tim Black is a spiked columnist.
To enquire about republishing spiked's content, a right to reply or to request a correction, please contact the managing editor, Viv Regan.