What the pro-choice movement can learn from Ireland
The Irish abortion referendum showed that women's rights and democracy go hand in hand.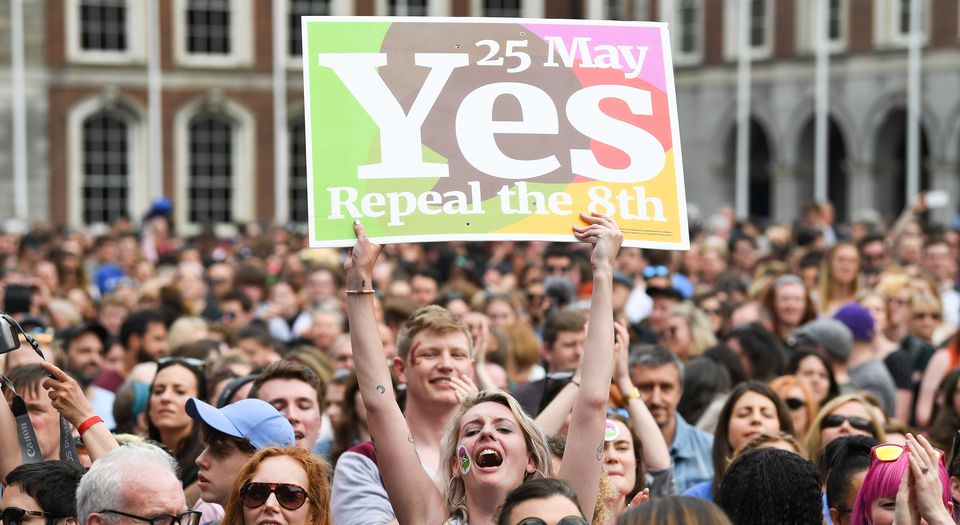 The overturning of the Supreme Court's 1973 Roe v Wade ruling has challenged American pro-choice activists to think about how abortion rights should be defended in the future – through the courts or at the ballot box?
For almost 50 years, the Roe ruling provided a strong defence of a woman's right to abortion. It used the US Constitution's 'right to privacy' to 'encompass a woman's decision whether or not to terminate her pregnancy'. But the very fact that it was the product of a Supreme Court decision, and not of a democratic vote, was always a problem. This left the fate of women's bodily autonomy in the hands of a small number of unelected judges. And, as has now been shown, this was never a secure arrangement.
Leading Democrats have not grasped this problem yet. Some have responded to the fall of Roe by looking for legal work-arounds. Elizabeth Warren and Alexandria Ocasio-Cortez, for instance, have backed a proposal to use federal lands for abortion clinics in states with punitive restrictions – as these areas (such as military bases) are not subject to state law. Others have suggested that President Biden could enable access to abortion services using federal public-health emergency legislation.
This is not the best way to defend women's right to abortion. Those on the American right have a point when they argue that pro-choice activists are running scared of democracy. Abortion rights should be decided by citizens at the ballot box.
In fact, American pro-choicers could do worse than look across the Atlantic to the example provided by Ireland, and its abortion referendum of 2018.
Because just over four years ago, Catholic Ireland defied expectations and voted overwhelmingly – by 66 per cent – to remove the eighth amendment from its constitution. This had protected 'the right to life of the unborn', leaving Ireland with some of the most restrictive abortion laws on Earth. Thanks to the referendum, Irish lawmakers are free to set abortion law in line with the wishes of the people and the government can provide services that meet the needs of women.
Yet before the referendum, many Irish pro-abortion activists – like pro-choicers in America today – had been very pessimistic about their prospects of winning popular support. They had written off vast swathes of the Irish population as being unreachable and too set in their ways to countenance legalising abortion.
This view proved to be very much mistaken. Even the largely rural county of Kerry, which many metropolitan liberals thought would be allergic to change, voted 58.3 per cent in favour of repealing the eighth. Indeed, an RTE exit poll found that 63 per cent of rural voters had cast their ballot in favour of abortion rights. This showed that even the most unlikely of voters can always be won over to the side of women's freedom.
The US may not be directly comparable to Ireland. But American pro-choice campaigners should still take inspiration from Irish campaigners' ability to win a popular vote in a nation many thought would not support abortion rights. And it showed that the most secure and lasting changes are best achieved democratically.
There is certainly an appetite in America for a more democratic mode of decision making. A 2021 Pew Research Centre poll found that 73 per cent of Americans agreed that it would be a 'good idea to use referendums to determine important public policies'. Moreover, there is a clear majority in America who support abortion rights. A Gallup poll taken in early June, found that 55 per cent of Americans identified with a pro-choice position, the highest level since 1995. Even in states like Texas, where anti-choice sentiment is thought to be at its most visceral, polls have shown that just 35 per cent of citizens 'supported automatically banning abortions' after Roe's fall.
It is clear that Americans are not scared of change. And they are more than open to a public discussion about abortion rights. This is good news. The best people to enact social change are citizens, not lawyers or judges. And the best way to secure freedoms is through the democratic process – whether via referendums or national elections – not legal workarounds.
To enquire about republishing spiked's content, a right to reply or to request a correction, please contact the managing editor, Viv Regan.