Why the Twitter luvvies love Mick Lynch
The no-nonsense leader of the striking rail workers has been turned into an unlikely online pin-up.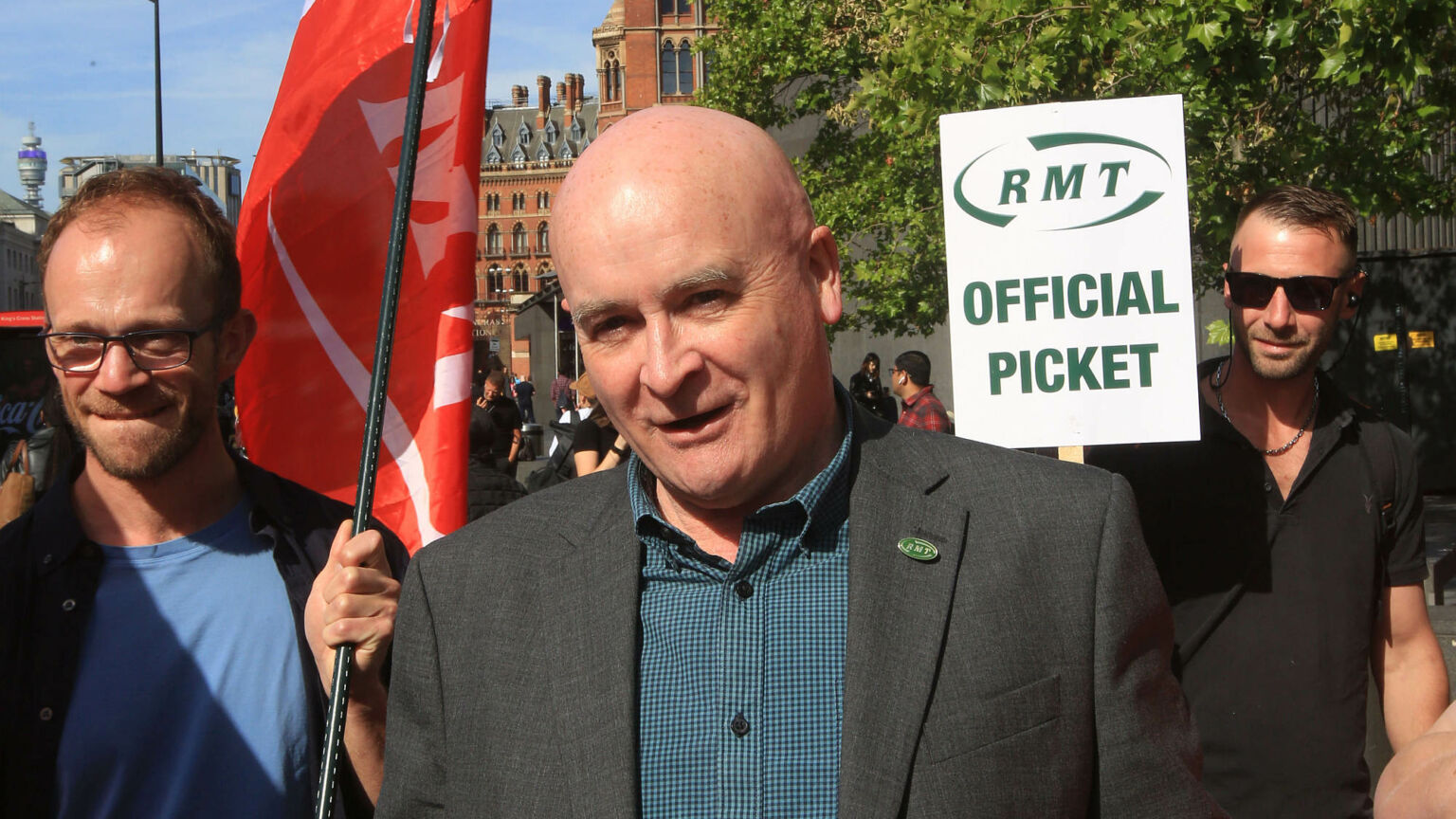 Why are so many Twitter luvvies, who have never previously shown much interest in the railways or trade-union affairs, suddenly obsessed with the general secretary of the National Union of Rail, Maritime and Transport Workers (RMT)?
Mick Lynch, leader of the striking railworkers and self-styled 'working-class bald bloke with big eyebrows', has been turned into an unlikely pin-up, attracting a cult following among online celebrities after his TV appearances arguing the union's case against all comers.
Actors, comedians, presenters and ex-footballers – led by Gary Lineker, chief wokesperson for the Twitterati – have been tweeting about their new 'hero', who's not only 'bloody good' but also 'fantastic', 'hot' and 'fast becoming a national treasure'.
It seems unlikely many of them have ever met the likes of pugnacious Mick Lynch, who grew up on a council estate in west London in what he described as 'rented rooms that would now be called slums, the old tin bath and shared toilet with other families'. Yet they have congregated on Twitter to adore him from afar.
There is no doubt that Lynch has been the TV star of the rail dispute, whose appearances have won millions of views online. By giving straight answers, sticking to his point and his principles, Lynch has cut a proletarian swathe through the smug elite of top news broadcasters and swatted aside our pathetic politicians like so many buzzing flies.
When Lynch nailed one Tory MP's confected outrage at the strikes as 'just the stuff that is written in Conservative central office for backbench MPs to spout', it reminded me of George Orwell's timeless advice from almost 80 years ago, that 'Political language is designed to make lies sound truthful and murder respectable, and to give an appearance of solidity to pure wind'.
That seems even truer today, when many mealy mouthed, double-talking politicians appear incapable even of answering a question about whether a woman can have a penis.
On the BBC's Newsnight, Lynch looked hapless Tory minister Chris Philp in the eye and repeatedly told him 'You are a liar'. Veteran Newsnight presenter Jeremy Paxman famously said that he approached every political interview by asking himself 'Why is this lying bastard lying to me?' – but even the irascible Paxman never said it to a government minister's face live on air.
On the BBC's Politics Live, the left-wing union leader showed an admirably even-handed contempt for politicians. He knocked down not only Tory MP Jonathan Gullis but also Labour peer and frontbencher Jenny Chapman, putting the baroness in her place by informing her that 'I don't even know who you are'.
Star TV news presenters didn't fare any better. On ITV's Good Morning Britain, Richard Madeley had barely said good morning before demanding to know whether Lynch was a Marxist, 'into revolution and bringing down capitalism'. 'Richard,' replied the RMT chief, 'you do come up with the most remarkable twaddle sometimes. Opening an interview with that is nonsense.'
Queen of Sky News Kay Burley implied that striking rail workers could be on track to repeat the picket line clashes of the 1984-85 Miners' Strike. Lynch, coming live from London's Euston station, pointed out the small, quiet picket next to him. 'What are you talking about? You are going off into a world that isn't real.'
Many took particular pleasure in sharing a clip of Lynch's exchange with Piers Morgan on TalkTV. Morgan demanded to know why Lynch's Facebook profile picture was a photo of the Hood, the 'evil criminal terrorist mastermind' from the old TV puppet show Thunderbirds, described as 'the world's most dangerous man'.
Lynch was not about to dance on that string. 'He's the most evil puppet made out of vinyl in the world. Don't you want to talk about the issues? It makes me laugh that your level of journalism has descended so far.'
Lynch's performances had plenty of people laughing and lapping it up online. The Twitter celebs, never knowingly out-tweeted, piled in to praise their new hero. Luvvie TV comedians who are often more interested in making political statements than telling jokes lauded him as 'MY NEW COMEDY HERO' and declared 'Happy Mick Lynch Day!'
Speaking of unfunny comedians, Alastair Campbell also got in on the act. Presumably with a straight face, the former New Labour spin doctor praised Lynch for taking down opponents 'with facts mixed with gentle scorn'. Neither of those was often associated with Campbell, the foghorn responsible for Tony Blair's 'dodgy dossier' justifying the Iraq war. After Lynch's 'excellent' Newsnight appearance, Campbell even declared that, 'When liars lie call them what they are', bringing to mind pots and kettles.
The overnight emergence of this pro-Lynch mob on Twitter is clearly about something other than simply siding with striking workers, which few of them have shown much interest in before.
They appear taken aback to discover that Lynch, a self-styled 'working class bloke who's leading a trade union in a dispute over jobs, pay and conditions', can more than hold his own with the best that the media and political elites can offer. In the conformist world of broadcast news, straightforward working-class voices are usually banished in favour of middle-class meejah types, schooled and polished to within an inch of their professional lives.
This was highlighted by Danny Baker, a proletarian broadcaster who was a regular on the BBC before being cancelled for making a bad joke on Twitter, and whose dad was a leader of the dockers' union.
'So great to hear a working-class accent on the news again', tweeted Baker, 'that's not just a quick vox pop conducted by a uni media graduate'. He highlighted how Lynch had successfully subverted the modern rules of broadcast news debates, by refusing to interrupt and play up as their 'media training said [he] would'.
We can agree about why Lynch's no-nonsense style works so well in that hidebound world. But we might ask whether there isn't something condescending and patronising about so many other virtue-signalling petit-bourgeois luvvies lauding Lynch as some sort of performing prole, saddled with the dreaded label 'authentic' that they all crave?
We might also ask how deep their admiration and support for Lynch really runs. The rail strikes coincided with the sixth anniversary of the EU referendum, when we voted Leave. Twitter celebrities are, almost to a man / woman / non-binary individual, ardent and often shrill Remainers.
These tweeting Remoaners have spent the past six years denouncing Brexiteers as fools, reactionaries and even racists. And which was one of the few prominent organisations in Britain to support Leave, defying the TUC and the political establishment? Mick Lynch's RMT.
Lynch's predecessor and hero, legendary RMT leader Bob Crow, was an ardent Brexiteer before the word was invented, launching the campaign group No2EU back in 2009. After Crow's death, the RMT leadership made a clear case for its members to vote to leave the EU in 2016, in order to 'end attacks on rail workers' and on 'workers' rights', 'end austerity' and 'support democracy'.
Lynch was not elected as general secretary of the RMT until last year. So, ITV political editor Robert Peston put it to him last week, 'Did the RMT make a mistake backing Brexit?' in 2016. Lynch's answer was as clear and concise as usual: 'No, I don't think we did make a mistake.' How many of his new Twitter fan club – like Gary Lineker, one of the bitterest Remainers around – would applaud Lynch for backing Brexit, the biggest working-class revolt in modern Britain?
There are major underlying issues at stake today, about everything from the right to strike to the cost-of-living crisis and the ongoing battle for Brexit. None of them will be resolved by leftie Twitter luvvies looking for a new media pin-up whose fight against a Tory government they are trying to hijack to burnish their own woke credentials.
Boris-bashing TV presenter Jemma Forte tweeted her frustration that 'journos' such as Piers Morgan and Kay Burley 'are desperate to "fluster" unflappable Mick Lynch as though doing so would be a "win" for them. But the issues are so important and not about "them".'
That is a message that every luvvie posturing on Twitter would also do well to take to heart. The rail strikes are really not all about you.
Mick Hume is a spiked columnist. His latest book, Revolting! How the Establishment is Undermining Democracy – and What they're Afraid of, is published by William Collins.
To enquire about republishing spiked's content, a right to reply or to request a correction, please contact the managing editor, Viv Regan.