Oslo and the Islamist threat to gay life
A suspected Islamist terrorist shot up a gay bar on the eve of Pride. Where's the anger?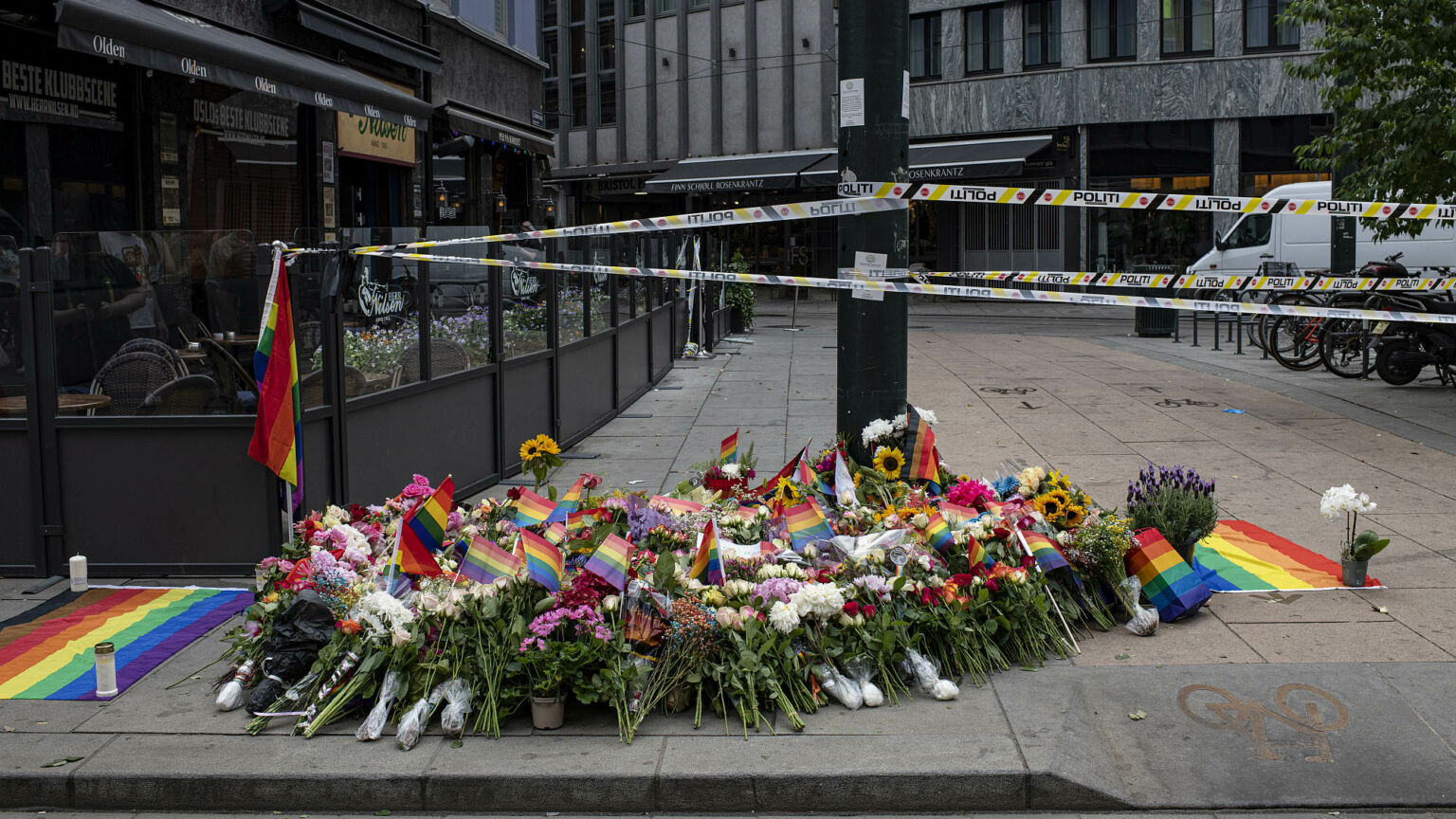 So, have we all just moved on from the Oslo shooting? It's been a few days since a suspected Islamist terrorist walked into a gay bar, a jazz club and pub on the eve of Oslo's Pride march armed with a fully automatic weapon and opened fire, killing two people and wounding 21. But in the British media, at least, it seems to have come and gone without really troubling the news agenda or the opinion pages.
I know there's a lot going on in the world at the moment, and I know half of the pundit class is still making its way back from Glastonbury, but at what point did a gunman killing people in cold blood for no other crime than being out and about and enjoying themselves become an 'in other news' kind of story? Have we really become that inured to this kind of barbarism? Is it just priced in now?
The suspected gunman, a 42-year-old Norwegian national, was known to the security services as a 'suspected radicalised Islamist'. Given Oslo's Pride march – which was promptly cancelled – was taking place the following day, and the killer opened fire in popular gay venue the London Pub, the authorities are trying to work out whether gay people were specifically targeted.
Time will tell. But the silence of the chattering classes about the Oslo shooting is unlikely to be down to a commitment to sober journalistic restraint while all the facts emerge. Had a few of the details been different, had this been a far-right thug rather than an Islamist thug, gunning down 'degenerates' on the eve of a Pride parade, the response across the media would have quite rightly been shock, disgust and fury.
For years now it has been clear that Islamist atrocities just do not bother our woke elites nearly as much as far-right atrocities – even though Islamist terrorism is an incomparably bigger threat. The Manchester Arena bombing was a landmark moment in this regard. Young girls, one as young as eight, were slain by an Islamist terrorist at a pop concert and all the great and good could muster was a vigil or two before promptly moving on.
Our collective moral compass appears to be severely screwed up. We talk endlessly these days about a far-right comeback that thankfully never materialises. Meanwhile, we are compelled to ignore the fascistic, homophobic, misogynistic and often black-clad movement that is staring us in the face, and has cost the lives of hundreds of Europeans and thousands more people across the world in recent years.
Our woke elites cannot compute the Islamist extremist threat. It smashes their simpleminded identitarian narratives and victim hierarchies. They seem to have convinced themselves that it is better to downplay Islamist terrorism than risk offending Muslims or sparking some anti-Muslim backlash – a position which manages both to demonise white Brits as a pogrom-in-waiting and conflate all Muslims with Islamist extremists in one fell swoop.
This reflex – to downplay Islamist terrorism, to change the subject, to shush and silence any discussion of it for fear of the furies that might be unleashed – is cowardly and morally repugnant at the best of times. But it is particularly stunning to see supposed warriors for oppressed minorities turn a blind eye to terrorist attacks that either target or otherwise claim the lives of those very minorities.
Remember the October 2020 Dresden attack? Of course you don't. It barely caused a ripple over here. While woke commentators were busy banging on about statues or some such, an ISIS convert stabbed a gay couple, killing one of them, in what was later deemed by the German authorities to be a jihadist and homophobic killing. In June that same year, Libyan extremist Khairi Saadallah stabbed three gay men to death in a park in Reading, another UK atrocity that two years on no one seems to remember.
The only way some commentators are able to get angry about such massacres is by denying extreme Islamist ideology had much to do with them. In the wake of the Pulse nightclub shooting in Orlando in 2016, in which ISIS fanboy Omar Mateen killed 49 predominantly gay people, various commentators tried to insist that this was an act, primarily, of homopobic terrorism and downplayed the role of his avowed faith and ideology.
The Guardian's Owen Jones infamously stormed off the set of Sky News in June 2016 during a discussion about the Pulse killings. He had objected to the attack being presented as 'an attack on all of humanity', rather than an anti-LGBT attack, and argued that Mateen would have only used his extreme Islamist ideas to 'rationalise' his hatred of gay people.
In the end, no evidence emerged to suggest that Mateen had purposefully targeted Pulse because it was a gay club. He had also scoped out other, non-LGBT venues, but found them too well protected. Mateen only settled on Pulse after a generic Google search for 'Orlando nightclubs'. He also framed his attack explicitly as revenge for Iraq and Syria, and none of the survivors heard him utter any anti-gay slurs or say anything about gay people during the attack.
What all this points to is that identity politics is corroding our ability to take on the Islamist terror threat. Attacks like those in Oslo, Dresden and Reading are briefly mourned and then forgotten, by a commentariat that apparently fears a dreamt-up Islamophobic backlash more than it fears actual Islamist murder. Even then we mourn them as we would deadly natural disasters, as horrible but ultimately unavoidable tragedies.
And when people do get angry they tend to warp the nature of the threat. Murderous, gay-hating Islamists, for example, are presented as the product of allegedly rampant homophobia in Western society more broadly, rather than exponents of a particular religious extremism which, in the benighted nations it has been practised, leads to gay men being thrown from buildings and stoned to death.
Whatever we come to learn about the Oslo shooting, it remains an attack not just on gay people or Norwegian people, but also on our common humanity and the values of freedom and tolerance. At the same time, it reminds us that of all the political ideologies that might threaten gay life today, Islamist extremism is both among the most deadly and the most wilfully ignored.
Tom Slater is editor of spiked. Follow him on Twitter: @Tom_Slater_
No paywall. No subscriptions.
spiked is free for all.
Donate today to keep us fighting.
Donate online
To enquire about republishing spiked's content, a right to reply or to request a correction, please contact the managing editor, Viv Regan.