There are no winners in the Victim Olympics
Trans activists and feminists have been sucked into a spiral of competitive self-pity.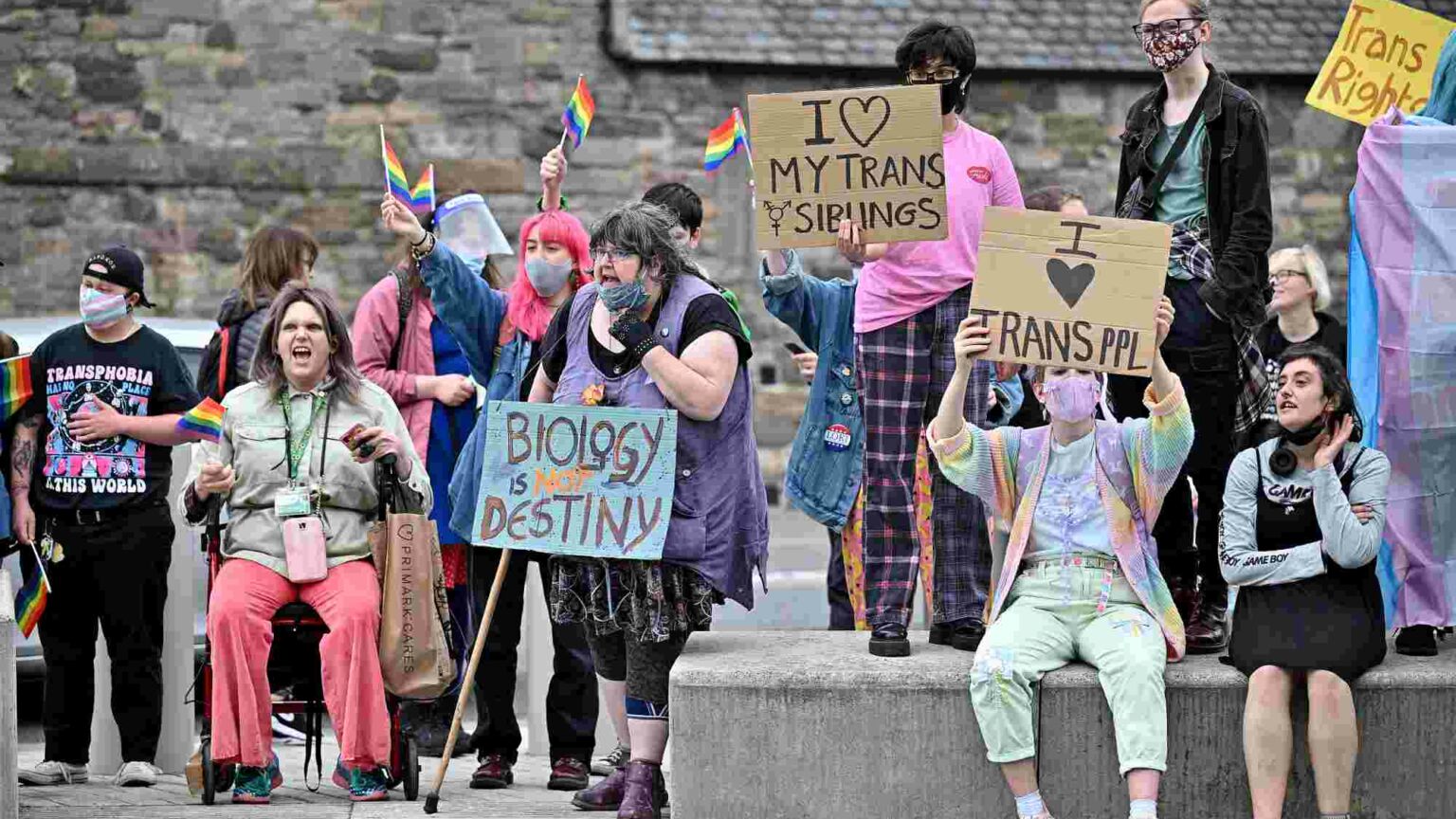 Who would have thought, 10 years ago, that one of the most bitter quarrels of the 2020s would be between feminists and trans activists. Back then we would probably have placed them both on the progressive left, sharing the same aspirations towards sexual liberation and bodily autonomy. But things have turned out very differently – and turned very nasty.
Yet it shouldn't surprise us that things have turned out this way. If you live in a society that celebrates diversity and accords rights to groups and factions, not individuals, such clashes will happen. And they will happen often because these different groups want contradictory things.
In the conflict we have today, transsexuals demand inclusion, recognition and universal acceptance, while feminists want respect for their distinct, immutable biological female sex. The first group believe identity is subjective and malleable, the second believe it is inextricably connected to one's biology (which is ironic, given that Simone de Beauvoir and a previous generation of feminists thought the precise opposite, but that's a different story). When the demands of two groups are irreconcilable, that's when things get nasty.
This conflict has been further inflamed by the fact that, ever since the 1990s, we have been living in a culture that valorises victimhood. Today, being recognised as a victim is akin to being recognised as virtuous. The status of victimhood endows a group or individual with moral authority.
Hence, both the trans camp and the feminists play competing victim cards in order to solicit sympathy, while simultaneously trying to morally elevate themselves above the other. So transgender people claim they have been marginalised, ignored and worse for time immemorial. And feminists claim that transwomen are just men who typically want to invade female spaces in order to sexually assault women. It's a pity some feminists now resort to such contemptible anti-male stereotypes, because many men (such as this one) are on their side here. But that's how victim culture works. It pushes the argument into a competitive downward spiral of self-righteousness and self-pity.
The results of a society that celebrates diversity and victimhood are now there for all to see – in an unbecoming squabble between trans activists and feminists in which both sides present themselves as being the victim of horrid bullies.
---
A virtual nightmare
According to a report in The Sunday Times last weekend, the rail industry has drawn up secret plans to phase out paper tickets and close or 'repurpose' 980 ticket offices in England, starting in September. From then on all rail passengers will be forced to book online.
This is a lamentable development, but one that resonates with our age of automation and de-personalisation. Self-service checkouts have long been an omnipresent feature of supermarkets. And, more recently, the widespread closure of bank branches has further taken contact with human beings out of the equation of everyday life.
The effect this automation and digitisation is having on the elderly is most concerning. According to Age UK, approximately three million people over the age of 65 do not have internet access. They are therefore at risk of being excluded from everyday services and activities as these things move online. As Caroline Abrahams, the director of Age UK, explains: 'Many [older people] lack an up-to-date smartphone or tablet, or live in a place with unreliable broadband… What are they expected to do if everything goes online?'
But it's not just about access. It's also about the very importance of human contact. Many elderly people especially appreciate the benefits that come with human contact, particularly those who live alone, and those who only have very intermittent relations with their family. Those now pushing the automisation of everyday life may come to sorely regret the era they are bringing into being. Do they look forward to a lonely and literally contactless old age where they have no one to talk to?
Self-service supermarkets and virtual train tickets provide a glimpse into a dystopian future, where, as in the film Her, our best friends will be smartphones and computers.
---
Rowan Atkinson is wrong about offensive comedy
In his latest broadside against cancel culture, Rowan Atkinson has said: 'It does seem to me that the job of comedy is to offend, or have the potential to offend, and it cannot be drained of that potential… Every joke has a victim. That's the definition of a joke.'
Atkinson, a veteran free-speech campaigner, is correct that cancel culture is now at odds with offensive comedy. And he's right to intimate that some of the best comedy has been offensive, from films like Monty Python's Life of Brian and Team America: World Police to TV shows like South Park and Brass Eye.
We need only revisit some comedy from the past to appreciate how times have changed. Fawlty Towers would look very different were it made today. Sacha Baron Cohen wouldn't be allowed to play a character like 'Ali G' now – mocking black urban culture, or at least white people's embrace of it, is not on. Even The Office, in which we were encouraged to laugh at the coarseness and crassness of David Brent (who talks of 'spastics'), strikes a discordant note now. And repeats of Mock the Week on the channel Dave now come with trigger warnings.
While Atkinson is right to inveigh against today's censorious cancel culture, he is fundamentally wrong – and disingenuous – in his central assertion. The first duty of comedy is not to offend, but to make us laugh. Some of the best British comedy is inoffensive. To name but a few, there's The Hitchhiker's Guide to the Galaxy, Shooting Stars, The Fast Show, Big Train and QI.
Atkinson should be well aware that the point of comedy is to make us laugh rather than cause offence, having starred in four series of Blackadder. Though adult in content and form, Blackadder was only remotely offensive insofar as it lampooned the idiocy of the upper classes and the imbecility of the lower orders. Above all, Atkinson was the star of the hugely successful Mr Bean television and film franchise, one of the most inoffensive comedic characters ever.
I like Atkinson as an actor, and for his counter-cultural words today, but this time he's got it wrong.
Patrick West is a spiked columnist. His latest book, Get Over Yourself: Nietzsche For Our Times, is published by Societas.
To enquire about republishing spiked's content, a right to reply or to request a correction, please contact the managing editor, Viv Regan.