A school is no place for a drag queen
It's time to close the book on Drag Queen Story Hour.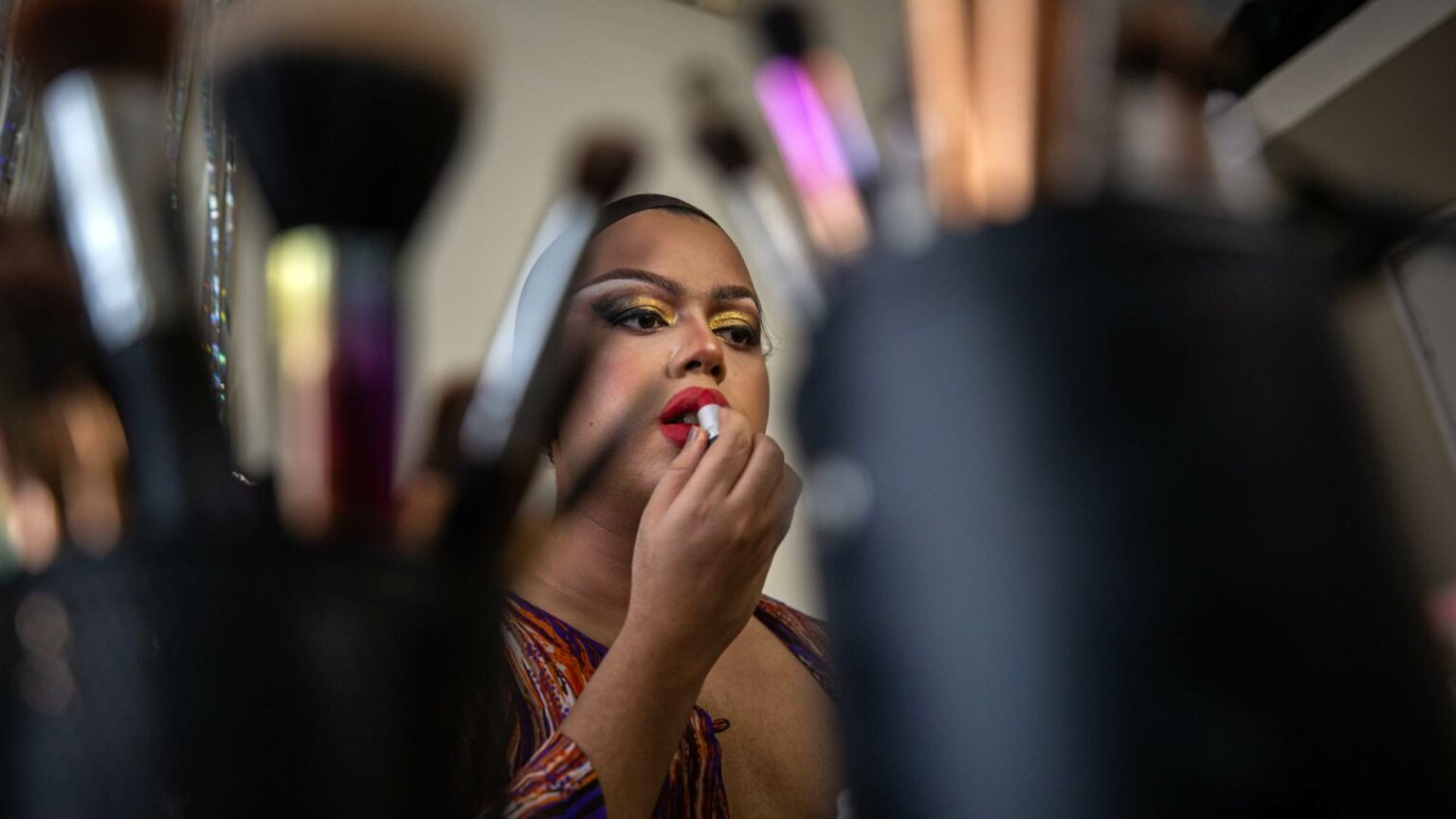 Remember when a drag queen called FlowJob was invited to talk to very young kids in a primary school in Scotland? I know this sounds like something from the fever dream of a hardcore Christian who is convinced that society is going to hell in a handcart, but it really did happen. In 2020, an adult performer whose stage name is a spin on the slang term for fellatio, and who has posted sexually explicit images of himself being gagged and dry-humped on Twitter, was asked by a primary school in Paisley to read a story to little kids for LGBT history month. You do not have to be a pearl-clutching moaner about the sins of the sexual revolution to think that this kind of thing is morally wrong, and maybe plain crazy.
Drag queens in schools – what is going on? In the US and the UK, big-haired, dolled-up, foul-mouthed blokes in dresses are no longer only to be found in late-night clubs in seedy districts. They're in your eight-year-old's classroom. They're in the local library reading stories to infants. They're in bookstores bamboozling the juvenile browsers of the kids' section with their ridiculous wigs and exaggerated lips. I don't have a problem with drag queens. Many are entertaining. It's all a tad too shallow and knowing for my tastes – speaking to Susan Sontag's famous definition of camp as a 'love of the unnatural, of artifice and exaggeration' – but if it's what you like, then knock yourself out. Go to those clubs and watch that six-foot fella lip-synch to Babs or Judy. But in a school? That isn't right. That's not where drag queens should be.
The weird mixing of drag queens and kids has rarely been out of the news in recent weeks. Last week it was reported that the authorities in New York gave Drag Story Hour NYC $207,000. 'At a time when our LGBTQ+ communities are under increased attack across this country, we must use our education system to educate', said NYC mayor Eric Adams. In Pennsylvania, meanwhile, there was a fair bit of parental fury last month when 'drag queens performed sexually provocative dance moves in skimpy spandex thongs at an after-school student event' at a high school. Students were apparently encouraged to bring 'tip money' to give to the drag queens (strippers?). It's all a far cry from my Catholic high-school experience, where one of the nuns angrily switched off Madonna's 'Love Makes the World Go Round' at a school disco because it contained too much groaning.
In the UK there have been numerous drag-queen school controversies. Some parents weren't best pleased when a drag queen called Dolly Trolley, wearing 'knee-high leather boots and a low-cut sequinned dress', was invited to teach dance moves to nine-year-olds at a primary school in south London. The only external visitors we had at primary school were the Green Cross Code people. One teacher in the UK has promoted a book called The Hips on the Drag Queen Go Swish Swish Swish to early-years readers. Do seven-year-olds really need to know what drag queens' hips do? Meanwhile, a piece of research published in Curriculum Inquiry – 'a leading international journal in the field of curriculum studies' – asks: 'What might Drag Queen Story Hour offer educators as a way of bringing queer ways of knowing and being into the education of young children?' Will I be stoned by the woke set if I suggest that 'queer ways of knowing' is not something that young kids need? That we should teach them reading and maths and art and let them deal with their sexuality for themselves as and when it arises (which is not when they're nine, by the way)?
What has become clear in recent years is that the drag-queens-in-schools phenomenon is big business. The swishing hips and knee-high boots of drag artists are now a core part of the extracurricular activity of many schools in the Anglosphere. The Drag Queen Story Hour to which the NYC authorities gave thousands of dollars is a nationwide programme in the US. It was founded in 2015 to 'inspire a love of reading, while teaching deeper lessons on diversity, self-love and an appreciation of others'. This is where I have a problem with the drag queen for kids thing. A love of reading? Fine. (Though why that can't come from teachers and parents, rather than from strange-looking blokes with fellatio-related stage names and OTT ball gowns, is a mystery to me.) But the latter part of Drag Queen Story Hour's mission – to engage in 'deeper' teaching on diversity and self-love – is more concerning. It suggests that behind these apparently harmless if eccentric book readings there lurks a more concerted effort to re-educate children in the ways of the woke ideology.
Drag Queen Story Hour feels like a Trojan horse. On the outside it's funny, colourful blokes reading silly stories to kids, but on the inside it contains a social re-engineering mission that has won the fulsome approval of the woke authorities. Consider NYC mayor Eric Adams' justification for pumping cash into drag queens for schools. 'The goal is not only for our children to be academically smart, but also emotionally intelligent', he says. 'Drag storytellers… are advancing a love of diversity, personal expression and literacy', he continues. What we have here is a very clear expansion of the mission of schools, beyond the academic and into the 'emotional'. Literacy, in Adams' statement, comes in third place, behind a 'love of diversity' and 'personal expression'. This feels like a redefinition of early-years education, away from making kids smart and self-confident and polite towards ingratiating them into the cults of diversity and narcissism that lie at the heart of 21st-century wokeness. Drag queens are really the footsoldiers of woke indoctrination, being sent into schools to 'send a message' as much as to read a story.
And it's a disorienting message. A core part of the contemporary culture war on reason, truth and education is to shake folk out of their apparently dim-witted attachment to biological ideas. Men, women, boys, girls? That's so old-fashioned. Don't you know that gender is fluid now? That gender expression takes precedence over biological reality? That blokes can be women, and girls can bind their breasts and become boys, and that you should ask 'What are your pronouns?' of everyone you meet? The end result of this gender discombobulation is that it disabuses youths of the idea that there are two sexes, and that the sexes sometimes play specific roles, and that mums are different to dads, and so on. Instead, young people are drawn into the cultish ideas of a new elite that says sex is mutable, 'mother' is an offensive word, genitals are not destiny, and, most importantly, that we all require a new caste of pseudo-religious wise ones to guide us through this new complicated reality. So discount your mum and dad and aunts and uncles, and instead let these Queer Studies graduates and TikTok teachers prise open your infant eyes to the post-biological, post-traditional world we all now inhabit. And what better physical manifestation of this studied, imparted sex confusion than the drag queen – the big man who might be a kind-of woman? He stands, this caricature of womanhood, as a reprimand to the binary views of older, more traditional communities. He's a check on your infant ignorance and the ignorance of your old-world parents. This is why woke schools love drag.
Drag queens in schools are not only bad for kids, purposely and ideologically confusing their inherited views on biology and community. They're bad for gay people, too. For decades gay people fought hard against the homophobic idea that homosexuals were paedophiles seeking to corrupt children. Yet now, for cynical culture-war purposes, the elites cheer as grown gay men go into schools in full drag, as half-naked blokes with fake breasts twerk in front of children at Pride marches, as ideologues wonder out loud how to impart 'queer' ideas to primary-school kids. This sets back the cause of normalising homosexuality. It is a gift to those who view gayness as synonymous with paedophilia. Worst of all, it does actually open the door to that small minority of people who want access to children for nefarious purposes.
Enough. No more drag queens in schools, no more 'queerness' in schools, no more genderfluidity in schools. Kids should be given knowledge and the social skills to deal with life's challenges, including the challenges of the onset of adulthood. What they don't need is blokes called FlowJob teaching them about self-love.
To enquire about republishing spiked's content, a right to reply or to request a correction, please contact the managing editor, Viv Regan.