Why they're right to strike
From Brexit to the rail strikes, working-class people won't be pushed around any longer.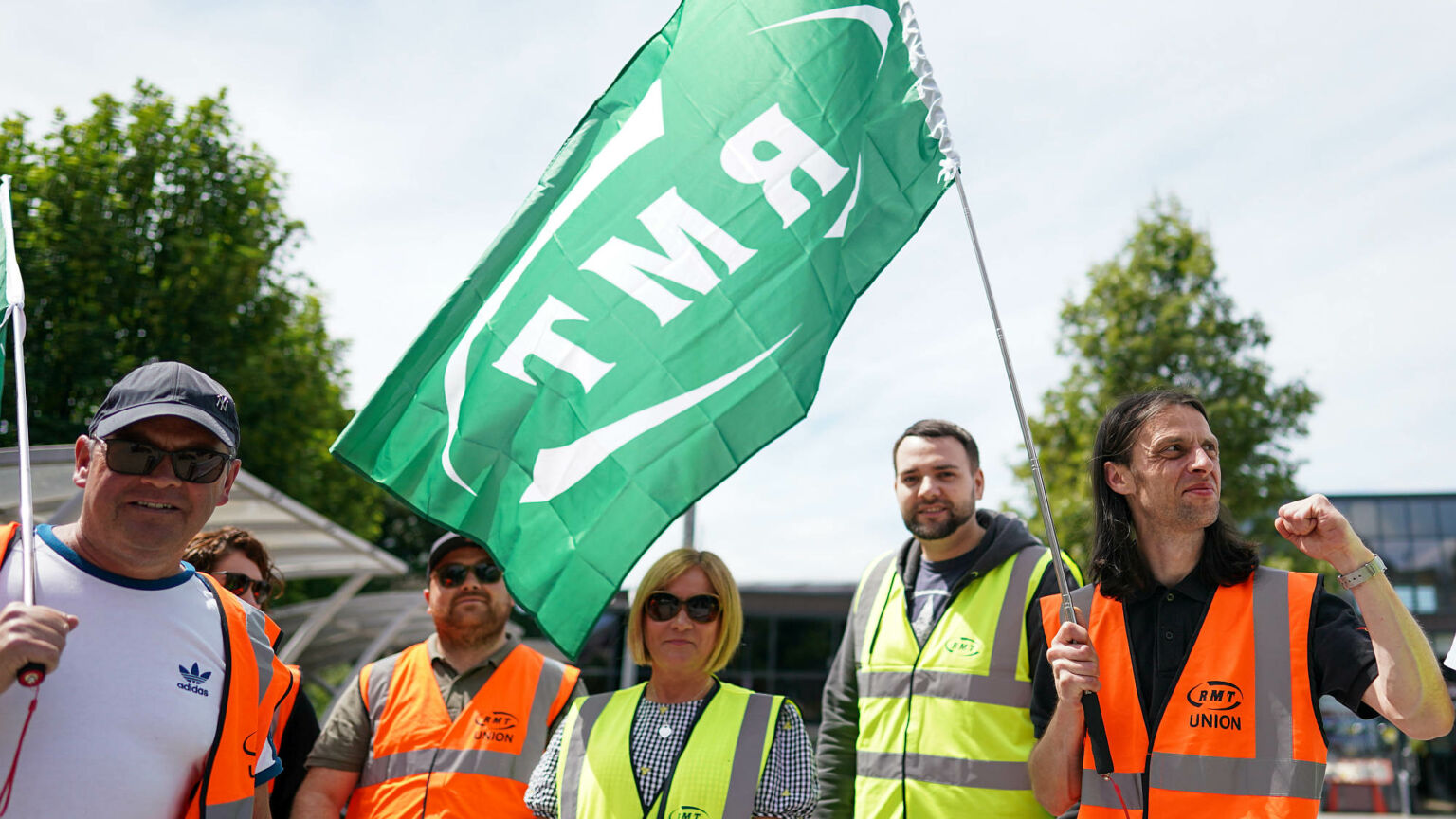 I'm old enough to remember when Boris Johnson was calling for a high-wage economy. Back in September, amid an acute lorry-driver shortage, the UK prime minister insisted that haulage firms should cough up more rather than rely on cheap European labour. Now his ministers are taking to the airwaves to tell working-class people they'll have to just put up with a real-terms pay cut as prices soar.
Thankfully, workers are taking matters into their own hands. In May, members of the RMT rail union voted overwhelmingly in favour of this week's strikes, easily clearing all the bureaucratic thresholds put in place to limit industrial action. Members voted to strike by nine-to-one on a 71 per cent turnout. Three years into a pay freeze and amid this punishing cost-of-living crisis, railway workers are demanding a decent pay rise and guarantees for job security following talk of redundancies.
These rail strikes, the biggest for 30 years, have got a certain vintage of commentator hyperventilating about the 1970s. In truth, the RMT's unapologetic defence of its members' interests is the kind of display of working-class power that is largely conspicuous by its absence these days. Historically speaking, trade unions are a shadow of what they once were and days lost to strike action have plunged over recent decades.
Nevertheless, Tory MPs are taking the opportunity to pose as mini Thatchers. The government has pretended the negotiations are none of its business, while reportedly tying the hands of Network Rail in what it can offer. Now transport secretary Grant Shapps is threatening to end the ban on using agency workers during strikes and might even make strikes illegal unless a certain number of staff are working, which would essentially compel workers to cross picket lines.
In recent days, the attempts to discredit these strikes and the RMT have looked increasingly desperate. I'm sure you've heard by now how much train drivers are paid. For a right-wing attack line, it rather smacks of the politics of envy. It's also utterly irrelevant given most train drivers aren't represented by the RMT, but by ASLEF. The average pay of those on strike is reportedly around £33,000, with many earning much less.
The strikes have once again exposed the right's blindspots where freedom and democracy are concerned. They support the right to strike, so long as it's never exercised. And they see workers voting overwhelmingly for industrial action as mere pawns of 'hard-left union barons', who are supposedly exploiting them for their own nefarious purposes. Perhaps they didn't know what they voted for?
But I also can't have been the only one to notice how the liberal left is suddenly enthusiastic about the thought of working-class people 'taking back control' after several years of smearing blue-collar Brexit voters as gammons and racists. Even the Guardian's chief Remoaner, Polly Toynbee, is among those backing the RMT, a trade union that was staunchly pro-Brexit at the EU referendum.
Corbynite Remainers have also apparently come round, despite trying to cancel key RMT figures during the bitter Brexit wars. Clive Lewis MP was on the radio defending the strikers this morning. He once likened RMT assistant general secretary Eddie Dempsey to a racist, due to his support for Brexit. Leading bourgeois leftists Ash Sarkar and Owen Jones pulled out of a People's Assembly demo in 2019, reportedly because they couldn't bear to share a platform with Dempsey.
For all the sentimental talk from the elites during the pandemic about 'key workers' keeping the country moving, it really doesn't take much for the middle-class left or Tory elite to revert to type – sneering either at working-class people's views or their pesky opposition to getting poorer, depending on their political prejudice.
Well, if the Covid-19 crisis wasn't enough to remind the elites of the crucial importance of working-class people to our economy and society, workers withdrawing their labour just might. You don't need to agree with everything the modern trade-union movement says or does to see that these strikes are worth supporting.
Workers are all too often treated as the objects of politics – as people who are done to rather than being agents in their own right. The Tories apparently just expect workers to put up with less. Meanwhile, the bourgeois left relates to them, at best, as victims – as would-be food-bank users in desperate need of handouts and condescension.
By contrast, strikes are about working-class people asserting their agency and collective power. Which is why Labour, an increasingly middle-class and paternalistic party, doesn't ever know what to do with them. Keir Starmer is currently trying to look both ways, telling shadow-cabinet ministers not to stand on picket lines while mumbling something about it all being Boris Johnson's fault.
Those hoping Starmer will get with the programme and wholeheartedly back the strikes haven't been paying attention. And these workers aren't waiting for him or anyone else to come along and save them anyway. From the Brexit vote to the rail strikes, it's become increasingly clear that working-class people won't be pushed around, smeared or condescended to any longer. Long may that continue.
Tom Slater is editor of spiked. Follow him on Twitter: @Tom_Slater_
To enquire about republishing spiked's content, a right to reply or to request a correction, please contact the managing editor, Viv Regan.