The fightback for women's sports starts here
Swimming's governing body has taken a brave stand against trans ideology.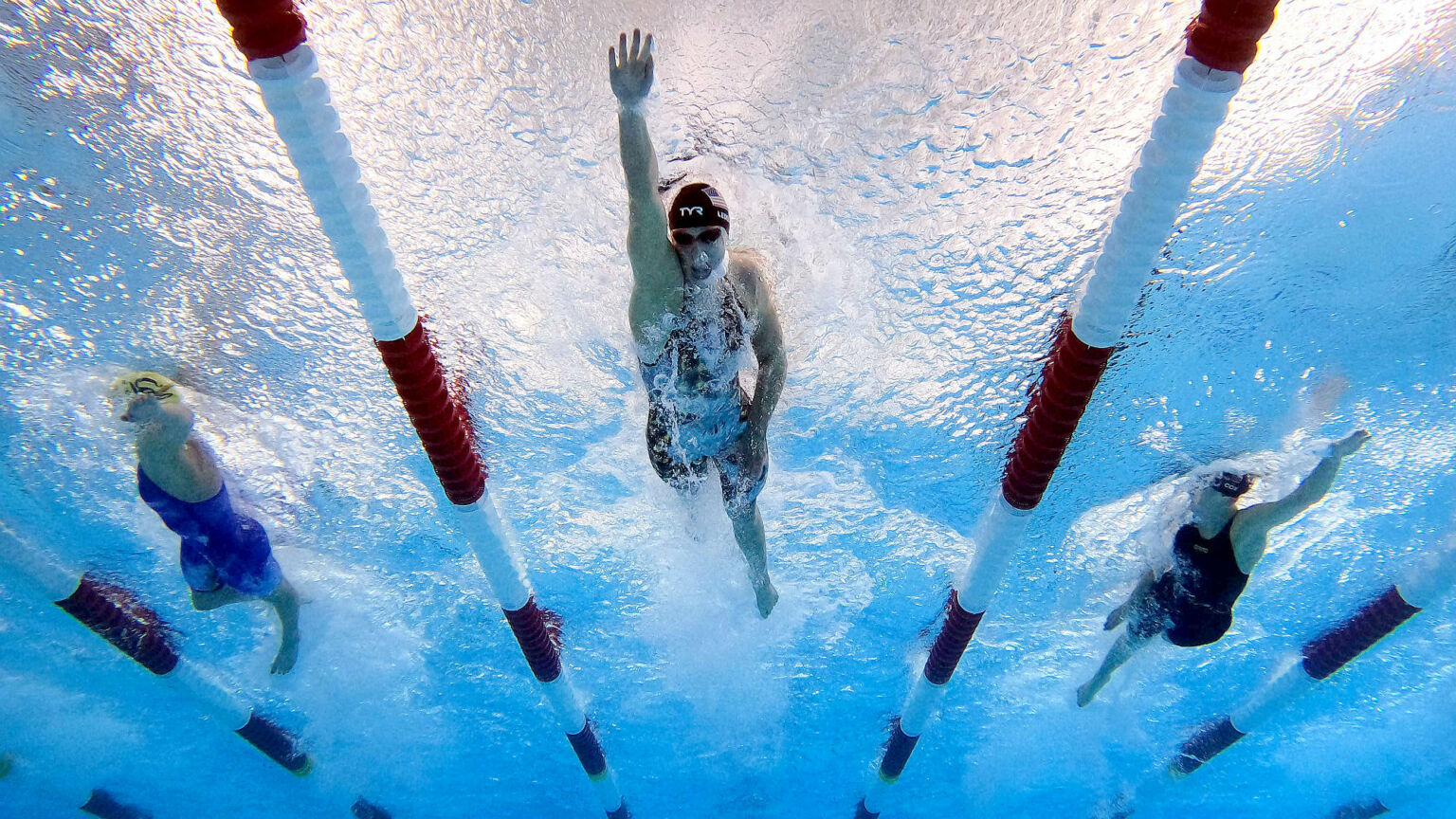 At the weekend, the world governing body for swimming – FINA (Fédération internationale de natation) – introduced a clear set of rules stating that transwomen should not be competing in female swimming competitions. Swimming is now the second Olympic sport whose governing body has explicitly upheld sex-based sporting categories, following World Rugby back in 2020. The announcement came to many as a pleasant surprise.
FINA's intervention is certainly a major step in the right direction when it comes to upholding fairness and equality in sport. However, there are elements of both the announcement and the reaction to it that give cause for concern.
FINA deserves a great deal of praise for how it has handled such a controversial issue – particularly for its openness and transparency. The decision was made on a public stage at the body's extraordinary general congress in Budapest, coinciding with the World Swimming Championships. It was streamed online for those who were not in attendance. A detailed, 24-page policy proposal was published. There were panels of speakers from scientific, legal and athletic disciplines before the congress. And finally, there was a democratic vote by members, in which 71 per cent of national swimming federations voted in favour of the new eligibility criteria and policy statement. This was a decisive result. Other sporting bodies would do well to follow FINA's example.
Unlike most sporting bodies, FINA's policy has clearly followed the science. Reading FINA's policy, it is refreshing to see clear terminology such as 'female', 'male' and 'sex' – categories that are grounded in science, as opposed to the more subjective spectrum of 'gender identities'.
Better still, while many sporting bodies have become unhelpfully fixated on trans athletes' testosterone levels, FINA has based its eligibility criteria on puberty. There are inherent benefits that come from going through male puberty which cannot be mitigated by suppressing testosterone levels. The physical changes that occur during puberty are broken down into five different stages (known as the 'Tanner' stages). The FINA policy states that any biological male who has progressed beyond Tanner Stage 2 will be ineligible to compete in female competitions. In one sense, this is a sensible cut-off, given that physical changes to muscle and height do not take place in boys until Tanner Stage 3.
Importantly, despite the claims of trans activists, the new policy is inclusive of trans athletes. FINA has promised to explore the creation of an 'open' category for those who do not meet the eligibility criteria for the sex-segregated categories. This is something we should all support.
However, there are concerns that some of the loopholes in FINA's policy could adversely impact children. Biological males who have not reached Tanner Stage 3 of puberty (or who transitioned before the age of 12) remain entitled to partake in female competitions. This appears to suggest that FINA does not view sex as truly immutable.
This could have serious consequences. For example, under FINA's policy, if a young boy took puberty blockers before starting puberty and then progressed straight on to cross-sex hormones, he would be eligible to compete in female competitions. I fear that such a loophole, if replicated in other sports or other areas of life more broadly, could further fuel the pressure that many young children with gender dysphoria already feel to commit to medically transitioning at a young age.
Unsurprisingly, the FINA policy has caused outrage among trans activists. Much of the reporting around the announcement has been both divisive and misleading. Pink News has made the needlessly inflammatory claim that the policy means FINA is 'banishing' trans swimmers. Athlete Ally, an LGBTQ group, has similarly slammed the policy as 'discriminatory, harmful [and] unscientific', without providing a shred of evidence for this claim. On social media, trans activists have compared FINA's upholding of sex-based categories to racial segregation.
Possibly the most disingenuous take of all came from historian and former swimmer Dr Johanna Mellis, who accused FINA of purposely discouraging trans people from learning how to swim, which would bring about 'higher drowning rates'.
While there is much to welcome in FINA's decision, the sad truth is that in much of the sporting world fairness is a long way away. Sporting bodies are struggling to form coherent and sensible policies in relation to trans athletes. There is little consistency from sport to sport. And many bodies are content to make seemingly contradictory and arbitrary decisions behind closed doors.
Take cycling, for example. The UCI (Union Cycliste Internationale) has a policy based on athletes' testosterone levels, which completely ignores the broader biological and physiological differences between male and female athletes.
Meanwhile, FIFA, football's governing body, released new draft guidelines last week, which suggest it is heading towards a policy based entirely on self-identification. This would mean completely ignoring the reality of biological sex.
The fact that FINA is only the second global sporting governing body to introduce a trans policy grounded firmly in science is itself telling.
FINA's policy is undoubtedly a step in the right direction. It benefits swimmers and the sport they love, while also setting a good example for other sporting bodies to follow. However, as long as the wider world of sport continues to prioritise so-called inclusivity, women's sports will still be under threat.
James Esses is co-founder of Thoughtful Therapists.
No paywall. No subscriptions.
spiked is free for all.
Donate today to keep us fighting.
Donate online
To enquire about republishing spiked's content, a right to reply or to request a correction, please contact the managing editor, Viv Regan.