To hell with Pride Month
Pride has become pompous, grotesque and intolerant.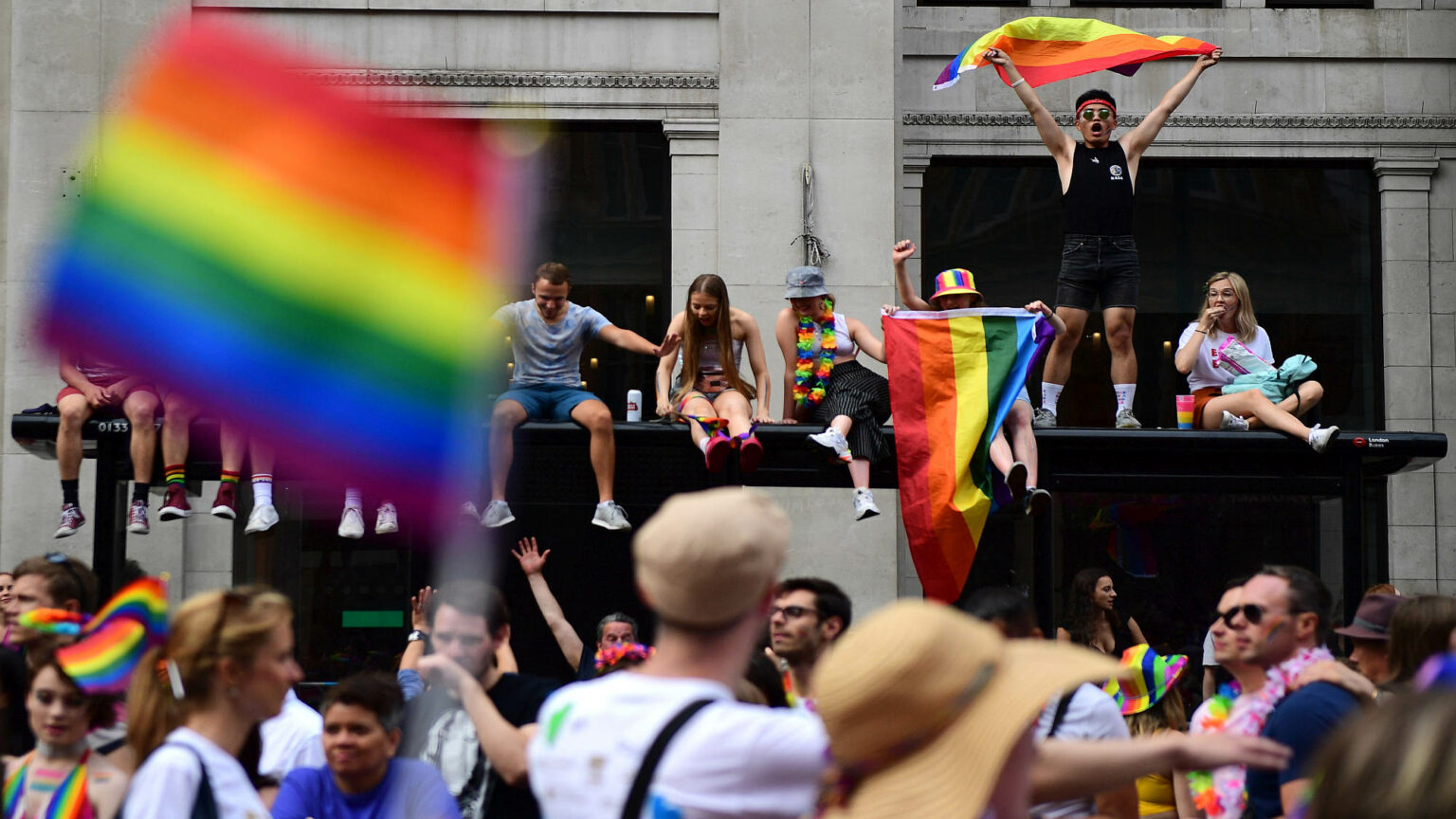 I first attended Pride in 1985, aged 16. Back then it was a mere afternoon in a specific place, not beamed from every media device across the Western world for an entire month. It was a bad time to be un-heterosexual, with AIDS at its height and the popular press taking open, casual delight in the deaths of young men.
Even then, I found the concept of 'Pride' as something to be celebrated rather odd. I wasn't, and am still not, remotely proud, or indeed ashamed, of my sexual orientation. I consider it utterly unremarkable, and ideally, I'd like everybody else to feel that way too.
'Gay Pride', as it was called then, seemed to me to be a defensive and reactionary framing. It handed our critics too much power and missed a crucial point about gay rights. For gay people to have full rights as citizens, and to be treated the same as everyone else, we should demand 'indifference', surely? Though, fair enough, that may not be the most inspiring call to arms.
For what now seems a very brief period, roughly coinciding with the Noughties, it did finally seem like this was happening. That decade has an increasingly bad reputation, but looking back it often seems quite relaxed and mature in comparison with what followed.
Look at the character of Dafydd, the only gay in the village in Little Britain. Much of the humour in that series, now widely disowned by its creators, came from the naughtiness of pointing out that society had moved on. Dafydd was an exhibitionist neurotic stuck in the past, living in a culture in which nobody much noticed or cared about his sexuality. At the time, what nobody realised was that Dafydd was not the past but the future.
Like many things, Pride metastasised in the early 2010s and became Dafyddish – pompous, grotesque and unbearable. June is now the cruellest month. We have the ubiquity of the ever-evolving, ever-more ridiculous rainbow flag, appended to both corporate and institutional logos. There are special-edition Pride products from mouthwash to cat treats. Vapid statements of solidarity are dropped on Twitter by establishment institutions from the police to, hilariously, the national football team – which, lest we forget, is perfectly happy to be decamping in a few months to take the knee in a country where homosexuality is illegal and to play in stadiums built by slaves who died on the job.
In 1985, just a few words of support and solidarity from these companies and institutions would have meant the world. But not one word came, just as now there is a similar silence on the subject of gay rights from the arms of these mega-corporates that happen to be based in the Middle East. It is transparent hypocrisy.
This would all be merely humorous and amusing – a kind of even more secular Christmas – if Pride hadn't taken on new layers of political meaning in the past decade or so. New letters attach themselves mysteriously to the LGBT+ acronym. The silly, kindergartenish rainbow flag now includes an arrow for transgenderism and an umbrella (your guess is as good as mine) for 'sex work', both embodying highly contentious and hotly contested political demands concealed under a banner of being 'nice' and 'kind'.
How these additions make it on to the 'official' flag of 'Progress Pride' is a mystery. Is there a synod that decides? Nobody knows. They simply materialise, wafted in from American academia like so much other cultural rubbish. The Vatican is a model of openness and straight-dealing in comparison. The classic Chevrolet of homosexuality has been crushed into a cube of crank Yank campus trash.
And with heavy irony, Pride now comes alongside the same kind of intolerance and moral outrage you will find in St Paul's letter to the Romans – but with none of the leavening of Christian forgiveness. There are regular Twitter outrages whenever somebody or something is said to have besmirched the sanctity of the Pride festival. I had a bet with a friend about when and about what we would get the first horrified 'Not during Pride Month!' mass splutter on Twitter this year. We both lost, as it arrived ahead of schedule on 31 May, when Canada's Globe and Mail newspaper tweeted out an article titled 'How I learned to stop worrying and love the Harry Potter series in my 40s', which was met with the anguished cry: 'Imagine tweeting this the day before Pride Month!?'
Straight people, put yourselves in our shoes. Think how it would feel if every time your sexuality was mentioned people let off streamers and started simultaneously celebrating and apologising, the way that alcoholics do.
To hell with Pride. It is an utterly corrupted embarrassment.
Oh yes, and the last time I attended the actual big day was in 1990. I got food poisoning. And it's been making me feel sick ever since.
Gareth Roberts is a screenwriter and novelist, best known for his work on Doctor Who.
To enquire about republishing spiked's content, a right to reply or to request a correction, please contact the managing editor, Viv Regan.