The media have lost their minds over Partygate
The world is on fire and they're all still talking about fizz.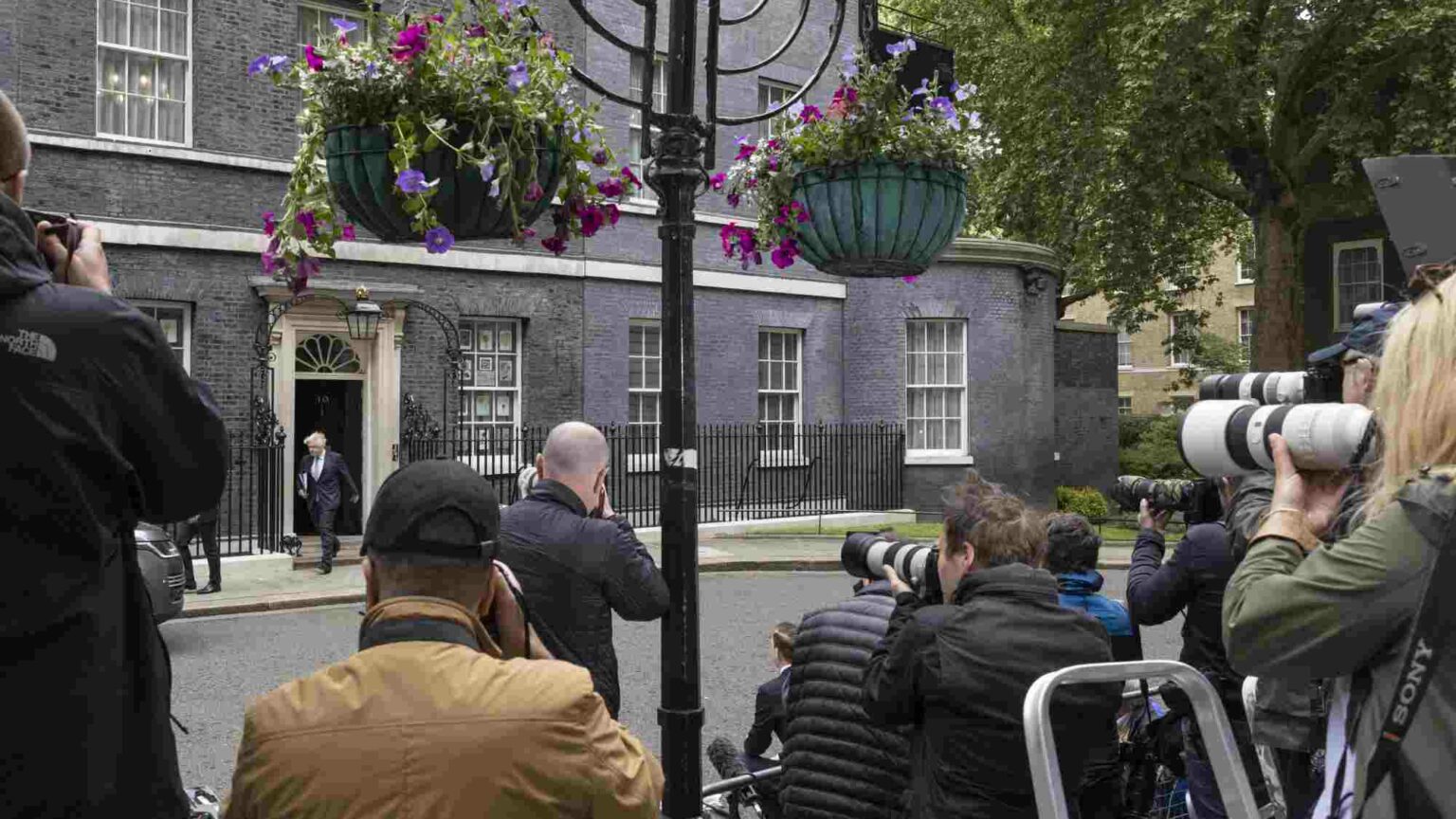 'What have we become?' That's the question that has been on the trembling, spittle-flecked lips of our media and political elites today, as they greeted the publication of civil servant Sue Gray's long-awaited report into lockdown-breaking parties in Downing Street with something approaching erotic excitement.
All the usual suspects have been trotting out all of their usual talking points, as we suffer another interminable Partygate news cycle. We're an international laughing stock! Britain has become a Banana Republic! Boris Johnson – who these people seem to think invented lying – is the most evil PM ever!
But if anyone needs to look in the mirror and ask some searching questions of themselves right now, it is surely the British media, who have managed to turn an embarrassing, temporarily shocking story about the government's lockdown hypocrisy into a six-month-long melodrama that has crowded out everything else.
I can't have been the only one watching the news over the course of today and wondering if I'd either gone mad or briefly channel surfed into a parallel universe. There was wall-to-wall coverage of Gray Day. On Sky News, right after the report dropped, they just began reading bits of it aloud, even as they were reading it for the first time.
All this followed days of build-up in which even the most minute details became the subject of forensic analysis. Last night, BBC Panorama interviewed former No10 staffers, their voices and faces obscured as if they were in witness protection, piously intoning about the parties they had previously gladly attended.
Sky's Sam Coates set up outside Downing Street yesterday and shouted shrilly at cabinet ministers as they walked by. 'Did you talk about Partygate in cabinet or is it easier to hear no evil and see no evil?!', he demanded to know of Anne-Marie Trevelyan. 'Are you proud of this government?!', he yapped at Sajid Javid.
Trying to interview ministers at a distance like this is, of course, standard journalistic practice outside Downing Street. But all spliced together, Coates' stunt made for an absurd display of feigned outrage, all over illicit work dos that we've all known about for ages.
Following months of feverish media reporting and the Metropolitan Police's investigation into the parties – which concluded with 83 people, including the prime minister, being issued with retrospective fines – Sue Gray's report tells us little we didn't already know.
Perhaps the photos appended to it might slightly help the prime minister, by revealing that what were described in the press as 'raucous', 'debauched' parties were in fact sterile, in-office drinks – the sort you'd only ever want to attend at a time when all licenced venues were closed by government decree.
Now, some events were more damning than others. The May 2020 garden party – at the height of the first lockdown, a time when you could only legally meet one other person outside – will most likely be the one to stick in people's minds. But many of the other illicit gatherings we've heard so much about amounted to people who worked together cheek by jowl introducing some wine and cheese at the end of the working day.
None of this is to say that the government isn't run by massive hypocrites who tried to take us for fools. They wrote these ridiculous rules, forcing us all to follow them under the threat of fines, arrest and imprisonment, and then they instantly carried on as if they didn't apply to them. Ordinary people were fined thousands of pounds for gatherings smaller than those that took place in No10.
But the more broadcast journalists pore over party photos as if they're CCTV stills from a murder scene – on Sky News earlier, Coates remarked on the 'more relaxed vibe' of Boris Johnson's socially distanced birthday bash – the more you start to wonder if there has been some undetected, SW1-wide gas leak.
Partygate exposed all kinds of bad things about the government. But it exposed those things months ago. Voters have already made their minds up about Johnson and they'll render their verdict at the next election. The reason this is still going on is that, for Johnson's most prominent critics at least, simply leaving it up to the electorate is never good enough.
First it was the Met investigation. Then it was the Gray report. Now all eyes have turned to the Commons Privileges Committee, which will investigate whether Johnson misled parliament. As Patrick O'Flynn argued on spiked yesterday, Johnson's opponents are desperate to oust the PM via some kind of neat, procedural, undemocratic means.
The piety of it all is particularly obnoxious, given the sources it is coming from. Prominent Remainers who used every means at their disposal to try to overturn Brexit are now holding forth about democracy, principle and ethics in public life. It's almost enough to turn you into a full-blown Boris apologist.
Two things can be true at the same time here. One is that Johnson has been caught out as a hypocrite who didn't even believe in his own punishing, cruel and illiberal Covid rules. The other is that it would be absurd for him to resign because he and his staff had drinks when they shouldn't have.
But that's apparently impossible to compute for our media elites. Still suffering from a nasty case of Boris Derangement Syndrome, that permanent mania that has gripped them since around about 2016, they continue to act as if Boris Johnson is the most uniquely corrupt PM ever and as if Partygate is the scandal of the century.
Meanwhile, there's quite a lot else they could be covering. We're in the middle of an unprecedented cost-of-living crisis. Inflation will soon hit double digits. Energy bills could soar by another £800 in November, meaning they'd have jumped by 120 per cent in a year. There's also the small matter of a war in Europe.
The world is on fire around us and we're still talking about fizz. 'What have we become?', our hysterical media ask. Well, quite.
Tom Slater is editor of spiked. Follow him on Twitter: @Tom_Slater_
To enquire about republishing spiked's content, a right to reply or to request a correction, please contact the managing editor, Viv Regan.