The accidental warmonger
Joe Biden's ineptitude is now a threat to world peace.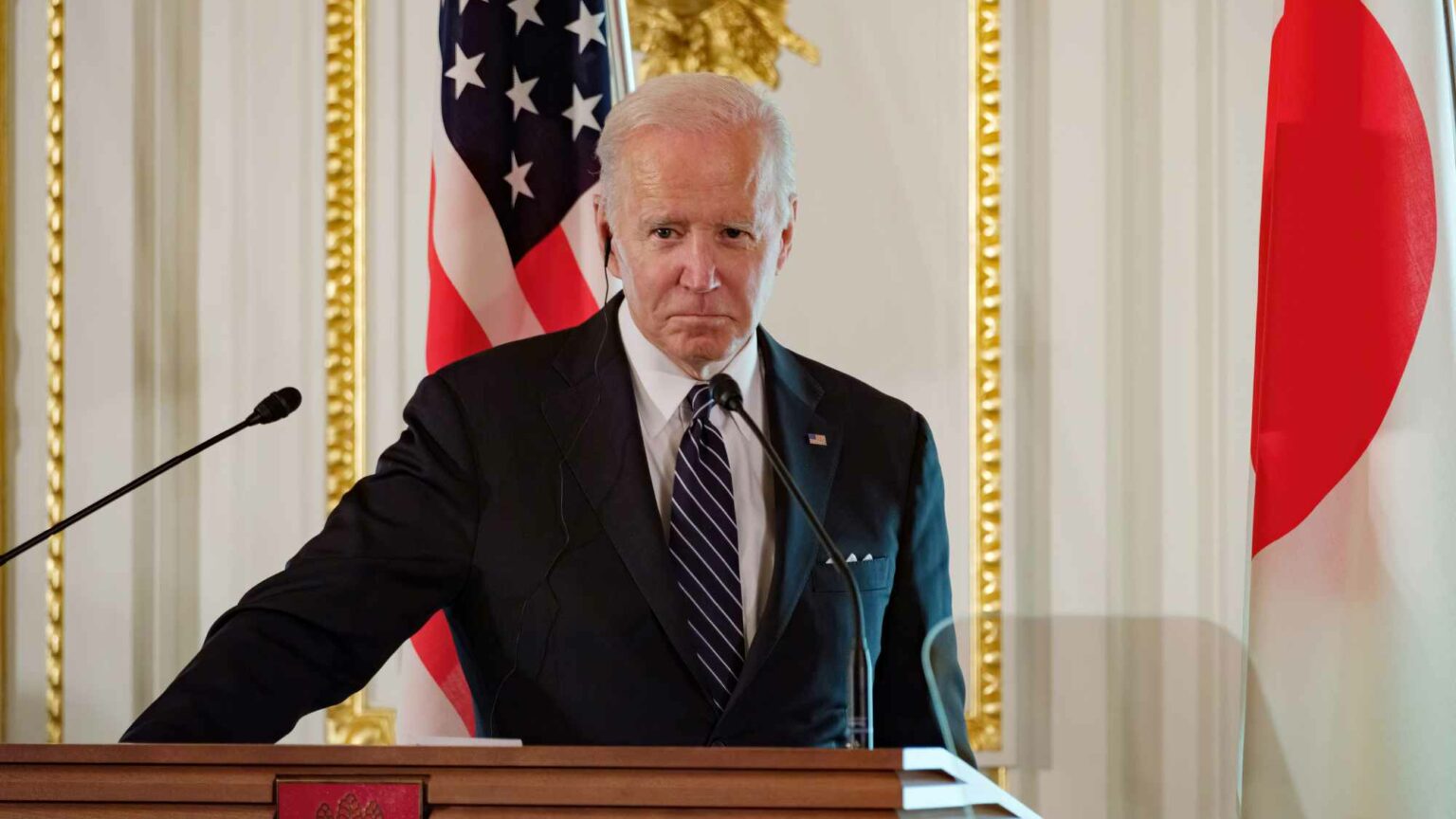 Many frail, elderly folk like to be taken for a walk every now and then. With Joe Biden it's a little different. Old Joe is forever being walked back. Barely a week passes without the discombobulated president saying something crazy or inflammatory that is later 'walked back' by his minions in Washington. This week he casually threatened war with China. As you do. Most people who are slowly losing their faculties are guilty merely of the occasional social faux pas; Sleepy Joe, in contrast, risks blundering us all into world war.
Biden's latest walked-back comment was made during his visit to Japan. He's on his first tour of Asia as US president and, naturally, he used this august occasion to hint that America might at some point engage in a hot war with China. Asked at a press conference with Japanese PM Fumio Kishida if the US would get stuck in were China ever to invade Taiwan, Biden said 'Yes'. China is 'flirting with danger', he said, which is fighting talk where I come from. 'The idea that [Taiwan] can be taken by force… is just not appropriate', he said.
Cue much teeth-gnashing in diplomatic circles, including the US State Department. In the words of the BBC, 'It took the State Department only minutes to start walking back Joe Biden's comments'. News reporters are politely saying that Biden seemed to 'contradict' the very longstanding American policy of 'strategic ambiguity' on China / Taiwan. That's a euphemistic way of saying that, in a moment of ill-advised virtue-signalling before the Japanese press, Biden unilaterally ripped up one of America's most carefully worked-out foreign policies. Poor White House officials very swiftly had to 'play clean up', as the Daily Mail put it.
This isn't the first time Biden's chatter about international affairs has had to be walked back. At the end of March he called for regime change in Russia. 'This man cannot remain in power', he said of Putin, in a comment described as 'off the cuff' by the press. Imagine chatting about ousting the leader of a foreign nation 'off the cuff'. It was quickly walked back. As was his bumbling, wrong suggestion that the US had troops on the ground in Ukraine. '[We] are not sending US troops to Ukraine', one of the White House's long-suffering walkers-back had to say. He has form on Taiwan, too. In an interview with ABC News in August last year, he promised that America would 'respond' to any Chinese meddling in Taiwan. The clean-up came quickly. 'Our policy with regard to Taiwan has not changed', said a White House official.
Now, many of us agree, of course, that it is 'just not appropriate' for China to take Taiwan by force, or even to think about doing so. Taiwan should be left alone. But that's not the point. What you or I say about Taiwan is very different from what the most powerful man in the Western world says about it. As president, Biden's duty is not to express personal frustration or animosity towards leaders and states he doesn't like – it is to embody American principles and policies that have been painstakingly discussed and agreed upon; it is to think and speak adroitly on matters of state.
In response to Biden's latest Beijing-infuriating gaffe, David Sacks of the Council on Foreign Relations said: 'When he's speaking on this [issue], he's reflecting his personal views rather than the result of coordinated or rigorous interagency process.' I'm sorry, but that sounds terrifying to me. That a man with such extraordinary power, a man with his finger on the button of thousands of nukes, is approaching incredibly difficult, touchy matters of global significance from a 'personal' standpoint is bizarre, and chilling. We've all seen that line in newspapers saying that so-and-so is 'writing in a personal capacity' – do we really want the commander-in-chief of the largest military force on the planet to tackle something as tetchy and dangerous as the China-Taiwan stand-off in a personal capacity? I don't. I want calm, consideration and diplomacy, please.
Leftists and liberals were forever going all hyperbolic over Donald Trump's various gaffes. 'He's shaming America', they said. I wish they'd speak up about the fact that the current incumbent of the White House has *check notes* breezily chatted about regime change in Russia and American war with China. Where Trump infamously threatened to visit 'fire and fury' on a weak state (North Korea), Biden hints at regime change and war against powerful states. Biden's gaffes were once seen as funny, maybe even endearing, as highly memeable content. Now they seem positively destabilising. Life and limb is on the line when the president of the United States wonders out loud if war with Russia and China might be a mighty fine idea.
What's driving Biden's foreign-policy blunders? Some say he is dexterously pushing American foreign policy in a more confrontational direction. You'll forgive me if I don't buy that, not least because 'dexterous' and 'Biden' are not really words that belong together. Others say it's all further proof of his senility, his loss of touch not only with diplomacy but also with reality. There's something in that, of course, as will be known by everyone who has watched clips of Biden sadly losing his train of thought or saying things that can only be described as gibberish. But there's more to it, too. Confused, hip-shooting Biden also speaks to the disarray of the American elite more broadly, which is increasingly unanchored from the old guiding lights of realpolitik and diplomacy and seems now to prefer the instant gratification of signalled virtue and retweets. Biden is a fairly easy target – the larger question we need to ask ourselves is whether his very public decay represents a more important decay of the American Republic. A republic now sadly ruled by technocrats, managerialists and coastal elites that are more interested in identitarian showboating than in the hard slog of working out diplomatic positions and sticking to them.
Of course China should not invade Taiwan. But also, America should not publicly shitpost about China, which is essentially what Biden did. That the leader of the free world must constantly be 'walked back' from his war talk, from his threats of regime change, from his bonfires of longstanding policy, should worry us all. It suggests that it isn't only Biden who is losing it – so is the United States itself under the rule of the pseudo-liberal technocracy.
To enquire about republishing spiked's content, a right to reply or to request a correction, please contact the managing editor, Viv Regan.