Australia is more divided than ever
Labor's win won't put an end to the culture wars.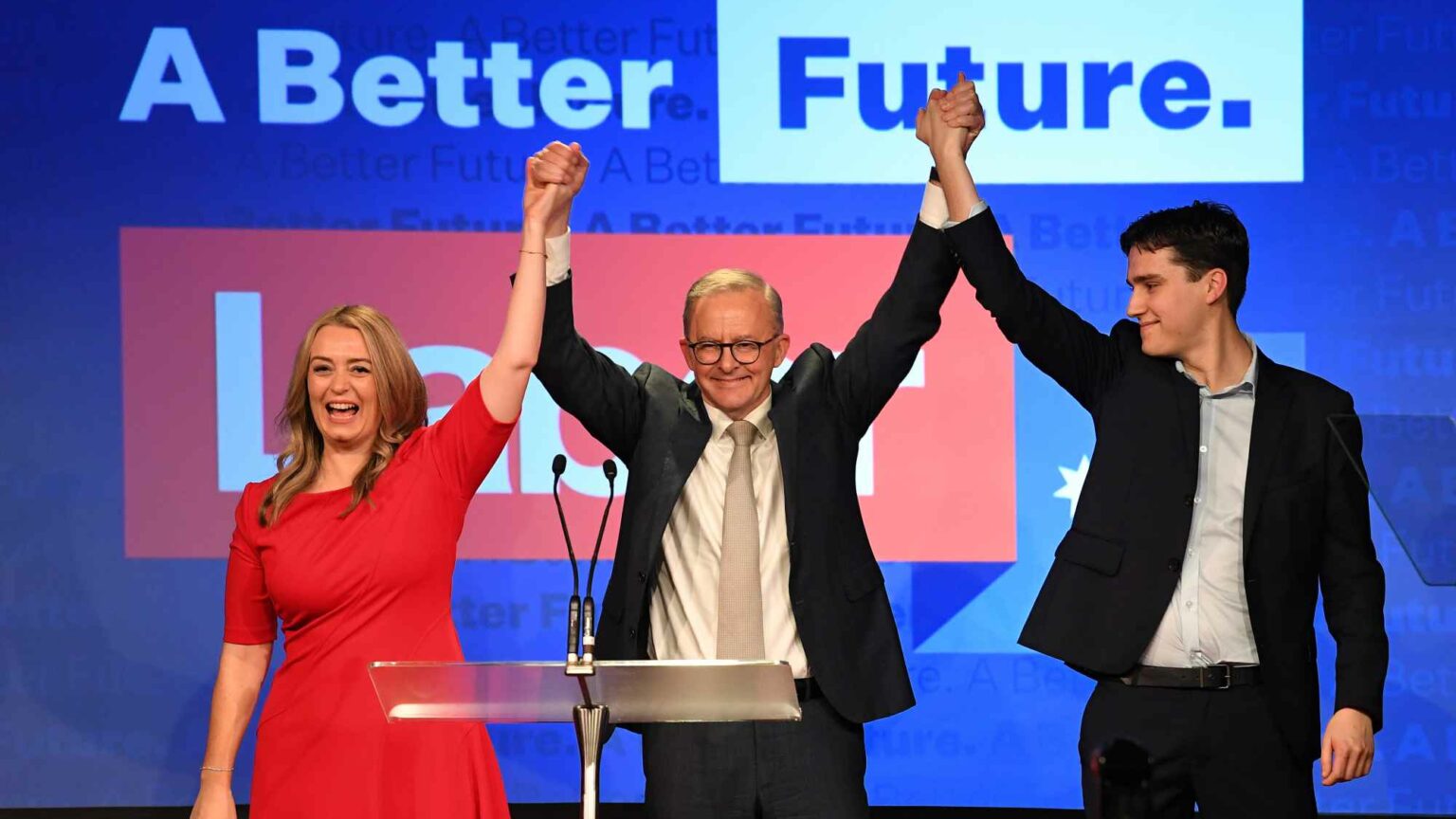 Anthony Albanese, Labor leader and Australia's new prime minister, spoke extensively in his victory speech on Saturday night about promoting 'unity' and 'common purpose'. This uplifting rhetoric thinly masks the fact that Australians are more divided than at any time in recent history.
Albanese assumes the premiership with a weak mandate. The Labor Party received less than a third of the popular vote – less in fact than the losing conservative Liberal-National Coalition. Indeed, Labor actually suffered a small loss of 0.5 percentage points compared to the last election. The vote splintered across the political spectrum to the benefit of the Greens, independents and conservative populist parties like One Nation and United Australia, which received almost one in 10 votes.
The election results reflect the shifts in Australian politics I explored in my book, Democracy in a Divided Australia. There I looked at how the historic left-right political-economic divide has been supplemented and sometimes overwritten by a new cultural divide between 'Inners' and 'Outers'. The Inners tend to reside in the inner-city areas of Australia's capital cities. They are highly educated, well-paid knowledge-economy workers and are instinctive cosmopolitan liberals. They traditionally voted Liberal on economic grounds but today they are increasingly concerned about post-material issues such as the environment and identity politics. Outers live in outer-suburban and regional areas, are unlikely to have gone to university, have low-to-middle incomes, and are traditionally associated with the working class. They are more concerned about the cost of living, the economy and public services.
In this election, the Inners clearly revolted against former prime minister Scott Morrison, who is associated with the more conservative elements of the Liberal Party. In the shock of the evening, half a dozen so-called teal independents – the colour combines the blue of the centre-right Liberals and green – defeated Liberals in wealthy inner-city heartland seats, including Kooyong, Melbourne, which had been held by the Liberals since the party's establishment in 1945. As the Australian put it, the independents 'came in their Range Rovers and their Jimmy Choos: polished, professional and primed for a political reset'. The teal independents appealed to the wealthy Inners by focusing on issues like climate change and integrity in politics. They now make up the largest independent grouping in Australian history. Plus, this election resulted in two new Green MPs, who won inner-city seats from Labor and the Liberals.
Morrison actually picked up support among Outers. There were swings towards the Liberals in working-class areas that would have traditionally voted Labor. But these were not enough to save Morrison.
Albanese ran a largely low-key campaign strategy, riding out early blunders by playing to Labor's traditional strengths on healthcare and education, rather than promoting economic or social policies that could alienate voters. The Liberals, unlike Labor, were unable to play to their traditional core strength of being the party of strong economic management – their handling of the pandemic, during which they spent big and drove up the budget deficit, saw to that.
There were other factors at play beyond the new cultural divide. Labor did particularly well in Western Australia, where popular state premier Mark McGowan is seen as responsible for saving the state from Covid by imposing strict border closures. Labor also benefitted from the scandals that have engulfed Morrison's government, from its inability to secure early access to vaccines to its failure to support women who were allegedly sexually assaulted in parliament. Little wonder the Liberals performed significantly worse than Labor among women voters. There was also a marked loss of support for the Liberals among the Chinese Australian community, who may have been put off by Morrison's strong opposition to the Chinese Communist Party.
Looking forward, the Liberals are stuck between a rock and a hard place. They must somehow bridge the gap between their old heartlands, which are increasingly embracing progressive causes such as trans rights or environmentalism, and their newer, more culturally conservative outer-suburban constituents. If they select a more conservative leader after the wipeout of their more moderate parliamentarians, they risk alienating Inners for a generation.
Labor also has a difficult path ahead. The party is torn between appealing to its new affluent support base and its traditional working-class constituents. Albanese could well be pressured to go the way of US president Joe Biden and appeal to the more progressive fringes of his party rather than the country at large. Certainly, his promises to tackle climate change, substantially boosting renewable energy, could impose significant and unpopular costs on households. Australia also faces serious economic challenges, driven by rising inflation, lacklustre wage growth, a faltering global economy and the problems raised by an ever more powerful China on its doorstep.
Politics across the Western world is in a process of flux. Parties like Labor and the Liberals were born in an earlier era of class-based, economic contestation. Today these parties face new divisions that are more cultural than material. Their ability to manage these 21st-century divides and conflicts will define their political success or failure for years to come.
Matthew Lesh is the author of Democracy in a Divided Australia.
To enquire about republishing spiked's content, a right to reply or to request a correction, please contact the managing editor, Viv Regan.