Let's call time on Beergate and Partygate
We will never have a proper reckoning with lockdown so long as this absurd spectacle continues.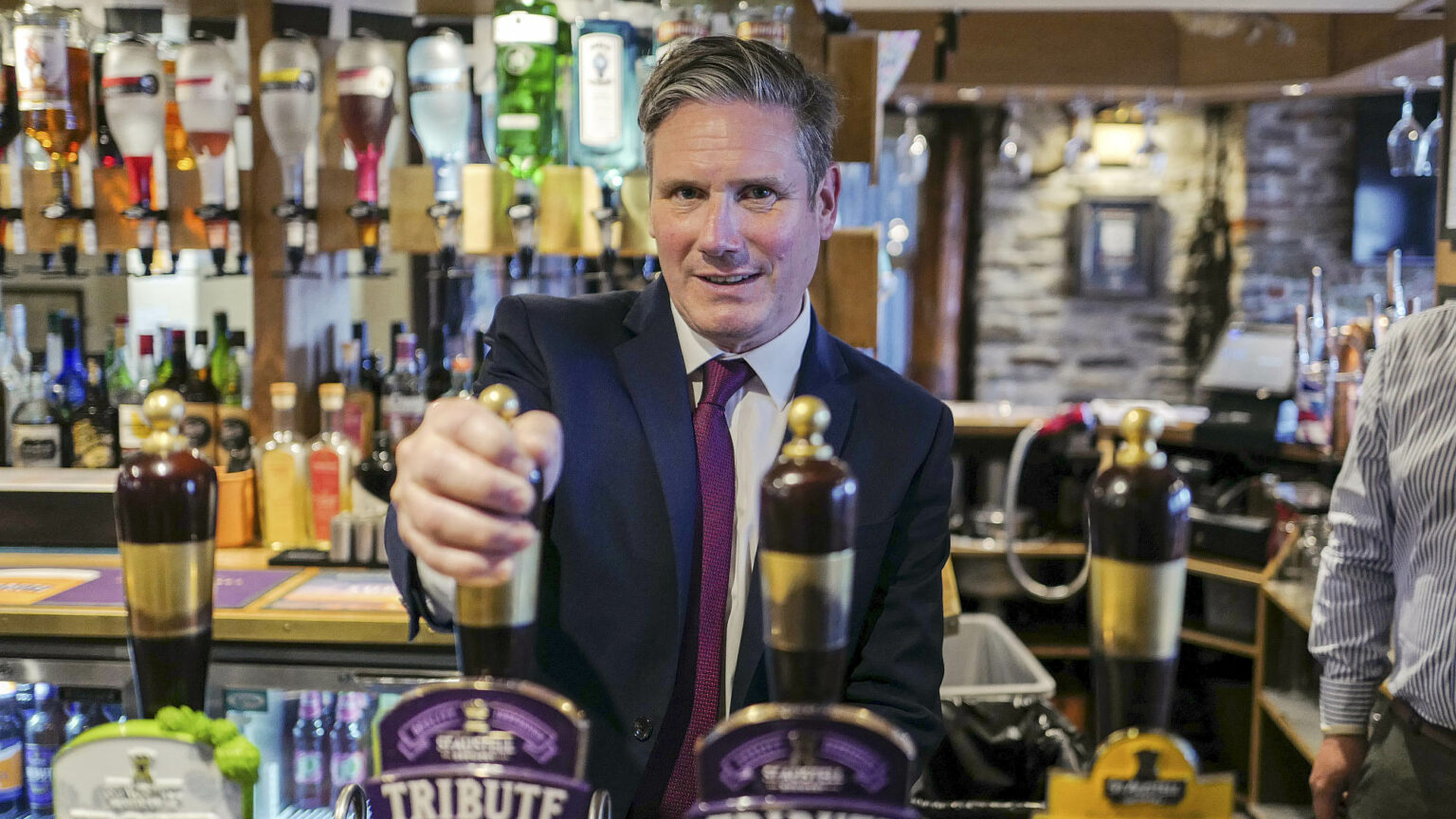 How did it come to this? The careers of not one but two UK political leaders hang in the balance, all because they had some cake and curry respectively.
Labour leader Keir Starmer's pledge yesterday – to resign if he is fined by police for his allegedly lockdown-breaking curry-and-beer night in Durham in April 2021 – is being talked up by his colleagues and media outriders as proof of his 'honour' and 'integrity'.
Off the record, his allies say it is a genius bit of gamesmanship, piling the pressure on Durham police not to decide the fate of the leader of the opposition and putting clear water between himself and Boris Johnson, who refuses to resign despite already being fined over his birthday celebration in Downing Street in June 2020.
The twists and turns of this never-ending saga, the competing hypocrisies and lies on both sides, risk blinding us to the ridiculousness of it all. A country in which both the PM and leader of the opposition could be on the way out, because they had a couple of awful-sounding shindigs, is not a serious country.
Granted, this is what lockdown did to us. When Boris Johnson – with the enthusiastic support of Starmer's Labour – criminalised everyday interactions during the Covid-19 pandemic they made criminals and scolds of us all. The most mundane matters of our lives became the subject of state control, not to mention curtain-twitching and media shaming – so little were we trusted to act responsibly to protect the vulnerable.
And yes, these two men imposed and / or voted for that insane, authoritarian regime. Their hypocrisy is staggering. The infamous BYOB bash in the Downing Street garden, for which Johnson could yet be fined a second time, took place at the height of the first lockdown, on the same day the government generously told us that we could now meet one friend outside.
As for Starmer, he is beginning to realise where empty moralism can lead you. With no politics to speak of, he has tried to define himself against the PM on the basis of being prim and proper. Not only is this bloodless and uninspiring, it can set you up for a fall – as Tony Blair found out when a premiership he said would be 'purer than pure' ended amid its own sleaze scandals.
Now recent history is being repeated as farce. Starmer – cringingly dubbed Mr Rules by one of his shadow-cabinet ministers at the weekend – could be brought down because of a late-night curry and a few bottles of San Miguel. It almost makes you nostalgic for the days when a Westminster scandal would at least involve some cocaine, rent boys or sex in a Chelsea replica shirt.
Starmer's talk of honour and principle will no doubt raise a few wry laughs in the working-class, pro-Brexit communities that abandoned his party at the last election. In February 2017, as shadow Brexit secretary, he said it was Labour's 'duty to accept and respect the outcome of the referendum'. He then became the architect of Labour's second-referendum policy, demanding voters have another go in the hope of getting it right next time.
But we desperately need to draw a line under Beergate and Partygate and all the other lame coinages yet to assault our senses. It has become a pathetic spectacle, and it is corroding our politics. We are banging on about bhunas while the world burns. Moral posturing and the trading of allegations of hypocrisy has all but replaced political debate, at a time of intense economic and geopolitical crisis.
Perhaps most shockingly, the cops have effectively been invited in – by both parties – to police democratic politics. First Labour and the liberal-left media demanded Met investigations into Downing Street. Then Tories demanded Durham police go after Labour. Everyone involved hopes to use the law to oust their opponents, rather than convince voters to back them at the ballot box.
I can understand why many of those who opposed lockdown or suffered unnecessarily under its inhumane diktats feel differently. But the longer this absurd spectacle goes on, the further we will get from a proper reckoning with lockdown. All this moralising over ever-smaller breaches of the rules only sustains the idea that making it illegal to see your friends, or forcing old people to die alone, was ever moral to begin with.
So how about this? The police should drop their investigations into Starmer, Johnson and the rest. And the state should refund and wipe the slate clean for the tens of thousands of people who were fined simply for going about their business, like the students fined £10,000 for having a house party, or the pub landlord fined £1,000 because his punters stood up to celebrate a goal, or the grieving man fined £100 when three of his friends popped round to check on him.
Then we can start talking about what actually matters, like how lockdown must never happen again.
Tom Slater is editor of spiked. Follow him on Twitter: @Tom_Slater_
To enquire about republishing spiked's content, a right to reply or to request a correction, please contact the managing editor, Viv Regan.