Keir Starmer has made himself a laughing stock
Beergate has exposed him as a prissy, humourless hypocrite.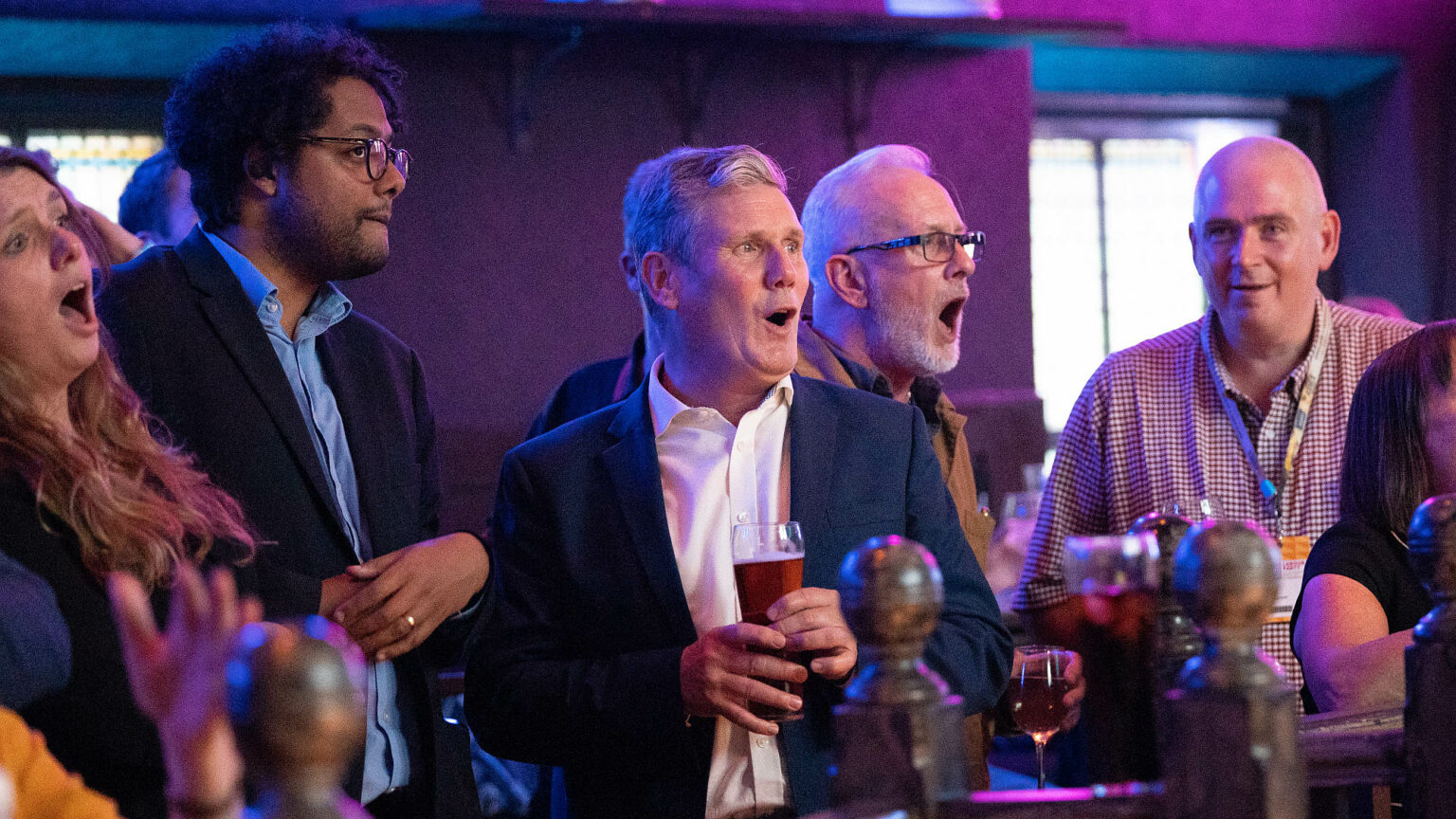 There is a famous scene in Shakespeare's Twelfth Night in which the puritanical steward, Malvolio, stumbles upon a boozy, late-night gathering being hosted by Sir Toby Belch, the uncle of his employer.
'My masters, are you mad?', Malvolio rages: 'Do ye make an alehouse of my lady's house… Is there no respect of place, persons, nor time in you?'
Belch replies: 'Dost thou think because thou art virtuous, there shall be no more cakes and ale?'
And even though it is the dissolute Belch who is technically in the wrong, from this moment onwards the audience's sympathy is firmly with him, as he spends the rest of the play tormenting Malvolio by exposing his pomposity and ultimately his hypocrisy, too – as the supposedly loyal servant who plots to be master.
As Cakegate is superseded by Beergate, it is possible to see these English archetypes being repeated on the political stage. Boris Johnson as a natural-born Sir Toby, forced by the Covid pandemic to impersonate a Malvolio. And Sir Keir Starmer, a humourless Malvolio in love with the image of himself as a virtuous person, suddenly exposed for trying to cover up his own behind-the-scenes transgressions.
These are both hypocrisies, but with very different roots. Do people think Johnson relished delivering the lockdown messages crafted for him by the 'experts'? Hardly. Did it come as a surprise that he struggled to enforce these restraints upon himself and his circle? Surely not to anyone who had paid any attention to his previous conduct. Partygate has merely revealed Johnson's character weakness, which might be termed 'behavioural incontinence'.
But with Starmer something still-less appealing has been exposed. The Labour leader repeatedly lambasted Johnson and even Rishi Sunak over the matter of a birthday cake with colleagues. He took the mantle for himself of someone who could restore 'trust' and 'integrity' in politics. He condemned Johnson as a human being in the most brutal terms, claiming: 'Rather than come clean, every step of the way he has insulted the public's intelligence… Just as he has done throughout his life, he has damaged everyone and everything around him along the way.'
Yet now it turns out that Starmer was not so keen on coming clean himself. His claim that his Durham beer-and-curry night was just a brief and impromptu 'pause for food' for his team, before the serious business of work began again, lies in ruins. His po-faced recital of a ludicrous inventory of tasks allegedly resumed after 10pm on a Friday night has been exposed as a fantasy.
There is a short word starting with 'L' to describe someone who disseminates such erroneous claims, one that Starmer has been quick to throw at his opponents.
And despite his own double standards being clear for all to see, he hasn't even had the grace to hold his hands up, Johnson-style, and admit to falling below the standards the electorate was entitled to expect. Instead, Starmer has whined about being on the receiving end of 'mudslinging' – rather than in his preferred position of being the one dishing it out.
It is all dreadfully unappealing. Starmer the lawyer has spent the whole of this year trying to oust a prime minister via legal or quasi-legal process, involving Sue Gray, the Met Police and fixed penalty notices. Not once has he challenged Johnson to call a General Election so that the people can decide.
This recalls his conduct post-Brexit, when first he promised Labour would be honour-bound to implement the verdict of the people and then conspired with others of an establishment mindset to stop Britain leaving and to overturn the referendum result.
Starmer is now reduced to dodging public engagements at which he might be asked about the tangled web he has woven. The best he can hope for is to escape a fixed penalty notice on a technicality at the end of a police inquiry likely to drag on for six weeks.
But that would merely feed a growing view among Tory-inclined voters that Johnson has been stitched up by a left-leaning, anti-Brexit establishment. Given that the Metropolitan Police broadened their criteria for investigating past lockdown breaches soon after the mysterious defenestration of their former commissioner, Cressida Dick, at the hands of London mayor Sadiq Khan, such suspicions are only to be expected.
The result is likely to be that Johnson, with Partygate neutralised, gets off the hook in the eyes of nearly everyone who might vote Tory at the next election. And remember, this is now Starmer's best-case scenario.
The worst-case scenario – that Starmer does in due course get slapped with a fine – would surely end with him either resigning or becoming a national laughing stock, as the prissiest man in Britain.
At the weekend, one of Johnson's allies told The Sunday Times that '[Johnson] genuinely does not like Keir. He sees this man as part of a privileged, metropolitan, narrow-minded elite uncomfortable with the raw instincts of the vast majority of the British people.'
Despite Labour supporters pointing out Johnson's own privileged background in response, it is hard to avoid the conclusion that the prime minister has indeed got the measure of the man.
Patrick O'Flynn is a former MEP.
To enquire about republishing spiked's content, a right to reply or to request a correction, please contact the managing editor, Viv Regan.