CERN's giant leap for science
The revamped Large Hadron Collider could transform our knowledge of the universe.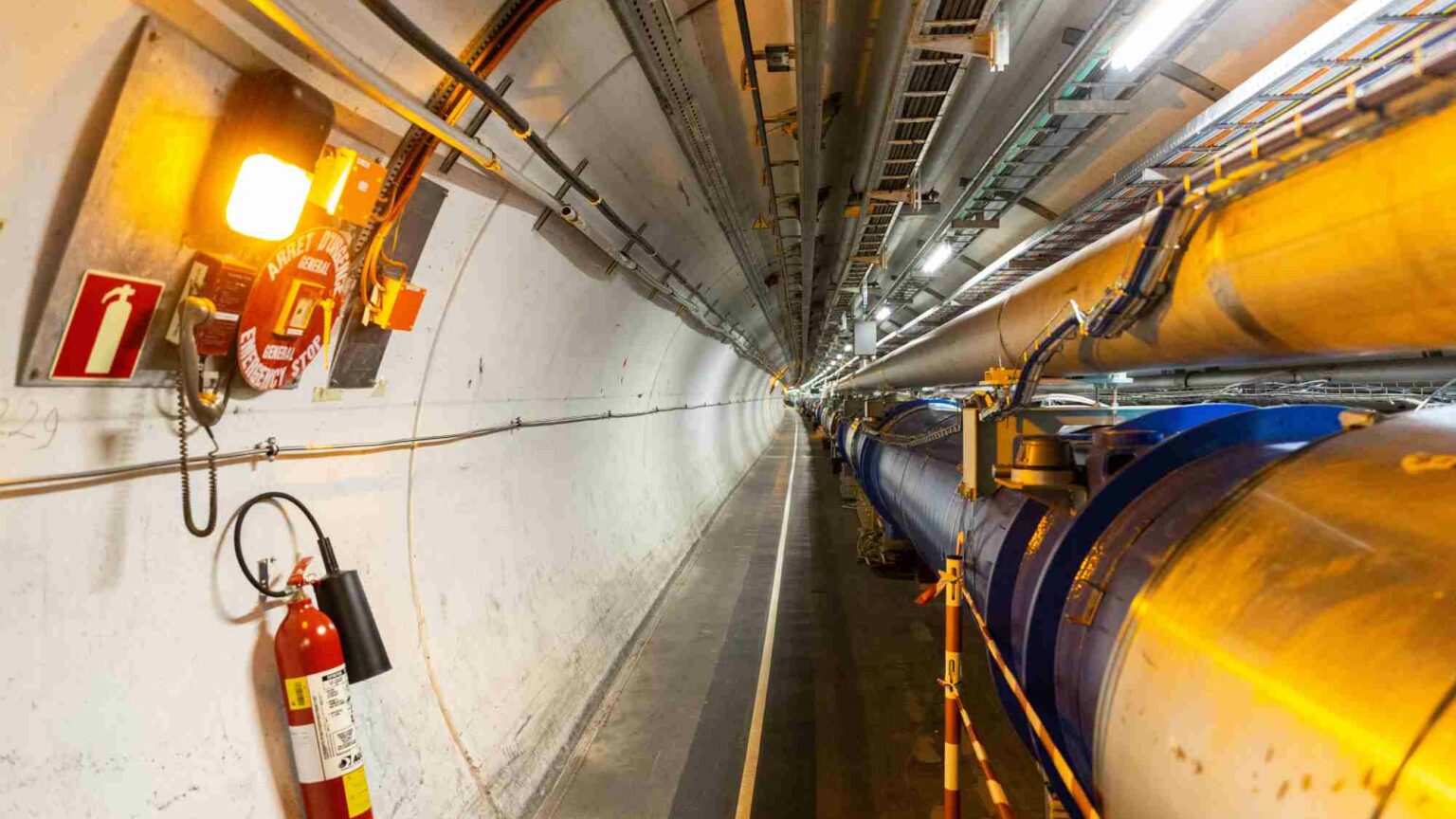 The holy grail of particle physics – the discovery of a new fundamental force in nature – could be a step closer with the revamp of the Large Hadron Collider (LHC) at the CERN laboratory, near Geneva.
The LHC is the world's most advanced particle accelerator – a vast machine that smashes atoms together to break them apart and discover what is inside them. Ten years ago, it made one of the most significant scientific discoveries of recent times – namely, the existence of the Higgs boson, a subatomic particle without which many of the other particles we know about would not have mass. Now, after a three-year-long revamp, the LHC is about to fire up again.
This could herald a leap forward in terms of our knowledge of the fundamental laws of nature. The LHC's instruments are now more sensitive, allowing researchers to study the collision of particles from the inside of atoms in higher definition; its software has been enhanced so that it can record data at a rate of 30million times each second; and its beams are narrower, which significantly increases the number of collisions. This could allow for the discovery of new particles that physicists believe hold the key to unlocking an entirely new view of the universe. This would represent the biggest shift in physics since Einstein's theories of relativity over 100 years ago.
The current theory of subatomic physics is called the Standard Model. This has been excellent at explaining how subatomic particles come together to create atoms which make up the world around us. It also describes how the particles interact through the forces of nature, such as electromagnetism and the nuclear forces that hold the components of atoms together.
But the Standard Model does fall short. It can't explain how gravity operates. It can't explain what 95 per cent of the universe is made of. And it can't explain the behaviour of the invisible parts of the universe, which physicists call dark matter and dark energy. Scientists know these invisible particles and forces must exist from the movement of galaxies in space. But no one has yet been able to prove their existence or to determine what they are. Physicists therefore know that a more advanced framework of knowledge must eventually replace the Standard Model.
If CERN scientists were able to find further evidence of the invisible substance that makes up most of the universe, they would be on the cusp of discovering a fifth force of nature – after gravity, electromagnetism and two nuclear forces. The data collected by researchers at the LHC already hints at the unexpected behaviour of a subatomic particle, called the beauty quark – this may be the result of an as-yet-undiscovered subatomic particle exerting a force.
So the revamped LHC promises so much. It could advance our knowledge of the very fabric of the universe. This should be welcomed as another giant leap in mankind's ability to understand and control nature.
Yet not everyone today is excited about the potential expansion of human knowledge. Many among our cultural and political elites are deeply suspicious of science, progress and of mankind's desire to control nature. They tend to embrace the precautionary principle, which inhibits experimentation. And they also tend to instrumentalise science – much as they did during the pandemic – using it to justify political decision-making.
This partly explains why we must not take for granted CERN's existence, and its ongoing pursuit of knowledge as an end in itself. The publicly funded £3.6 billion LHC, with its annual costs of £1.1 billion, hasn't made a significant discovery since the Higgs boson 10 years ago. So there's a lot riding on the outcomes of the revamp, not least because CERN will soon be putting forward proposals for an even larger hadron collider. At an estimated cost of £20 billion, there is no guarantee it will go ahead.
Moreover, today's geopolitical and global economic realities could also have a significant impact on CERN's future. After all, CERN, a collaboration between over 20 nation states, is a product of a period of postwar optimism in the 1940s and 1950s, when a small number of visionary scientists in Europe and North America identified the need for Europe to have a world-class physics research facility. As such, the laboratory, established in 1954, became a prime example of international collaboration – indeed, CERN is one of the few remaining supranational institutions with any real credibility. New divisive geopolitical realities will surely challenge CERN's founding commitment to 'unite people from all over the world to push the frontiers of science and technology, for the benefit of all'.
Historical precedents suggest this might be an unsustainable ideal. But it is an ideal that we should do our utmost to uphold.
Norman Lewis is a writer and managing director of Futures Diagnosis.
To enquire about republishing spiked's content, a right to reply or to request a correction, please contact the managing editor, Viv Regan.