Islamists are playing a cynical game in Jerusalem
Anti-Israel activists are deliberately provoking conflict at a holy site.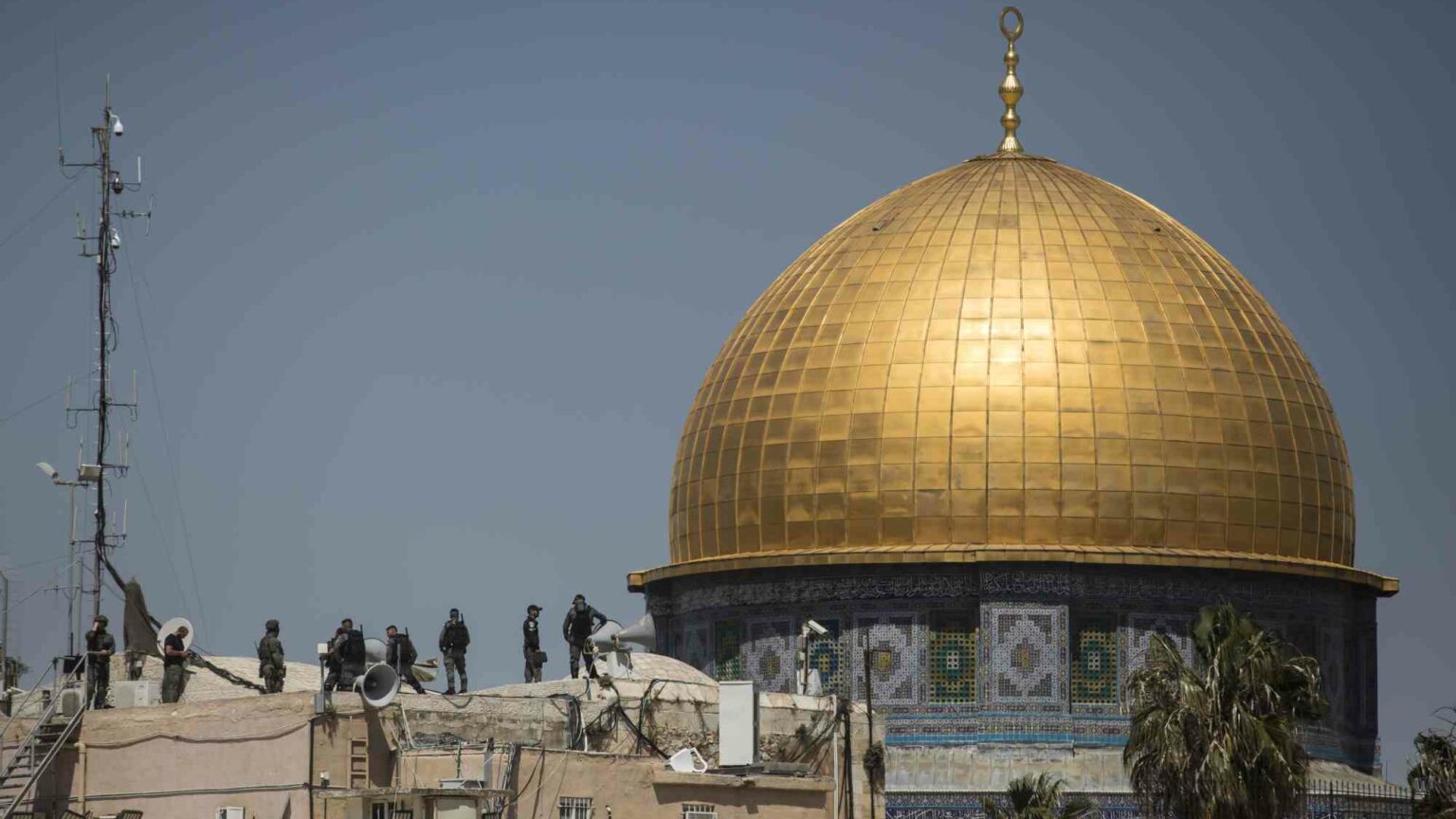 The violent clashes between Israeli police and Palestinian rioters at Jerusalem's holy sites erupted over Easter and flared up once again on Friday.
These 'riots' have been routinely portrayed as religiously motivated. But this portrait is misleading. Although those involved often use a religious idiom, harnessing the language and symbolism of religion, these holy-site conflicts are entirely political.
Islamists, in particular, cynically use the language of Islam and the symbolism of Jerusalem's holy sites to further their war against secularism and modernity. To them, any separation between religion and the state is an abomination. Their goal in relation to any fighting at Jerusalem's holy sites is to win support among the world's two billion Muslims.
There is little doubt that many of the those involved in the violence were activists associated with Islamist organisations, such as Hamas and Palestinian Islamic Jihad. They weren't rioters, since there was nothing spontaneous about their actions. In fact, the activists came carefully prepared for violence with stockpiles of slabs, stones and fireworks.
The Temple Mount, as it is known to Jews, has long been a site of religious conflict. For Muslims, the site is known as the Haram-al-Sharif or Noble Sanctuary, and it includes the Al-Aqsa Mosque and the Dome of the Rock (an Islamic shrine). They are built on the site of the first and second Jewish temples, which were destroyed by the Babylonians and Romans respectively. In other words, the Muslim holy places were literally built on top of the holy Jewish sites after they had already been destroyed by earlier pre-Muslim empires.
There have been clashes on the site for decades, but they have taken on an added intensity in recent years. Indeed, last May's extended military conflict between Israel and the Islamist Hamas movement was at least in part sparked by clashes over the Temple Mount / Haram-al-Sharif.
Anti-Israel activists tell a predictably one-sided narrative about the conflict at the holy site. They claim that Israel is trying to promote Jewish supremacy over Islam's holy sites. Typically, such accounts focus on extremist Israelis who, protected by Israeli police, attempt to pray on the site. They also promote video clips of Israeli police officers apparently beating journalists, women and children.
This version of events is misleading for two main reasons. First, it ignores the fact that, although their record is uneven, the Israeli authorities generally respect the Muslim character of the site. After the 1967 war, when Israel captured Jerusalem's old city, it made an agreement with the Jerusalem Islamic Waqf (the Muslim body that controls the site) to maintain it as a Muslim enclave. Under the agreement, only Muslims can pray on the site, although Christians and Jews are sometimes allowed access. The arrangement was in turn endorsed by the Jewish religious authorities.
Admittedly, Jewish extremists have sometimes tried to pray on the site, but the Israeli authorities have generally tried to stop them. Their recent bizarre attempts to provoke Muslims have included trying to sacrifice lambs or goats (echoing practices in the time of the ancient Jewish temples). Sometimes they have disguised themselves as Muslims, by wearing Islamic garb and using make-up to darken their complexion, in an attempt to enter the site covertly. And in all these cases, they have been thwarted by the Israeli authorities.
Israeli politicians have also sometimes attempted to pray on the site in an attempt to make themselves look tough to their domestic supporters. Ariel Sharon, shortly before he became prime minister, did so in September 2000. That action sparked a five-year-long Palestinian uprising, which was widely referred to as the Al-Aqsa Intifada. And no doubt Israeli police have also sometimes overstepped the mark in dealing with individuals caught up in the midst of rioting.
Nevertheless, Israel has generally upheld the agreement by which only Muslims can pray on the site (despite the fact that there are no restrictions on who can pray on the Jewish or Christian holy sites in Jerusalem). Israel does this for its own interests rather than for benevolent reasons. Israel does not want to inflame the Palestinian population, most of which is Muslim, or the Islamic world more generally.
The second reason why the narrative of the anti-Israel activists is misleading is that Islamists have deliberately tried to provoke the conflict. For them, the very existence of Israel is an obscenity – a violation of their desire for Islamic control over the region. That's why they have recently hurled rocks at police and attacked Israeli civilians.
This attempt to spark a fight over holy sites and religion is in stark contrast to the 1970s and 1980s, when the rhetoric of Palestinian political movements was largely secular and national. The then dominant Palestinian grouping, the Palestine Liberation Organisation (PLO), publicly called for a secular democratic state.
But since the 1990s, this secular outlook has become marginalised. Instead, Islamist movements have come to prevail among Palestinians. This helps explain why religious symbolism, such as that of the Muslim holy sites, has become so important to anti-Israel activism. And it is also an idiom that anti-Israel activists in the West, including many on the left, have often come to share.
There are even allegations that the rioters themselves showed gross contempt for the Muslim holy site. The Israeli Foreign Ministry has claimed that rioters were 'playing soccer' inside Al-Aqsa. A video appears to back this up.
Such ignorance of, or contempt for, the basic principles of Islam is surprisingly common among Islamists. Think of the British jihadis who bought copies of Islam for Dummies and The Koran for Dummies before heading off to fight in Syria. Or think of the 9/11 terrorist attackers who reportedly drank alcohol (contrary to Islamic law) and frequented strip clubs. Osama bin Laden himself, the leader of al-Qaeda, was said to have an enormous stash of pornography. Despite their pretensions towards piety, it seems that many Islamists are willing to engage in behaviour that their own professed religion deems immoral.
Either way, it should be clear that the Islamist militants fighting police in Jerusalem are not doing so for religious reasons. They're trying to stir up conflict to further their political ends. Anything, it seems, is justified in their battle against what they see as the evils of secularism and modernity.
And if Jews and Muslims get hurt in the process? Well, that's just passed off as collateral damage.
Daniel Ben-Ami is an author and journalist. He runs the Radicalism of Fools, a new website untangling and challenging contemporary anti-Semitism. Follow him on Twitter:@danielbenami
To enquire about republishing spiked's content, a right to reply or to request a correction, please contact the managing editor, Viv Regan.