France and Germany could tear the EU apart
The two great EU powers are heading in fundamentally different directions.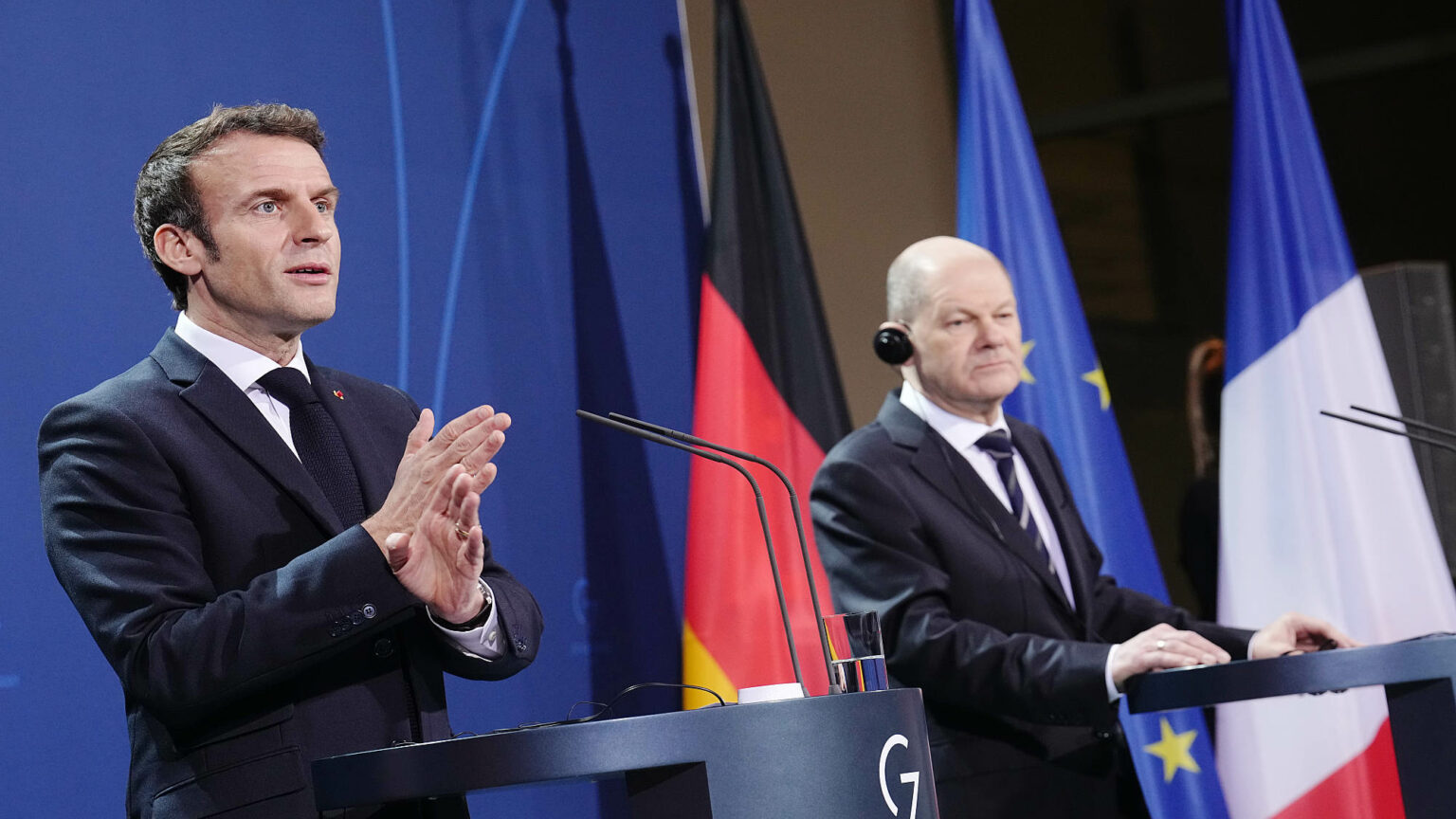 On Thursday evening, Marine Le Pen held her last big rally before French voters choose their president on Sunday. Like all gatherings of the National Rally – and its predecessor the National Front – it was a noisy, flag-waving, France-first extravaganza, punctuated by chants of 'Marine – president!' and spontaneous outbursts of La Marseillaise. And while she has toned down the more inflammatory rhetoric characteristic of her father, Jean-Marie Le Pen, who shocked France by getting through to the presidential run-off 20 years ago, it was her calls for strict limits on immigration, protection for France's secular state, and implied links between Islam and terrorism that drew the loudest cheers.
Le Pen's refashioning of herself and her party for this election has prompted near despair in what might be called the French and European mainstream about the 'banalisation', or 'normalisation', of the far right in French politics. But what struck me most about Le Pen's campaign, especially in the light of Germany's election last autumn, was how inconceivable it would have been for a German candidate with a serious shot at the chancellorship to have campaigned in these terms. These two national elections, held barely six months apart, far from pointing to any growing political affinity between what was once called Europe's French-German dynamo, rather suggest the opposite: that in their politics, at least, France and Germany are on very different trajectories, if not actually spinning apart.
True, EU countries responded to Russia's invasion of Ukraine with an impressive show of unity, and – after initial hesitation – the new German chancellor, Olaf Scholz, pretty much tore up Angela Merkel's rulebook on policy towards Russia and NATO. He pledged to increase German defence spending to the NATO-prescribed two per cent of GDP, summarily halted the Nord Stream 2 gas pipeline from Russia as it was about to be licensed, and arranged for a lot more than the early, scorned offer of helmets to be sent to assist Ukraine's war effort.
Germany's u-turn on defence surprised almost everyone, not least because it came from a government not a million miles in composition and sympathy from the government it had succeeded. Scholz had, after all, been Merkel's vice-chancellor, and he and his Social Democratic Party (SPD) had topped the polls partly because they were seen as offering both continuity and difference. But one reason why Scholz had the freedom to act as he did was the composition of his three-party coalition – containing not only the free-market Free Democratic Party, but also the (perhaps surprisingly) hawkish Greens, whose co-leader, Annalena Baerbock, is now foreign minister.
Less remarked upon, perhaps, is how last September's election – which produced this coalition and saw Germans preferring the centre left under Scholz to the centre right under Merkel's presumed successor, Armin Laschet – not only testified to the stability of the German electoral and party system, but also reinforced it. After gaining support in recent years, fringe parties, such as Die Linke on the left and the anti-immigrant Alternative für Deutschland, lost much of the ground they had gained. Germany reverted in many ways to the pattern established 30 years before, with the FDP and the Greens as junior coalition partners to the two main parties.
Cross the border into France, just seven months later, and the picture looks very different. While the German election was a traditional contest between centre-left and centre-right parties, the French presidential election has been the very opposite. The first-round campaign seemed to show how far traditional party politics had fragmented, with a record 12 candidates for voters to choose from. But the results of the vote on 10 April showed something rather different, as France's long-standing parties of the centre left and centre right (the Socialists and the Gaullists – now called the Republicans) found themselves effectively swept from the electoral map.
The Socialists – who held the presidency as recently as five years ago, with François Hollande – came tenth, out of 12 candidates, with just 1.7 per cent of the vote. This was less than one-third of the vote in 2017, for then candidate Benoît Hamon, which was itself a record low for the mainstream left. As mayor of Paris, Anne Hidalgo, the Socialist candidate this time around, was an experienced politician and a reasonable campaigner who is capable of winning elections. Just not this time.
The story was similar for the centre-right Republicans. Valérie Pécresse may not have been the strongest candidate – there were mutterings that maybe Michel Barnier (of the Brexit talks) might have garnered a larger proportion of the Gaullist vote. But I saw her campaigning, including in her final rally in Lyon, and she was not a terrible candidate or campaigner either.
Five years ago, François Fillon received 20 per cent of the first-round vote and only narrowly missed a place in the run-off, despite his many political and legal difficulties. This time, Pécresse came in fifth with less than five per cent of the vote (4.7 per cent to be exact, and far below the eight to 10 per cent estimated by the pollsters).
In another contrast with Germany, France's Green Party performed just as badly as the centre-left and centre-right parties, with Yannick Jadot winning just 4.6 per cent of the vote – worse in fact than the Greens' performance during presidential elections in the 1990s, despite the far greater prominence of green issues now than then.
The low vote for these parties has drastic financial, as well as political, consequences. Candidates who fall below five per cent of the vote are excluded from public funding. With Pécresse lamenting that she could now face personal financial ruin, the results could force a change in France's campaign-financing system, if future candidates are not to be discouraged.
The funding conundrum, though, is secondary. The far more significant point to be drawn from this year's French presidential elections is the extent to which Emmanuel Macron – almost single-handedly – has broken France's political mould and how far the change might still be evolving. Five years ago, his victory with his new grouping En Marche! was widely seen as a flash in the pan. It is still unclear how En Marche! – now a party, La République En Marche! – is any more than a vehicle for Macron's own ambitions, but it has gifted him the centre ground of French politics, driving the opposition further to the left and the right, into territory that would be considered fringe or extreme in many other countries of Europe. The contrast with Germany could hardly be greater.
This could pose quite a big question. If French and German politics are moving in such different directions, how long can the current unity in the European Union hold? And this is not just about Ukraine. The trends that are taking France and Germany in essentially opposite directions relate not primarily to foreign policy, but to profound differences in domestic dynamics – differences that appear to be growing. These could soon start to pull apart the EU itself.
Mary Dejevsky is a writer and broadcaster. She was Moscow correspondent for The Times between 1988 and 1992. She has also been a correspondent from Paris, Washington and China.
To enquire about republishing spiked's content, a right to reply or to request a correction, please contact the managing editor, Viv Regan.