Wimbledon ban: keep virtue-signalling out of sport
How will kicking out Russian and Belarusian tennis players help get Putin out of Ukraine?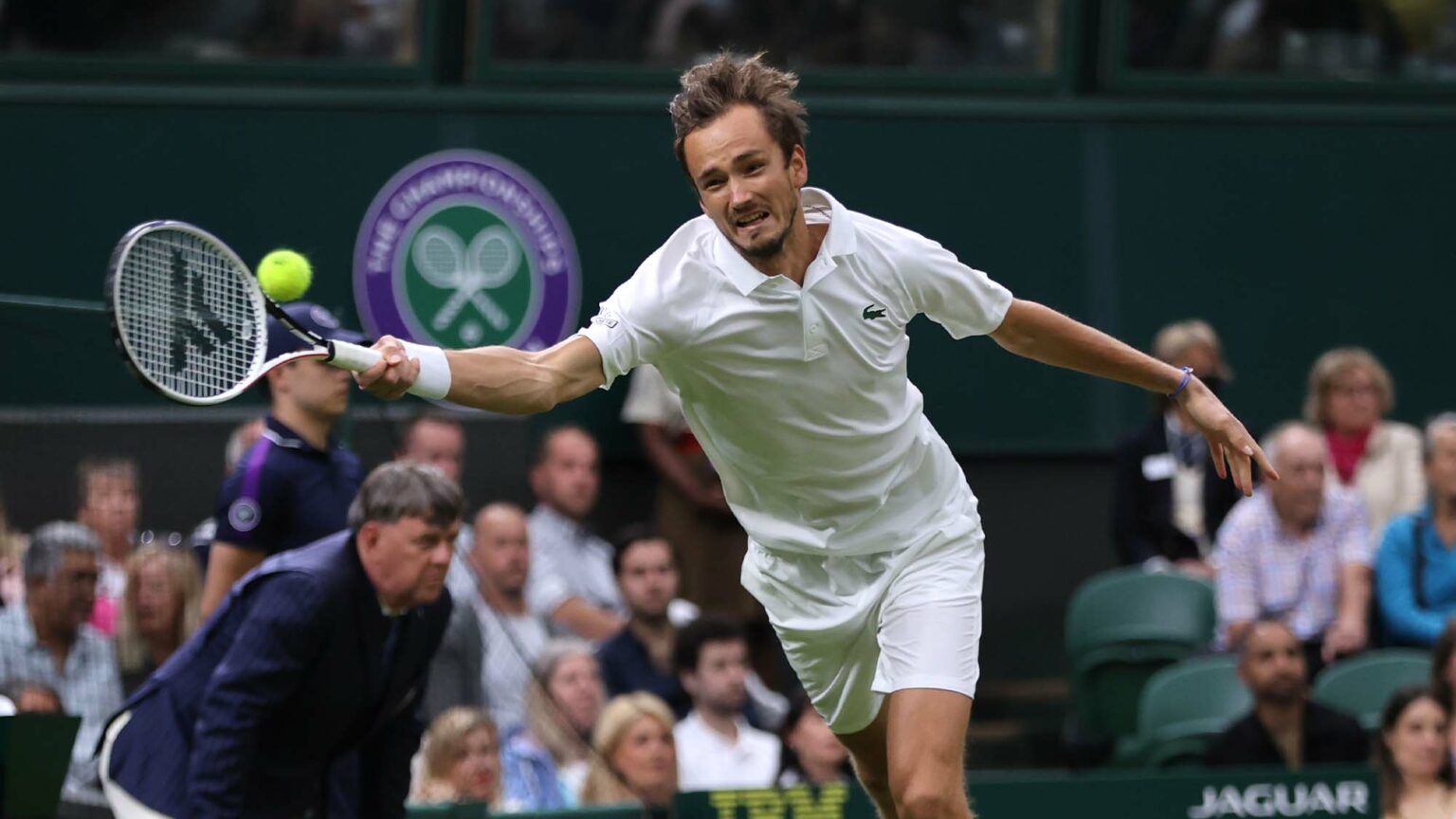 Some of the world's top individual sportsmen and women have just been banned from participating in a top global tournament. Not because they have failed a drug test or cheated to win, or done anything wrong at all. Rather, these players have been banned because of where they were born – cast out because they belong to the 'wrong' nationalities.
We might normally expect such sporting discrimination against members of a specific nation or ethnic group to attract a wave of political and media criticism, with allegations of bigotry and racism bandied about. Yet there has hardly been a public murmur of complaint this time.
Perhaps that's because the powerful body imposing the ban is not some far-flung autocratic regime, but the genteel blazers of the All England Lawn Tennis and Croquet Club. And the athletes 'uninvited' from this summer's Wimbledon tennis championships have been banned for the offence of being born Russians and Belarusians.
Flag-displaying Russian national teams are already barred from many international competitions, of course. But in the individual sport of tennis, the game's ruling bodies had agreed that Russian and Belarusian players could continue to take part as neutrals. Now Wimbledon has broken ranks and decided that there are no neutrals in sport: if you're a Russian, you must be a wrong-un.
The plaintive appeal to 'Keep politics out of sport' has always seemed hopeless, given the long history of politicised bans and boycotts in international competitions. But this looks like a new low. It is petty vindictiveness dressed up as high-minded principle. A political gesture that risks ruining a sporting spectacle in the cause of self-satisfaction in the committee room and showing off in the media. Maybe our new slogan should be, 'Keep virtue-signalling out of sport!'.
The statement from the All England Club pompously declares that it has a responsibility 'to limit Russia's global influence through the strongest means possible'. And there we were naively imagining that its only responsibility was to run a world-class tennis competition with the best players competing.
It goes on to declare that, 'In the circumstances of such unjustified and unprecedented military aggression, it would be unacceptable for the Russian regime to derive any benefits from the involvement of Russian or Belarusian players'. So, they are all to be kicked off court.
Russia's bloody invasion of Ukraine is certainly 'unjustified'. But the only thing that appears 'unprecedented' in recent times is the Wimbledon ban on individual Russians based on their passports.
What supposed 'benefits' would President Putin's regime derive from the appearance of men's world No2 Daniil Medvedev, women's world No4 Aryna Sabalenka and other top Russian or Belarusian players on the hallowed turf of Wimbledon? The only beneficiaries would likely be tennis fans. It is not as if there have been any tennis-based demonstrations of public support for Putin or his grisly war. If anything, the opposite: world No8 Andrey Rublev wrote 'No war please' on a TV camera after a recent match in Dubai.
How exactly is kicking Russian tennis players out of Wimbledon meant to help get Putin out of Ukraine? No, this ban makes no sense or difference in relation to the war over there. It is all about making the stuffy old All England Club look fashionably righteous over here, and avoiding any vulgar scenes in south-west London. As The Times reports, senior members of the All England elite had expressed concerns about the uncomfortable PR 'optics' of having Russian players winning matches amid the celebrations of the centenary of Wimbledon's Centre Court. The authorities want to dress up in Wimbledon's traditional whites and pose as ethically pure.
The players' entrance at Wimbledon's Centre Court features a well-known quote from the poem 'If' by Rudyard Kipling, the author of The White Man's Burden, who knew something about the West looking down on the rest: 'If you can meet with triumph and disaster / And treat those two imposters just the same…' Perhaps this year they should add: 'Unless you're Russian / Then you don't even get to play the game.'
Opposing any such bans, Steve Simon, head of the Women's Tennis Association, previously told the BBC that he believes 'very, very strongly' that individual players should not be punished for the actions of their country's 'authoritarian leadership that is obviously doing terrible, reprehensible things'.
That distinction between individual sportsmen and their state has been widely recognised until now. No other recent war or atrocity has provoked a similar response. The last time Wimbledon banned a nation's citizens was straight after the Second World War, when tennis players from the defeated powers of Germany and Japan were barred from competing. By contrast, players from South Africa were welcomed at Wimbledon throughout the Apartheid era.
Now it seems the rules have been changed and vindictive victimisation legitimised, all in the cause of moralistic posturing rather than international sport or world peace. Even those of us non-tennis fans, who generally might not care if the entire Wimbledon championships disappeared, should be concerned about the dangerous precedent this sets for judging athletes by political standards.
Mick Hume is a spiked columnist. His latest book, Revolting! How the Establishment is Undermining Democracy – and What they're Afraid of, is published by William Collins.
To enquire about republishing spiked's content, a right to reply or to request a correction, please contact the managing editor, Viv Regan.