Is Boris really as bad as a war criminal or people smuggler?
In their obsessive hysteria over 'Partygate', the media have lost all sense of perspective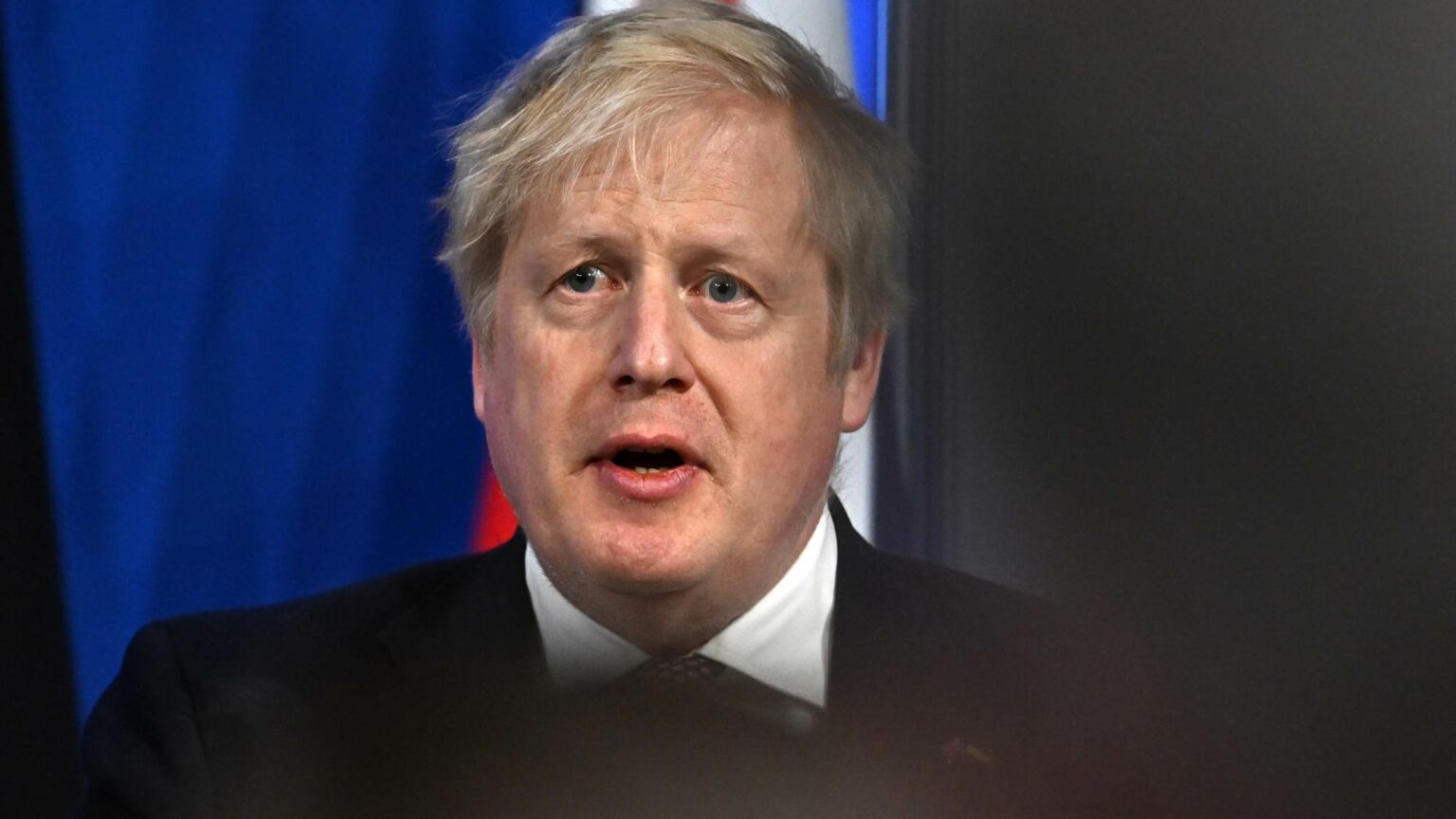 Question. Does the Downing Street 'Partygate' scandal mean that UK prime minister Boris Johnson is really: a) An elected dictator, like Russia's Vladimir Putin? b) A criminal who cannot credibly oppose Russia's criminal invasion of Ukraine? c) The moral equivalent of Channel-crossing people-smugglers? d) All of the above, and more? At least that is the impression given by the hysterical harrumphing of his opponents and the obsessive, Boris-bashing media this week.
Before we get carried away with the rest of them, a reminder of the facts so far. Johnson has been issued with a £50 fixed penalty notice for breaking his government's own punitive lockdown rules at a Downing Street birthday party. The 10-minute bash apparently involved some tins of warm lager, a cake that never left its Tupperware box, and a quick chorus of 'Happy Birthday dear Boris'. No doubt there will be further fines to come for other, possibly more egregious lockdown booze-ups in Downing Street.
This makes Boris a hypocrite and a political elitist. Johnson, his wife Carrie, and chancellor Rishi Sunak – also fined – believe that the rules they impose on the public don't apply to those in power. They should rightly be hammered for their 'laws are for the little people' arrogance.
But that is nowhere near enough for the 'get Boris' crowd in politics and the media, most of them bitter Remainers still seeking revenge for Brexit. They have worn themselves hoarse calling Boris a liar and a crook pretty much every day since the 2016 referendum, and demanding that he resign or be kicked out of office ever since he became prime minister in 2019.
They have now seized upon Partygate as proof that they were right all along, and that Boris really is the worst PM ever. His stubborn refusal to do as his perma-outraged opponents tell him, and resign over a 50 quid fine, is thus, in the football-style commentary from top BBC Remoaner Gary Lineker, 'Unbelievable'.
Labour's deputy leader, Angela Rayner, set the shrill tone for the coverage, declaring that the fines were proof of 'widespread criminality at the heart of Downing Street', as if we really were dealing with a Watergate-type tale of political burglary and a secret state rather than an illicit birthday cake. (Anybody who wants Boris to go now might consider the prospect of a government involving Rayner and Labour leader Sir Keir Starmer, and be careful what you wish for.)
The media were even more delighted to highlight the resignation letter from Johnson's justice minister, Lord Wolfson of Tredegar QC. Wolfson insisted that Johnson's failure to resign struck at Britain's reputation for the rule of law, and thus meant that the UK could not 'credibly' oppose Russia's criminal invasion of Ukraine.
Such a frankly incredible suggestion of moral equivalence from a learned lawyer should have been laughed out of the court of public opinion. Instead it was given headline praise. No mention, of course, of the scandal of Wolfson, as an unelected member of the House of Lords, occupying a powerful position in a democratic government in the first place.
Meanwhile, pillars of the Remainstream media have been enjoying an orgy of pious histrionics over Partygate. Robert Peston, political editor at ITV, announced that Britain under the criminal PM had now become an 'elected dictatorship'. Which presumably puts Boris on a par with Putin, Russia's elected, dictatorial president. Hyperbole, much?
Not only has Partygate often led the news ahead of the unfolding horror story in Ukraine, but it has also been shoehorned into every other issue. Over on Radio 4's flagship Today programme, BBC anchor Mishal Husain was meant to be interviewing Tory minister Simon Hart about the government's plans to try to stop illegal immigration. But she could not resist. 'Why should people stick to legal migration routes', she demanded, 'when the prime minister himself has acted outside the law?'. When the stumbling Hart tried to dispute the effective suggestion that Boris might be the moral equivalent of cross-Channel people-smugglers, she laughed at him.
'The prime minister', Husain of the BBC went on to lecture, 'should be a model for everybody's behaviour'. She thus captured the tone of smug sanctimony mixed with ahistorical incredulity typical of much of the media coverage. It is nonsense to suggest that any British prime minister has ever been a moral role model for the rest of us. Anybody who imagines Johnson to be the first occupant of 10 Downing Street to break a law, act like a hypocrite or be less than forthcoming with the truth is surely either too naive or blinded by prejudice to be allowed near the news media. PMs are meant to be political leaders, not secular saints.
Just when you thought the media might have scraped the bottom of the barrel, enter uber-pundit Piers Morgan to demand, 'Why should the British public follow any laws if those in charge of setting them so brazenly break them and keep their jobs?'. Thus Boris's little birthday party becomes recast as an alleged invitation to the public to run riot and instigate anarchy in the UK.
In the obsessive view of the Boris-bashers, every revelation of a cheese-and-wine quiz on Zoom and every £50 fixed penalty notice is a fresh historic scandal, adding to an apparently unprecedented 'constitutional crisis' (Peston again). In their embittered desperation to avenge their losses in the Brexit referendum and the last General Election, the media Remainers have lost any sense of perspective. The world might move on, but they seemingly cannot.
As spiked has argued all along, the worst thing the Johnson government did was not to break its Covid lockdown rules, but to impose those draconian, freedom-imprisoning laws on us in the first place. And we might recall that the media miserabilists now demanding Boris's head were the loudest voices demanding that he lock us down longer, harder and more punitively still.
It is not up to the Remainstream media, or the Metropolitan Police, to decide who should and should not be prime minister. In a democracy, the electorate must ultimately hold politicians to account. And we don't need any more sermons from self-righteous hysterics to help us make up our minds.
To enquire about republishing spiked's content, a right to reply or to request a correction, please contact the managing editor, Viv Regan.