Extinction Rebellion vs the people
These eco-zealots don't care if they're making our lives more difficult.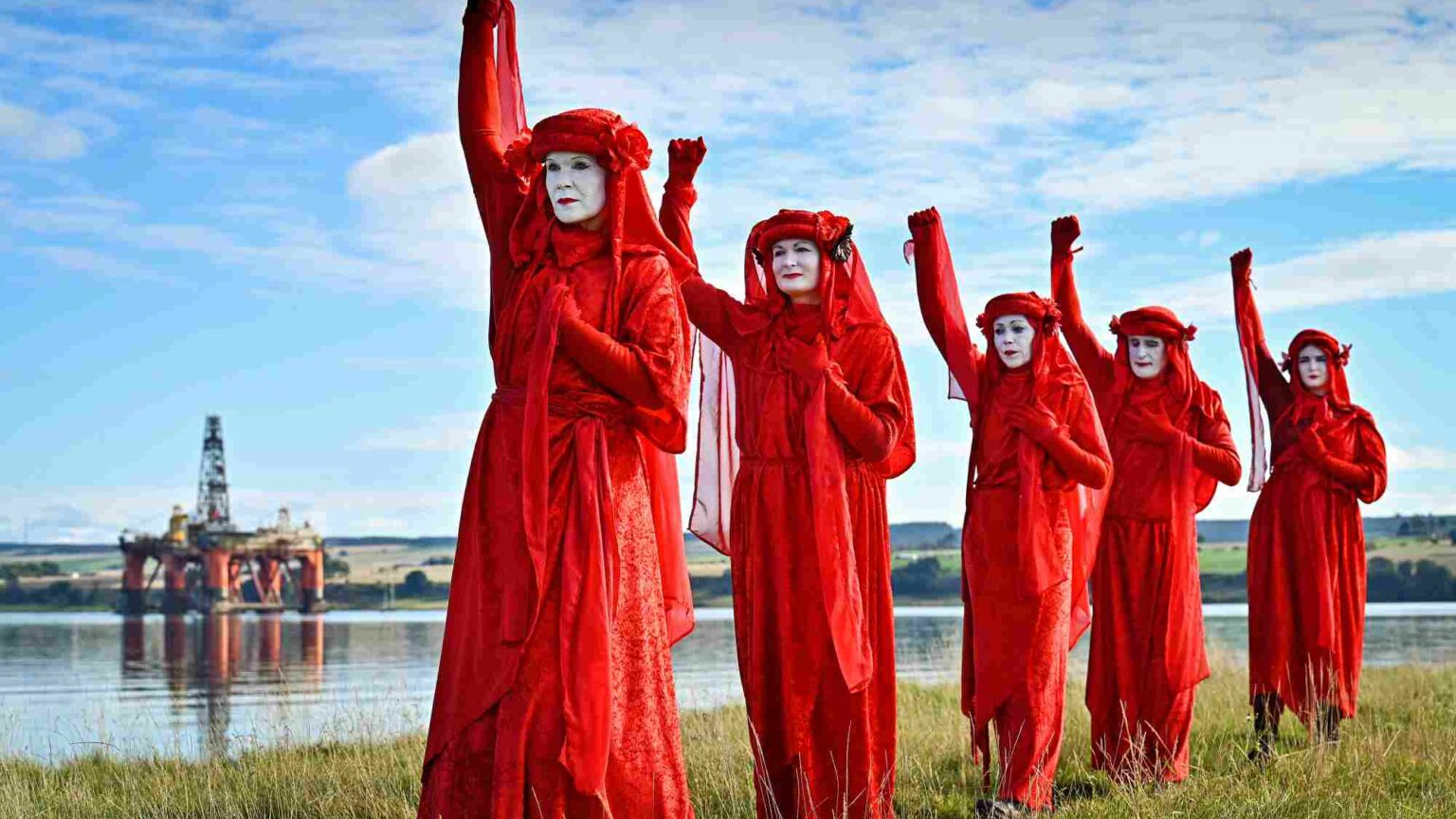 These are serious times in which we live. War is raging in Ukraine. The global energy market is now in turmoil. And here in the UK, we are now in the grip of an unprecedented cost-of-living crisis, with inflation rising, household bills set to leap by over 50 per cent, and wages stagnant. Millions of people are worried about the fundamentals. About keeping the roof over their heads. About getting food on the table.
And yet the UK's resident eco-prats – Extinction Rebellion and Just Stop Oil – clearly think nothing of any of this. These two groups don't care about people's needs. And they clearly don't care about their struggles, even now as the financial hardship starts to bite. Because if they did, Just Stop Oil would not have been blockading countless fuel terminals across England for the past few weeks, and Extinction Rebellion would not be attempting to bring the capital to a standstill once again.
What do these activists think they're doing? The Right Thing, no doubt. Hence their robotic, pseudo-idealistic blather about saving the future. But they're not doing the right thing at all, let alone saving anyone. They are harming people's ability to live their lives in the here and now, and exacerbating an already grave situation. As I say, these are serious times. And yet these rainbow-wellied protesters are currently supergluing themselves to bridges and 'surfing' oil trucks. This isn't meaningful activism – it's a self-indulgent circus.
Their stunts are already having a severe impact. According to the Department for Business, Energy and Industrial Strategy, during the first week of the Just Stop Oil Campaign fuel deliveries to petrol stations fell from an estimated 43,243 litres per filling station in the previous week to just 33,766 litres in the following. The fall-off was particularly striking in those regions served by the blockaded terminals, with deliveries plummeting by 43 per cent in the West Midlands, 44 per cent in London and 48 per cent in the east. According to reports this week, the terminal blockades have led to the closure of one in three petrol stations in southern England. That is a significant disruption to people's lives.
Not that Just Stop Oil will bother their tiny little heads about any of this. They couldn't care about people not being able to fill up their cars or get to work. Because in their fantasy world, there is a so-called climate emergency on. And that trumps our everyday needs. Theirs is an authoritarian ideology given a clownishly apocalyptic gloss.
It is as if they live in a parallel reality. Which, in a sense, they do. For the constituency that makes up Just Stop Oil and Extinction Rebellion belongs to the ranks of the non-employed upper-middle class. Hence XR or Just Stop Oil activists are either retired professionals, or, in the main, some form of forever student. That's why they seem so removed from people's everyday concerns – because socially and financially they are free of those everyday concerns. Theirs are lives of easy virtue-signalling, pompous scolding and a lot of super glue.
Just take a look at the 'leaders' of the Just Stop Oil fuel blockade. There's retired vicar Tim Hewes, who once stitched his own lips together in protest at Rupert Murdoch. As you do. And then there's a whole host of twentysomething graduates-turned-professional-activists, from 'musician' Eben Lazarus to his rivals in the daft names stakes, Indigo Rumbelow and Amy Rugg-Easey. These are real names. And of course there's Louis McKechnie, whose 15 minutes of fame arrived during a Premier League football match, when he lovingly attached himself to a goalpost while fans showered him with four-lettered appreciation.
This lot clearly aren't speaking for the public, as they claim. As young Louis showed at the football, they wouldn't recognise the public if it made an offensive hand gesture to their face. They are speaking and, more importantly, acting against the public.
It does seem, however, as if the political and media tide has turned somewhat. When XR first burst on to our streets in 2019, with a boat and Emma Thompson in tow, they were feted by our elites. Politicians praised their righteous activism, while assorted journalists championed their cause. But times have changed. Not only has the government condemned Just Stop Oil for visiting further hardship on people, but so now has Labour. The government, said shadow justice secretary Steve Reed, 'needs to stop standing idly by and put an end to this disruption that is causing misery for motorists'.
It's a welcome shift – albeit a very late-in-the-day one. As unserious as the clowns of XR and Just Stop Oil are, their actions are doing serious damage. And perhaps this could teach our political class a lesson, too. For as extreme and unwittingly comical as these protesters are, their anti-people, anti-progress campaign is only the cutting edge of a much more mainstream green politics, which both Labour and the Tories are signed up to. Net Zero – backed by the entire political establishment – would also make people's lives harder and more expensive, pushing through a 'green transition' on the backs of the poor.
So, let's get Indigo and her mates out of the road – but let's not forget where they got their ideas from.
Tim Black is a spiked columnist.
To enquire about republishing spiked's content, a right to reply or to request a correction, please contact the managing editor, Viv Regan.