'Women's sport has been thrown under the bus'
Olympic swimmer Sharron Davies on why male-bodied athletes should not compete in women's sports.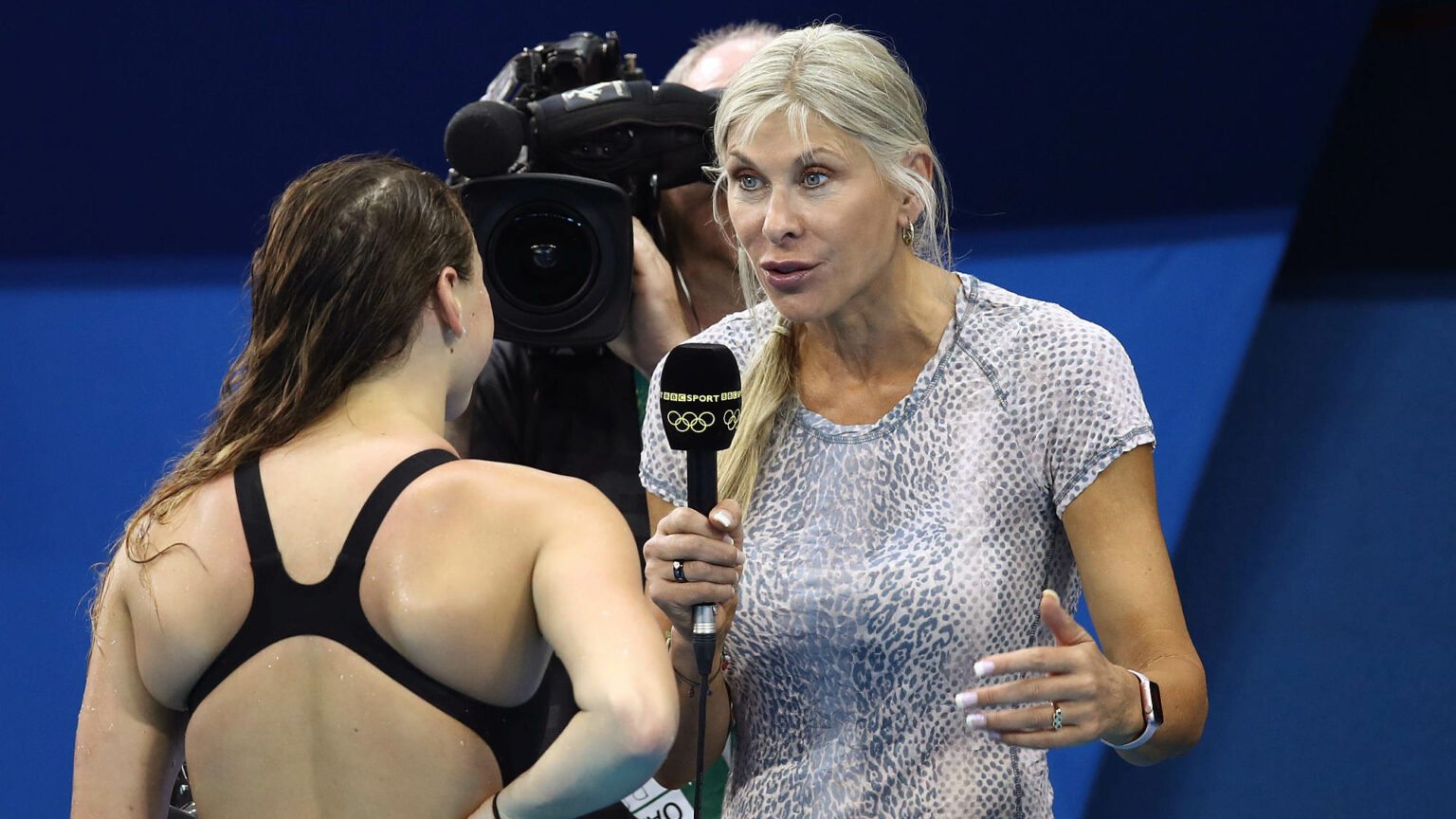 The integrity of women's sports is on the line. For years, women's rights campaigners and outspoken athletes have warned that the inclusion of trans women in women's categories is fundamentally unfair. These warnings have now become impossible to ignore. In recent weeks, trans swimmer Lia Thomas thrashed the female competition and broke numerous records in the National Collegiate Athletic Association's (NCAA) championships in the US. In the UK, cyclist Emily Bridges has been prevented from competing in women's competitions, but if this changes, Bridges is likely to win with ease.
Sharron Davies, former competitive swimmer and silver-medal winner at the 1980 Moscow Olympics, has long argued that we need to protect women's sport. She joined Brendan O'Neill for this week's episode of The Brendan O'Neill Show. What follows is an edited extract from their conversation. You can listen to the full episode on Thursday – subscribe here so that you don't miss it.
Brendan O'Neill: When I look at Lia Thomas, who is over six feet tall and has been through male puberty, I always wonder how those female swimmers feel, diving into the pool and knowing that they probably will lose. Of course, you know how that feels because when you were competing in the Olympics, countries like East Germany were involved in extraordinary doping scandals, where they were essentially abusing their female athletes, pressuring or forcing them to take testosterone and to transform their bodies radically. So how did it feel for swimmers like you standing by the side of the pool, about to compete, knowing that these girls, who were effectively forced to cheat, were right next to you?
Sharron Davies: Frustration, that's the word. Frustration that people are not standing up for fair sport. That people can throw women's sport under the bus so very easily, which is exactly what happened in the 1970s and 80s.
The number of times I talk about it now and people say, 'Oh, did you know what was going on?'. Of course we knew what was going on. It was as obvious as the nose on your face. These people would just turn up, having never raced in the junior programme. We'd never seen them before. They'd never made the usual transition from being a good junior to being a good senior – they would just arrive on the Olympic programme, or the World Championship programme, or the Europeans or wherever, and just smash the world record. And it just doesn't happen like that.
These swimmers looked and sounded like men. They had Adam's apples, five o'clock shadows. And, as you mentioned, they were very much the victims in this as well. Many of these girls have died since or they've had disabled children. Their lives have been shortened and and really debilitated because of the drugs that they were allowed to be given by the East German state. And the International Olympic Committee did nothing to stop it. It just makes me so very angry.
At the time, my dad was my coach. He had, I think, three or four people on the British Olympic team for Moscow. And I was the only individual female medalist from the whole of the British team at that particular Olympic Games. We had some relay medals, but no individual medals whatsoever. And yet he was never picked as an international coach, because he spoke out against [swimmers doping].
So it's such a fallacy to say that we didn't know what was going on. We did know then, just as we know now that it's unfair to have male bodies in female sport. We don't need to have 10 years of women losing races to know this. And that's what makes me so terribly cross. So the word is frustration, and I'm back to being frustrated now.
I suppose I'm in a lucky position in that I'm retired – I'm not reliant on sponsorships. But having said that, I've lost so much work. I've even had charities remove my name from ambassador roles, which I've been with for 20 or 30 years. Because I speak out.
I've never been disrespectful, I believe wholeheartedly that sport is for all, and it should be inclusive. But it doesn't have to be inclusive at the cost of another group's right to fair sport.
O'Neill: Yes, absolutely. When I think about the experience of former Olympians like you, what strikes me is that we now recognise that the use of synthetic testosterone in the past was bad.
Davies: It's now banned! If I was to take synthetic testosterone to increase my levels to those of Emily Bridges or Lia Thomas – here's the irony – I would receive a four-year ban instantly.
O'Neill: That's what's so extraordinary about this. Synthetic testosterone is banned, you will be punished if you go near it. And yet natural testosterone – all the benefits that accrue from going through male puberty, from having that rush of testosterone that goes through a young man's body – that's seen as acceptable rather than a form of doping.
Because swimming is your sport – it's what you were a champion at – what would you say are the benefits that someone like Lia Thomas will have from having gone through that biological experience that the female swimmers haven't?
Davies: First of all there's Lia's height. Lia was just underneath six foot four. Males are taller. Swimmers in particular are a tall race. You will find us at the Olympic Games: all the tall blokes are in the sprints, all the tall girls are in the girls' sprints. But we're not just underneath six foot four – most of the top female sprinters are around the five foot 11 or the six-foot mark. So there's physiological benefits just in terms of size – including the size of your hands and the size of your feet, because these are your paddles, of course.
It's lung capacity, too, it's bone density, it's muscle memory. This is 21 years of being a male. And even though Thomas identifies as a woman, Thomas is still biologically male. So even if someone has, let's say, a 12 per cent advantage as a male over a female, and we can remove six per cent of that [by suppressing testosterone levels], you're still giving someone a six per cent advantage.
Yet we spend millions of pounds every year, trying to stop people from doping just to get the tiniest advantage. So what actually is the point of the World Anti-Doping Agency, if we don't care about [unfair] advantages in sports? This is the ridiculous side to it.
You're never going to be able to remove male physical advantage, not all of it. You may be able to remove a third of it, or you may even be able to remove a half of it, but you will certainly never be able to remove all of it. So that's why [transgender women's inclusion in women's sport] is just not feasible.
This is a short extract of Sharron Davies' conversation with Brendan O'Neill from the next episode of The Brendan O'Neill Show, out on Thursday. Subscribe to the podcast here so that you never miss an episode.
To enquire about republishing spiked's content, a right to reply or to request a correction, please contact the managing editor, Viv Regan.