Will anything come of these peace talks?
Ukraine has already won the moral victory. Now difficult choices lie ahead.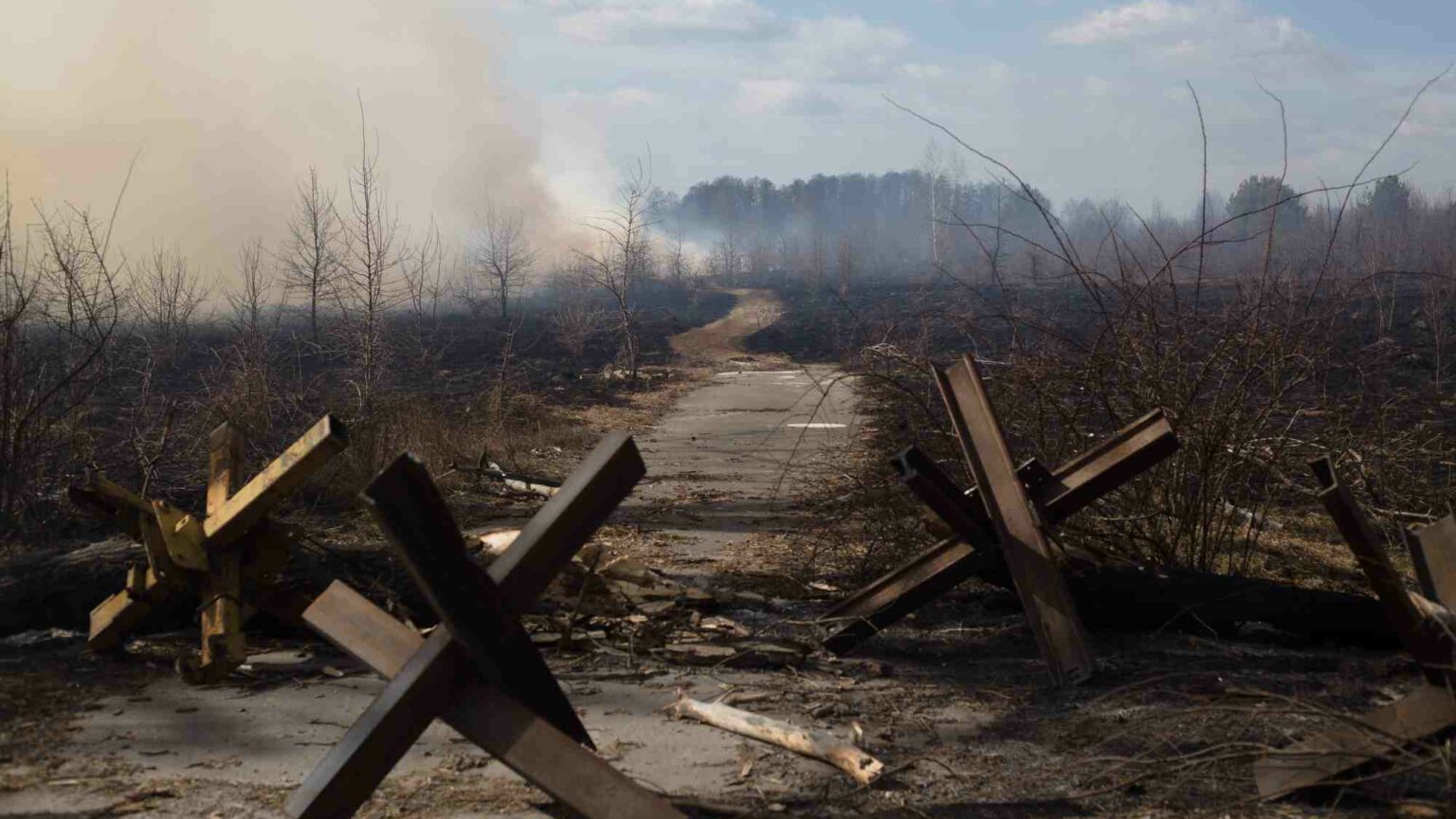 Could peace be approaching in the war in Ukraine, and if so, on what terms? Several signs point to the start of a new stage in the war begun by Russia's invasion a month ago, though it is hard to judge whether it is the beginning of the end of the war or just the end of the beginning.
At the end of last week, the Russian defence ministry announced that the first stage of what it calls its 'special military operation' was complete – without saying whether there would be another to follow. Now, Ukrainian and Russian negotiators have met in Istanbul under the aegis of Turkey – an encounter accompanied, in perhaps the biggest surprise of the war so far, by a statement from Russia's deputy defence minister that Russia was 'radically reducing… military activity' around Kyiv and Chernihiv with a view to 'boosting mutual trust' in peace talks. Ukraine, for its part, was reported to have tabled a five-point plan that may or may not have contributed to a Russian assessment that Ukraine was approaching the talks seriously.
The news has not been entirely upbeat, though; nor have the assessments. The start of the Istanbul talks was heralded by reports that outgoing Chelsea FC owner Roman Abramovich, freshly sanctioned by the UK government, was one of several participants in previous rounds of talks to have suffered a poison attack. The reports were denied or dismissed in various ways by almost everyone in a position to know. But the spectre of a Russian state poisoner at work (the clear inference, though never spelled out) cast its shadow – as it was doubtless intended to do.
And far from fostering trust, Russia's statement about pulling back its troops in northern Ukraine had almost the opposite effect in Ukraine, with President Volodymyr Zelensky responding that Ukrainians were not 'naive' and that Russia's signals, positive though they were, 'do not drown out the explosions or Russian shells'.
British and US officials, for their part, observed variously from the sidelines that Russia's moves were evidence of how badly its forces were doing and that any troop movements so far were negligible and presaged nothing more than regrouping. A more intriguing theory was that the deployments in northern Ukraine had been part of a classic feint that had successfully served to keep Ukrainian forces tied down in the north and south of the country, while giving Russia a largely free hand in the east – and that this had been the point all along. Russia, some forecast, would now move on the east in a big way, encircling the concentration of Ukrainian forces that had hoped to recover the breakaway regions of the Donbas – the Donetsk and Luhansk self-styled people's republics.
This remains to be seen. But it is worth injecting at least two caveats. The near-universal disparagement of Russia's military performance, as put about in Western political and media circles, does not necessarily mean that Russia is either down or out. The other is that the widespread scepticism that has been applied to prospects for talks so far may have been overdone.
This has been a strange war in many ways – Russia's limited use of airpower even against the huge deliveries of weapons coming across Ukraine's western borders being one example. But another is the fact that talking and fighting have continued in parallel from the end of the very first week after Russia's invasion. The more common sequence would be for any talking to follow a ceasefire, but there has been no ceasefire in Ukraine to this day.
The widespread scepticism about those early talks, convened just across the border in Belarus, as being nothing more than a cynical Russian ploy, may also have been misplaced. It is true that Zelensky, not unreasonably, objected that Belarus could hardly play the honest broker. But those talks never really broke down. Both sides sent serious negotiators, and third parties – including Israel, Abramovich and others.
Another noteworthy aspect of the concurrent talking and fighting is the sudden silence from most of Ukraine's Western supporters, even as they continue to shovel weapons and supplies in to fuel Kyiv's war effort. All those deliveries nonetheless fall far short of what Zelensky is calling for, and NATO's refusal actually to fight for Ukraine has drawn a bitter recognition from Zelensky that NATO membership will not be Ukraine's future.
This recognition, already two weeks old now, opens the way to a possible settlement, the outlines of which emerge from the five-point plan Ukraine has reportedly drafted. It starts with Ukraine accepting the status of a neutral country and enshrining that in its constitution. The precise model of neutrality is something to be hammered out, as would be what sort of armed forces Ukraine would keep and what sort of security guarantees it would be given, and by whom. Kyiv may be forgiven for some hard bargaining on this score, given the failure of the security guarantees it was given by the UK, the US and Russia in the Budapest Memorandum of 1994.
In all, Kyiv's five points are reported to be: the withdrawal of most Russian forces; NATO-style security guarantees; Ukraine not to be a member of any security bloc; separate discussions about Crimea (annexed by Russia in 2014), on the one hand, and about borders and the status of the breakaway regions of the Donbas, on the other.
The difficulty here is not hard to identify. While Ukraine has, already and beyond doubt, won the moral victory, while managing to stall Russian forces on at least parts of the battlefield, it risks emerging from the war with net losses. Its ambition of NATO membership is already gone; Russia is well on the way to obtaining its land bridge to Crimea, which it will be reluctant to cede, and the Donbas (and maybe the wider region it is part of) could also be ceded to Russia. The cost in lost lives and destroyed infrastructure is already enormous. What chance of Russia paying reparations?
If this, or something like it, is the shape of a peace deal, and it is, as Zelensky has suggested, submitted for approval in a referendum, will the Ukrainian president be able to capitalise on his war leadership to take his fellow countrymen with him? Especially as the terms of a likely agreement are worse, or at best no different, from those that were on offer before Russia invaded: no NATO membership and arrangements for the Donbas as outlined in the Minsk accords.
The big difference between then and now is that then the US, the UK and others were telling Ukraine that it had every right, as a sovereign state, to join NATO and that Minsk was an unequal treaty that Kyiv was entitled to ignore. Now, Russia's illegal invasion has exposed the emptiness of those assurances. How wise was it for them ever to have been given?
Mary Dejevsky is a writer and broadcaster. She was Moscow correspondent for The Times between 1988 and 1992. She has also been a correspondent from Paris, Washington and China.
To enquire about republishing spiked's content, a right to reply or to request a correction, please contact the managing editor, Viv Regan.