Why Will Smith's slap is bad news for stand-up
Comedians are already terrified of cancellation – a fear of on-stage reprisals will make comedy even tamer.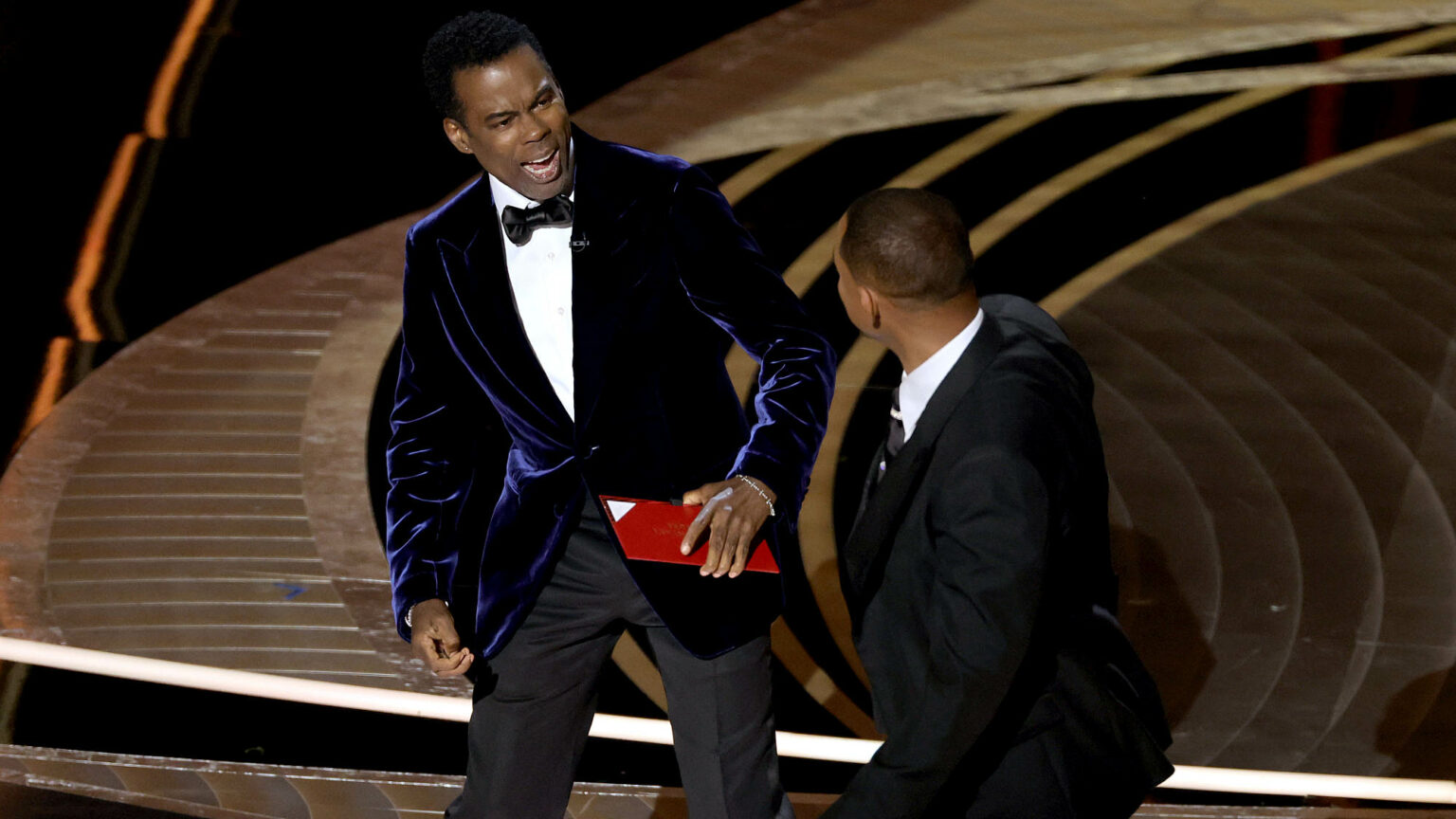 Never underestimate the capacity of actors to bring the centre of attention back to their sorry asses. That would have to be one of the lessons learned from last night's sordid little display at the Oscars of Will Smith slapping host Chris Rock. Maybe the only one that will survive the week.
And it was little and sordid, however shocking and significant it briefly seemed, and however many kilotakes have been harvested from the bitchslap that shook the world – kilotakes of which this is but one. Strip away the lighting and the telecast, and the annoying variations on traditional black tie, and this was an incident familiar to anyone who has ever drunk on match day in a flat-roofed pub, or a repurposed branch of Natwest, or wherever men have a little too much adrenaline or adrenaline's illicitly available substitute mixed in with their lager, when they perceive a slight to their bird.
Will Smith has been a big man to many people in many ways and I am absolutely disposed to forgive him, assuming that's what he wants. But last night he was a big man on the world stage who revealed his inner, raw-boned touchy adolescent, forever afraid of being thought a cuck – no doubt especially so, one way or another. He lashed out to try to assert his status, his reputation as the sort of man this sort of shit doesn't happen to. No one will now ever be able to forget that that's exactly what he isn't.
Multiple angles have been explored, from the paper / Rock / scissors memes (guilty) to the inevitable analysis of the racial dynamics in play. For instance, one Dr Jason Johnson, an academic with over 270,000 Twitter followers, asserted that had it been a white comedian Smith had been advancing on with bad intent, and not Chris Rock, 'He wouldn't have been able to reach the stage' (presumably, on the basis that the police snipers that have been installed in every Oscars ceremony since Gwyneth Paltrow overran by 38 minutes have one very clear instruction with regard to stage invasions: only intervene when it's black on white).
And, as always, the nature of privilege has been thrown about. With all due respect to Dr Johnson, white privilege is hard to work into this one, but the privilege to be able to throw a punch live on TV and still be at large, let alone actively vindicated with the highest award in your profession's gift, scarcely half an hour later – that seems to be in play. The privilege to then party through the night, while your victim is nowhere to be seen, and the Academy puts out laughably naive claims that it 'does not condone violence of any form'. That privilege might be worth unpacking.
But as a stand-up comedian and hell, yes, potential Oscars host myself (especially if, as co-host Amy Schumer very plausibly claimed, affordability is now the primary criterion under consideration), one aspect I haven't seen explored nearly enough is the privilege of the stage.
It's a tricky one of course, on Oscars night, when so many people are coming and going and pretty much everyone in the room is a performer of some kind or another. Even if only in a performative marriage. And it isn't the first time this privilege has been breached, eh, Kanye?
But there is, I maintain, something sacred about the stage – however temporary and bestowed purely by custom and consensus. And it is something that I never like to see violated. This sort of eventuality is precisely why.
I've only ever courted disaster of this kind once, myself. It was in the very early days of my career, in 1997, in a Dutch pub in London's Chinatown, called De Hems. A big lad, obviously drunk and meaning no serious harm, had been causing trouble with his boisterous interruptions all night, until I invited him to come on to the stage if he thought he could do better.
To my astonishment, he actually stepped up, obviously convinced he really could do just that. Annoyingly, he revealed himself to be quite funny, a good four inches taller than me and several drinks to the worse. I cannot remember exactly what happened in the next few minutes but it definitely devolved into the broad category of 'fight', albeit more playground than prize. Somehow it ended with me still on stage and him no longer an issue – I suspect bouncers were involved – but I ended the gig with a cocktail of hormones surging through me that carried me forward on to a night of Soho rampage greater than any I've known before or since. I only hope Chris Rock got that, too.
I don't know if I'm allowed to admit it but I did, if I'm honest, start to look at football hooligans after that and think, yeah, okay, I get it. It was only many years later that someone else who had been there that night told me, 'You know that was Peter Serafinowicz, don't you?'. I didn't, but I have been dining out on that ever since, as you may well imagine. Perhaps even more than Peter has.
But generally, I do not like to see anyone other than the paid performers on the stage, even before my act, let alone during. I don't like following 'specialty' acts, the street-performer kind who get audience members to hold their unicycle or toss them up their clubs. It already feels to me like the fourth wall has been breached once and could be again. I want punters to generally assume my space to be inviolable, even if physical reality plainly suggests otherwise. The projection of power is a problem that confronts every comedian as urgently as it did the Roman Empire. The quasi-religious sanctuary that surrounds the stage is crucial to that and crucial to our survival – even if we don't specifically goad an audience member's wife about her tragically denuded tonsure.
There are exceptions. For some, of course, becoming the victim of a healthy, no-nonsense alpha male becomes part of the persona. Jerry Sadowitz being knocked out cold in Canada for greeting the audience as 'Moose Fuckers' probably stands as the greatest example of a comedian leveraging his own irreducible punk / victim status to create and seal his legend. And a viral video of Jim Jeffries getting punched in another sordid little incident at the Manchester Comedy Store certainly propelled him at speed through what might otherwise have been a rather slow climb through the tiresome strata of minor celebrity that lay between him and his present Netflix-special status.
But on the whole it really is better if we don't let this become a Thing. Comics are notoriously anxious at the moment about getting cancelled as it is. The pathway along the edge, between the sayable and taboo, the precipice where all the best jokes are, is as treacherous and hard to navigate today as it ever has been. The freedom to get it wrong a few times has to be endlessly demanded, fought for and protected. The fear of having to continue your set while your left ear is still ringing from an open-hand strike, let alone something more genuinely concussive, after having upset a jealous husband – or even more terrifying, the target herself – really can't be safely added to the fear of being dissected in the Huffington Post, without some serious decline in the visceral excitement of the show itself.
In short, thanks for livening up the evening, Will, but know this – I'll be packing scissors, if the bastards come for me.
Simon Evans is a spiked columnist and stand-up comedian. He is currently on tour with his show, Work of the Devil. You can buy tickets here.
Picture by: Getty Images.
To enquire about republishing spiked's content, a right to reply or to request a correction, please contact the managing editor, Viv Regan.