How many generals is Putin prepared to lose?
The loss of so many high-ranking generals is a sign of Russia's meat-grinder militarism.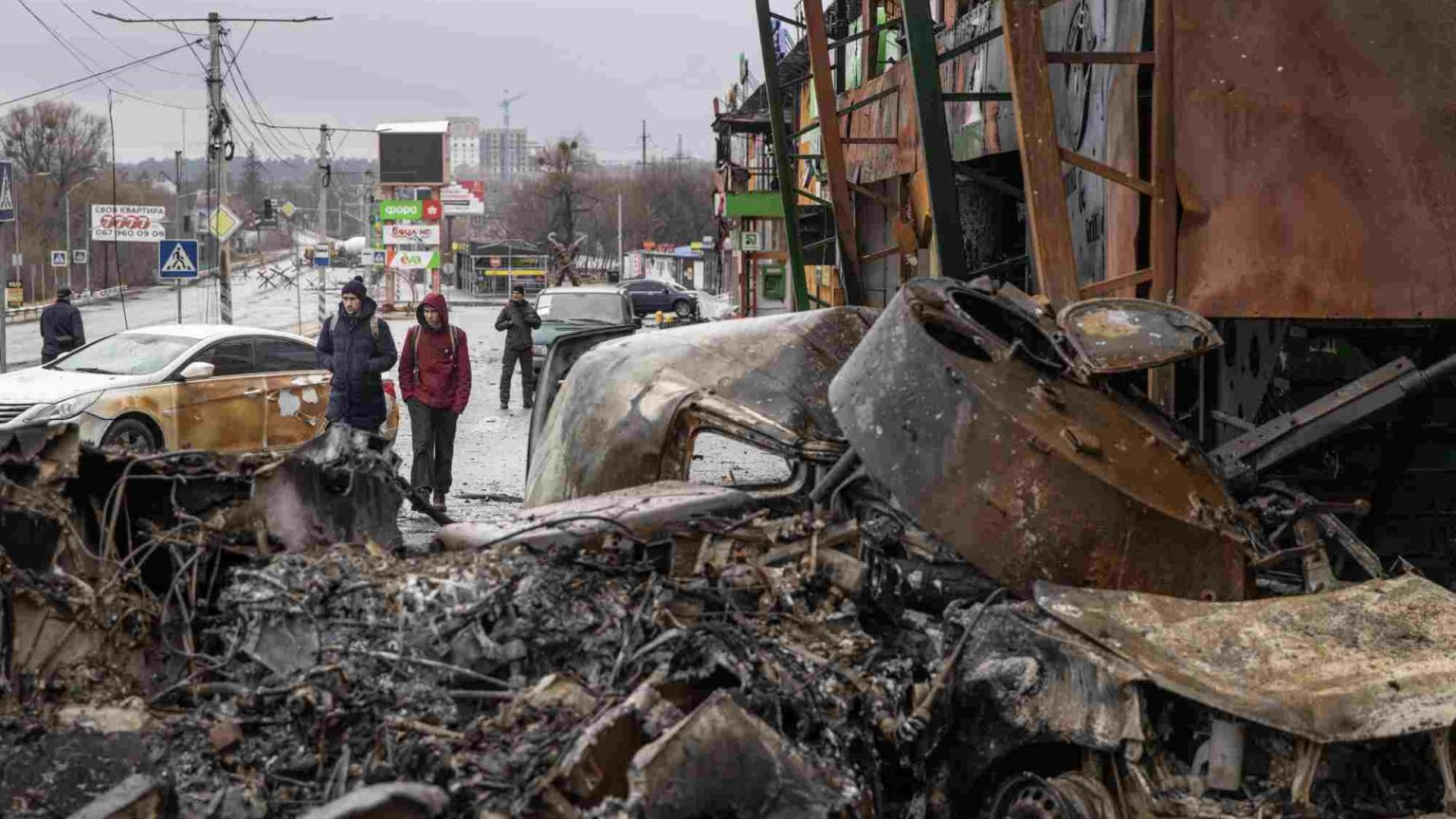 Russia seems to be losing its generals at an extraordinary rate. In just this past week, Colonel Yuri Medvedev was run over in a mutiny by his own troops; Lieutenant General Yakov Rezantsev, one of Russia's highest-ranking military officials, who on the fourth day of the invasion announced that the war would be over in 'only a few hours', was killed by the Ukrainian army; and most poignantly of all, an unnamed commander of an elite tank regiment killed himself, reputedly over the parlous condition of his unit's reserve tanks. All in all, the Ukrainians claim that seven Russian generals have been killed since the invasion began just over a month ago.
Of course, it is hard to know what is really happening on the ground in Ukraine. There could also be perhaps another 100 Russian generals out there. Still, the loss of so many generals little more than a month after the invasion is one of the most striking features of the war to date. Plus, at least one high-ranking general, Vladislav Yershov, has been sacked by the Kremlin and placed under house arrest, reportedly due to the army's heavy losses and the strategic failures of the invasion.
For the West, the losses show that Putin's invasion has not gone to plan. They seem to confirm that the modernisation of the Russian army was not all it was cracked up to be, that its communications and logistics networks are vulnerable and that the Russians don't have enough boots on the ground. Most notably, they also suggest that morale is incredibly low.
In modern warfare, generals tend not to expose themselves to the battlefield. But with many snarl-ups to sort out at the front and poor morale to be countered, there seem to be far more generals on the front line than would normally be expected. These factors, plus clever Western weapons and the unexpected strength of the Ukrainian resistance, are said to explain the Russians' many senior casualties.
It is too early to draw firm conclusions about the war from this, however. It may well be the case that Russian conscripts have been severely disconcerted by the failure of the Ukrainians to conform to the Kremlin narrative. But as Bill Roggio, editor of the Long War Journal, argues, Russia may still have the edge: 'Our mistake in the West is that Russia will fight the same way we fight. We assume they value soldiers in the same way that we do – but they don't.' In other words, Russia may be prepared to tolerate far more losses.
Although it would be wrong (and prejudicial) to talk of an unchanging Russian 'soul', there are some historical parallels with the current high level of casualties. Today's large-scale losses recall a period in the Soviet era: the run-up to and conduct of the Great Patriotic War, led by Stalin against the Nazis.
In that era, Russia was run, very chaotically, by a new Stalinist elite. Eventually, through education and a very corrupt kind of social engineering, it managed to create a labour aristocracy of pliant technocrats and industrial workers to support it. Today's Russian elite, by contrast, can claim neither the moral authority of the 1917 Russian Revolution, nor the rapid industrialisation of the country that followed. Vladimir Putin's party and its allies may win stage-managed elections, but unlike the Communists of old, neither the Kremlin, the oligarchs, nor the managers of state-owned enterprises have successfully managed to cultivate a well-rooted social base.
So while there are many clear differences between Putin's Russia of today and Stalin's Soviet Union, Putin's losses do recall the chaos of Stalin's pre-war regime, as well as Stalin's high tolerance for military casualties and his willingness to destroy his own military leaders.
In January 1937, Georgy Pyatakov, the driving force behind Soviet industrialisation in the 1930s, was put on trial in Moscow along with top bureaucrats from industry. Among the charges was one of constructing a conspiracy with Stalin's left-wing opponent, Leon Trotsky, to surrender Ukraine to Nazi leader Rudolf Hess. Then, in short order, Marshal Mikhail Tukhachevsky, the head of the Soviet army, was implicated in that fake conspiracy, tortured and shot, along with eight generals.
By the time he was done with his Great Purges, Stalin had essentially decapitated the Soviet General Staff – leaving the army poorly prepared for Hitler's Operation Barbarossa in 1941. After the murderous pre-war repressions and famines, not least in Ukraine, the Stalinists then conducted the Second World War with an utterly cavalier attitude to Soviet casualties. Historian Anthony Beevor reminds us that, when marching forward at the battle of Stalingrad (1942-43), Soviet civilians were at times forced to share one rifle between two men, such was the anarchy and recklessness inherent in Stalinist rule.
Vladimir Putin is not Joe Stalin. But the 21st century has yet to wipe away the residue of Stalinism from Moscow, which lasted from 1924 to 1991. Indeed, Stalinism is still reflected in the Kremlin's military tactics today. In 2022, just as Moscow could not care less about bombing Ukrainian civilians, so Putin would no doubt be fully prepared to lose a dozen generals or more to his meat-grinder militarism.
In the medium to long term, Putin's survival depends on the war's outcome. And so the chances are that he will throw everything at the war – generals included.
James Woudhuysen is visiting professor of forecasting and innovation at London South Bank University.
Picture by: Getty Images.
To enquire about republishing spiked's content, a right to reply or to request a correction, please contact the managing editor, Viv Regan.