Why even a real war can't stop the culture war
The streets of Ukraine have become yet another front in our ludicrous squabbles.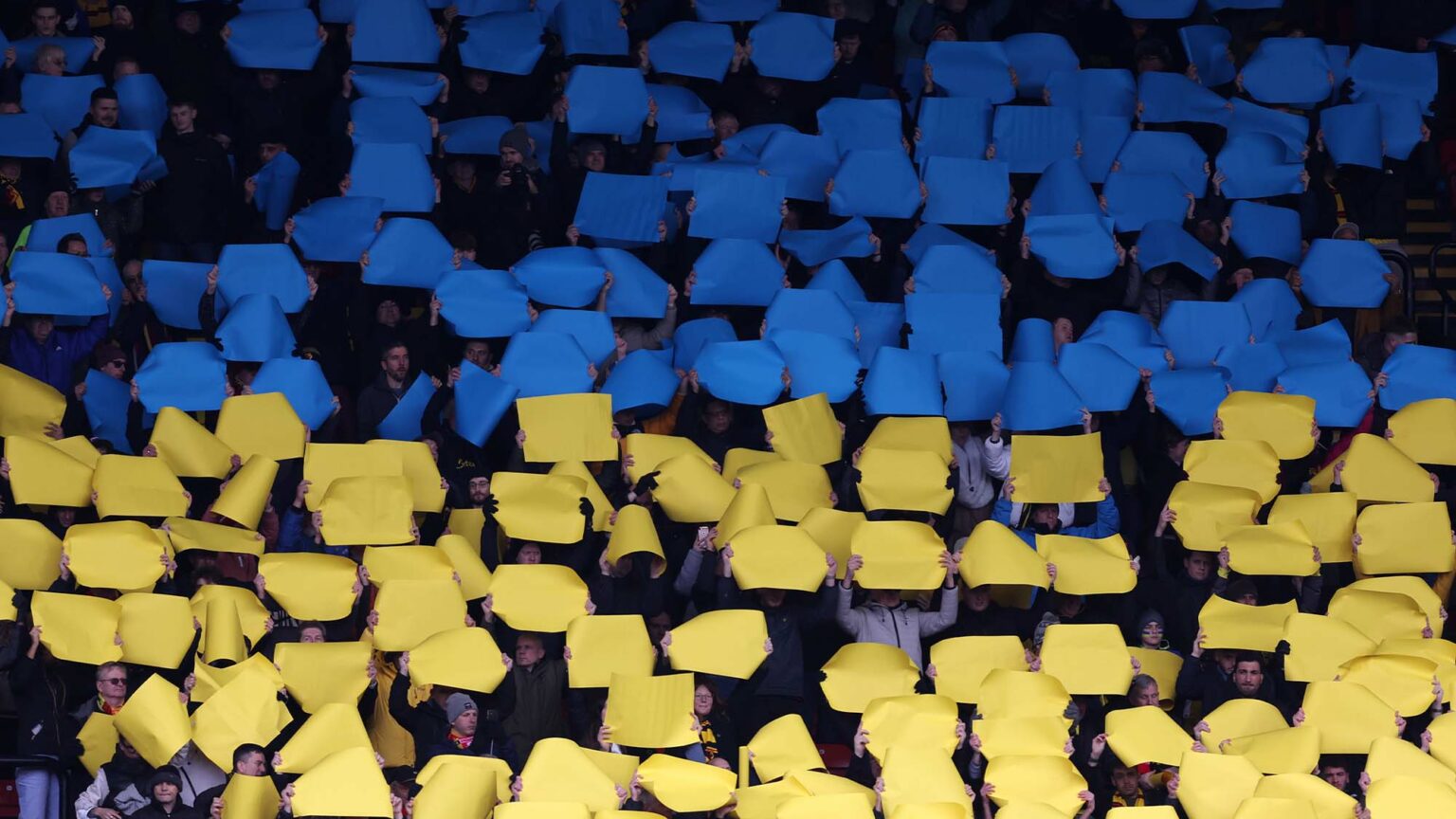 There is yet another transkirmish going on, this time in American swimming pools. And once again I am here to register my views and also, wearily, to protest my heartfelt desire to unenlist.
There was a blissful moment back in early March 2020 when the hope dawned that, devastating as the pandemic was likely to be, it might at least mute the culture wars for a bit. Yes, my career as a live stand-up was toast. But I could log on to Twitter without immediately taking a spray of campus-grade pseudo-philosophical slurry to the face. This was a bargain I was happy to strike.
Oh, Simon, you sweet summer child. I think it lasted all of about an hour.
We quickly learned that Covid-19 was racist. Or rather, its uneven migration across the species exposed our racism. There were rows about the evils of comorbidity-shaming. And it was asserted that, although men were dying at a higher rate, women were 'hardest hit'. Women can very easily be presented as hardest hit, incidentally, whenever men are dying in larger numbers, which is almost always (see also: workplace fatalities, murder and actual war).
Anyway, by mid-May 2020, Derek Chauvin had taken the most fateful knee in recent history and, before we knew it, a largely imported panic about a supposed epidemic of extrajudicial police killings was neck and neck with an actual pandemic for column inches, airtime and thunk. And I still couldn't go to work.
So it was then, and so it is now. Barely a month ago, storm clouds gathered, tympanic rumbles were heard and war – proper, old-fashioned war – breached the horizon in a relentless 5/4 ostinato. Chilling rhetoric, at once familiar, apocalyptic and yet strangely dated, rose to our disbelieving ears. Consensus dissolved, uncertainty prevailed, the fabled fog of war enveloped all. On came the onslaught, shattering bone, shredding sinew and undoing the labour of half a century in seconds. And as Britain realised that conflict on this scale really had reappeared on European soil, for the briefest of lacunae, the tiniest caesura, the din of the culture war was silenced. The internecine squabbles we collectively dignify with the word 'culture' hesitated, just for a moment, unsure of their role. But not for long.
Within days, sides were picked, nuanced positions were declared illegal and enemies everywhere were denounced as creatures of the Kremlin. Preferring Ukrainian refugees to Syrian ones was racist. Dostoevsky was cancelled, Tchaikovsky excised, Moscow Mules kicked into touch. Putin was seen to have been emboldened, like some Southend skinhead, by everything from Brexit to anti-vaxxers.
And within days, the suburbs of Kyiv were just another front in the endless Kulturkampf.
We are, as a nation and as the West, too bogged down with our stuff. We need, urgently, to declutter. We need, as a civilisation, to get the big pebbles into our pint glass before we start filling it with sand. And next to refugees, fuel shortages and actual war, everything from trans swimmer Lia Thomas to the state of Nazanin Zaghari-Ratcliffe's marriage is essentially powder and dust.
And yet, and yet. I too cannot quite seem to let it go. Because so much of it is just so close to being insane.
Not all of it. I can certainly see how there is a worthwhile argument to be had about whether a released hostage should be grateful to the nation – her nation – that spent getting on for half a billion quid to get her out, or whether she can be forgiven for being snippy about it taking so long.
But when it comes to what even on spiked I still feel I have to refer to as a 'biological male' (which is like saying a 'tree, woodiness-wise', but okay), when a swimmer like Lia Thomas is reaching up and taking all the goodies from a top shelf that the girls just can't reach, it is so very difficult to just shake it off and try and focus on the big stuff.
So, for the record, this is what I think. To be brutally, career-endingly honest, I don't particularly care about women's sports. It's a protected category, which is great, but that's for the benefit of those within it. I am more interested in the all-time greatest players and their achievements. To draw an imperfect comparison, I don't care if Middlemarch is the greatest women's novel of the 19th century, I only care if it's the greatest novel, which arguably, and happily, it is.
Nor is this about being kind. There are some things more important than that, regardless of what Clinton Cards would have you believe.
It is, I think, about maintaining sanity. That actually has to take precedence. It's about logos – our capacity to use language to define and share our understanding of the universe, as it really is. It will never be complete, that project, but it would be hard to overstate the importance of the continuing attempt.
So, I am not here to try to save women's sport. I recognise the right of others to do so, but that isn't my fight. Yes, I have a daughter. And sure, I would like her to be able to access changing rooms without seeing trans-junk wobbling around on its way out of the shower. But she tells me she isn't that bothered – so fine.
I do not care about preserving the illusion that Serena Williams was not just the greatest female tennis player of all time but also the greatest tennis player of all time. She wasn't, and if a trans player had happened to come along at the right moment to disabuse the world of that notion, I might have allowed myself a little smile of satisfaction.
But that isn't the issue. And I am done being a hypocrite. The issue is, we have to speak as we find. The issue is, not to live by lies. There is nothing 'kind' about dissolving the fragile grasp most of us have on reality in order to protect a fantasy – the fantasy of a tiny minority – let alone to concede the fight to a second tier of intellectuals who share vastly more in common with the left-wing eugenicists of the Thirties than they do with healthily competitive sportsmen and women (of whatever sex, gender or part of the ever-metastasizing rainbow flag).
Among the many things of which actual war has reminded us, the beauty and truthfulness of a simpler flag stands out. The blue sky above, the fields of golden wheat below – these are a reality, a grounded reality worth preserving and fighting for after all. Can we please, please use this moment to restore our sense of truth, sanity and proportion before it really is too late?
Simon Evans is a spiked columnist and stand-up comedian. He is currently on tour with his show, Work of the Devil. You can buy tickets here.
To enquire about republishing spiked's content, a right to reply or to request a correction, please contact the managing editor, Viv Regan.