The rise of the Boss Babe
The Apprentice final is an all-woman affair once again – proof that we really are doing it for ourselves.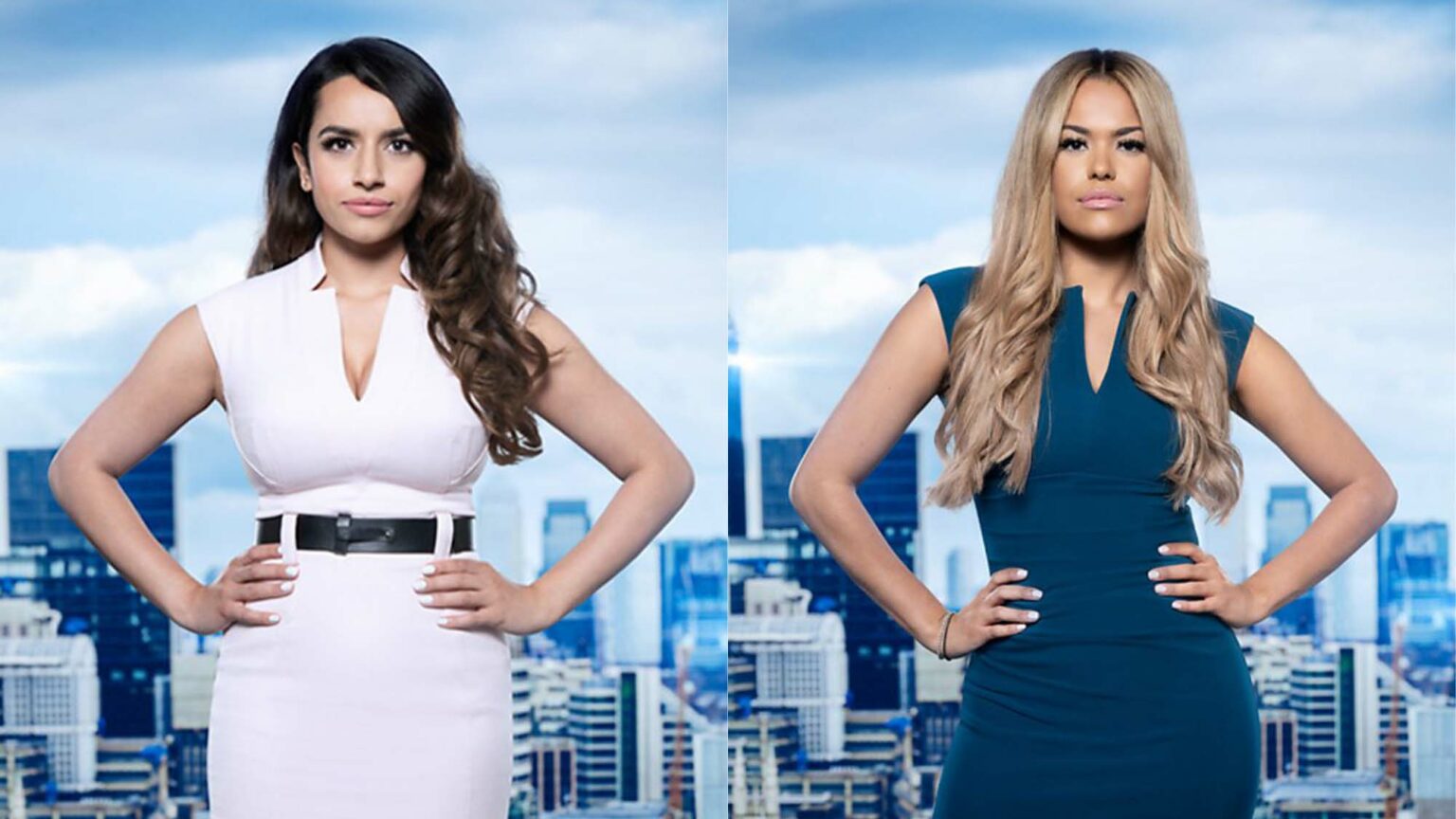 Looking at the final line up of The Apprentice, I was struck by how – for the third series in a row – the last contestants standing are young women. They are the Final Girl of the horror-film trope, but exhibiting baked goods rather than slasher scars. And while others may mock, I love these Boss Babes; with their body-con dresses and can-do attitudes, I'm transported back to my favourite decade, which the playwright Caryl Churchill called the 'sexy-greedy' 1980s in her play, Serious Money. (The play depicts the deregulation of the stock market, when those awful working-class oiks took over from the noble old breed of patrician orphan-hugging financiers, let's not forget.)
Calling the 1980s 'sexy-greedy' is such a glib yet judgemental thing to say that it's worth examining the background of the woman who wrote it. Unsurprisingly, Churchill was the daughter of an actress and a political cartoonist; privately educated, she graduated from Oxford – where she began her writing career – with a BA in English Literature. It's fair to surmise that she would never have dreamt of touting a swimwear range on primetime TV. Which is fair enough, neither would I – it is lovely being a writer, and you don't have to be on a diet in order to drum up business by being your own best brand.
But neither would I judge women who took this path in life, which Churchill undoubtedly has, most notably in her 1982 play, Top Girls. Long before backing the Palestinian cause and adding her name in 2019 to the list of clowns who saw Jeremy Corbyn as 'a beacon of hope in the struggle against emergent far-right nationalism, xenophobia and racism in much of the democratic world', Churchill was taking the predictable privileged leftist stance of demonising humbly born women who display a bit of get-up-and-go without waiting for socialism – the eternal bullyboy in this long and abusive relationship, ever since Mrs Pankhurst was turned away from joining the infant Labour Party on the grounds that she was a woman. Top Girls, as one synopsis put it, dealt with 'women losing their humanity in order to attain power in a male-dominated environment… an all-female cast focuses on Marlene, who has relinquished a home and family to achieve success in the world of business.' Boo, hiss – burn the witch!
'Half the action takes place at a celebratory dinner where Marlene mixes with historical, iconic and fictional women who have achieved great stature in a man's world but always at great cost', the synopsis continues. 'The other half of the play, set a year in the past, focuses on Marlene's family, where the true cost of her "successful" life becomes poignantly and frighteningly apparent.'
Churchill calls herself a feminist, but this is straight out of a 1950s hearth-and-home playbook – a terrible warning to women who might see a world beyond the kitchen and the kids. One wonders why it's possible for female playwrights and authors not to lose their humanity while pursuing their dreams in notoriously cut-throat professions – I guess we're just extra special people, raised above the grasping hordes by our ability to punctuate properly.
But the good news is that while this creepily retrogressive take may have sent the Great and the Good home reassured that it was okay not to promote women at work lest it rob them of their humanity, it didn't make the slightest bit of difference to the young women of the 1980s like me (I was 22 when the play was first staged) and even less so with each new generation. For a start, Madonna was just around the corner with her credo of grabbing anything that took her fancy, her foot-soldiers the Spice Girls bringing up the rear. Mrs Thatcher was the backbeat to this feisty femininity, and those who bleated 'What did she ever do for feminism?' missed the point. She showed that it could be done – and that's one of the main reasons we're put on this Earth, to show others of our kind that they too can break through barriers with a bit of boldness.
Thatcher was also an interesting litmus test regarding those who we'd presumed were in favour of feminism but, it transpired, were hostile to women who didn't behave as a feminist should – putting women's rights second to those of men involved in the 'struggle'. Thatcher inspired placards saying 'Ditch the bitch' and idiots saying that she 'behaved like a man' – let's hear it for the gender-normativism which led us to the current craze for men 'feeling' like women!
But Thatcher made it look good to be in power; the Boss Babe was her baby, far more interesting than Carol or Mark. We see an echo of her forcefulness in those bossy broads who make it to Lord's Sugar's Big Boardroom having happily trampled their male competitors underfoot.
It's pleasing to note that just as smart women realised that waiting for socialism wasn't going to improve their lives, so the sparky youngsters from ethnic-minority backgrounds who feature so prominently in The Apprentice are not waiting for a white saviour to 'unlock' their talent, as Churchill's hero, Magic Grandpa, promised. It must be highly unsettling for the left to see kids from immigrant communities speak so unashamedly about their desire for success – there goes another under-privileged demographic breaking free from Whitey's stifling socialistic grasp! They discuss their ethnicity in a carefree manner, owning their stereotypes; 'They were so proud – the moment they can say "My daughter's a bank manager" is pretty much the moment all Indian parents wait for', said my favourite finalist, Harpreet Kaur. All this is a world away from the idea of the meek minority masses crushed under the heel of capitalism – why, it's almost like identity politics doesn't matter.
It's easy to feel superior to people who don't know how to spell Arctic – on one episode contestants spelt it 'Artic' – but such sneers are misguided. For these are people who, while not educated, are certainly smarter than the average graduate, who wastes three years of his or her life on a useless degree and pays for the pleasure for many years to come.
Unlike social mobility, which the nepotistic promotion of the dull spawn of the bourgeoisie has succeeded in stopping, the advancement of women goes on. Because it turned out – shock horror! – that not all women, lost humanity or not, want to enter the caring professions, even though, like myself, they have great respect for nurses and teachers.
What if you're born scrappy? What if you believe that women can be born tough, just as men can be born tender? Women continue to have fewer children; unmarried women – the most focused on their careers – continue to rate the happiest. The Boss Babe may be a cliché, but she represents a very real and sensible notion – that a woman who cannot earn her living or pay her way is at the mercy of men. For this, I'm going to be laughing with – not at – whichever Final Girl walks away with that quarter of a million pounds tonight.
Julie Burchill is a spiked columnist. Her book, Welcome To The Woke Trials: How #Identity Killed Progressive Politics, is published Academica Press.
To enquire about republishing spiked's content, a right to reply or to request a correction, please contact the managing editor, Viv Regan.