The ugly truth behind 'inclusive' fashion
The face of fashion is changing – but the business model isn't.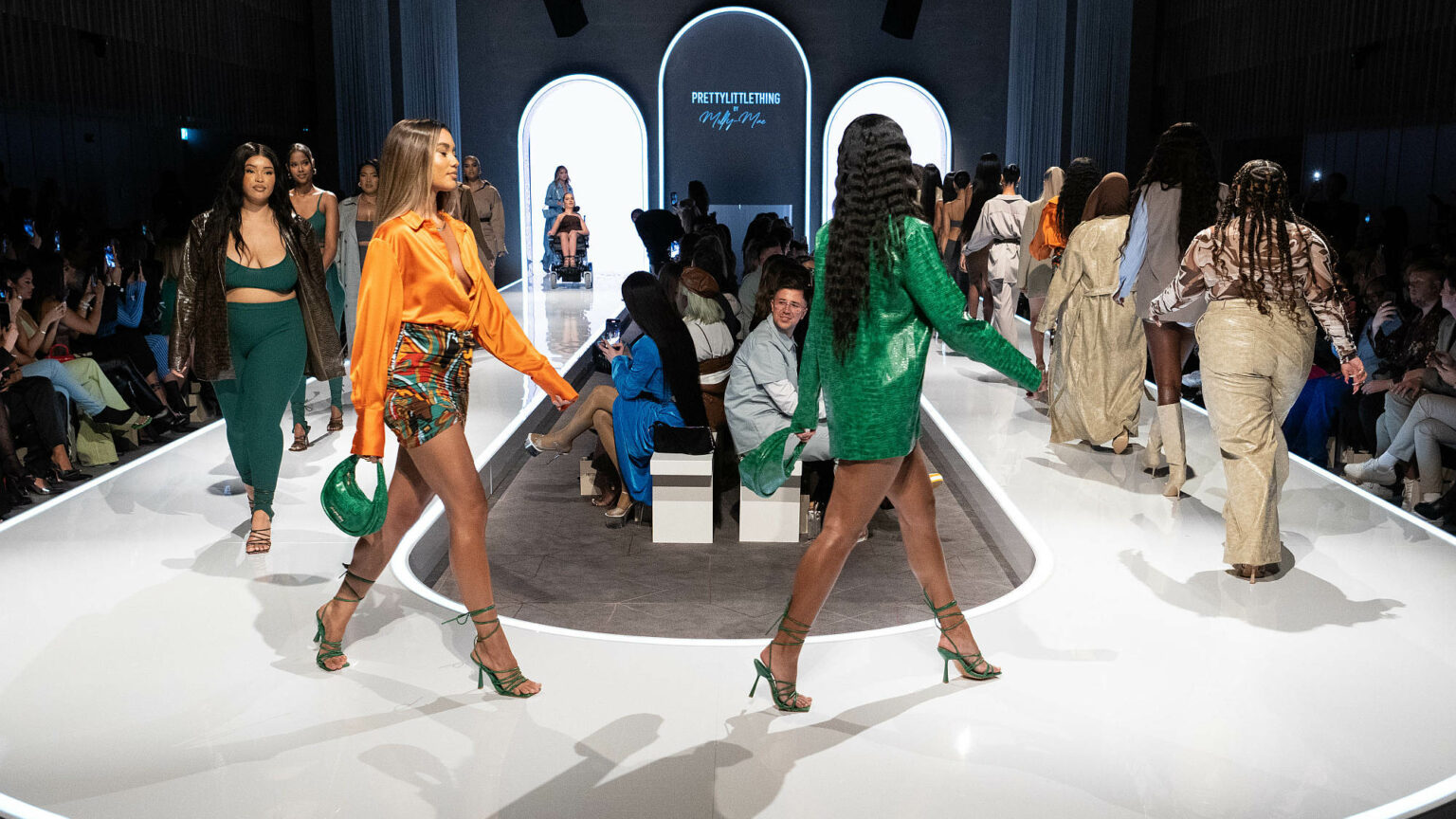 March is a month for female empowerment – at least as far as advertising execs are concerned. With key dates in the feminist calendar, from International Women's Day to Mother's Day, marketing campaigns this time of year always encourage us to celebrate 'Girl Power', usually by buying some anti-aging serum or a new epilator.
This year things have changed slightly. Girl power has undergone a rebrand. It now has a fresh, new 'inclusive' spin. You may have noticed that ad campaigns are suddenly full of diverse faces and bodies, assuring us that anyone can reach the coveted status of 'empowered woman' – if we buy the right products, of course.
'Inclusive' marketing really is transforming the face of fashion. In recent weeks, online fashion retailer PrettyLittleThing has been praised for its inclusion of non-white, fat and disabled models in its debut runway show. Until recently, Victoria's Secret had remained steadfast in its commitment to white, able-bodied, ultra-thin models – despite facing widespread criticism and boycotts. But even Victoria's Secret is now in on the inclusivity act. Last month, it announced a new campaign featuring a more diverse set of 'angels', including a model with Down's syndrome.
There's no doubt buying from fashion labels that use diverse models makes us feel good about ourselves. We are not only buying the product, but also the peace of mind that comes with knowing we are supporting a business that 'empowers all women'. But as progressive as these campaigns might seem, with the novel inclusion of women with body hair and cellulite, they cannot mask the deeply regressive business practices beneath the surface.
Fashion companies still overwhelmingly outsource their production to the developing world. Of the more than 70million textile workers worldwide, 80 per cent are women of colour. Fast fashion in particular relies on workers who operate in terrible conditions and on astonishingly low piece-rate wages.
Competition and desperation keep these workers powerless. They are often afraid to join trade unions or demand better compensation. Their jobs are also incredibly precarious, and benefits are scarce.
Many garment workers were quickly and brutally laid off when the pandemic hit. According to the US-based Workers Rights Consortium (WRC), during the pandemic, garment workers in the supply chains of a number of major fashion brands were denied some or all of the severance pay they were legally entitled to. More than 37,000 sacked workers, in nine countries, were collectively denied almost $40million in pay.
The WRC is currently investigating another 200 or so factories, and preliminary estimates suggest that lost earnings could total between $500million and $850million. And you won't be surprised to learn that this is alleged to have occurred in factories serving companies that claim to champion female empowerment and inclusivity – including Victoria's Secret.
Workers' rights problems are not confined to workers in the developing world, either. Here in the UK, Boohoo, which owns PrettyLittleThing, has been accused of using a supplier which pays less than 40 per cent of the minimum wage. None of this seems too empowering to me.
By now, consumers have started to get used to 'woke' marketing strategies. Most are harmless and don't deserve to elicit much more than an eyeroll. But there is something especially egregious about fashion brands using real human beings from minority groups as marketing tools when their business models rely so heavily on exploiting women of colour in developing countries. It is brazen woke-washing.
The face of fashion may be changing, but the business practices underneath are not.
Ellie Jenkins is a writer. Follow her on Twitter: @EllieCJenkins98.
Picture by: Getty Images.
To enquire about republishing spiked's content, a right to reply or to request a correction, please contact the managing editor, Viv Regan.