Now they're cancelling Yuri Gagarin
The anti-Russian frenzy is officially out of control.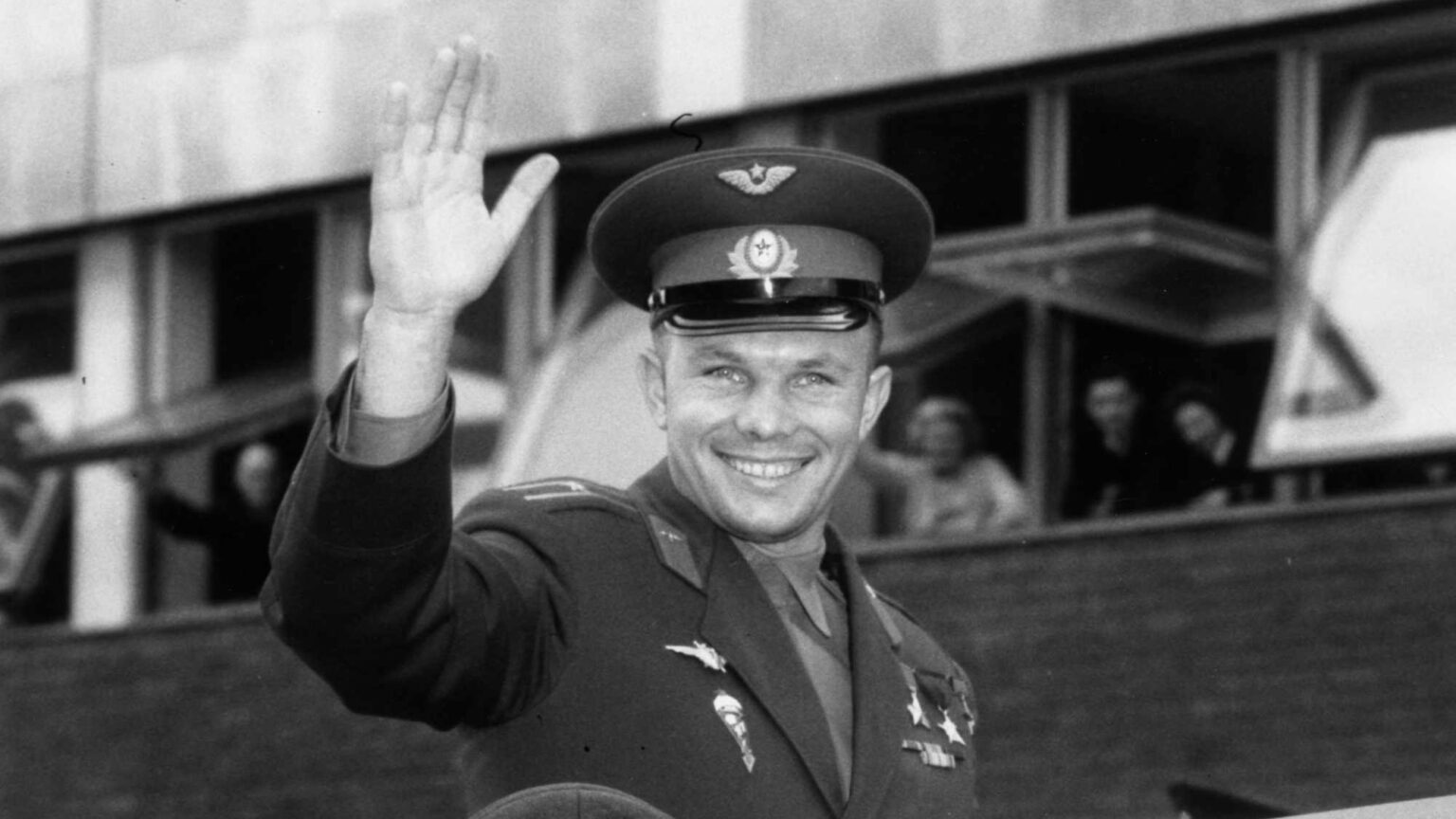 The anti-Russian frenzy that has swept through the West following Vladimir Putin's invasion of Ukraine has reached a new low. Now it is threatening to devour Soviet cosmonaut Yuri Gagarin. The first human being to go into outer space. One of the greatest explorers in human history. And one of the most popular Russians of the 20th century, loved and celebrated by Americans, Brits and others who didn't care for the Soviet Union but who cared very much for Gagarin's history-making achievements. Even this adored Russian risks falling victim to the Russophobia of Western observers and institutions who seem incapable of distinguishing between Putin and the Russian people, between the wicked things currently being done by Russia's political class and the remarkable things bestowed upon humanity by Russians in history.
I suppose it was only a matter of time before the anti-Russian jingoism came calling for Gagarin. After all, it has already put Tchaikovsky in the crosshairs (the Cardiff Philharmonic Orchestra cancelled a performance of his '1812 Overture'); it is eyeing up Dostoevsky (the University of Milano-Bicocca said it would postpone a course on the Russian author, before backtracking); and it is putting immense pressure on living Russian conductors, filmmakers and sports stars to publicly condemn Putin or risk expulsion from public life. Only they're damned if they do and damned if they don't. World-class Russian conductor Valery Gergiev was dumped by the Munich Philharmonic for failing to denounce Putin, and then Russian piano prodigy Alexander Malofeev was dropped from performances despite opposing the war in Ukraine. In this nasty climate where any Russian – living or dead, pro-Putin or anti – can find himself being shunned and shamed, it was inevitable that even Gagarin's grave would soon be danced on.
And so it is that, in the words of Vanity Fair, Gagarin has been 'memory holed' by an American space advocacy group. The Space Foundation announced that an event due to take place next month, which has been known for the past seven years as 'Yuri's Night', will now be called 'A Celebration of Space: Discover What's Next'. Why? Because of 'current world events', of course. That depressing phrase has become the justification for all manner of hysterical anti-Russian cancellations. 'In light of current events', the cancellers always say, 'we have decided to silence Tchaikovsky, bin Dostoevsky, cancel that new Russian film you really wanted to see…'. Even worse, it is reported that in the town of Mondorf-les-Bains in Luxembourg, a statue of Gagarin has been covered up, hidden under a grey sheet as if Gagarin, by dint of his Russianness, is now a shameful, despicable figure. Cancel culture has done many bad things, but cowardly bureaucrats who will never come close to the dizzying heights of history-making reached by Gagarin throwing a blanket of shame over Gagarin's likeness? Yep, that might be the nadir.
The lunacy of cancelling Gagarin cannot be overstated. Firstly – and it's a sign of the insanity of the times that this even needs to be said – Gagarin had nothing to do with Putin. Gagarin died 54 years ago, in 1968, when Putin was a 16-year-old student at School No193. Gagarin didn't even live in the same nation as Putin! He was a citizen of the USSR, not the Russian Federation Putin governs. Secondly, and more importantly, there is the matter of Gagarin's achievements, of his immense contributions to the human understanding of space. In 1961 he gave birth to the Space Age when he set off in Vostok 1 and became the first person ever to reach outer space. 'Off we go! Goodbye, until we meet soon, dear friends', he said as he was launched into the stratosphere. 'Off we go!' became a rallying cry of people in Soviet-ruled countries who admired Gagarin and supported this remarkable new age of space exploration.
Gagarin became popular across the world. He visited numerous countries and was greeted by vast crowds as a hero of humanity. Three months after his visit to space he visited London and Manchester, where people thronged the streets to catch a glimpse of the Russian spaceman. Thousands of Mancunians braved heavy rain to see and possibly even shake the hand of this man born into a peasant family but who soared to the highest of heights. They hung banners saying 'Welcome Yuri Gagarin!'. There was an 'outpouring of popular sentiment in honour of [this] Soviet airman'. As a writer for The Times said of Gagarin's 1961 visit to the UK, '[Who] would not… walk a few hundred yards to see this incredible [man]?'. He's a spaceman and yet he 'visits us and talks to us', The Times said.
We were so much more mature back then, so much more tolerant. This was 1961. The Cold War was at its most intense. The Berlin Crisis, which would eventually lead to the erection of the Berlin Wall, was in full flow when Gagarin was being fawned over by teenage girls and working men and women in London and Manchester. The Cuban Missile Crisis was brewing. The Soviet crushing of the Hungarian Revolution was a very recent memory. And yet still writers, local politicians and citizens lined up in their thousands to try to slap the back of Yuri Gagarin for what he had done for the human race.
Sure, politics was in the mix. Some of the Western working-class support for Gagarin spoke to a grassroots scepticism about the idea that the Soviet Union, or Communism more broadly, was a singular evil. Some British politicians were unnerved by Gagarin's popularity. John F Kennedy even banned Gagarin from the US, fearful that the love for him would morph into sympathy for the Soviets. Cancel culture, JFK-style. And yet it is striking that even when the West was engaged in an increasingly tense, sometimes hot 'Cold War' with the Soviet Union, our general instinct was not to cancel one of the great citizens of that Union but rather to recognise that his achievements transcended nationality and politics and spoke to a deeper yearning for greatness and knowledge that all human beings could understand.
No longer. Now, in our smaller, more sordid times, in this tragic era of intolerance, we can no longer distinguish between a nation and its inhabitants, between a country currently governed by tyrants and what that country has given to the world. The Western cultural elites' treatment of Russia as a backwater, a poxy nation of oligarchs and warmongers and brainwashed citizens, is deeply unsettling. Russia's contributions to knowledge, literature, music, exploration and political thought are vast. To discount these in an attempt to snub Putin is philistine, immoral and borderline racist. I dislike the way the word 'racism' is flung around these days, but seriously, how else are we to describe the looming cancellation of someone like Yuri Gagarin? His only crime, so far as I can tell, is to have been Russian.
As the Slavic scholar Gary Saul Morson recently said, 'Even at the height of the Cold War, no one thought of banning Russian literature, art or music'. Morson says the irony of the current cancellation of Russian cultural and historical figures is that this is 'how the Soviet Union operated'. Exactly. There is a darkly Stalinist bent to the new anti-Russianism. And the shameful attitude towards Gagarin captures how far this neo-Stalinism has gone. This is a man who, as a teenager, sabotaged Nazi operations in the town he grew up in, Gzhatsk (now called Gagarin). This is a man who went from exceptionally humble beginnings to the frontline of modern human achievement. This is a man who tragically died in a routine training exercise in 1968, when he was just 34 years old, meaning he never got to see man walk on the moon – an achievement he paved the way for. He should be celebrated across the world, as should many other Russians. The vindictive, censorious anti-Russian jingoism that has gripped many in the West is the polar opposite of the bravery and humanism embodied by someone like Yuri Gagarin.
To enquire about republishing spiked's content, a right to reply or to request a correction, please contact the managing editor, Viv Regan.