Zelenksy puts the rest of us comics to shame
Most comedians would make for terrible politicians.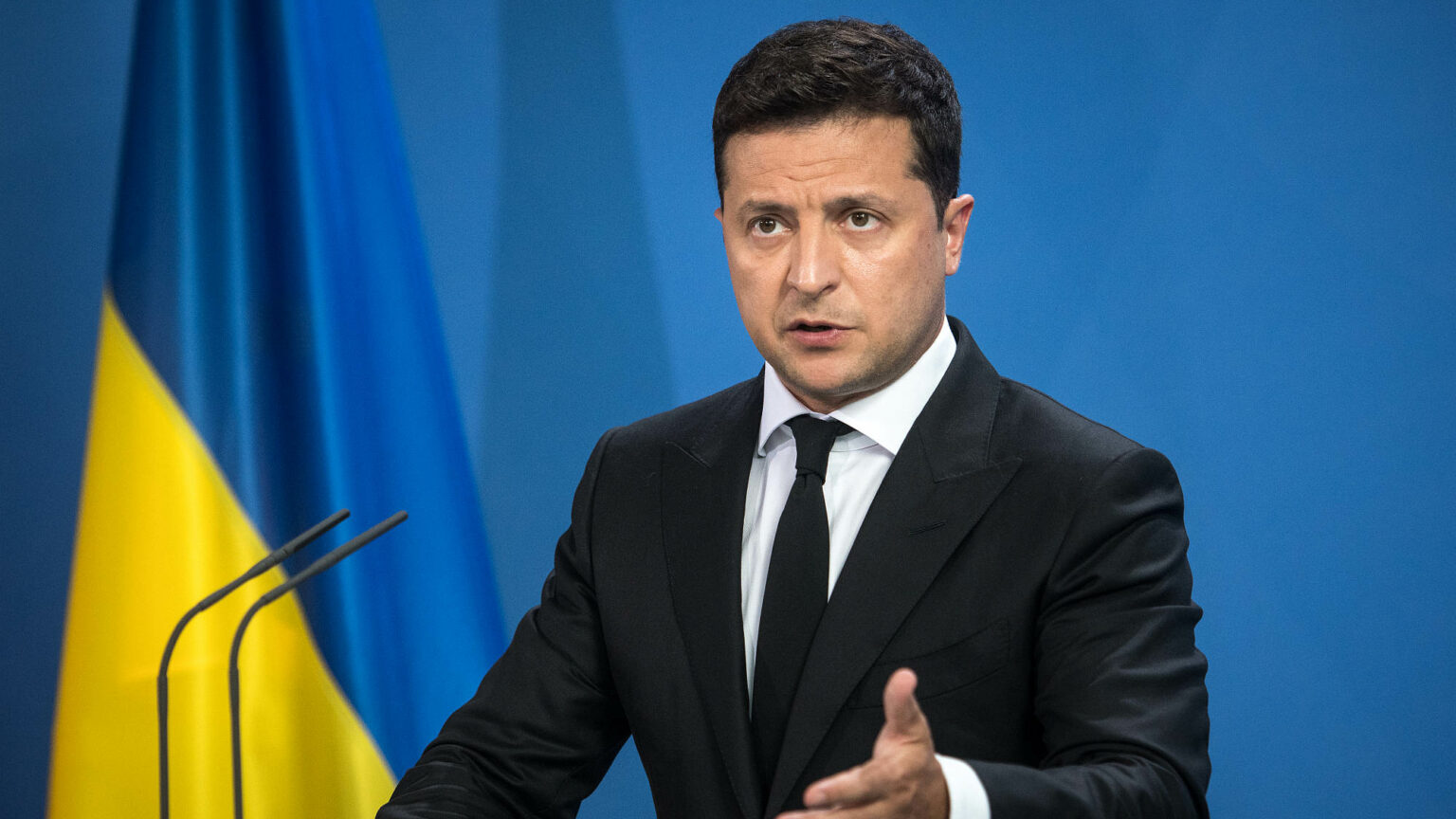 The elevation of former comedian Volodymyr Oleksandrovych Zelensky to Hero status among all right-thinking defenders of Truth, Liberty and the Ukrainian Way brings to mind an old joke popular among jobbing stand-up comedians, though perhaps obscure to those to whom we drolly refer as 'civilians'.
Two comics are driving through sleeting rain to some remote, poorly paid gig. Naturally, the conversation falls to previous humiliations they've endured. 'Did this gig a few weeks ago', says one.
'Unplayable. The venue was down an unlit track, a sort of club house I think. No dressing room, no green room, no acts room, nothing. You just wait outside the hut until it's time to go on, straight through the fire door on to the stage. Well, I say "stage". There was no stage, just a corner of the room with a beer crate to stand on. The owner compered me on with a few hack, blatantly racist gags that would have made Nick Griffin uncomfortable, then got my name wrong. He said, "I've never seen him but I'm assured he's very funny. Mind you, that's what they told me last week", and everyone laughed, presumably about the poor schmuck who had died on her arse the week before. He then went back behind the bar and carried on a loud conversation with two of the regulars about the new barmaid. Anyway, I struggled through, got a few laughs and some completely incomprehensible heckling and limped off after 20 minutes. Went to get paid – I was promised cash – and was told, "I've given the booker the money. He'll be in touch." I'm still waiting.'
'Amazing', said the other comic, shaking his head in equal parts recognition and disbelief. Pause. 'Have you got a number for it?'
Comics are notoriously prone to ambition, masochism and whingeing. Even by the standards set by jokes, however, it has to be admitted that Zelensky has upped the ante. If, God willing, he gets through this in one piece, he is certainly going to have some bragging rights at whatever is the Ukrainian equivalent of the post-Christmas piss-up in the Brickmakers' Arms.
Zelensky – Sky News and ITV now prefer 'Zelenskyy' but I am not sure that ending with two Ys isn't needlessly exotic – famously rose to power after a career as a comedian and actor. In his most famous series, Servant of the People, he played a high-school teacher who becomes president of Ukraine, after an impromptu rant denouncing corruption goes viral. The fantasy that this – rather than political nous, unfettered, venal ambition and a huge contacts book – is what it takes, I am sure animates many comedians like myself who eagerly accept invitations on to BBC Question Time.
Now Zelensky is president for real, like if Kevin Kline had got the top job off the back of Ivan Reitman's other film, Dave, in which a man impersonating the president actually becomes president. Or like if Martin Sheen ran for office after season four of The West Wing – an outcome I would have enthusiastically applauded at the time, at least as long as reality were still being scripted by Aaron Sorkin. He didn't, however, and with bittersweet irony, the president who most closely resembled Jed Bartlett was of course one Donald Trump. Clearly, the power of TV to bestow authority on anyone is to be treated, on the whole, with distrust, whether you are voting or choosing a watch.
But whatever else the past few weeks have illustrated – and I cannot remember another conflict on which the fog of war has more swiftly descended and the truth has become more thoroughly indiscernible – Zelensky's mettle has clearly been tested by events that put a rough crowd at the Late Show into perspective. And he has shown he has a bit more about him than his CV suggested or his UK peers might have suspected.
Both Zelensky and Kyiv's equally capricious choice of mayor, former heavyweight boxing champion Vitali Volodymyrovych Klitschko, have if nothing else proven their nerve can cash the cheques their rhetoric has written.
This is encouraging, to a fellow comedian. Then again, it may well be that comedy in Ukraine is a different sort of business altogether. Wikipedia says that at age 17, Zelensky joined a 'comedy competition team' and was soon invited to join the 'united Ukrainian team Zaporizhia-Kryvyi Rih-Transit', where he performed in the 'KVN [comedy competition] Major League… and spent a lot of the time in Moscow and constantly toured around post-Soviet countries'. This is clearly not the open spot circuit as UK acts experience it.
Zelensky was clearly a serious player, in what sounds like a nakedly competitive field. And from that he created not just a career but a decent pile – some say he is worth more than McIntyre. Fair play to him. And if some of it looks a bit iffy to Western eyes, well, you can only play the room you're given.
But I'd hesitate to extract the view that we should be casting our own net a little wider when recruiting for our political scene – that maybe UK comedians and other light entertainers could bring a certain something that's missing to the Westminster party. Given that we now know those parties to have plenty of prosecco and crisps, I'm struggling to think what that might be.
It is so tempting to attribute to comedians we like certain qualities that we think would be transferable to the political arena. As well as decent stage craft, nerve and the ability to read the room, audiences perceive in their favourite comics a canny awareness of the human condition, an agile, laterally leaping mind and a capacity for fresh, perceptive observation. They forget to include 'narcissistic nihilist', 'slippery relationship with the truth' and 'attention-deprived brat'.
It all depends, as with all things, how it goes. Much eye rolling greeted the rise of a reality TV star and an ex-Have I Got News For You host to supreme power. Neither have had to show what they are made of under artillery fire – yet – but the consensus has always broadly been that more traditional paths to power are still preferable.
I'd be very wary of thinking stand-up comedians have, as a rule, more grit, decency, honesty and heart than your average career politician. No doubt many comedians are as weary of inequality, corruption and lies as everyone else. But when it comes to detail, the vast majority are like schoolboys, ignoring the text and looking for the telling personal flaw, the mockable defect that can bring the teacher crashing down. Teaching the class yourself demands a different skill set.
I applaud Zelensky's nerve and determination and I sincerely hope that these prove decisive factors in bringing a swift and sustainable resolution to the present outrage – one that does not reward the stage invaders he now confronts. But I'd caution against trying to extrapolate anything very useful about the British establishment and its failure to recruit from the circuit. That, in my view, would not be too wise.
Simon Evans is a spiked columnist and stand-up comedian. He is currently on tour with his show, Work of the Devil. You can buy tickets here.
To enquire about republishing spiked's content, a right to reply or to request a correction, please contact the managing editor, Viv Regan.