The dangerous rise of woke vandalism
Are any cultural artefacts safe from this new wave of iconoclasm?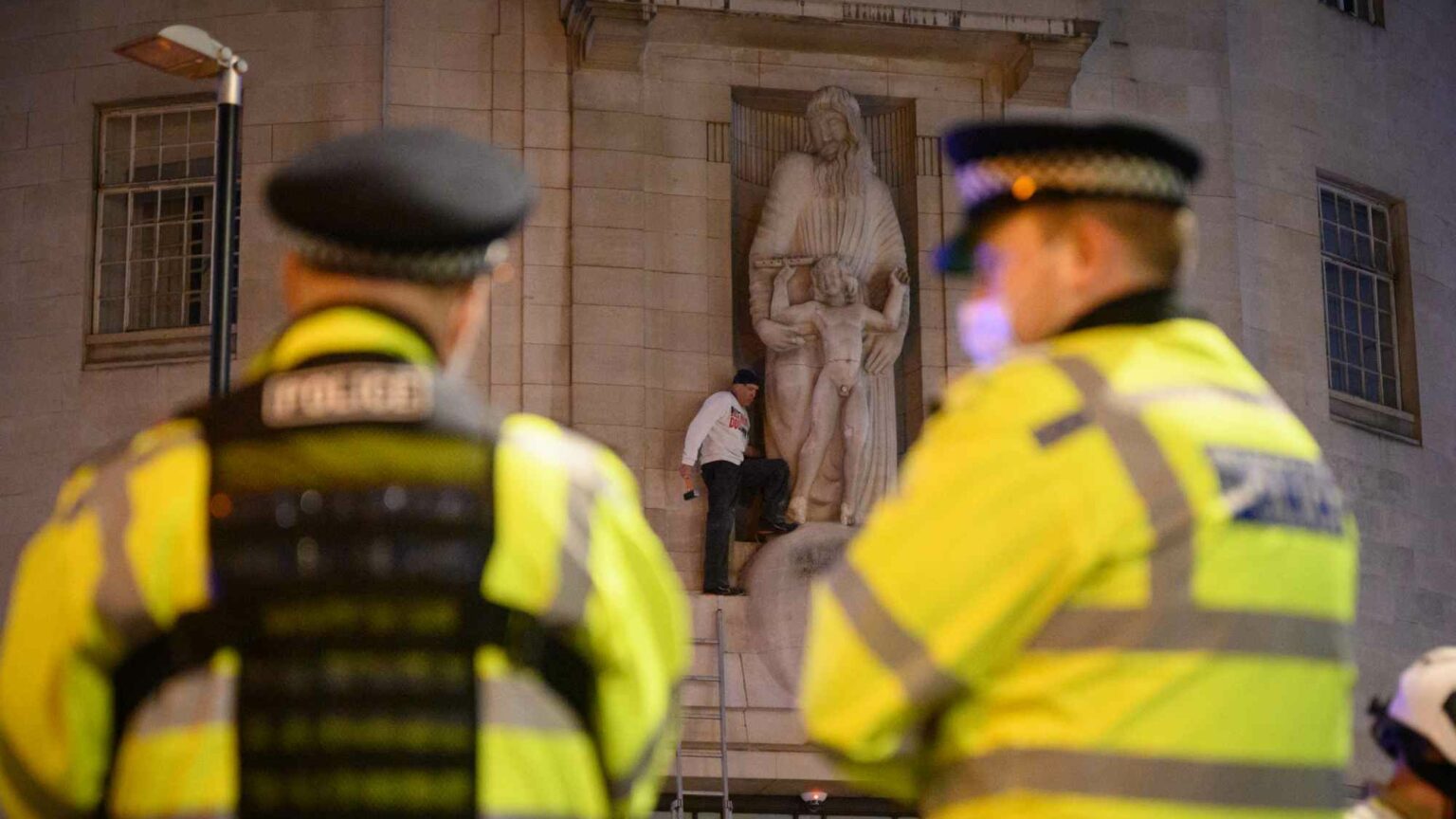 A recent instance of high-profile vandalism in London suggests that the statue wars, which began to rage in the summer of 2020, are far from over.
In January, a man scaled the front of BBC Broadcasting House to attack a statue with a hammer. The statue was Prospero and Ariel by Eric Gill. Unlike the previous attacks on statues, the target was not an alleged racist or slave trader, but a paedophile.
Gill, as many will be aware, was an incestuous paedophile who also dabbled in bestiality. This was all recorded in his diaries, confirmed by living relatives and made public in a biography written by Fiona MacCarthy, which was published in 1989. Since then, there have been repeated calls for Gill's public statues to be removed.
Prospero and Ariel, carved in Caen stone in 1932 for the BBC headquarters, has long been regarded as the most controversial of Gill's statues, not least because it depicts a nude child.
Of course, the depiction of nude children in non-sexual situations is nothing unusual in the history of art. For instance, Spinario, a seated boy removing a thorn from his foot, is one of the most celebrated statues of the ancient world. Depictions of child nudity in mythology are also common, as are images of the infant Christ.
But Gill's statue was targeted for two key reasons. Firstly, it was made by a man with a known sexual interest in children. Secondly, it is a statue owned by the BBC, an institution that employed Jimmy Savile, a serial sexual abuser of children.
Online discussions of Gill's statues have long drawn particular attention to Propsero and Ariel, catching the eye of individuals and organisations incensed by child abuse. The attacker of the Gill statue graffitied 'time to go was 1989' – the year Gill's sexual perversions were made public by his biographer.
So why was it attacked now, in 2022? To answer this, we must remember that earlier in January, the four individuals charged with damaging and toppling the statue of slave trader Edward Colston in 2020, at the height of the BLM protests, were acquitted. As some commentators warned at the time, the court's judgement set a moral precedent, near enough legitimising the vandalism of 'offensive' historical artefacts.
The Colston verdict was hardly unexpected. As I noted in my book, Iconoclasm, Identity Politics and the Erasure of History, the Colston attack was tacitly enabled by the police at the time, who stood by and watched as it happened. And when the acquittal was announced, it was welcomed by the great and the good. Even former Conservative chancellor George Osborne celebrated it. 'Would have been stupid to convict those who pulled down Colston statue', tweeted Osborne in January. When a supposedly senior Conservative figure excuses identitarian iconoclasm, we can see how dominant woke ideology now is among the establishment.
So, if the law is potentially willing to excuse iconoclasm, and the political class condones it, who will stand up to the mob?
It becomes especially hard to stand up to the mob when it's targeting the work of someone like Gill, a morally depraved individual. That is why it is important to separate the artist from the art. As comedian and author Andrew Doyle puts it in the Spectator, 'Gill's crimes were unforgivable, but the statue is blameless. Are we to suppose that a work of art is somehow magically invested with the soul of its maker?'
It's a good point. A statue bears no responsibility for the depravity of its sculptor, or indeed the immorality of the personage depicted.
But unfortunately, too many today really do want to blame cultural artefacts for historical or moral wrongs. So the mainstream media portray iconoclasm as a righteous act of social justice, and the authorities give it an implicit thumbs-up. And this opens the door to further destruction. After all, if historical slave-trading is enough to justify the destruction of statues, why not any other moral infraction? This leaves us in a situation where each person can become his or her own judge, authorised to execute vengeance on historical subjects as he or she sees fit.
Through legal sanction, press approval and social endorsement, society's elites have opened the door to attacks on cultural property. They may think that they can direct the destruction against sanctioned targets, but they have unleashed a force that they cannot control. Who knows where it will end. It may even carry off the very elites who thought they were masters of the mob.
To enquire about republishing spiked's content, a right to reply or to request a correction, please contact the managing editor, Viv Regan.