Giving a green light to woke vandalism
The acquittal of the Colston Four sets a scary precedent.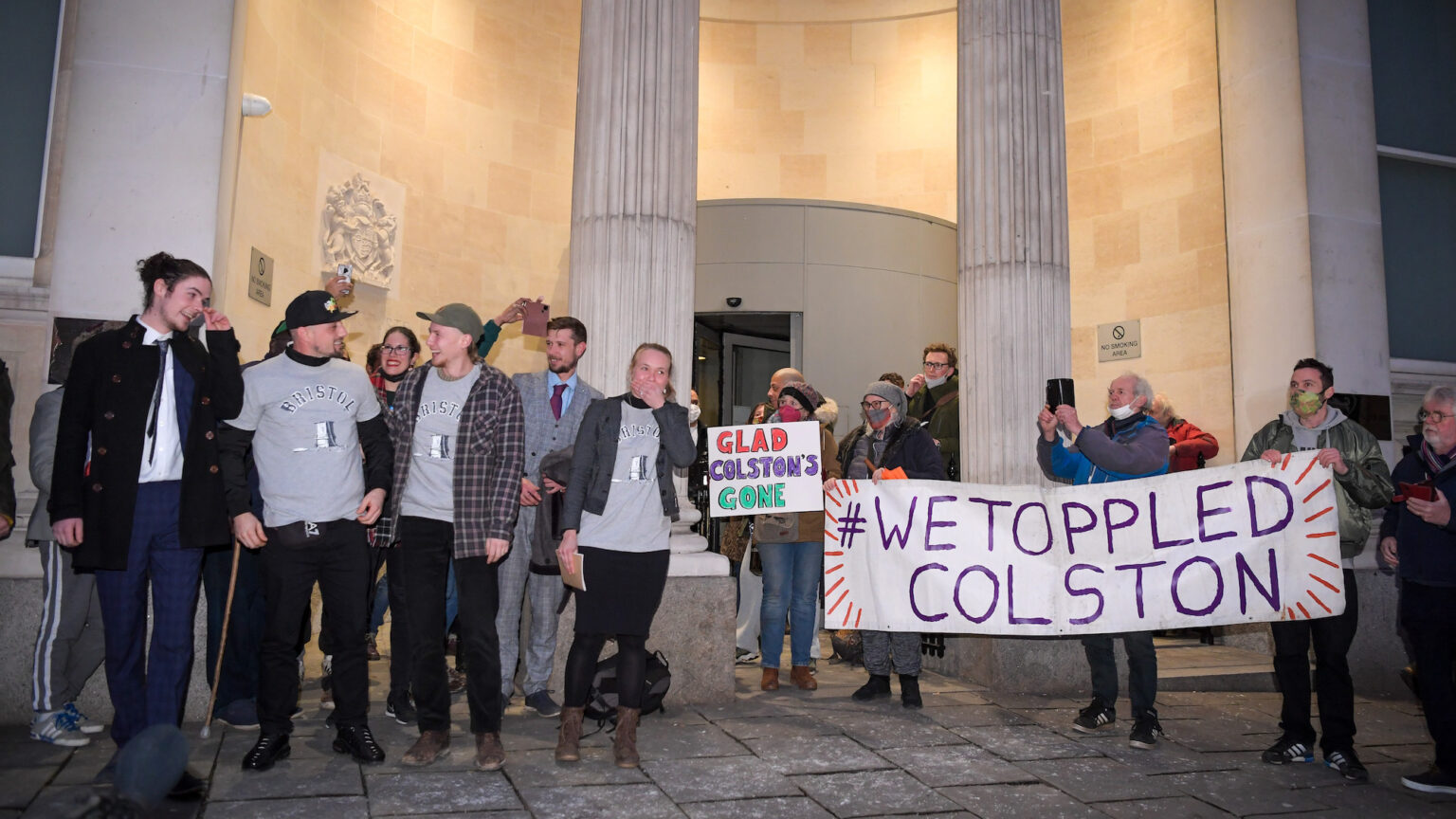 So if you're woke, you can do anything you want? That's the message that has been sent by today's acquittal of the Colston Four, the four hip, white middle-class young adults who have got off scot-free for their vandalism of the statue of the 17th-century slave trader, Edward Colston. It's virtually official now: if you're a self-righteous possessor of correct opinion, you can get away with things that other people would never get away with. Knock yourselves out. Tear down statues, rip up old monuments, violently redecorate public displays that offend you. The criminal-justice system won't mind. Your sanctimonious glow will protect you from the kind of punishments that would be visited upon other, less woke citizens if they tried the same thing.
This bizarre verdict essentially licences political vandalism. Or rather, the right kind of political vandalism – the kind that the posh broadsheet press approves of and which wins the fawning approval of every luvvie's favourite graffitist, Banksy. The Colston Four were part of a BLM / George Floyd demo in Bristol in June 2020. A mob of people descended upon the statue of Colston – whose link to the 21st-century killing of an American black man by an American cop remains a mystery – and yanked it down. They then rolled it into Bristol harbour. Middle-class armchair revolutionaries went wild. They talked about this symbolic act of infantile destruction carried out by ponytailed millennials as if it were a great blow against racism and slavery, which hasn't existed in England since 1807.
Some aspects of this case are so incongruous that they're almost comedic. It will forever be a source of mirth for me that the Colston Four have names like Milo Ponsford and Sage Willoughby. If I ever write a novel about privileged kids going off the rails, I'm using those names. I bet if the authorities had investigated more of the crowd that gathered in Bristol that day, they'd have found a Tarquin or two. 'All [the defendants] are from Bristol apart from Mr Ponsford, 26, who is based in Hampshire', reported the BBC. I bet he is. Unwittingly confirming the milquetoast nature of this middle-class tantrum disguised as a revolt, Banksy blessed the Colston Four by designing a t-shirt to raise funds for their defence. 'Banksy Designed a Line of T-Shirts to Raise Money for Protesters Accused of Toppling Statue of Slave Trader Edward Colston', said an approving headline on Artnet, the $20million-valued website of the global art-market set. RIP satire, you're with the angels now.
But there are some serious and worrying elements to this case, too. This acquittal makes clear that we basically have a two-tier justice system in this country now. There is an extraordinary double standard in how political protesters are treated. If you're woke or green, if you titillate the respectable commentariat by tearing down statues of slave traders or invading Stansted Airport to prevent the deportation of immigrants to Africa, you'll be treated with kid gloves. Block the streets of London for days on end under the banner of the aristocratic death cult Extinction Rebellion and the cops will stand idly by; do the same to make the case for a Full Brexit from the EU and… well, try it, and see what happens. Outside the court, Sage Willoughby said the acquittal of him and the other three was a victory for 'anybody who wants to be on the right side of history'. And there it is: we are right and therefore we can do these kinds of things. We can destroy public property with impunity.
Think about this, everyone – do we really want the courts to decide what is the right side of history and what is the wrong side? Do we really want the criminal-justice system essentially to confer legitimacy on certain forms of political protest while continuing to punish other forms? Imagine if some twats decided to tear down the statue of Nelson Mandela in Parliament Square. Do you think they would be treated as leniently as the Colston Four have been? Of course not. 'But Mandela was a good man and Colston was a bad man', people will say, and of course they're right. But if you think it's a good idea for the courts to make these kinds of judgements, and to acquit or punish public vandalism depending on whether the vandals were 'right' or 'wrong', 'good' or 'bad', then I can't help you. That is a recipe for entrenched political inequality, for the official privileging of some beliefs over others, for the right of the powers-that-be to determine which views are decent and which are trash. In a fair, democratic country in which the criminal-justice system was truly neutral and blind, criminal damage would be criminal damage, whether the target of the statue-smashers was Jesus Christ or Joseph Stalin.
The socially aware like to bandy about the word 'privilege'. I hope they'll use it in relation to the case of the Colston Four. Because this is an open-and-shut case of woke privilege, which is really a species of class privilege, where activists who win the approval of the opinion-forming set seem to enjoy a special kind of protection that other mere mortals lack. The acquittal of the Colston Four is madly being talked up as a victory for racial justice and fairness. I see it more as a bestowal of further entitlements upon the woke. And that should worry anyone who believes the law should narrowly concern itself with what people do and keep its beak out of the realm of what people think.
Brendan O'Neill is spiked's chief political writer and host of the spiked podcast, The Brendan O'Neill Show. Subscribe to the podcast here. And find Brendan on Instagram: @burntoakboy
To enquire about republishing spiked's content, a right to reply or to request a correction, please contact the managing editor, Viv Regan.