The propaganda war on the Canadian truckers
The US media are shamefully smearing the 'Freedom Convoy' as a far-right menace.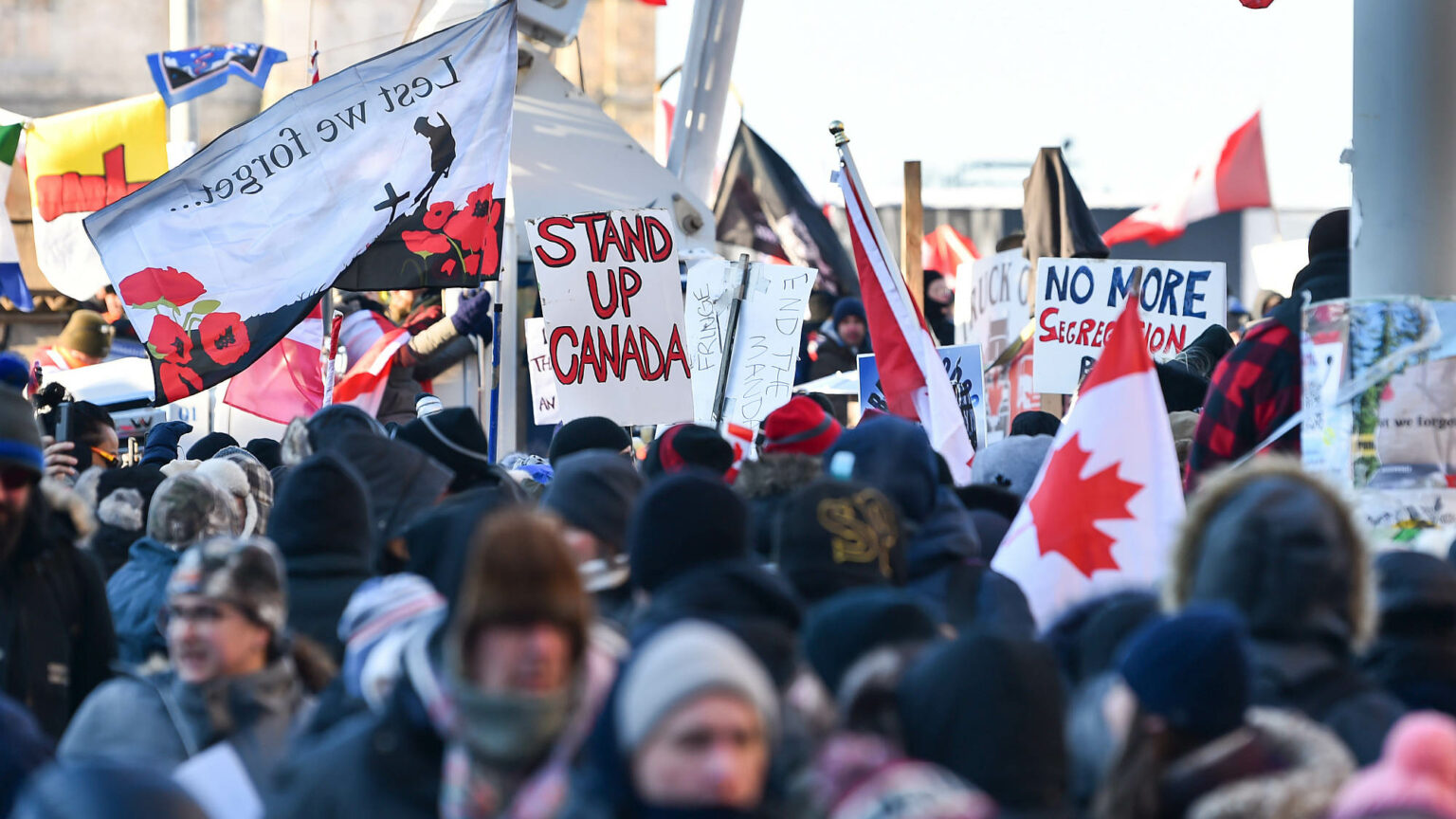 By now, most Americans have heard of the truckers' actions happening north of the border. Based on lurid descriptions of the protests from the US media, they could be forgiven for thinking these protesters are a small bunch of nasty thugs and Nazis who must be put down immediately. Indeed, it seems American reporters and commentators have decided to project all of their hatred of Trumpists and deplorable workers generally on to the Canadian truckers.
Just look at how scary and violent these coarse truckers are, we are told. Many outlets reported on how crowdfunding website GoFundMe seized $10million in donations to the protesters, on the grounds that they promote 'violence and harassment'. According to the Washington Post, the truckers' actions are 'tinged by menace', and 'have surged beyond legitimate protest into the realm of thuggery'. NBC News says 'the demonstration has left many Ottawa residents on edge and afraid to leave their homes'. NBC led its story with a quote from 26-year-old Justin Romanov, who emigrated from Russia as a teen: 'I do not feel safe in downtown Ottawa right now because I have a feeling if people will learn that I'm a refugee and a gay, I'm afraid of some trouble there.' But NBC could not cite anything negative that actually happened to Mr Romanov.
In reality, the thousands who have formed the 'Freedom Convoy' to Canada's capital city have been peaceful. The scene in Ottawa has been described as carnival-like, with people dancing and sharing food. Videos show demonstrators blasting 'Life Is a Highway', by the Canadian musician Tom Cochrane, from loudspeakers set up on the back of an empty trailer. The footage is not exactly terrifying.
Almost every story in the US media about the Canadian truckers comes with a now-obligatory reference to 'swastikas' and 'Confederate flags'. NPR's lead stories
in recent days have claimed that the protests are 'rooted' in extremism, and that its organisers have expressed 'anti-Semitic, Islamophobic and conspiratorial worldviews'. A CNN reporter said the protests were reminiscent of the 6 January riot at the US Capitol: 'And just think of the language. I know it sounds familiar to you. A threat to democracy. An insurrection, sedition.' Politico warns that the truckers' convoy has become 'a magnet for far-right grievances' in the US and globally.
In playing up a supposed threat of swastikas and Nazis on the rampage in Canada, the US media have allied themselves with Justin Trudeau's propaganda war. Canada's prime minister has denigrated the truckers as 'a few people shouting and waving swastikas'. The people of Ottawa 'don't deserve to be confronted with the inherent violence of a swastika flying on a street corner or a Confederate flag', Trudeau said during a debate in the House of Commons on Monday night. But, as anyone who has watched the videos coming out of Canada can see, truckers and their supporters along the highways and in city streets have been waving red Maple Leafs, the Canadian national flag. Protesters in Ottawa wear them as capes. Against this sea of Canadian flags, the New York Times reports 'at least two' swastikas have been sighted.
Thankfully, there have been some reports on the ground in Canada that are not just repeating Trudeau's slanders. An excellent one comes from Rupa Subramanya, Ottawa-based columnist for the National Post. 'I have spoken to close to 100 protesters, truckers and other folks', says Subramanya, 'and not one of them sounded like an insurrectionist, white supremacist, racist or misogynist'.
Indeed, from Subramanya's reporting, or simply from watching some video interviews with truckers you can find online, you can tell right away that these are people with legitimate complaints. The truckers are understandably upset about how Trudeau's vaccine mandates and other Covid-related restrictions have threatened their jobs and have made their everyday lives miserable. If there is one word that is repeated by the truckers and their supporters it is 'freedom' – freedom from mandates, freedom to live their lives and make their own decisions about their health. It's an uncomplicated demand, one that people have called for over centuries.
And in today's context, it is a class-based demand. It is the truckers and other workers who have felt the brunt of Covid restrictions, while the Zooming upper classes have been content to stay indoors and get their supplies delivered to them – by truckers. Until recently, the Canadian government had classified truckers as 'essential' workers and therefore exempt from vaccine mandates. Nevertheless, some 90 per cent of them got vaccinated voluntarily. Yet Trudeau picked this moment to order all truckers to be vaccinated if they want to cross back into Canada from the US. It's not surprising the mandate triggered a backlash.
Throughout this crisis, Trudeau has played the role of an aloof elitist to a tee. He has dismissed the protesters as a 'small fringe minority' who hold 'unacceptable' views. By declaring them Nazis and Confederates, Trudeau has labelled the truckers as a foreign enemy within. Displaying a stunning lack of self-awareness, Trudeau tweeted that truckers 'don't have the right to blockade our economy, or our democracy, or our fellow citizens' daily lives' – when his restrictions over the past two years have done more harm to the economy and liberty than anything the truckers have done. One fellow Liberal Party MP, Joël Lightbound, rightly criticised Trudeau and Canada's political class for being out of touch with working Canadians: 'Those making the decisions seem at times to have been blind to the fact that we're not all equal [under] lockdowns [and] that not everyone can earn a living on a MacBook at the cottage.' (The 'cottage' is an allusion to the place where Trudeau escaped to when the trucker protests first flared up.)
While polls suggest that most Canadians don't support the protests, the truckers are making significant gains. A recent survey found that a majority favours lifting Covid restrictions. And the provinces of Alberta, Quebec and Saskatchewan have recently announced plans to end vaccine passports, mask mandates and other restrictions.
The truckers have tremendous leverage. In the past few days, Canadian truckers have blocked the major trade routes between Canada and the US, including the Ambassador Bridge between Detroit and Windsor, Ontario – a key route for shipping cars. It is hard to see how this standoff ends. Without the willingness to send in the military, Trudeau must negotiate. Yet given his rhetoric about the truckers, it will appear like a humiliating climbdown if he does.
The Biden administration has thrown its support behind the hapless Trudeau. Earlier this week US Homeland Security secretary Alejandro Mayorkas and transportation secretary Pete Buttigieg urged their Canadian counterparts to crack down on protesters and 'resolve this situation'. The Biden team is also raising fears that the Canadian truckers could inspire a US copycat. The Department of Homeland Security has warned that a convoy of protesting truckers was planning to travel from California to Washington, DC, potentially disrupting the Super Bowl this weekend and President Biden's State of the Union address on 1 March.
In the days to come, we can expect to hear more about unruly, violent, racist protesters promoting 'hate' – not only in Canada, but in the US and Europe, too. But in this growing conflict between the elites and masses there's only one side promoting 'hate'. That's the political class in the West, who hates it when working-class people express their own opinions. The propaganda war is just beginning.
To enquire about republishing spiked's content, a right to reply or to request a correction, please contact the managing editor, Viv Regan.