The Ichthyosaur should restore our sense of wonder
The discovery of this vast, fossilised sea monster is an antidote to our downbeat times.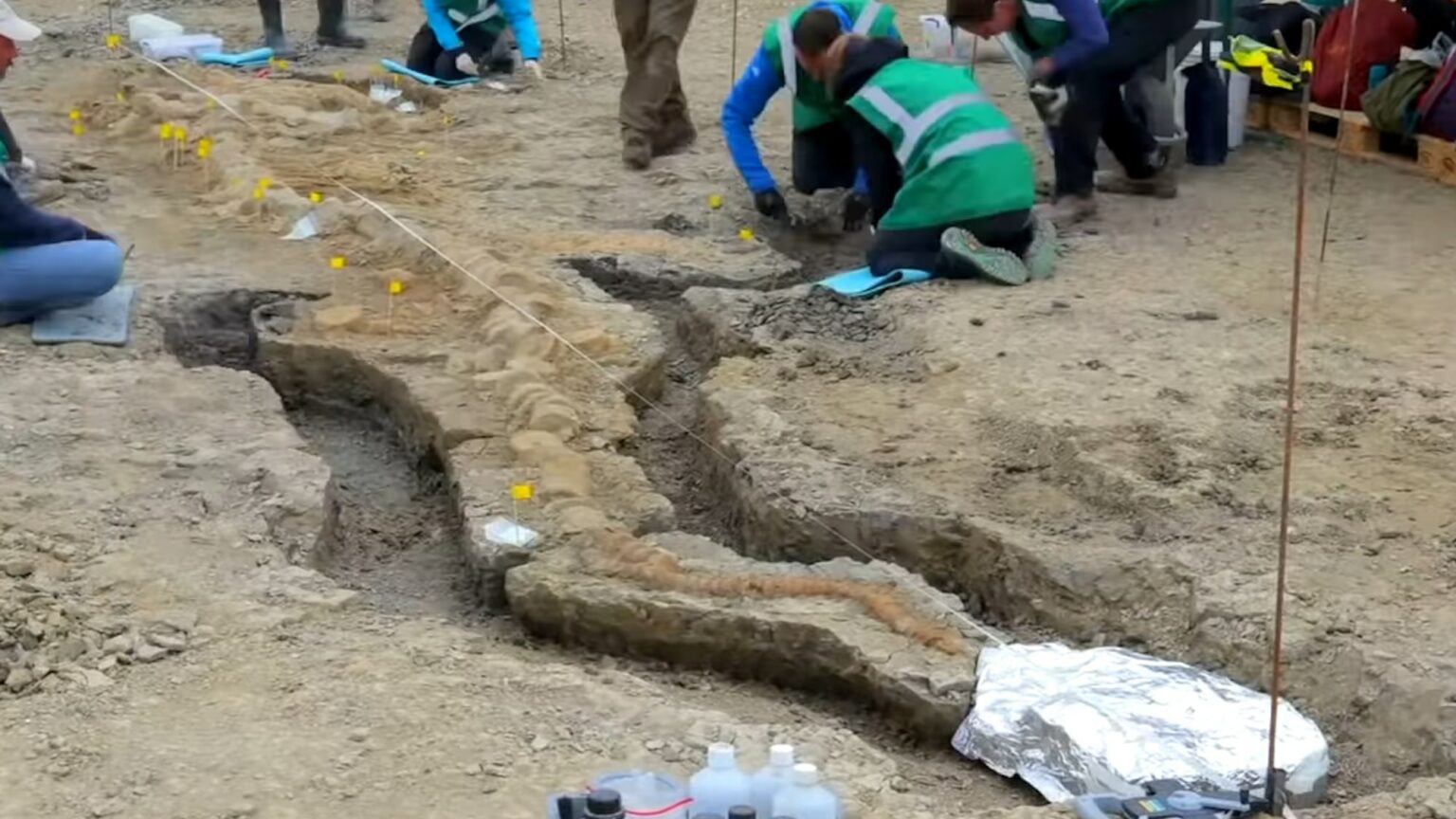 I should probably wait until all the ensuing ramifications are in before I start claiming credit for it. But I currently nurture a private conviction that the discovery in a Rutland reservoir of a vast fossilised skeleton, the remains of a 180million-year-old Ichthyosaur, which was unearthed this week, was in some intangible sense my doing.
I had, on Monday morning, been scraping and raking up the last slimy remnants of late November's final leaf fall, preparatory to mowing the lawn. This was not an archaeological exercise, I should emphasise. True, I had also been carefully isolating and bagging a few specimens that superficially resembled petrified artefacts of a long-dead, if well-nourished, tribe. But this was not the foreshadowing of the news to come. These were in fact merely evidence of an earlier canine migration across the terrain. The foreshadowing was coming in through my ears.
I had been all morning rapt, as Jules Verne's Journey to the Centre of the Earth passed from my noise-cancelling headphones, through my lug holes and into my skull, just as its heroic protagonists abseil the craters of Snæfellsjökull.
This classic yarn transported me back to a time when science and technology promised more than the convenience of biodegradable poo bags, Bluetooth connections, rotary blades and collapsible grass… things. They promised a voyage into the unknown.
The story, I am sure, is familiar to you all. Having deciphered the message left hidden by alchemist Arne Saknussemm in a 12th-century manuscript he has secured, Professor Otto Lidenbrock and his nephew, Axel, identify the correct access fissure in the extinct volcano, and penetrate to the planet's surprisingly habitable interior.
Here they encounter, among other things, a living Ichthyosaur doing mortal battle with its traditional foe, the Plesiosaur, in the subterranean ocean on which they have set their flimsy raft.
As if on cue, the news of the sea giant's discovery arrived in a literally breathless WhatsApp message on the family group chat: 'Seen this, dad?'
There it was – the largest fossil of its kind ever discovered in these islands. And so perfect in outline and attitude one might almost suspect it of being a hoax, like the winged angel planted by the mall developers as a publicity stunt, back from when The Simpsons was still funny. An actual Ichthyosaur.
I was pretty shocked, to be honest. I hadn't, I don't think, previously encountered or even internally articulated the word 'Ichthyosaur' in years. So, to hear one thrashing around a thousand leagues below Victorian Edinburgh, on Audible, and then to encounter another, in the digital pages of the Guardian, in the space of a few minutes seemed pretty remarkable.
And this sense of mounting, disquieting coincidence was cemented an hour later, when I sat down to go through my emails and saw a message from an online magazine presenting an obituary of perhaps the greatest celebrity paleontologist of my youth, Richard Leakey.
I remember Leakey from my childhood, when old-style great white hunters and explorers still graced the cover of the Daily Telegraph now and again, sometimes brandishing a skull – not always an old one.
But Leakey had died over a week ago. How come I had heard nothing until now? The passing of this latter-day Lidenbrock had landed perfectly on my lap like the third tier of a pumpernickel club sandwich. Just another coincidence?
To say that listening to Big Verne's classic actually triggered these events would be facetious, of course, and monstrously solipsistic. But this much I do think is true: listening to that story had activated my mind, placed it in a certain alignment, and prepared the ground for these seeds to sink into and germinate.
I don't suppose it is any great new insight to say that what we pay attention to affects our world, and what we think is going on in it. Obviously, if, when leafing through the papers, you only read bad news about the environment, or about race relations, the virus or the economy, then that is what you will think about between your bouts of paralysing depression. Equally, if all you read about is your favourite sport, your favourite celebrities, or some fun new recipes, you might be of a sunnier disposition, if a somewhat less than promising prospect conversationally. One tries to strike a balance.
But I can't help thinking that the fiction we expose ourselves to plays a bigger role in this calculation than is often acknowledged. There is a gloomy edge to so much of it now, to novels and movies and boxsets and so on – especially those aimed at 'young adults', who are in many ways the unacknowledged cultural arbiters of the day. There is comedy, yes. But if you want drama, especially in speculative fiction, there is a sense that if it isn't dystopian, if teens aren't being farmed like cattle or hunted for sport, or being left behind to drown in Leicester-on-Sea as the elite boards the Star Ark, then it doesn't really reflect all the terrible things that are going on in the world. That would be escapism – ugh!
I do feel a bit sorry for young people today. This dystopian stuff might be addictive but it can't be much fun. I used to actively look forward to going to bed when I was a lad, as long as my torch had a new set of batteries and there was the prospect of dinosaurs appearing in Chapter 12.
What you choose to read can colour your whole day. Because it changes what you pay attention to – and I am beginning to think there is nothing more important than that.
At the extremes, there have been claims for decades in quantum mechanics that consciousness actually, literally, creates reality. That is a little above my pay grade. But I certainly have a lot of time for the idea, propagated by the likes of Jordan Peterson and the remarkable Iain McGilchrist in his new vast tract, The Matter with Things, that consciousness is at the very least a key component in your reality.
There is a popular notion that a tiny minority of highly motivated people – some say just 3.5 per cent – can have a hugely disproportionate effect on the direction society goes in, over the generally apathetic majority. And if you have the energy to be one of those people, then good for you. There might be some satisfaction to be had from seizing the wheel like that. But that isn't me.
There is also a popular, and perhaps more venerable, notion that the key to happiness is to detach from events beyond your control entirely. To watch the 3.5 per cent choose the cliff to steer us over and to shrug. That also might work for some people. Again, I struggle.
The vast majority of us, I suspect, will reluctantly trudge the middle path, poo bags in hand, vaguely disturbed by emergent trends that we lack the conviction to address, much less correct. The best course for the likes of us might be to at least focus on the things less likely to drive us to actual despair. Things like the unfathomable wonder to be had contemplating the sheer size, the sheer antiquity, of that bloody great fish in Rutland Water.
I'm no paleontologist. But I am, at this time of year at least, something of a pale ontologist, albeit a profoundly amateur one. And I do rather think maybe my eight-year-old self was on to something after all. Dinosaurs. Maybe that is what it's all about.
Simon Evans is a spiked columnist and stand-up comedian. He is currently on tour with his show, Work of the Devil. You can buy tickets here.
To enquire about republishing spiked's content, a right to reply or to request a correction, please contact the managing editor, Viv Regan.