Why the culture war will dominate the French elections
An EU flag under the Arc de Triomphe has sparked a furious battle over national identity.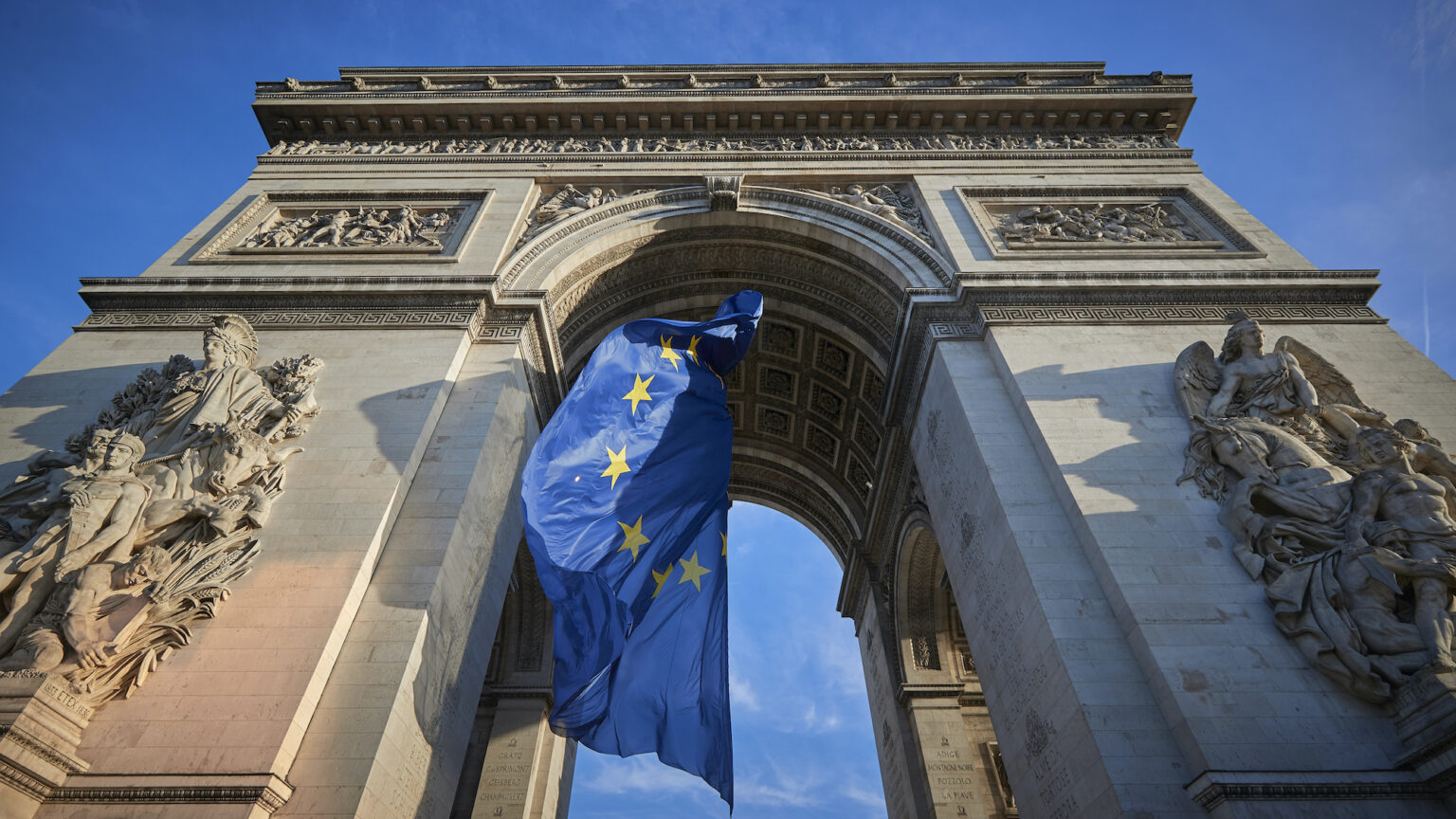 The eyes of the world will be on France in 2022. On 1 January France assumed the rotating presidency of the European Union, and in April it will hold its presidential elections.
Incumbent Emmanuel Macron hopes to use the EU presidency as a springboard for his French presidential campaign – to project an image of himself as Europe's de facto leader, now that Germany's Angela Merkel has exited the international stage.
But the way the French government chose to celebrate the EU presidency has already kicked the hornet's nest of the culture wars. National landmarks in Paris, like the Élysée Palace, Notre Dame and the Eiffel Tower, were lit up in EU blue. And most significantly, the Arc de Triomphe was adorned with a giant EU flag, right above where the Tomb of the Unknown Soldier is housed. In other words, some of the most recognisable, even sacred, symbols of the French nation and its history were being reimagined and subverted as symbols of the EU.
This unforced error has drawn condemnation from Macron's opponents across the political spectrum, and has given us some insight into the upcoming elections.
As you might expect, Macron's challengers on the Eurosceptic and extreme right – Éric Zemmour and Marine Le Pen – were most forceful in their condemnations. Le Pen called the flag stunt an 'offensive provocation to those who fought for France'. Zemmour declared it an 'insult' and a form of vandalism.
Valérie Pécresse, presidential candidate from the centre-right Républicains and current leader of the greater Paris region, spotted an opportunity for triangulation. She denounced Macron's 'erasure of French identity', while calling for the French flag to be restored next to the EU flag. In doing so she was setting out her stall as a candidate who is broadly pro-EU but opposed to giving up any more national sovereignty.
Even figures on the left have accused Macron of rewriting history for propaganda purposes, to promote his vision of EU federalism. 'The unknown soldier did not die for Brussels', said one MP from the far-left France Insoumise party.
The controversy forced the government's hand. The EU flag was removed earlier than planned from the Arc de Triomphe, just 48 hours after it was raised.
The outrage generated by flag-gate was a stark reminder that most French citizens do not share Macron's Europhilia. France is among the most Eurosceptic countries in the EU. (Indeed, even Macron admitted back in 2018 that the French public would 'probably' vote for Frexit in a referendum.)
More significantly, the flag incident suggests that the elections to come will likely be defined by the culture wars. Questions of the nation state, the EU, globalism, immigration, the place of Islam in secular French society and the challenge of Islamist extremism are likely to be at the forefront. Certainly, voters are becoming more restless on these issues. Polls point to a deep unease with the direction of modern France, with majorities saying they no longer feel 'at home' in France, that immigration is too high and that France is a nation in decline.
What the elections will not be is a clash between traditional parties of the left and right. Indeed, the crumbling of the established left and right parties is what brought Macron to power in the first place back in 2017.
Macron ran at a time when the incumbent president, François Hollande of the Parti Socialiste, was so unpopular that he did not even dare contest the election. Meanwhile, the centre-right Républicains were mired in corruption scandals. Amid this wreckage, Macron was able to win without the backing of a major political party. (En Marche, as his upstart party was called at the time, even shares Macron's initials, in case it were not already obvious that it is shaped entirely around him as the figurehead.) Extraordinarily, despite a turbulent term in office, Macron is still the favourite to win in 2022.
Les Républicains have recovered a great deal of ground since then. The party performed well in the 2021 regional elections and polling suggests that Pécresse poses a serious challenge to Macron. But the left is almost nowhere to be seen. Anne Hidalgo, mayor of Paris and candidate for the Parti Socialiste, is languishing in the polls on a shockingly low three per cent, behind even the far-left firebrand, Jean-Luc Mélenchon of France Insoumise, on 10 per cent.
Instead, almost all of the initiative and insurgency is coming from the right – from Zemmour and Le Pen on the extreme right, and Pécresse on the centre-right. Even Macron, who was elected as a socially liberal candidate, has moved rightwards during his term in anticipation of this year's vote. He has introduced tough new laws against what he calls 'Islamist separatism'. And last year his interior minister, Gérald Darmamin, accused Marine Le Pen in a live television debate of being 'too soft' on Islam.
The presidential campaign is extremely volatile, and it is not yet clear which candidate of the right will benefit most from this broader shift, or if any of them can muster the support to get them to the Élysée Palace. Zemmour, Le Pen and Pécresse have all at various points been contenders for the second round of voting, which would pitch them head-to-head against Macron. Macron would no doubt prefer to be up against one of the extreme candidates. A replay of the 2017 elections could serve him well, as Zemmour and Le Pen may well be too unpalatable to a majority of voters.
Zemmour, a TV journalist and bestselling author, is easily the most infamous and talked about challenger. He draws huge crowds to his rallies. To his critics, he is a racist or even a white supremacist – he has twice been convicted of inciting racial hatred and is currently on trial for another hate-speech charge. At his most extreme, he has propagated the so-called Great Replacement conspiracy theory and has downplayed the crimes of France's Vichy regime during the Holocaust.
To Zemmour's fans, he speaks most clearly to the pervasive sense of national decline. The title of his most recent book, La France n'a pas dit son dernier mot, roughly translates as 'France has not said its last word'. In other words, Zemmour's pitch is to 'make France great again'. Like Macron in 2017, Zemmour has had to establish his own 'party' (Reconquête) to fight the elections, such is the fluidity of French politics in the current era.
Zemmour and Le Pen may share many concerns about immigration, Islam and Europe, but they are fundamentally different beasts. While Le Pen's strategy has been to target the disaffected working class, many of whom once voted for communist parties, Zemmour draws support from a more well-to-do and well-educated constituency. He presents himself as an intellectual rather than a populist. It is not yet clear whether Zemmour and Le Pen will split the far-right vote, with one blocking the other from reaching the second round, or whether they will complement each other's campaigns.
Whoever comes out on top, it is clear that France has entered a new era of politics. Voters and parties are fragmented along new lines, around questions of culture, identity and nationhood. And while no new force can yet command a serious majority in society, it's clear that the old order, that simple contest between centre-left and centre-right, is well and truly dead.
Fraser Myers is deputy editor at spiked and host of the spiked podcast. Follow him on Twitter: @FraserMyers.
To enquire about republishing spiked's content, a right to reply or to request a correction, please contact the managing editor, Viv Regan.