The unshakeable courage of Desmond Tutu
He remained a thorn in the side of South Africa's corrupt leaders until the end.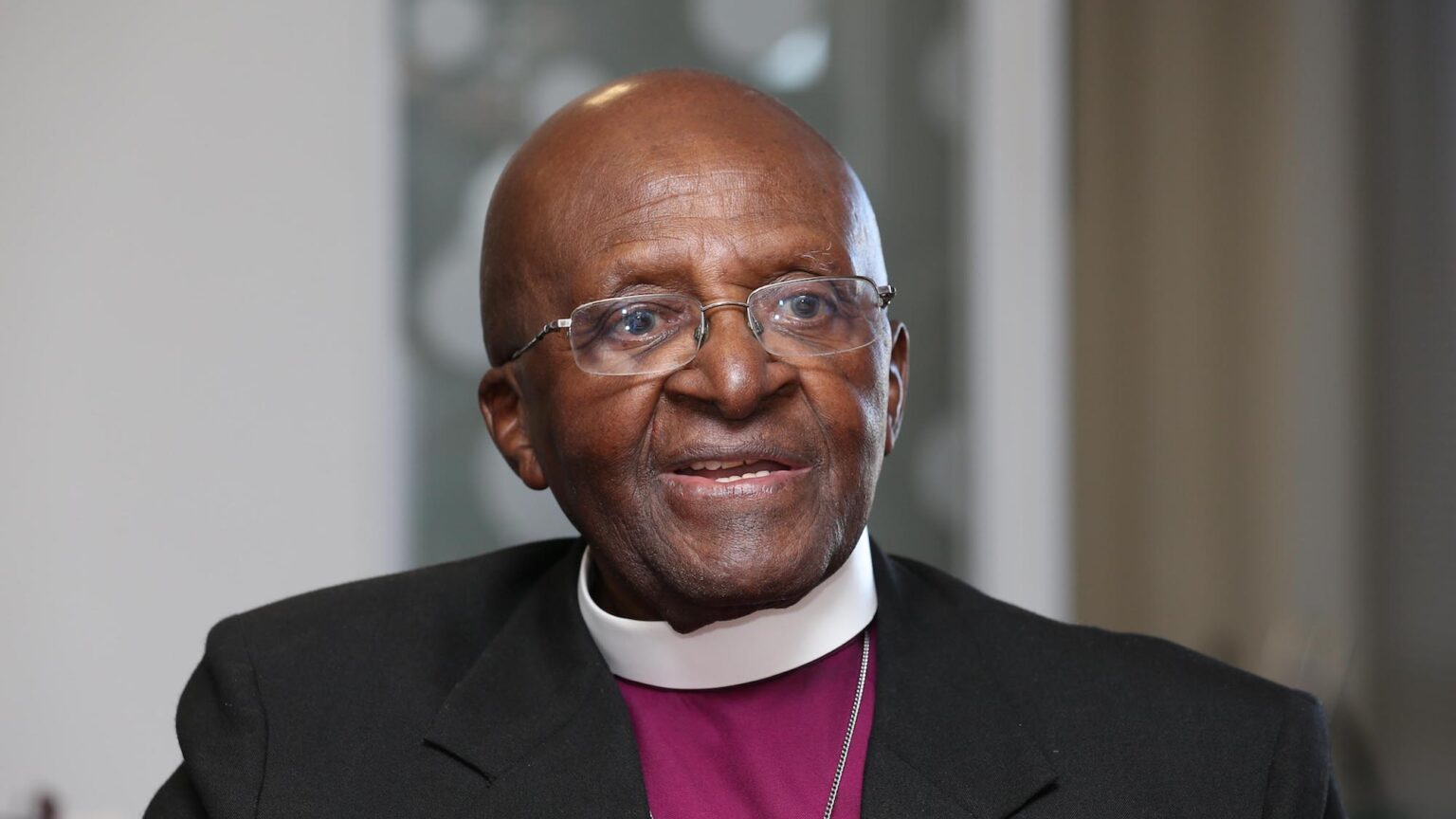 Are you a regular spiked reader? Then please consider making a Christmas donation. You can do so here. Thank you!
Archbishop and Nobel laureate Desmond Tutu died yesterday aged 90.
Tutu was a true hero. His courage, particularly during the turbulent struggle against Apartheid, should be acknowledged and exalted. He was an exemplar of his Christian faith and of the human spirit. He acted as a moral compass in the face of man's inhumanity to man. Despite facing immense personal risk, he defiantly and consistently gave a voice to the voiceless and spoke truth to power.
What makes Tutu's death so poignant is that his quest for justice and human dignity ultimately ended in failure. Apartheid might be gone, but greed, corruption and inequality are worse problems in today's South Africa than in the darkest days of white-minority rule.
This truth is essential to highlight – not because we should call into question Tutu's accomplishments, but because it reminds us how remarkably consistent he was throughout his life.
The vast majority of the tributes to Tutu's life focus primarily on his role in the struggle against Apartheid. South Africa's president, Cyril Ramaphosa, has hailed Tutu as 'a man of extraordinary intellect, integrity and invincibility against the forces of Apartheid'. Ramaphosa added that Tutu was 'tender and vulnerable in his compassion for those who had suffered oppression, injustice and violence under Apartheid, and oppressed and downtrodden people around the world'. Ramaphosa and many others are less keen to stress Tutu's consistent vocal opposition to the corruption that has characterised the ANC since it came to power in 1994. Why? Because many of the 'oppressed and downtrodden people' Tutu had so much compassion for are still oppressed and downtrodden in Ramaphosa's South Africa.
Tutu's example is needed more than ever in today's 'Rainbow Nation' (the term he optimistically coined to describe post-Apartheid South Africa, after its first fully democratic election in 1994). Indeed, Tutu was relentless in drawing attention to the ANC's increasingly corrupt and self-serving rule.
In 2004, the archbishop accused President Thabo Mbeki, Nelson Mandela's successor, of pursuing policies that enriched a tiny elite, while 'many, too many, of our people, live in gruelling, demeaning, dehumanising poverty'. In 2009, during a memorial service for members of the ANC's Apartheid-era armed wing in Cape Town, Tutu contrasted the young black South Africans who sacrificed their lives for freedom with those in power who saw that sacrifice as a means for obtaining 'three motorcars'.
In the past decade or so, Tutu appeared to become more and more depressed about post-Apartheid South Africa. 'I think we are at a bad place in South Africa', Tutu told the New York Times Magazine in 2010. 'Many of the things that we dreamed were possible seem to be getting more and more out of reach. We have the most unequal society in the world.' In 2011, Tutu branded the ANC government 'worse than the Apartheid government… because at least you were expecting it with the Apartheid government'. Speaking truth to power, he attacked then president Jacob Zuma and his administration's self-serving greed and corruption as 'disgraceful' and warned he would urge his congregation to 'start praying for the defeat of the ANC government'.
Tutu's courage to speak out in this way was truly remarkable. He remained a thorn in the ANC's side until the end. He was initially not even invited to attend Mandela's funeral in 2013 until a last-minute reprieve. But while Tutu cannot be held accountable for the behaviour of the ANC, he is not above criticism for having played a role in allowing this situation to unfold.
His role chairing the Truth and Reconciliation Commission should be examined critically in this regard. This commission, established in 1996 to uncover human-rights abuses during Apartheid, called on Apartheid-era perpetrators to publicly apologise for their crimes to victims, who were given the opportunity to share their stories. The result was that the perpetrators of some truly heinous crimes were forgiven. The idea was that, after Apartheid, South Africa could reconcile itself with its past and move on.
But Tutu's embrace of both abusers and the abused, while an act of true Christian belief, was of immense political significance. In his book, No Future Without Forgiveness, he argued all parties who committed abuses should be treated equally, 'whether they had been upholders of Apartheid or had sought to overthrow it'. He argued that this would be fair 'because the perpetrator's political affiliation was irrelevant in determining whether a certain act or offence was a gross violation or not'. But by equating those who took up arms against Apartheid with those who upheld it, he and the commission tarnished the struggle against Apartheid.
More importantly, his commission focused on acts of political violence, never on the socio-economic conditions underpinning Apartheid oppression. This narrow focus on human-rights abuses was not an error or oversight. It reflected the true purpose of the commission – to 'move on' from Apartheid without challenging the extreme capitalist exploitation that gave rise to it. This is the reality on which the ANC kleptocracy was built.
The blame for the degeneration of the ANC cannot be laid upon Desmond Tutu, of course. But in his role in the commission, Tutu lent legitimacy to the ANC leadership and its model for post-Apartheid South Africa, in which the ANC feasts at the table of capitalism and the masses continue to be exploited and oppressed.
Above all, what Desmond Tutu should be remembered for is his faith and his trust in ordinary people. He was a man who firmly identified with ordinary people, rather than those who falsely claimed to represent them. 'The resilience of those we arrogantly dismissed as "the ordinary people"', he wrote in No Future Without Forgiveness, 'in the face of daunting challenges and harassment that would have been the undoing of lesser mortals, was in the end quite breathtaking'.
Desmond Tutu's great gift to the ordinary people he loved was his willingness to speak truth to power, whatever the consequences. His unshakeable belief in the power of ideas and the human spirit, especially the will to overcome oppression and adversity, should remind us that there are some things worth living and dying for. With Tutu's passing, South Africa and humanity have lost a much-needed moral compass.
Moses Dube is a South African writer.
To enquire about republishing spiked's content, a right to reply or to request a correction, please contact the managing editor, Viv Regan.